How do you make tidying your garden less of a hassle? Are the tools you're using to clean leaves and other plant debris from your yard not working for you?
We can help you solve that problem. Vacuuming doesn't have to be confined to the walls of your home.
Investing in one of the best leaf vacuums will lessen the load of keeping your property clean, both inside and out. We've researched high and low to round up seven superb options. We've got you covered whether you want something budget-friendly, super lightweight, or for moderate work.
Image
Model
Product Comparison Table
Features
Customer Favorite
Toro UltraPlus Leaf Blower
High mulching capacity
Easy assembly
Handy accessories
Budget Alternative
Worx Blower/Mulcher
Saves money
User-friendly
Heavy-duty
Best Lightweight Leaf Vacuum
Kimo Cordless Leaf Blower/Vacuum
Cordless and handheld
Speed control
Powerful motor
Best Value for Money
Black and Decker BV6600
Environmentally friendly
Quiet
More stability
Best for Moderate Work
Black and Decker BV3100
Less noise
Speed control
Only weighs 7 pounds
Best Newcomer
Sun Joe 3-in-1
High capacity
Ergonomic design
Wet leaves
Best for Light Work
Echo Blower/Mulcher
Easy to use
Extra stability
Ergonomic build
Review Methodology: At Oh So Spotless, we take pride in providing you with a thorough analysis and assessment of the best leaf vacuums available on the market. Our experienced professionals conduct hands-on evaluations and compare various criteria such as performance, design, and user experience to rank each product. We gather data, research, and first-hand evidence to ensure that our reviews are based on facts and real-life results. By identifying key decision-making factors like suction power, collection capacity, and portability, we help you make an informed choice. Our reviews also delve into the design choices and their effect on users, highlighting what sets each leaf vacuum apart from its competitors. Trust our expertise and let us guide you in finding the perfect leaf vacuum for your needs.
---
---
The Best Leaf Vacuum Reviews of 2023
Tidy your garden with these seven leaf vacuum options.
Toro 51621 UltraPlus Leaf Blower Vacuum
Customer Favorite Leaf Vacuum
Customer feedback supports Toro's claim that it's the number one electric blower brand. This multi-purpose lead vacuum walks the walk with strong capacity for vacuuming, blowing, and mulching.
It gives you air speeds of up to 250 miles per hour. Built-in is a serrated metal impeller for more efficient leaf shredding. Alongside it is a variable speed motor, which means that you control how hard this machine works.
It's a heavy-duty model that can tackle debris, sticks, and heavy leaves. Its mulching capacity can reduce your load up to 16 times its original size.
What We Like
High Mulching Capacity
This model has one-of-a-kind serrated blades that work well at shredding leaves. It could reduce waste from 16 bags down to one. This saves space and plastic trash bags and is a fantastic environmentally-friendly option.
Easy Assembly and Dismantling
You only have to assemble or dismantle a little to switch between this model's vacuum, blower, and mulcher properties. A quick-release latch makes it easy. It's less hassle and saves you time.
Handy Accessories for Tight Spaces
Included with this leaf vacuum are tube attachments for various purposes. You'll receive a power insert for easier collection of leaves and a concentrator to move debris out of tight spots. You also get a heavy-duty canvas replacement bag.
What We Don't Like
Not the Lightest (Almost Nine Pounds)
On another side of the coin, this leaf blower is not the lightest among the listed leaf vacuum, as it weighs 8.9 pounds. Thus, a change of grip is needed from time to time.
Note that some customers say that the machine's weight is bearable with the help of the shoulder strap.
Product Specs
| | |
| --- | --- |
| Weight | 8.9 pounds |
| Blower? | Yes |
| Mulcher? | Yes |
| Air speed | Max. 250 MPH |
| Features | Variable air speed control, oscillating tube, cord storage hook, electric motor |
| Accessories | Heavy-duty replacement bag, power insert, concentrator |
Our Ratings
Community Feedback
"I'm really impressed with this product and how it has made my yard work so much easier. The combination leaf blower and mulcher feature saved me a ton of time and reduced my need for numerous leaf bags. However, it can be a bit clunky to switch between blower and vacuum modes, and the cord management could be better. On the bright side, it's quieter than gas-powered alternatives and does a fantastic job at mulching leaves down to a small size."
---
Worx 51619 Blower/Mulcher Vacuum
Budget Alternative Leaf Vacuum
This model's specs are on par with our top choice, and it saves you money as well.
You can choose between two speeds to better manage light and heavy loads. It functions as a vacuum, blower, and mulcher.
With a mulching ratio of 16:1, you'll save the same amount of space and waste as the first. It matches the maximum airspeed of 250 miles per hour but weighs a lighter 7.5 pounds.
It seems one of the only differences is the attachments. With this one, you get a leaf collection bag and a concentrator nozzle.
What We Like
Saves You Money
Customers are pleased with this budget alternative to more popular models. Feedback is excellent, and users are impressed with its efficiency, power, and capacity. We like that it saves you a few dollars without compromising its quality.
User-Friendly Interface
There are no complicated locks, switches, or dials on this vacuum. Switching between modes is effortless, and attaching or disconnecting the bag and attachments is simple. Users say that they are happy with how little fuss this machine requires.
Heavy-Duty Capability for Hard Yard Work
Satisfied customers say that the mulching capacity with this vacuum is extremely efficient. It works even on heavy debris, twigs, and damp leaves. We can all appreciate this vacuum's power, and it saves some extra effort in preparation.
What We Don't Like
Less Room In the Collection Bag
The collection bag included with this vacuum is smaller than that of our top choice. You may have to spend a little extra time on maintenance during cleaning. That said, customers are still happy with this vacuum's usability.
Product Specs
| | |
| --- | --- |
| Weight | 7.5 pounds |
| Blower? | Yes |
| Mulcher? | Yes |
| Air Speed | Max. 235 MPH |
| Features | Two-speed control, electric motor |
| Accessories | Leaf collection bag, concentrator nozzle |
Our Ratings
Community Feedback
"I'm impressed with the power and efficiency of this leaf blower, especially when used on the turbo setting. Although the vacuum function could use a bit more suction, it still works well for picking up leaves and debris, as long as the nozzle is close enough."
---
2-In-1 Kimo Cordless Leaf Blower
Best Lightweight Leaf Vacuum
Here's a great option if you're looking for a lightweight cordless leaf vacuum. This battery-powered machine can give you a powerful air speeds of up to 150 miles per hour and and functions as a blower and vacuum. A great feature is the variable speed.
Adjustable speed control makes it a perfect companion for any job and brings about effortless operation. The pure copper motor gives you more comfort, reduces friction, and stabilizes the vacuum.
Weighing a total of 1.76 pounds gives you greater maneuverability. Plus, a charger and a reusable collection bag are included in the set.
What We Like
Cordless and Handheld Design
This model runs on batteries, so there's no need to plug it into an electrical power source. It's a versatile option with greater ease of use, reach, and convenience than corded vacuums.
It's lightweight and easy to carry and maneuver. The blower itself measures 1.76 pounds. Likewise, storage won't be a problem with this.
Speed Control Provides Specific Cleaning Power
You can control the speed and consistency of this vacuum's power. This is handy when dealing with different loads. You can switch it to accommodate light and heavy messes without losing stability or efficiency.
Powerful 20,000 RPM Motor
At 20,000 RPM, its professional motor helps reduce friction, not to mention that it's a durable option as it's made of copper.
What We Don't Like
20 Minutes of Usage
A downside to a battery-operated blower is that it only runs on a small scale of around 10 to 20 minutes. If you have a spare battery, though, this should give you more than enough minutes. You'll have to take extra bucks from your pocket to mitigate this.

Product Specs
| | |
| --- | --- |
| Weight | 1.76 pounds |
| Blower? | Yes |
| Mulcher? | No |
| Air Speed | Max. 150 MPH |
| Features | Variable speed control |
| Accessories | Extended output nozzle |
Our Ratings
Community Feedback
"Definitely a handy little blower for those smaller tasks around the home. This product's compact size and lightweight design make it perfect for seniors or anyone who needs a convenient, easy-to-use tool for clearing leaves and debris from patios, garages, and even under furniture. The adjustable power trigger allows you to control the force, which is great when working in tighter spaces. While it's not as powerful as larger blowers, it's perfect for small jobs, and you may find yourself reaching for it often due to its convenience and ease of use."
---
Black and Decker BV6600 3-In-1
Best Value for Money Leaf Vacuum
You get a lot out of this multi-purpose leaf vacuum. It matches the specs of our top choice, and you get some extras thrown in. The maximum airspeed is 250 miles per hour, and its mulching ratio is 16:1.
One notable feature, however, is the noise reduction. It's 50 percent quieter than previous Black and Decker models and operates at only 68 decibels. There's also variable speed control, suitable for both delicate and heavy work.
The built-in cord retainer holds the cord in place for more stability, preventing power cuts while you work. This model uses an EZ-Empty reusable collection bag, making it a green option that saves you money and time.
What We Like
Environmentally Friendly
We like the EZ-Empty reusable bag that comes with this vacuum. It's designed for ease of use, so your maintenance time is reduced. The high mulching capacity also means that you'll waste fewer trash bags as well.
It's Quiet at 68 Decibels
Leaf vacuums can be loud and frustrating, but this model keeps noise levels down. It runs at 68 decibels, much quieter than other models. You can tidy in peace without disturbing those around you.
More Stability and Reliability
The cord retainer makes a difference in the versatility and maneuverability of this vacuum. You don't have to worry too much about accidentally disconnecting the machine, and it won't cut out while in use. It gives you consistent cleaning and is an excellent feature for a corded vacuum.
What We Don't Like
Assembly Required When Switching Modes
Unlike other models, this vacuum doesn't switch easily between different modes. So, you'll have to attach different tubes for vacuuming and blowing. Customers don't mind this too much, but the extra bit of preparation is worth noting.
EZ-Empty Bag Isn't Durable
Though the EZ-Empty bag is an environmentally-friendly option, some customers have commented on its strength (or lack thereof). They've reported rips, tears, and flimsiness. Still, buyers are satisfied with Black and Decker's customer service in replacing faulty bags.
Product Specs
| | |
| --- | --- |
| Weight | 8.1 pounds |
| Blower? | Yes |
| Mulcher? | Yes |
| Air Speed | Max. 250 MPH |
| Features | Variable speed control, electric motor, 68-decibel motor |
| Accessories | EZ-Empty reusable collection bag, vacuum tube, blow tube, concentrator |
Our Ratings
Community Feedback
"I recently purchased this product mainly for its vacuum functionality, and I must say, it has exceeded my expectations. The suction power is impressive, even picking up wet leaves with ease, although it can get clogged when medium-sized twigs are mixed in. Switching between blower and mulcher can be a bit awkward, and I found the leaf collection bag to be of lower quality due to its stitching and material, but the metal impeller is a definite plus. The adjustable speed dial and the attachable mini rake are great features that I appreciate."
---
Black and Decker BV3100 3-In-1
Best Leaf Vacuum for Moderate Work
This Black and Decker leaf vacuum is the best choice for you if there's no need for heavy-duty work. Its capacity is slightly less than others, but it's more than enough for small yards, tasks, and loads. With it, you'll reach air speeds of up to 210 miles per hour, and it has a mulching ratio of 10:1.
Though it's made for moderate loads, you still get a choice of two speeds. So you can switch between light and heavy loads. It functions as a blower too and comes with a vacuum tube and blow tube to switch between the two modes.
What We Like
Less Noise At 69 Decibels
Like our other Black and Decker choice, this vacuum will produce less noise when in use. It runs at 69 decibels, so you won't have to deal with an overbearing racket while you clean. Since it's best for residential cleaning, this reduction is handy for you and those around you.
Speed Control Options for Light and Heavy Work
It doesn't lack the sophistication of stronger models. So, you still get speed control to manage different loads better. Though it's best suited for moderate work, it can still be adjusted to handle heavier debris. It works well on light piles too.
Only Weighs Seven Pounds
This vacuum only weighs seven pounds and is the lightest of our favorites. It's easy to hold, carry and move, so you'll save energy and effort when you use it. Customers note that this machine is ergonomic and easy to handle.
What We Don't Like
Less Capacity
The collection bag with this vacuum is smaller than users hoped it would be. This isn't a problem so long as you use it as intended — for moderate or light loads. It will require a little more maintenance, so be prepared.
Product Specs
| | |
| --- | --- |
| Weight | 7 pounds |
| Blower? | Yes |
| Mulcher? | Yes |
| Air Speed | Max. 210 MPH |
| Features | 2-speed control, electric motor, 69-decibel motor |
| Accessories | Standard collection bag, vacuum tube, blow tube |
Our Ratings
Community Feedback
"My excitement for this leaf blower was well-founded, as it has proven to be a fantastic value and highly effective in tackling my yard's never-ending leaf problem. The vacuum feature easily picks up leaves without disturbing rocks and mulches them into a manageable size. Although it feels slightly heavier than my previous model, the power and efficiency make up for it. A minor inconvenience is dealing with occasional clogs from larger leaves, but overall, this product has made my yard maintenance much more manageable."
---
Sun Joe SBJ605E 3-In-1 Leaf Blower Vacuum
Best Newcomer Leaf Vacuum
This model may not be as popular as others, but the customer feedback so far is excellent. It has all the features you need for efficient yard vacuuming. Even better, you can use it as a blower and mulcher too.
It's ergonomically designed and can reach air speeds of up to 250 miles per hour. It can hold 68.13 liters of dirt and is excellent on wet and dry leaves. The mulching ratio is 16:1.
What We Like
High Capacity of 68.13 Liters
68.13 liters is more than enough for residential use. Maintenance is reduced, as is the need for trash bags. It's a green option that saves you time and effort.
Ergonomic Design Is More Comfortable
It weighs a little bit more than others, but you won't strain your back or arms while using this vacuum. The ergonomic design means more comfort and easier utilization for you.
Sucks Up Wet and Dry Leaves
You can use this model to manage both wet and dry leaves. We like that this vacuum does everything — vacuuming, mulching, and blowing all types of debris.
What We Don't Like
Cord Too Short
One may need to use an extension cord to use this as its cord comes short, but considering its price, this one is worth a try.
Product Specs
| | |
| --- | --- |
| Weight | 8.6 pounds |
| Blower? | Yes |
| Mulcher? | Yes |
| Air Speed | Max. 250 MPH |
| Features | 6 wind speed |
| Accessories | Collection bag |
Our Ratings
Community Feedback
"This 3-in-1 leaf vacuum, blower, and mulcher is a versatile and helpful addition to my yard work routine. The vacuum function is great for picking up leaves and mulching them, saving me time and effort, although it works best when leaves are in a pile. The blower is not as powerful as my gas-powered one, but it's nice to have when needed. The product is a bit bulky and heavy, so using it for extended periods may be tiring, but overall, it gets the job done."
---
Echo ES-250 Blower/Mulching Vacuum
Best Leaf Vacuum for Light Work
Another lesser-known model, this gas vacuum, is handy for small jobs. It reaches a maximum airspeed of 165 miles per hour. Plus, it works as a vacuum, mulcher with a ratio of 12:1, and a blower.
It's ergonomically designed to reduce user fatigue, and it incorporates a locking collar for stability during operation.
What We Like
Easy to Use for Long Periods
Customers note that this vacuum is easy to get going and consistent once it's running. There is no hassle to operate it, and users complement its engineering.
Extra Stability Thanks to Lock Function
The lock function built into this vacuum comes in handy. It keeps the vacuum tubes in place, giving you more control and precision while you use them.
Ergonomic Build Reduces Strain
This vacuum is designed to reduce user fatigue and strain. Combined with the above features, this makes a wonderful vacuum for light work. You won't struggle to hold, carry or operate it.
What We Don't Like
More Maintenance
Since it's a gas model with a smaller capacity than others, you will have to spend a little more time maintaining it in between use. However, this doesn't detract from its efficiency and is well worth the extra effort.
Product Specs
| | |
| --- | --- |
| Weight | 12.6 pounds |
| Blower? | Yes |
| Mulcher? | Yes |
| Air Speed | Max. 165 MPH |
| Features | 2-stroke engine, locking collar, curved blowing tube, variable speed |
| Accessories | Powerhead, tubes, collection bag, oil |
Our Ratings
Community Feedback
"Excellent product for leaf cleanup and gutter cleaning, especially if you prefer gas-powered lawn tools. This product efficiently cleans up leaves, making it a better option than raking or using your hands. However, the leaf sack can get heavy quickly, and the included strap can be uncomfortable. Additionally, the zipper on the bag is of poor quality and may need to be replaced with a high-quality brass zipper for optimal use. While the mulching function may be limited, the powerful blower feature makes up for it, and overall, this product is easy to start, maneuver, and empty."
---
What Is a Leaf Vacuum?
You shouldn't use a residential vacuum to clean up leaves. It might suck up the leaves, but it will easily clog. Instead, use a vacuum designed specifically to clean up leaves, soil, or other green waste without the risk of damage.
Lawn vacuums have similar mechanics to domestic vacuums. Leaf vacuums work with a high-speed fan powered by a motor — just like their indoor counterparts.
The fan connects to an air-input hose and an exhaust hose. Suction happens when the fan creates air in a small compartment between the two (1). It's the design that makes the most difference.
Home vacuums push dirt through a filter and deposit it in a dust container or bag. Leaf vacuums collect and send garden waste straight to a large bag for easy disposal. Their tubes are significantly larger because of this, and that's why they won't clog.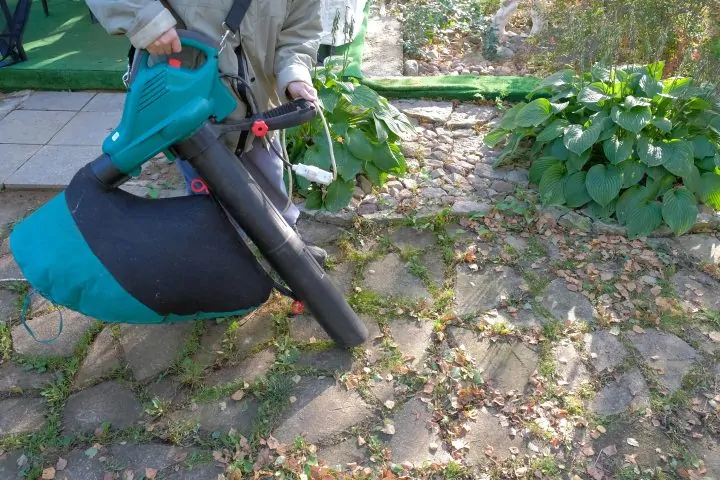 Why Should You Buy a Leaf Vacuum?
Leaf vacuums are excellent, but maybe you're still on the fence about buying one. If that's the case, here are some facts that might sway you:
Better for the environment: Leaf vacuums can be greener than raking and standard blowers because they reduce your usage of plastic trash bags. The bags attached to leaf vacuums also make dumping or disposing of leaves simpler, more convenient, and less wasteful.
They minimize effort: Raking uses more effort than vacuuming does, and it can be more difficult. We know the struggle of raking against the wind or having pets or kids disturb leaves you've tidied. A leaf vacuum saves you energy and time, and they're much more efficient than rakes and blowers.
Budget-friendly: Leaf vacuums don't cost a frightening amount of money. In fact, they often cost less than your average domestic vacuum. Compare our recommendations to see for yourself. So, if you choose a multi-purpose machine, you could save even more on attachments and tools.
Easy to operate: They may seem like mean machines, but leaf vacuums are lightweight and extremely easy to work with. There's no learning curve, very little (if any) set-up and maintenance is as simple as it is with traditional vacuums.
How to Choose the Best Leaf Vacuum
It's almost time to go shopping, but first, consider what you're looking for in a yard vacuum. Some features may even save you cash in the future. The sort of machine you buy will depend on your yard and what you need it for.
To ensure that you're buying the best leaf vacuum for you, ask yourself the following questions.
---
What Can You Use a Leaf Vacuum For?
Leaf vacuums are a godsend, but they still have their limits. Misusing one could dampen its suction or ruin its mechanics. So, keep the following in mind to optimize yours:
Avoid odd or heavy debris: Some heavy-duty leaf vacuums may be able to handle such debris. But for use around the home, it's best to avoid it. Stones, rocks, twigs, and branches can cause blockages or damage your vacuum and its bag.
Don't touch the ground: Don't use a leaf vacuum the same way you would use a floor vacuum. If it hits the ground, vibrations could cause scrapes or cracks that could weaken your hose's integrity. Plus, they look bad too.
Litter depends on the model: It's not a good idea to assume that your leaf vacuum can handle plastic, glass, trash, or other inorganic litter. The best thing to do is first to check the specifics of the model to make sure. If you're uncertain and risk it anyway, you could break or block your vacuum.
Blowing? Maybe: A leaf vacuum and a leaf blower are two different things, but your chosen model could function as both. Not all leaf vacuums have this capacity, though, so check the machine's specs before buying it. It's a useful bonus you may save money on.
Mulching: Some leaf vacuums can mulch the leaves they collect. This saves space in the bag and spares you the effort of doing it yourself. So if you're a serious horticulturist, the mulching ratio is worth looking out for. For example, 10:1 means that the vacuum mulches 10 bags of dry leaves into one bag. Note, however, that mulching makes your leaves denser, and therefore the bags will be heavier.
Vacuuming wet leaves: You shouldn't go around vacuuming puddles with a leaf vacuum, but damp or soggy leaves are typically safe to pick up with one. Still, always check your machine's specs before trying it to avoid damaging your vacuum. Damp leaves are also easier to mulch, so try to find a machine that can do both.
Quick Tip
Before using your leaf vacuum, scan your yard for potentially hazardous litter or objects. Neglecting to do so could break your vacuum, especially if you're vacuuming long or unkempt grass that could harbor heavy or sharp debris.
FAQs
---
Be-Leaf It!
Leaf vacuums are the most efficient way to clear organic debris from your lawn, driveway, yard, or garden. You'll save an immense amount of both time and effort if you invest in one. They're far more efficient than other manual garden tools, like rakes or garden brooms.
These vacuums don't cost too much and usually come equipped with everything you need to make the most of outdoor cleaning. They're generally better for the environment and are easy to operate too.
We shared our picks of the best leaf vacuums, so we're sure one of these ticks your boxes.
Thank You For Your Feedback!
Thank You For Your Feedback!