Not sure what to do with the leaves in your backyard? You could rake the leaves and bag them, but it's quicker to mulch them.
There are lots of different kinds of mulchers on the market. That's why we spent hours researching real customer reviews, expert advice, and putting our own insight into creating a list of the seven best leaf mulchers and shredders.
Image
Model
Product Comparison Table
Features
Best Handheld Mulcher
Worx WG518 Blower, Mulcher & Vacuum
10 pounds in weight
Metal impeller
Versatile for any job
Best With Blower
Craftsman Leaf Blower, Vacuum and Mulcher
High Mph and Cfm
Easy to switch between features
Backpack collection bag
Best Gas Leaf Mulcher
Craftsman BV245
Quick to start
Includes vacuum kit
Translucent fuel tank
Best Electric Leaf Mulcher
Worx Foldable Bladeless Electric Leaf Mulcher
Sturdy but lightweight
Flex-a-line system
Clean air motor cooling
Best Standalone Mulcher
PowerSmart Electric Garden Shredder
Shred more than just leaves
Portable design
Locking knob for safety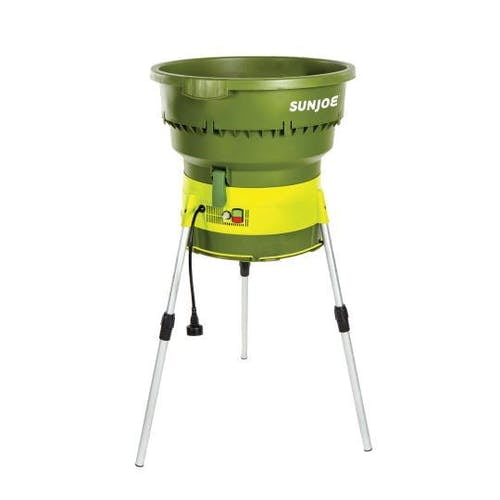 Best Leaf Mulcher Shredder
Sun Joe Electric Leaf Mulcher/Shredder
55 gallons per minute
Less dust, more smiles
Control dial included
Best Cordless Leaf Mulcher
Sun Joe Cordless Blower Vacuum Mulcher
Six adjustable speeds
17:1 mulching ratio
56 minute battery life
---
---
Product Reviews
Here are seven of the best leaf mulchers and shredders for clearing your yard.
1. Worx WG518 Blower, Mulcher & Vacuum
Best Handheld Mulcher
Here's a great 3-in-1 machine that can help clean up your yard in no time. It works as a blower, vacuum and of course, a mulcher.
It blows up to 250 miles per hour, making this suitable for both light and heavy-duty jobs.
As for the mulching, the metal propeller shreds leaves up at a 16:1 ratio so you can go for a long time before needing to empty the bag out.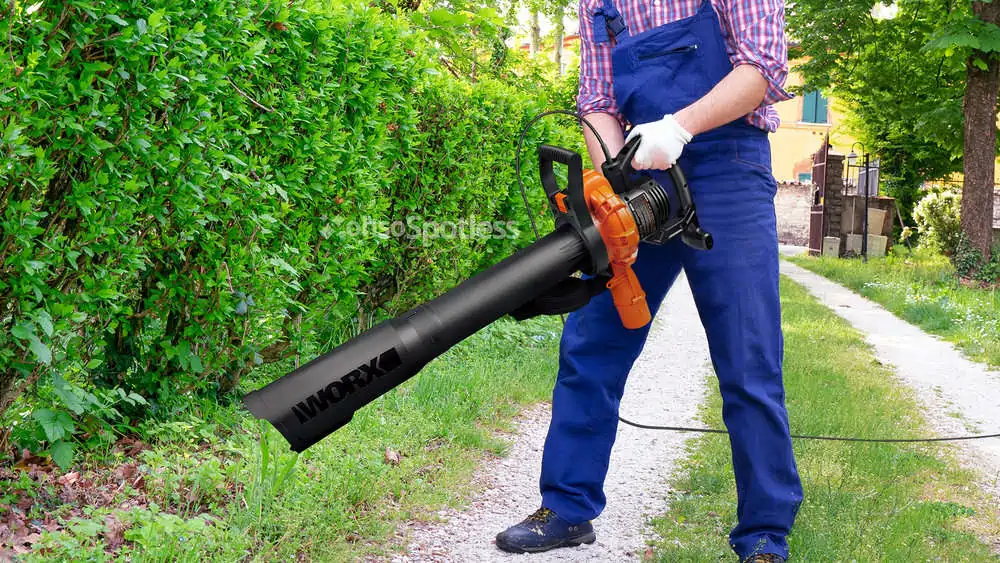 What We Like
10 Pounds In Weight
People who use handheld mulchers know the importance of a lightweight option. If you're using the machine for long periods of time, heavyweight can weigh you down. At only 10 pounds, this is a nice lightweight option that's comfortable to use.
Metal Impeller
A metal impeller is sharp and durable. It can mulch leaves up to a small size, and it remains sharp for longer, too. If you do accidentally get something stuck in there that's not supposed to be in there, the blades won't snap.
Versatile for Any Job
One of the best things about this handheld mulcher is how versatile it is. Of course, it's a 3-in-1 machine, so it's suitable for blowing, vacuuming, and mulching. You can also use it on multiple surfaces, including yards, patios, sidewalks, and more.
What We Don't Like
Quite Loud
Customers do note that this is a loud machine. If you're after something on the quieter side, you may want to continue looking. Whatever you choose, ear protection is a must.
Vacuum Is Weak
While the blowing and mulching abilities don't attract many complaints, vacuuming is on the weaker side for a few customers.
Product Specs
| | |
| --- | --- |
| Type | Handheld electric |
| Blade | Metal |
| Mulching Ratio | 16:1 |
| Versatility | Mulcher, vacuum, and blower |
| Weight | 10.8 pounds |
---
2. Craftsman Leaf Blower, Vacuum and Mulcher
Best Leaf Mulcher With Blower
Having a tool that doubles up as a blower is super helpful. You can blow the leaves into piles and then mulch them all at once. This keeps everything organized while you are clearing the yard.
This option from Craftsman is a popular and high-quality option.
Plus, it's super budget-friendly with one of the lowest prices of any mulchers on the market!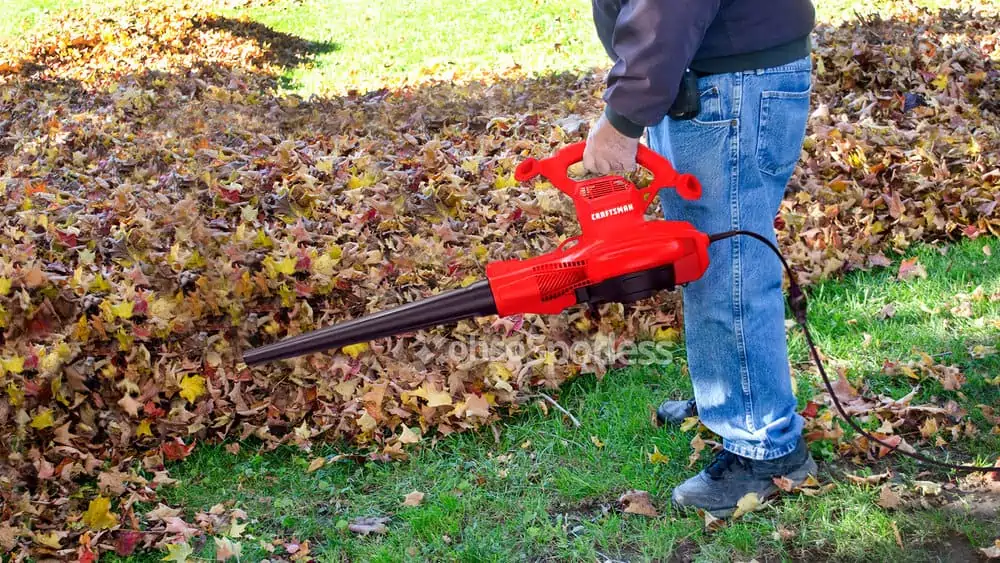 What We Like
High MPH and CFM
Miles per hour and cubic feet per minute are very important when it comes to leaf blowing. This runs at 450 CFM up to 260 MPH so you can get through the tasks at hand super quickly.
Easy to Switch Between Features
No need to change attachments or tools when you want to go from blowing to mulching. Nope, it's all there within the same machine so it's easier than ever.
Backpack Collection Bag
Unlike other machines, the collection bag for this handheld machine goes on your back. This provides ultimate comfort while you work. It can carry up to 55 liters of mulched debris. Plus, it's super easy to empty.
What We Don't Like
Need to Wear Ear Protection
We would recommend ear protection anyway, but this is because this is quite a loud machine. A few customers complained about the noise level. If you have irritated neighbors, then this may get you in their bad books.
Not for Wet Leaves
This works well with dry leaves but with wet leaves? Not so much. If you live in a rainy area, then you may need something more heavy-duty.
Product Specs
| | |
| --- | --- |
| Type | Handheld electric |
| Blade | Plastic |
| Mulching Ratio | Not specified |
| Versatility | Mulcher, vacuum and blower |
| Weight | 11.27 pounds |
---
3. Craftsman BV245 Gas Powered Leaf Blower
Best Gas Leaf Mulcher
Go heavy duty with this 2 in 1 blower and vacuum. Its high-performance 27cc two-cycle engine blows air efficiently.
When using it as a gas leaf blower, enjoy the powerful engine that runs at 205 miles per hour at 450 cubic feet per minute. This moves leaves quickly and efficiently so you can get through the yard work quicker.
What We Like
Quick to Start
This comes with three easy-to-follow steps allowing you to start the machine easily. It doesn't take much effort, so you can get to work in minutes. You just have to prime the machine, choke, and then pull.
Variable Speed Throttle Control
When leaf blowing, set your chosen speed. This provides a more steady airflow so you can run through your yard work easier. Plus, its lightweight design gives greater comfort.
Translucent Fuel Tank
The see-through fuel tank lets you know when you're running out of gas, so you never have to guess when it's time for the next refill.
What We Don't Like
Made for Right Handed People
The intake is on the left side of the machine. If you're left-handed, then the intake will suck against your shorts or pants, which is annoying during use.
Product Specs
| | |
| --- | --- |
| Type | Gas |
| Blade | Plastic |
| Mulching Ratio | 16:1 |
| Versatility | Vacuum and blower |
| Weight | 10.2 pounds |
---
4. Worx Foldable Bladeless Electric Leaf Mulcher
Best Electric Leaf Mulcher
This handy standalone leaf mulcher gets plugged into an electric socket. You don't need to worry about hazardous fumes or the battery dying as you mulch.
The 13-amp motor is super strong, mulching up to 53 gallons of leaves per minute.
You can get through a lot of your yard mess super quickly and effortlessly with this machine.
What We Like
Sturdy But Lightweight
Weighing only 20 pounds, this is a sturdy machine that won't fall over in the wind. But it's also light enough to carry around and transport by yourself.
Flex-A-Line System
Instead of blades, which can be dangerous for some people, this uses a Flex-A-Line string trimmer. It's heavy-duty and can mulch leaves into an 11:1 ratio very quickly.
Clean Air Motor Cooling
The clean air motor cooling system reduces dust that other mulchers may produce. This keeps the air around you cleaner, thanks to the external air intake and exhaust included in the machine.
What We Don't Like
Thin Trimming Line
The trimming line is a bit too thin for some customers. This makes it suitable for leaves only. So if you accidentally toss in acorns or pine cones, then it will not mulch. Overall, this is a good option for suburban yards rather than rural yards.
Loud Enough to Annoy Neighbours
This machine is loud, and some customers ended up upsetting neighbors. If you have sensitive neighbors nearby, then we would recommend looking at another option first.
Product Specs
| | |
| --- | --- |
| Type | Standalone electric |
| Blade | Flex-A-Line string trimmer |
| Mulching Ratio | 11:1 |
| Versatility | Just a mulcher |
| Weight | 20 pounds |
---
5. PowerSmart Electric Garden Shredder
Best Standalone Mulcher
This is one of the best standalone mulchers on the market. It's not too expensive, but it's still super powerful. It runs on a 15-amp brushless motor which is durable and long-lasting.
Besides leaves, this product can shred branches and sticks (as long as they aren't thicker than 1 ⅝ inches).
It's also a lot quieter than other shredders. Ear protection is still suggested, but your neighbors won't be too irritated by this option.
What We Like
Shred More Than Just Leaves
Besides leaves and sticks, you can also shred foliage, twigs and lawn clippings. This is ideal for cleaning up the whole yard and turning the debris into nutrient-rich mulch.
Portable Design
The exact weight isn't specified but it is advertised as lightweight. Better still? It comes with two wheels which makes it easier than ever to maneuver and transport around your yard.
Locking Knob for Safety
If you're worried about the safety of standalone shredders, then this is up your street. It comes with a locking safety knob to keep the top closed while the motor is in operation.
What We Don't Like
Blades Dull Quickly
Many reviews mention that the blades dull quite quickly. You'll need to stay on top of keeping them sharp so they can tackle anything you want to shred.
Product Specs
| | |
| --- | --- |
| Type | Standalone electric |
| Blade | Metal |
| Mulching Ratio | Not specified |
| Versatility | Shredder and mulcher |
| Weight | Not specified |
---
6. Sun Joe Electric Leaf Mulcher/Shredder
Best Leaf Mulcher Shredder
Do more than just mulch leaves when you choose this mulcher shredder from Sun Joe.
With this machine, you can also shred other yard waste such as pine needles, grass clippings, and thatch.
In terms of leaves, you can mulch dry and wet leaves which is super handy. This machine mulches things down to a 16:1 ratio which keeps everything super compact.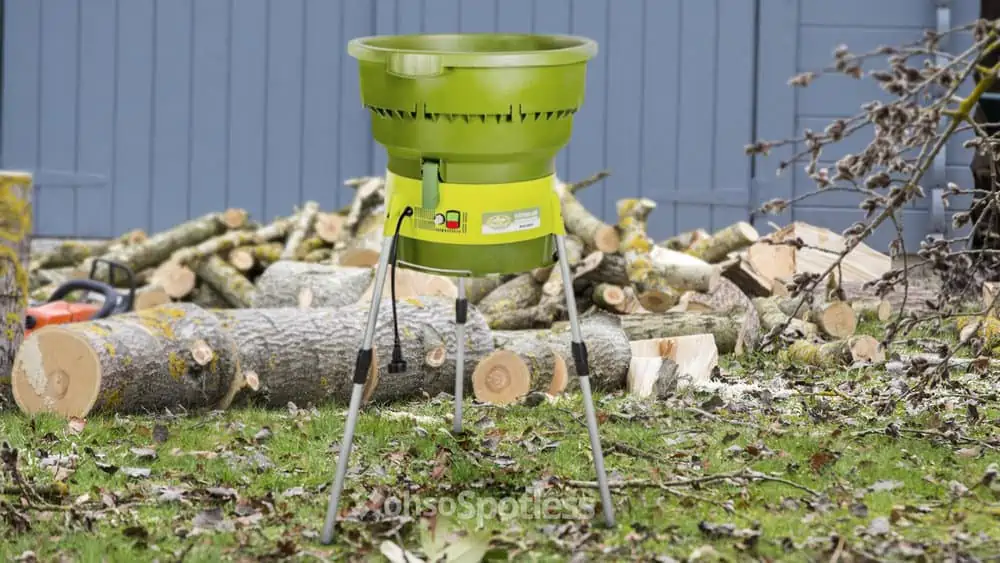 What We Like
55 Gallons Per Minute
Mulch quickly with this machine. It can mulch 55 gallons per minute thanks to the 13-amp motor and 12-inch cutting diameter.
Less Dust, More Smiles
Sun Joe has equipped this product with their Smart Shred technology which uses an advanced motor cooling system. This diverts the air from the leaves and other mulch to limit the amount of dust. Therefore, you can have a happier time outside doing the yard work without dust getting into your eyes, nose and mouth.
Control Dial Included
As mentioned, you can mulch other items with this machine. But to make the most of your mulcher, Sun Joe has included an easy-to-read control dial. You can select what you're mulching, whether that's leaves, grass clippings or something else. The machine will prepare for that which helps the blade last longer, too.
What We Don't Like
110 Decibels
This machine is loud. Keep that in mind, and warn your neighbors in advance. At 110 decibels, this is similar to a chainsaw or an orchestra, to put it in perspective.
Filter Gets Really Dirty
This mulcher requires quite a bit of maintenance. The filter gets really dirty, really quickly which can minimize the working power of the machine. Keep it clean and you'll be okay, but that can add extra time to each job.
Product Specs
| | |
| --- | --- |
| Type | Standalone electric |
| Blade | Trimmer line |
| Mulching Ratio | 16:1 |
| Versatility | Mulcher and shredder |
| Weight | 13.4 pounds |
---
7. Sun Joe Cordless Blower Vacuum Mulcher
Best Cordless Leaf Mulcher
Be free with this Sun Joe cordless mulcher kit! Since there is no cord, you can transport the mulcher anywhere you want without the stress of locating an outlet and tripping over the cord.
It also doubles up as a blower and a vacuum, creating an awesome 3-in-1 tool that can help you maintain a spotless yard.
What We Like
Six Adjustable Speeds
With six adjustable speeds, going all the way 200 MPH, you have a wide range of options. This makes it ideal for use in tighter corners as well as larger yards.
17:1 Mulching Ratio
For such a compact and lightweight unit, this is an amazing mulching ratio. The high-impact resistant impeller is what's behind this awesome mulching ability.
56 Minute Battery Life
Compared to other cordless leaf blowers and mulchers, this has a pretty generous battery life. It can last up to 56 minutes. When you choose higher speed settings, this battery length may diminish.
What We Don't Like
Not for Bigger Yards
Because of the battery life, this isn't the best for bigger yards. At high speed, the battery only lasts around 20 minutes, so if you have a larger garden or a lot of leaf mess, then this may not be right for you.
Product Specs
| | |
| --- | --- |
| Type | Cordless electric handheld |
| Blade | Plastic |
| Mulching Ratio | 17:1 |
| Versatility | Mulcher, vacuum and blower |
| Weight | 11.57 pounds |
---
What's the Difference Between Mulchers and Shredder-Mulchers?
When you start shopping, you'll notice different options, including both mulchers and shredder-mulchers.
Mulchers are specifically for leaves. You shouldn't put other debris, like sticks or acorns into them. They're lighter-duty but still great for leaves.
Shredder-mulchers, on the other hand, are more heavy-duty. They can shred and mulch other debris including vines, wood, saplings, twigs, sticks and more.
Choose between the two depending on your yard's needs.
Types of Leaf Mulchers and Shredders
Let's look at the five main types of mulchers and shredders. Knowing the differences, pros and cons will help you narrow it down, so it's easier to choose what to get for your yard.
Electric
Electric mulchers and shredders run on electricity, either by plugging it into a socket or by a battery. These are lighter-duty than gas but more eco-friendly and affordable. You can find handheld or standalone electric mulchers.
Pros
More affordable than gas options.
More eco-friendly than gas options.
Cordless options are great for maneuverability.
Cons
Not as heavy-duty as gas mulchers and shredders.
Gas
Gas leaf mulchers and shredders are a bit more heavy-duty, but there are far fewer options on the market. However, if you do find one that ticks all your boxes, you can expect high power without the hassle of a cord that might trip you up. Of course, you need to refuel it with gas which can add up quickly in terms of cost. So keep that in your budget, too.
Pros
Very powerful and more heavy-duty.
Typically cordless, so they are great for maneuverability.
Cons
Not as many options on the market.
More expensive than electric options, in terms of the purchase cost and running cost.
Cordless
Cordless mulchers are great for giving you more flexibility while you work. Of course, gas options are naturally cordless, but you can also find cordless electric options which run on a battery. Just watch out for the battery life which can be as little as 10 minutes on some models.
Overall, these are eco-friendly since they don't emit harmful emissions into the environment.
Pros
The cordless design means it's easy to maneuver and transport.
The electric options don't emit harmful fuels so they are eco-friendly.
Many options on the market.
Cons
The battery life can be quite short with as little as 10 minutes on some models.
Handheld
Another big difference between types is handheld vs standalone. Handheld mulchers require you to hold the machine and go around the leaves, mulching as you go. This is quicker to use since you can do it as you go.
Handheld options are ideal for big yards. The bag may not be as big as standalone options though, so keep that in mind.
Pros
Speeds up the process since you can mulch as you go.
Many options on the market, so you'll find something right for you.
A bit more affordable than standalone mulchers.
Available in gas, electric, and cordless.
Cons
They don't have as much capacity as standalone mulchers.
Standalone
Standalone mulchers are placed stationary in your yard when you need to use them. Most people like to put them in the center of the yard, then bring the leaves to the machine. Some people find this easier, but it does take a little bit of extra time. However, if you have a smaller yard, it won't take too much longer.
Pros
They have larger collection bags than handheld options.
They remain stationary which can take some weight off your shoulders.
They are good for smaller yards.
Cons
It may take longer to clear up the yard with a standalone mulcher.
They are more expensive than handheld options.
How to Choose (Buying Guide)
Besides the type, there are other important factors to consider to help you make sure you choose the best mulcher or shredder for you.
Quickly recap the different types to decide which is right for you. There are standalone and handheld mulchers. Once you've chosen between those, consider whether you want gas, electric, or a cordless option. Don't forget to review the pros and cons to help you make your decision.
Leaf mulchers use different methods for mulching up the leaves. Some use metal blades that spin quickly to finely shred the leaves. Others use plastic blades which are often more affordable and still heavy-duty. Others may use a string-trimming line that doesn't need sharpening.
If anything, we would recommend metal blades as they're sharp and durable, but all three are awesome options.
It's extremely important to check this. This tends to be anywhere from 8:1 to 18:1. The higher the first number is, the smaller the shredded pieces. This essentially means what once fit into 18 bags now fits into one.
Top Tip
If you want to compost the leaves, go for a higher mulching ratio since smaller pieces will decompose quicker.
Leaf mulchers don't have to be limited to just mulching. They can function as a leaf vacuum and blower, making them more versatile.
Likewise, if you go for a shredder, it will be able to grind up even more. If you're looking for a versatile option, then definitely check out what other things your chosen product can do.
You don't want to annoy the neighbors. If you have a smaller yard nearby other people, then consider the noise level. This usually ranges from 60 to 95 decibels.
The noise level may be specified in the advertising, but also check the local regulations to see what noise level you're allowed in your area.
Leaf mulchers range from around $80 to $700. Anything over $200 tends to be heavy-duty mulchers or shredders. So keep in mind that if you're going for a shredder, you'll be paying a lot extra.
With that in mind, for a general leaf mulcher, you can stay on the lower end of the prices and still find a good quality option for under $150.
Lastly, consider how easy it is to use the mulcher. Deciding between gas and electric, and corded and cordless can help. Electric and cordless ones are a bit easier to use since they don't require refueling, and maneuverability is easy.
Also, consider where the control buttons are and how user-friendly they look. If there are fewer of them, all in one place, it will generally be easier to use the mulcher.
---
Leaf Mulcher FAQs
Are Leaf Mulchers Worth It?
Not everybody needs a leaf mulcher. If you can bag your leaves and dispose of them that way, then you don't need one. But for people who want to use the leaves for compost, have a ton of leaves or can't get through their leaves with their lawnmower, then a mulcher is a great tool.
Can You Rent a Leaf Mulcher?
Yes, you can pretty much rent any power tool. Just search for renting mulchers near you and you'll find something.
How Much Does It Cost to Rent a Mulcher?
It depends on where you are and what type of mulcher you choose. It will likely cost between $50 and $125 a day. If you only need it for this one day, then it's worth it, but if you're going to use them all season, you will be better off financially investing in your own.
---
Thank You For Your Feedback!
Thank You For Your Feedback!