Not sure what to do with the leaves in your backyard? You could spend valuable time raking and bagging the leaves but mulching them quicker.
Save time with one of the best leaf mulchers and shredders on the market. To make this list, I spent hours researching real customer reviews, expert advice, and dozens of products. I investigated each product's construction, blade material, mulching ratio, and versatility.
With only the best of the best on this list, these products will help you fly through your yardwork with a smile on your face!
Image
Model
Product Comparison Table
Features
Best Handheld Mulcher
Worx WG518 Blower, Mulcher & Vacuum
10 pounds in weight
Sharp metal impeller
Versatile for any job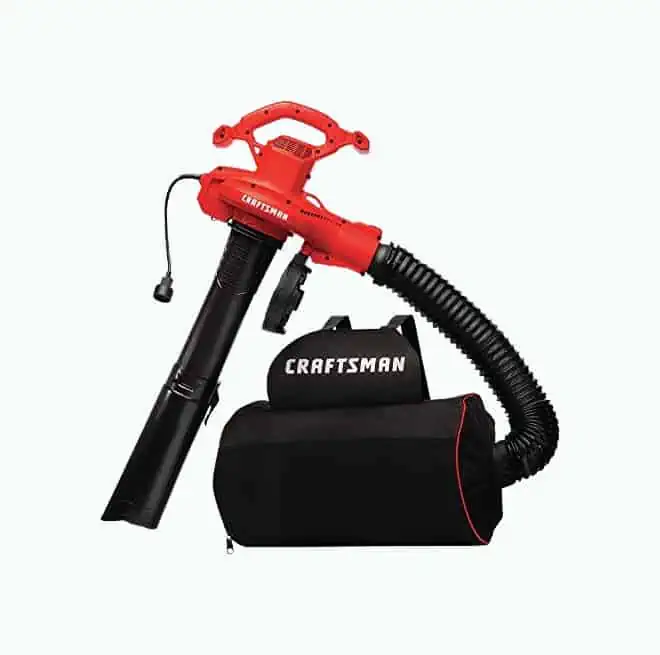 Best With Blower
Craftsman Leaf Blower, Vacuum and Mulcher
260 MPH and 450 CFM
Easy to switch between features
Backpack collection bag
Best Gas Option
Craftsman BV245
Quick to start in minutes
Variable speed throttle control
Translucent fuel tank
Best Electric Leaf Mulcher
Worx Foldable Bladeless Electric Leaf Mulcher
Sturdy but lightweight
Flex-a-line system
Clean air motor cooling
Best Standalone Mulcher
PowerSmart Electric Garden Shredder
Shred more than just leaves
Portable design with wheels
Locking knob for safety
Best Leaf Mulcher Shredder Combo
Sun Joe Electric Leaf Mulcher/Shredder
55 gallons per minute
Less dust, more smiles
Control dial included
Best Cordless Leaf Mulcher
Sun Joe Cordless Blower Vacuum Mulcher
Six adjustable speeds up to 200MPH
17:1 mulching ratio
Blows, vacuums and mulches
Review Methodology: At Oh So Spotless, we provide you with a comprehensive analysis and assessment of the best leaf mulchers and shredders based on our hands-on experience, expert evaluations, and customer reviews. Our professional team has conducted thorough research, comparing different products based on performance, design, and usability to help you make an informed decision. We track and measure key factors such as power, capacity, reliability, and noise level to rank each product and provide a detailed review. Our findings, backed by real-life evidence, will guide you in identifying the ideal leaf mulcher and shredder that stands out from its competitors and meets your specific needs. Trust in our expertise as we deliver the facts and data necessary for a spotless outdoor space.
---
---
The Best Leaf Mulchers and Shredders of 2023
I've spent hours researching expert advice, dozens of products, and genuine customer reviews. When studying products, I studied the construction, blade material, mulching ratio, and versatility of each one.
With that in mind, I've compiled a trusty list of the seven best leaf mulchers and shredders that can transform your yard work routine. Next time you want to remove leaves, you'll be thankful you went for one of these incredible options!
Worx WG518 Blower, Mulcher & Vacuum
Best Handheld Mulcher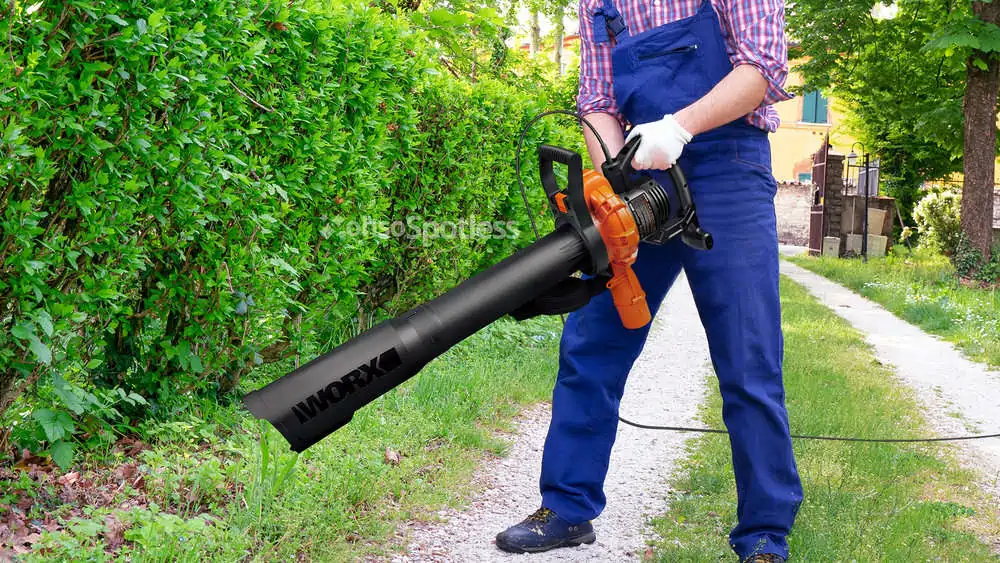 Say hello to this great 3-in-1 machine that can help you clean up your yard in no time. It works as a blower, vacuum, and, of course, a mulcher.
It blows up to 250 miles per hour, making it suitable for both light and heavy-duty jobs.
As for the mulching, the metal propeller shreds leaves up at a 16:1 ratio, so you work for a long time before emptying the bag.
What We Like
10 Pounds in Weight
People who use handheld mulchers know the importance of a lightweight option. If you're using the machine for long periods, heavy weights can weigh you down. At only 10 pounds, this is a lightweight option that's comfortable to use.
Sharp Metal Impeller
A metal impeller is sharp and durable. It can mulch leaves up to a small size, and it remains sharp for longer, too. If you accidentally get something stuck in there that's not supposed to be in there, the blades won't snap.
Versatile for Any Job
One of the best things about this handheld mulcher is how versatile it is. As a 3-in-1 machine, it's suitable for blowing, vacuuming, and mulching. You can also use it on multiple surfaces, including yards, patios, sidewalks, and more.
Budget-Friendly
This is one of the most affordable quality leaf mulchers on the market. Coming in at about half the average price, this should suit most people's budgets.
What We Don't Like
Quite Loud
Customers do note that this is a loud machine. If you're after something on the quieter side, you may want to continue looking. Whatever you choose, ear protection is a must.
Vacuum Is Weak
While the blowing and mulching abilities don't attract many complaints, customers complain that the vacuuming function is quite weak.
Product Specs
| | |
| --- | --- |
| Type | Handheld electric |
| Blade | Metal |
| Mulching Ratio | 16:1 |
| Versatility | Mulcher, vacuum, and blower |
| Weight | 10.8 pounds |
Community Feedback
"I'm quite pleased with this product's leaf blowing capabilities, as it effectively dislodges leaves from grassy areas with its powerful and concentrated airflow. While I found the vacuum function to be a bit less impressive, requiring the nozzle to be closer to the leaves for optimal pickup, it still gets the job done. The lightweight design and easy-to-attach vacuum attachments make it convenient to use, but I did experience some difficulty attaching the main nozzle due to its tight fit. Additionally, I found the extension cord retainer to be less than ideal, as it required bending the cord more than I would prefer, risking damage to the cord's insulation and wire."
---
Craftsman Leaf Blower, Vacuum and Mulcher
Best With Blower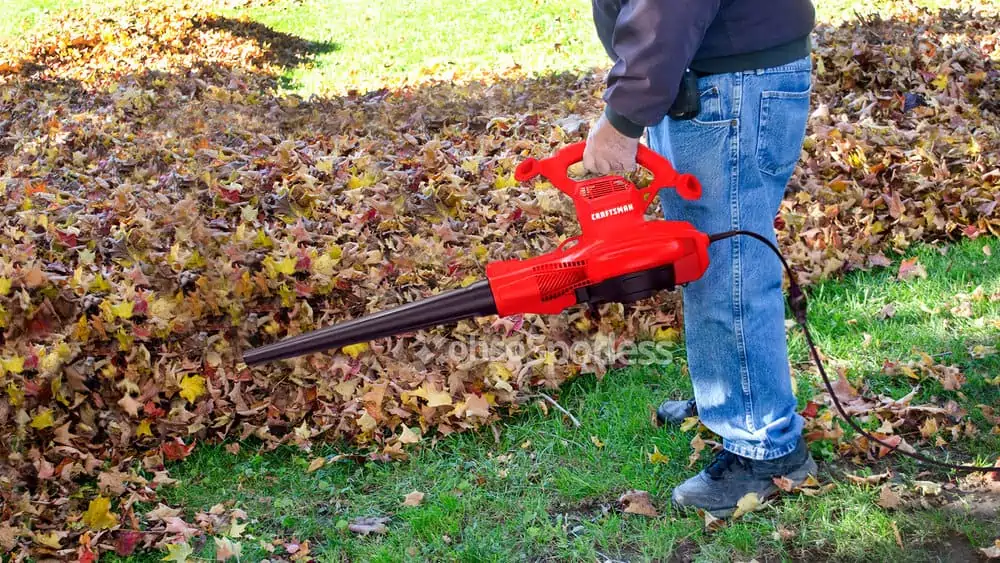 It's incredibly helpful to have a tool that can also function as a blower. This allows you to blow the leaves into piles and mulch them all at once. Stay organized while clearing the yard with this option from Craftsman.
As well as being popular and high-quality, it's quite budget-friendly. Plus, it's comfortable to use thanks to the collection bag that you can wear as a backpack.
What We Like
High MPH and CFM
Miles per hour and cubic feet per minute are crucial for efficient leaf blowing. The machine runs at 450 CFM to 260 MPH to tackle tasks quickly.
Switch Between Features Easily
Switching between blowing and mulching is now easier than ever, as there is no need to change attachments or tools. It's all there within the same machine.
Backpack Collection Bag
Unlike other machines, the collection bag for this handheld machine goes on your back. This provides ultimate comfort while you work. It can carry up to 55 liters of mulched debris. Plus, it's super easy to empty.
Safety Features (Great for Kids and Pets)
This unit has a great safety features. So, if you have a curious teenager or pets that like to mess around in the garage, you can rest easy. This unit will not turn on until it's latched properly, giving you peace of mind.
What We Don't Like
Need To Wear Ear Protection
Experts recommend ear protection anyway, but this is a particularly loud machine. A few customers complained about the noise level. If you have irritated neighbors, you might be in their bad books.
Not for Wet Leaves
This works well with dry leaves, but with wet leaves? Not so much. You may need something more heavy-duty if you live in a rainy area.
Product Specs
| | |
| --- | --- |
| Type | Handheld electric |
| Blade | Plastic |
| Mulching Ratio | Not specified |
| Versatility | Mulcher, vacuum, and blower |
| Weight | 11.27 pounds |
Our Ratings
Community Feedback
"This electric blower exceeded my expectations when it came to cleaning up leaves in my backyard, especially around my massive maple and willow trees. The powerful suction not only vacuumed leaves but also twigs, while leaving rocks behind. However, be prepared for its weight, as it can be a bit heavy to hold for extended periods. One downside I experienced was a shock wave through my hand when small rocks got sucked up and ricocheted inside the unit, which was quite annoying."
---
Craftsman BV245 Gas Powered Leaf Blower
Best Gas Option
Go heavy-duty with this 2-in-1 blower and vacuum. Its high-performance 27cc two-cycle engine blows air efficiently.
When using it as a gas leaf blower, enjoy the powerful engine that runs at 205 miles per hour at 450 cubic feet per minute. This moves leaves quickly and efficiently so you can get through the yard work quicker.
What We Like
Quick To Start
This comes with three easy-to-follow steps, allowing you to start the machine easily. It doesn't take much effort, so you can get to work in minutes. You just have to prime the machine, choke, and then pull.
Variable Speed Throttle Control
When leaf-blowing, set your chosen speed. This provides a more steady airflow so you can run through your yard work more easily. Plus, its lightweight design gives greater comfort.
Translucent Fuel Tank
The see-through fuel tank lets you know when you're running out of gas, so you never have to guess when it's time for the next refill.
Runs up to 205MPH
Wow! Those are high speeds. This runs up to 205 miles per hour, so you can get through your yardwork quickly and then head back to the family for some quality time.
What We Don't Like
Made for Right-Handed People
The intake is on the left side of the machine. If you're left-handed, the intake will suck against your shorts or pants, which is annoying during use.
Cheap External Plastic
This unit isn't the cheapest, so I'm disappointed to hear that the external plastic is cheap. Customers complained about the plastic quality, which can snap off, scratch, or dent easily.
Product Specs
| | |
| --- | --- |
| Type | Gas |
| Blade | Plastic |
| Mulching Ratio | 16:1 |
| Versatility | Vacuum and blower |
| Weight | 10.2 pounds |
Our Ratings
Community Feedback
"I recently purchased this product and have been quite impressed with its performance so far. The blower is powerful and allows for precise control, letting me clear debris from a greater distance than my previous model. While I was initially skeptical about the vacuum feature, it exceeded my expectations by picking up more leaves in less time than I could by hand. However, I do have concerns about the durability of the plastic vacuum attachment, as the screw holding it in place is already showing signs of wear. Despite this, I found the product to be quite efficient on gas usage and would recommend reading the instructions for helpful tips."
---
Worx Foldable Bladeless Electric Leaf Mulcher
Best Electric Leaf Mulcher
Upgrade your yard work with an electric standalone leaf mulcher. This innovative tool makes mulching leaves easy and hassle-free while eliminating harmful fumes and a frustratingly short battery life.
The 13-amp motor is super strong, mulching up to 53 gallons of leaves per minute. Whizz through your yard mess super quickly and effortlessly with this machine.
What We Like
Sturdy But Lightweight
Weighing only 20 pounds, this sturdy machine won't fall over in the wind. But it's also light enough to carry around and transport by yourself.
Flex-A-Line System
Instead of blades, which can be dangerous for some people, this uses a Flex-A-Line string trimmer. It's heavy-duty and can mulch leaves into an 11:1 ratio very quickly.
Clean Air Motor Cooling
The clean air motor cooling system reduces dust that other mulchers may produce. This keeps the air around you cleaner, thanks to the external air intake and exhaust included in the machine.
Mulches 53 Gallons per Minute
Watch the leaves mulch down before your eyes. This unit can mulch 53 gallons per minute! This pushes it down to an 11:1 mulching ratio exceptionally quickly.
What We Don't Like
Thin Trimming Line
Some customers find the trimming line to be too thin, limiting its usefulness to leaves only. It won't be effective for mulching acorns or pine cones. This option is better suited for suburban yards rather than rural yards.
Loud Enough To Annoy Neighbours
This machine is loud, and some customers ended up upsetting neighbors. If you have neighbors who are trying to rock a baby to sleep or are sensitive to noise, you may want to consider another option.
Product Specs
| | |
| --- | --- |
| Type | Standalone electric |
| Blade | Flex-A-Line string trimmer |
| Mulching Ratio | 11:1 |
| Versatility | Just a mulcher |
| Weight | 20 pounds |
Our Ratings
Community Feedback
"My experience with this product has been quite positive, as it effectively mulches leaves and small twigs, making yard work much more manageable. I appreciate the ease of changing the trimmer string, but be cautious about what you feed into the machine to avoid going through strings too quickly. Protective gear such as earplugs and a mask are recommended due to the noise level and leaf dust generated during use, but overall, this product has significantly improved my yard maintenance routine."
---
PowerSmart Electric Garden Shredder
Best Standalone Mulcher
This is one of the best standalone mulchers on the market. It's not too expensive, but it's still super powerful. It runs on a 15-amp brushless motor, which is durable and long-lasting.
Besides leaves, this product can shred branches and sticks (as long as they aren't thicker than 1.75 inches).
It's also a lot quieter than other shredders. I still suggest ear protection, but your neighbors won't be too irritated by this option.
What We Like
Shred More Than Just Leaves
As well as leaves and sticks, you can also shred foliage, twigs, and lawn clippings. This is ideal for cleaning up the whole yard and turning the debris into nutrient-rich mulch.
Portable Design With Wheels
At 33 pounds, this is maneuverable around your yard. Better still? It includes two wheels, making it easier than ever to transport from one spot to the next.
Locking Knob for Safety
If you're worried about the safety of standalone shredders, then this is right up your street. It comes with a locking safety knob to keep the top closed while the motor is in operation.
Low Volume When Mulching
Customers rave about this unit's low noise level. When mulching leaves, this is considerably quieter than other machines, which is great if your child is napping inside or your neighbors dislike loud noises.
What We Don't Like
Blades Dull Quickly
Many reviews mention that the blades dull quite quickly. You'll need to stay on top of keeping them sharp so they can tackle anything you want to shred.
Beware of Clogs
Some customers reported that the unit clogs when you put too many large or thick sticks into it. Experiment with adding one or two twigs or sticks at a time if you want to mulch or shred this kind of debris.
Product Specs
| | |
| --- | --- |
| Type | Standalone electric |
| Blade | Metal |
| Mulching Ratio | Not specified |
| Versatility | Shredder and mulcher |
| Weight | 33 pounds |
Our Ratings
Community Feedback
"I've been using this product for a while now, and it's been quite helpful for reducing the volume of green waste in my yard. It functions like a giant juicer, and although it's not as powerful as a gas-powered wood chipper, it's not as loud either. However, the blades tend to dull quickly, especially when chipping larger branches, so I suggest using it mainly for smaller branches and leaves."
---
Sun Joe Electric Leaf Mulcher/Shredder
Best Leaf Mulcher Shredder Combo
Consider this mulcher shredder combo when you want to do more than just mulching leaves.  This machine can also shred other yard waste, such as pine needles, grass clippings, and thatch.
In terms of leaves, you can mulch dry and wet leaves, which is super handy. This machine mulches things down to a 16:1 ratio, keeping everything compact.
What We Like
55 Gallons Per Minute
Mulch quickly with this machine. It can mulch 55 gallons per minute thanks to the 13-amp motor and 12-inch cutting diameter.
Less Dust, More Smiles
Sun Joe has equipped this product with their Smart Shred technology, which uses an advanced motor cooling system. This diverts the air from the leaves and other mulch to limit the amount of dust. Therefore, you can have a happier time outside doing yard work without dust getting into your eyes, nose, and mouth.
Control Dial Included
As mentioned, you can mulch other items with this machine. But to make the most of your mulcher, Sun Joe has included an easy-to-read control dial.
You can select what you're mulching, whether that's leaves, grass clippings, or something else. The machine will prepare for that which helps the blade last longer.
16:1 Mulching Ratio
A 16:1 mulching ratio is really one of the best options available. The 13-amp motor allows you to reduce your yard waste down to a very compact size, making it easier to dispose of or use as compost.
What We Don't Like
110 Decibels
This machine is loud. Keep that in mind, and warn your neighbors in advance. At 110 decibels, this is similar to a chainsaw or an orchestra, to put it in perspective.
Filter Gets Really Dirty
This mulcher requires regular maintenance. The filter tends to get dirty quickly, which can reduce the machine's working power.
However, if you keep it clean, the mulcher should work well. Just be aware that cleaning it may add extra time to each job.
Product Specs
| | |
| --- | --- |
| Type | Standalone electric |
| Blade | Trimmer line |
| Mulching Ratio | 16:1 |
| Versatility | Mulcher and shredder |
| Weight | 14.5 pounds |
Our Ratings
Community Feedback
"My experience with this Sun Joe mulcher shredder has been quite positive as it efficiently takes care of not just leaves, but also other yard waste like pine needles and grass clippings. I appreciate the fact that it can mulch both dry and wet leaves, making my yard maintenance tasks much easier. The 16:1 ratio of mulching keeps everything compact and the 55 gallons per minute capacity makes the job quicker. However, it's worth noting that the machine can be a bit loud at 110 decibels and the filter tends to get really dirty, so be prepared for some cleaning after use."
---
Sun Joe IONBV-CT Cordless Blower Vacuum Mulcher
Best Cordless Leaf Mulcher
Be free with this Sun Joe cordless mulcher kit! Since there is no cord, you can transport the mulcher anywhere you want without the stress of locating an outlet and tripping over the cord.
It also doubles up as a blower and a vacuum, creating an excellent 3-in-1 tool to help you maintain a spotless yard.
What We Like
Six Adjustable Speeds
With six adjustable speeds, going all the way to 200 MPH, you have a wide range of options. This makes it ideal for use in tighter corners as well as larger yards.
17:1 Mulching Ratio
For such a compact and lightweight unit, this is an amazing mulching ratio. The high-impact resistant impeller is what's behind this awesome mulching ability.
3-In-1 Design
Blow, vacuum, and mulch with this unit. Speed your way through backyard chores with this incredibly versatile unit.
Includes a 16-gallon Bag
Enjoy a 16-gallon bag that allows you to get through your yard work without interruptions. Stopping to empty a bag of leaves frequently is inconvenient, especially in a hurry.
What We Don't Like
Not for Bigger Yards
Because of the battery life on this cordless leaf blower, this isn't the best for bigger yards. At high speed, the battery only lasts around 20 minutes, so if you have a larger garden or a lot of leaf mess, this may not be right for you.
Charging Takes a While
Overall, this unit might add to your yardwork time length. While the battery lasts between 20 and 45 minutes, recharging it takes a while. So, if you have hours of yard work to do, you're looking at it taking a few days to account for the time it takes to recharge the battery.
Product Specs
| | |
| --- | --- |
| Type | Cordless electric handheld |
| Blade | Plastic |
| Mulching Ratio | 17:1 |
| Versatility | Mulcher, vacuum, and blower |
| Weight | 8.7 pounds |
Our Ratings
Community Feedback
"I'm delighted with the performance of this product, as it has been excellent for weekly clean-ups in my yard and has paired well with my lawn mower. The vacuum mode works well on pine needles but struggles with larger debris, which I believe is due to the plastic impeller. Battery life is adequate for my small yard, but it does take longer to complete tasks due to its limited power. On the plus side, I appreciate that this product is cordless and not gas-powered."
---
What's the Difference Between Mulchers and Shredder-Mulchers?
Mulchers are specifically for leaves. Since they are lighter-duty products, don't put other debris — such as sticks or acorns — in them.
Shredder-mulchers, on the other hand, are more heavy-duty. They can shred and mulch various debris, including vines, wood, saplings, twigs, sticks, and more.
Types of Leaf Mulchers and Shredders
Let's look at the five main types of mulchers and shredders. Knowing the differences, pros and cons will help you narrow it down, making it an easier choice.
Electric
Electric mulchers and shredders run on electricity by plugging them into a socket or using a battery. These are lighter-duty than gas but more eco-friendly and affordable. You can find handheld or standalone electric mulchers.
Pros
More affordable than gas options.
More eco-friendly than gas options.
Cordless options are great for maneuverability.
Cons
Not as heavy-duty as gas mulchers and shredders.
Gas
Gas leaf mulchers and shredders are a bit more heavy-duty, but there are far fewer options on the market. However, if you find one that ticks all your boxes, you can expect high power without the hassle of a cord that might trip you up.
Note that you need to refuel it with gas, which increases the overall running cost. So consider that when budgeting for this product.
Pros
Very powerful.
Heavy-duty mulchers.
Typically cordless, they are great for maneuverability.
Cons
Not as many options on the market.
More expensive than electric options.
Cordless
Cordless mulchers give you much more flexibility while you work. Of course, gas options are naturally cordless, but you can also find cordless electric options that run on a battery. This emits harmful emissions, which makes this product more kind to the environment. Just watch out for the battery life, which can be as little as 10 minutes on some models.
Pros
The cordless design means it's easy to maneuver and transport.
The electric options don't emit harmful fuels, so they are eco-friendly.
Many options on the market.
Cons
The battery life can be quite short, with as little as 10 minutes on some models.
Handheld
Another big difference between types is handheld vs. standalone. Handheld mulchers allow you to hold the machine and move around the leaves, mulching as you go, making for a quicker chore.
Handheld options are ideal for big yards. The bag may not be as big as standalone options though, so keep that in mind.
Pros
Speeds up the process since you can mulch as you go.
Many options on the market, so you'll find something right for you.
A bit more affordable than standalone mulchers.
Available in gas, electric, and cordless.
Cons
They don't have as much capacity as standalone mulchers.
Standalone
Standalone mulchers are placed stationary in your yard when you need to use them. Most people like to put them in the center of the yard and then bring the leaves to the machine.
Some people find this easier, but it takes a little extra time. However, if you have a smaller yard, it won't take too much longer.
Pros
Larger collection bags than handheld options.
They remain stationary, which can take some weight off your shoulders.
Good for smaller yards.
Cons
May take longer to clear up the yard with a standalone mulcher.
More expensive than handheld options.
How to Choose the Best Leaf Mulchers and Shredders
Besides the type, there are other important factors to consider to help you make sure you choose the best mulcher or shredder for you.
---
Leaf Mulcher FAQs
---
Thank You For Your Feedback!
Thank You For Your Feedback!