Ionic air purifiers use negative ions to eliminate common airborne pollutants such as dust and allergens, but are they effective? There has been quite a debate going on about whether ionic purifiers are even safe. What is the true science behind it? And what do the experts say?
The best ionic air purifiers use a combination of filters and an ionizer to eliminate pollutants from your air. We'll walk through our three favorites and share any warnings with you.
We based our list on hours of research into expert advice and real customer reviews. When choosing the top three, we focused on the air purifier's room coverage, filters, filtration stages, and handy features.
Image
Model
Product Comparison Table
Features
Best 4-Stage Filtration
Pure Enrichment PureZone
Smart technology filter
UV-C light included
Many health benefits
Best Two-Stage Filtration
AeraMax 300 Air Purifier
Effective carbon filter
Plasmatrue technology
High-performance mode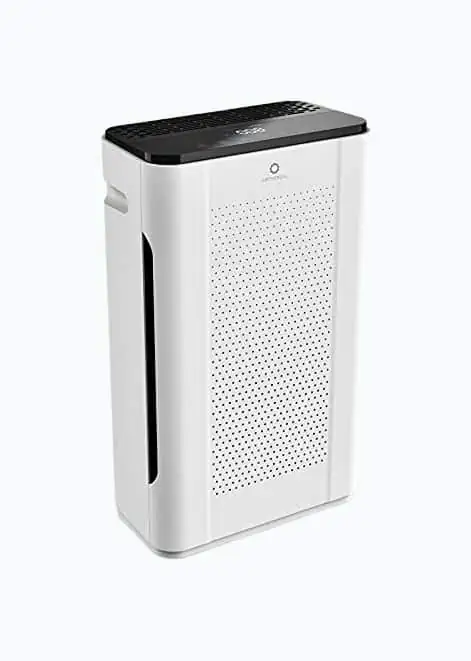 Best for Medium-Sized Rooms
Airthereal Pure Morning Air Purifier
Smart features
Sleep mode helps at night
UV-C light and ionizer
Review Methodology: At Oh So Spotless, our expertise and hands-on experience allow us to provide you with an in-depth analysis and assessment of the best ionic air purifiers on the market. Our professional researchers compare and rank products based on criteria such as performance, design choices, and user experience. We evaluate products from a user's perspective, sharing quantitative data and results from our tests. Our review highlights key decision-making factors, such as filtration efficiency, noise level, energy consumption, and durability, enabling you to make an informed choice. By identifying what sets each product apart from its competitors and providing first-hand evidence, we ensure you select the most suitable ionic air purifier for your needs.
---
---
Best Ionic Air Purifier Reviews of 2023
An ionic air purifier has its benefits and disadvantages; however, it depends on your situation. To find our three best ionizers, we researched the top choices thoroughly to ensure unbeatable quality. Our experts discussed which features were important and how the individual units would perform.
Here are the best ionic air purifiers.
Pure Enrichment PureZone Elite Purifier
Best 4-Stage Filtration
With this air purifier, you can enjoy almost perfect air. This machine traps and eliminates 99.97 percent of particles as small as 0.3 microns in size with a four-stage purification system. The four-stage system ensures that everything, including dust, pollen, and allergens, is zapped from the air. This system also removes germs, fungi, bacteria, and viruses.
It covers 190 square feet, cleaning at 120 cubic feet per minute. That's pretty speedy! So whether you're using this for a living room, bedroom, office, or another large room — it will be a great choice for a pure home.
What We Like
Smart Technology Filter
This true HEPA air purifier has smart technology to let you know when the filter needs to be replaced. Being activated with carbon and medical-grade true HEPA, you only need to replace it twice a year.
Just Note
Make sure to use a genuine Pure Enrichment version every time you replace the filter.
Go From Room to Room
With the generous coverage, you may want to move this from room to room. It's never been easier. Weighing less than 10 pounds and equipped with an easy-lift handle, you can transport this throughout the home with no problem.
Many Health Benefits
What can you expect from this air purifier? Well, it will decrease restlessness, so you'll wake up feeling more refreshed. It can reduce cold symptoms and sanitize the air, which is terrific for people with allergies. Finally, it can eliminate airborne irritants and odors such as dust, pollen, smoke odor, pet dander, and more.
UV-C Light Included
On its own, it sanitizes the air. But the UV-C light goes the extra mile by destroying illness-causing microorganisms with up to 98.3 percent success.
What We Don't Like
Hard to Get Replacement Filters
Considering you'll need to replace the filters every six months, they should be easier to buy. However, it's hard to find them online, and if you do, they can be pretty expensive. Perhaps contact the manufacturer before buying to see the best way to get these filters.
Loud Noise Level
You may find this too noisy for your liking. If you like to sleep in silence, this won't be welcome in your bedroom. Customers found it irritating. However, if you like white noise, this will be a good purchase!
Product Specs
| | |
| --- | --- |
| Size | 9 x 7 x 25 inches |
| Recommended Room Coverage | 190 square feet |
| Additional Features | Smart technology, easy lift handle, built-in UV-C light |
| Types of Filters | Activated carbon, true HEPA, UV-C light, ion release |
| Filtration Stages | Four-stage |
Our Ratings
Community Feedback
"This air purifier has been a fantastic addition to my home, keeping the air fresh and clean even after cooking or when guests smoke. The sleek, modern design allows it to blend seamlessly into any room, while the air quality sensor and auto mode make it efficient and quiet. I've noticed a significant improvement in my allergies since using this product, and the five-year warranty and excellent customer support provide peace of mind. Additionally, the functional UV-C light and ionizer contribute to the overall effectiveness of this air purifier in maintaining a healthy living environment."
---
AeraMax 300 Air Purifier
Best Two-Stage Filtration
If someone in your household is dealing with allergies or asthma, this unit may help. It features a True HEPA filter that effectively removes up to 99.97 percent of airborne pollutants and allergens. Tiny dust mites and pet dander won't escape the fine filter.
To keep dust out of the air, the ionizer releases negative ions that make dust too heavy to float. It also produces no ozone, so you and your family will only have clean air to enjoy. The purifier is certified by Allergy Standards as well as the Asthma and Allergy Foundation of America, so it's likely more trustworthy against allergies than other air ionizers.
What We Like
True HEPA Filter
A True HEPA filter is the way to go if you're dealing with allergies or asthma. It captures even the tiniest particles at the size of 0.3 microns.
The HEPA filter has been protected against the growth of mold or bacteria. It's coated in an antimicrobial treatment that prevents any pollutants it captures from ruining the filter. This helps to extend the life of the filter as well.
Effective Carbon Filter Clears Odors
If you're often bothered by odors in your home, the carbon filter can help. The activated carbon will effectively absorb odors from various sources such as pets, cooking, and cigarette smoke.
PlasmaTrue Technology Minimizes Dust
PlasmaTrue Technology releases negative ions that bind to dust particles. The particles are then too heavy to float in the air and will fall to the nearest surface.
Many customers were pleased with this function since it keeps dust out of the air. It does require additional cleaning, but you won't inhale the dust as easily.
Good for Large Rooms
This purifier will cover an area between 300 and 600 square feet. It's excellent for a living room or large bedroom.
High-Performance Mode
For anyone dealing with allergies or asthma, AeraMax has created a high-performance mode. When in this mode, the purifier will work at high speed to quickly remove any impurities that could be bothering you.
Auto Sensor Detects Air Quality
Knowing how polluted your air is can be tricky. We often waste energy by running the high speed when unnecessary.
The auto sensor function will monitor the air quality and adjust the fan speed. This ensures clean air without wasting energy.
What We Don't Like
High Pitched Noise
When the ionizer is on, you might notice a high-pitched noise from the unit. Several customers have also noticed this; although it's not too loud, it can be annoying. Turning off the ionizer will help.
Hard to Get Replacement Filters
Many customers found that it was hard to find replacement filters online. Even the company often mentioned they were out of stock. When they're in stock, they can be expensive and take a long time to arrive.
UV Light Covered by Sheild
If you like this unit for the addition of the UV light, be aware that it's covered by a metal shield which minimizes its effectiveness. UV lights can kill germs, but they can't do it as much when it's covered up.
Product Specs
| | |
| --- | --- |
| Size | 8.1 x 16 x 25.1 inches |
| Recommended Room Coverage | 300 to 600 square feet |
| Additional Features | PlasmaTrue Technology, AreaSafe filter treatment, High-performance mode, auto mode, ionizer |
| Types of Filters | True HEPA, carbon |
| Filtration Stages | Two-stage |
Our Ratings
Community Feedback
"Love the effectiveness of this air purifier in combating seasonal allergies and pet dander! I've seen a noticeable improvement in my sleep quality and the dust level in my home has significantly decreased. Although the noise level can be a bit loud on higher settings, it's still manageable and the filters are easy to maintain and affordable. The slim design is a plus, making it easy to fit in any room, but I do wish the filter buttons were placed further apart to avoid accidentally pressing the wrong one."
---
Airthereal Pure Morning 7 in 1 Air Purifier
Best for Medium-Sized Rooms
For medium-sized rooms, the Pure Morning APH260 is an excellent unit. It features a three-stage filtration system, plus a UV-C light and ionizer.
The display panel features seven touch buttons to help you set the desired fan speed and mode. There are three fan speeds to choose between, and you can set a 12-hour timer if needed.
Both the UV-C light and ionizer are optional and can be activated from the panel. The ionizer will help to eliminate allergens and dust from the air, while the UV-C light kills bacteria and viruses.
What We Like
Works Quickly in Medium Rooms
Although this purifier will only cover 355 square feet, it still has excellent coverage. It draws air through the sides and front and emits clean air from the top. Airthereal claims that the unit will clean the room's air in 10 minutes, making it highly efficient.
Smart Features Increase Effectiveness
Enjoy auto mode: the unit will monitor the air and adjust the fan speed accordingly. This feature ensures you get the most out of the unit without wasting energy on high speeds when not needed.
Thanks to the Real-Time Air Quality Indicator, you can always check on the air quality. The PM 2.5 sensor monitors the air and gives you a number. Numbers below 20 are clean but when it rises above, speed up the fan.
Sleep Mode Helps at Night
During the night or quiet hours, activate sleep mode. In this mode, the unit sets the lowest fan speed to clean your air quietly. It's excellent for people who like to sleep in a dark room as there are no bright LED lights.
You Can Set a Timer
We can all be a bit forgetful sometimes — luckily, this purifier can help. As you activate it, set the timer to automatically turn the unit off anywhere between one and 12 hours after.
If needed, you can also set the unit to turn on automatically when you need it. This can come in handy if you want it to clean your air before you come home from work or school.
UV-C Light and Ionizer
This purifier will remove a significant amount of impurities from your indoor air. The UV-C light will kill bacteria and viruses by breaking down their molecules.
The ionizer helps to keep dust and allergens out of the air by bonding them with negative ions. You can then easily vacuum or sweep the dust away.
What We Don't Like
Not Super Quiet
Although this purifier is quiet when on low speed or sleep mode, it isn't as quiet as we'd like. It produces a white noise that is definitely noticeable.
Display Screen Isn't Durable
Many customers noted that the display screen started to malfunction after about six months. It was hard to read, or some numbers were cut off, making it impossible to see what was on the display.
Product Specs
| | |
| --- | --- |
| Size | 13 x 6.7 x 21.2 inches |
| Recommended Room Coverage | 355 square feet |
| Additional Features | UV-C light, air quality monitor, auto mode, sleep mode, timer |
| Types of Filters | Preliminary, True HEPA, activated carbon, UV-C light, ionizer |
| Filtration Stages | Three-stage |
Our Ratings
Community Feedback
"I've been using this air purifier for a while now and it has been a great addition to my home. The setup was easy and the controls were simple to figure out. The noise level on high is just like white noise to me, which I find pleasant. It has been effective in improving the air quality in my home, especially with kids and pets around."
---
| Product | Best | Size | Coverage (sq ft) | Types of Filters | Filtration Stages |
| --- | --- | --- | --- | --- | --- |
| Pure Enrichment Elite | 4-Stage Filtration | 9″ x 7″ x 25″ | 190 | Activated carbon, HEPA, UV-C, ion release | 4-stage |
| AeraMax 300 Air Purifier | 2-Stage Filtration | 8.1 x 16 x 25.1″ | 300 – 600 | True HEPA, carbon | 2-stage |
| Airthereal Pure Morning | Medium-Sized Rooms | 13 x 6.7 x 21.2″ | 355 | Pre, HEPA, activated carbon, UV-C, ionizer | 3-stage |
What Is an Ionic Air Purifier?
An ionic air purifier comes in different variants. The most popular and effective is a filter purifier with a built-in ionizer. Here, the ionizer function is usually optional.
An ionizer works by emitting negative ions into the air. These electrically change the molecules present in the surrounding atmosphere. Negative ions bind to positive ions, such as dust, pollen, and bacteria.
When the two bond together, they form dense particles that can't float in the air. Next, the heavy particles will fall to the ground or the nearest object, such as the couch or bed. You can then remove them by vacuuming, sweeping, or wiping the areas.
Manufacturers claim that ionizers are highly beneficial for individuals with severe allergies and asthma. But there is quite a lot of debate on whether ionizers are beneficial or not. Manufacturers claim high effectiveness, but scientific studies have shown otherwise (1).
Benefits of Ionizers
As there are disadvantages to ionizers, there are also benefits.
Improving Mental Health Conditions
Ionizers are shown to have certain positive effects on our mental health. Research suggests that exposure to negatively charged ions improved certain conditions, such as anxiety and depression (2).
The studies are currently incomplete and inconsistent. Still, it could be a few steps towards helping individuals with mental health conditions.
Use in Hospitals
Ionizers have been shown to have significant benefits in controlling the spread of infections in hospitals. Studies show that these devices significantly alter the electrostatic environment. Moreover, the negatively charged ions also caused bacteria and viruses to be repelled from plastic surfaces (3).
How to Find the Best Ionic Air Purifier
Once you've settled on the decision to get an ionic air purifier, here are a few things to consider:
---
Disadvantages of Ionizers
The promises of ionizers are enticing. Particles such as dust, odors, and even smoke are weighed down, eliminating them from the air we breathe. But what happens then?
Creates Dense Particles
As the ionizer releases negatively charged ions, these will be attracted to any positive object. This includes computer screens, TVs, and even tabletops.
The ionizer actually eliminates particles from the air and then drops them on a nearby surface. This means you must spend more time cleaning the "dropped" particles. After all, they will now be lingering on any positively charged surface.
Asthma
Although ionizers can remove some airborne particles that can trigger asthma, there are other harmful effects (4). Some ionizers have been shown to produce certain amounts of ozone. You might know ozone as the protective layer of gas that keeps us safe from the sun's strong rays.
However, ozone can also be harmful. When inhaled, it can cause respiratory issues, exacerbate asthma, or trigger attacks.
Take Note
Although ionizers don't intentionally produce ozone, they do so as a by-product of their design and function. Ionizers release small amounts of ozone through the charging process
(5)
.
Allergies
Ionizers are often marketed towards individuals with allergies, claiming that allergens will be gone. However, when actually put to the test, these devices fall sort of flat.
Ionizers can remove smaller particles like smoke but are less effective on larger particles like pollen. It turns out, though, that pollen and dust are widespread household allergens.
FAQs
---
Thank You For Your Feedback!
Thank You For Your Feedback!