Nothing is worse than having a cluttered and messy garage. Not only do you struggle to find anything you need but you can't even drive your car into the garage. You need to declutter and organize your garage.
In this post, we're sharing the 10 steps you need to organize your garage along with countless ideas on how to store items in your garage. You'll be able to find the things you need when you need it. You'll also be able to use the garage for its intended purpose: a place to put your car.
Key Takeaways
Empty the garage and sort items by type, then create a floor plan to organize your space effectively.
Keep items off the garage floor using shelves, racks, or wall storage to prevent clutter.
Sort and store tools and items safely, using containers, and avoid storing hazardous or temperature-sensitive materials in the garage.
Maintain garage cleanliness by sealing the threshold, upgrading lighting, and periodically decluttering and reorganizing.
---
8 Steps to Organize The Garage
Time: Between a full day to one or two weekends
Difficulty: Intermediate
1.

Start Cleaning Out Your Garage

When you're organizing your garage, the first place to start is to empty the garage of everything. Pull out your car. Remove all the odds and ends that you're storing in your garage. You want it empty.

Put everything in the driveway or in the front yard and organize it by type. For example, put your sporting goods together. Put lawn care and gardening supplies together. Gather woodworking tools in one spot.

This is also a great time to go through your things and see what you want to keep, what needs to be tossed, and what you can donate or give away.

To donate items you can leave stuff on the curb and post a notice on Craigslist that you're leaving free stuff for people to pick up. You'll be surprised how quickly it disappears. Some items like old lamps that work can be given to family, friends, and neighbors. You can also load the items in your car and take them to your local donation center.

You may need to rent a storage unit for a time to store everything until you get your garage organized, but this gives you a clean slate to work with.
2.

Create A Floor Plan

Now that you can see your garage and know what you need to store in it, create a floor plan.

Start the floor plan by measuring your garage. Note any fixtures such as windows, doors, or stairs. Draft the plan onto graph paper so you have a visual of your garage as you create your floor plan.

As you organize your garage, group items by type and give each type its own specific place. For instance, put sporting goods in one corner, gardening tools in another corner, and woodworking tools along the back wall.

You will also want to ensure that you have room for your car inside your garage. After all, why store your expensive automobile outside where it can be damaged by storms.

If you're concerned about how much room you have for your car, figure out how far forward you need to pull your car and hang a tennis ball on a rope. Then you can pull forward until the car hits the tennis ball and you'll know when to stop.
3.

Keep Things Off The Garage Floor

Plan to keep all your stuff off the garage floor using shelves or racks. The issue with putting items on the floor is that it quickly multiplies into large piles. Before you know it, you're right back to square one: a messy garage where you can't find anything you need and have no room for your car.
4.

Sort And Store Your Tools

By this point, you should have sorted, decluttered, and tossed your stuff. Now it's time to sort the items you're going to keep. You'll want to organize all your items by type, not broad type but specific types of items as well.

Organize sporting equipment into the different sports or into piles based upon the person who needs the items. Do the same thing with woodworking tools, camping equipment, and the other items you're storing in the garage.

As you sort your items, also consider how to safely store your items. You don't want to put heavy items on top shelves where they may come down on someone's head. Use containers such as boxes, buckets, and canvas bags to neatly store items in your garage.

Also, pick up a fire extinguisher to keep in a convenient area in case a fire breaks out. You'll be able to quickly and easily put the fire out in an emergency.

You should also be aware that some items should never be stored in the garage.
Items You Should Not Store in a Garage
Paint needs to be stored in an area without extreme temperatures. Heat and cold will damage the paint.
Propane tanks should never be stored in the garage as they may explode.
Anything made of paper should also not be kept in your garage. Paper attracts roaches and insects which are a nuisance to remove once they've made themselves at home.
Do not keep a refrigerator or freezer in the garage. During the summer the refrigerator or freezer will use up excess energy without air conditioning.
Pet food should also not be kept in the garage. It will attract possums, raccoons, and other animals. Instead, you should keep pet food inside your house in a sealed container.
5.

Use an Epoxy Floor Coating

A concrete floor looks drab and dingy when it's clean. You can brighten your space by applying an epoxy floor coating to your floor. The right coating will be anti-skid and resist oil stains from your car. It should also be as easy to clean as your kitchen counters.

You'll want to apply the epoxy floor coating when the weather is temperate, and you have several days available to apply the coats to your garage floor.
6.

Seal The Threshold

Seal the threshold of your garage to prevent leaves, rain, and dirt from blowing in under the garage door if it doesn't have a snug fit. You can attach a rubberized strip to either the door or the floor of your garage to seal the threshold.
7.

Upgrade Lighting and Electrical Systems

If you do any woodworking in your garage, you will need good lighting. Good lighting is also handy to keep people from tripping as they enter the house from your garage and you'll be able to find the items you need at night. This means that you need more than a single bulb above each car bay.

Add as many lighting fixtures as you need to be able to light up the garage at night so that you can find the items you need or work in the garage.
8.

Keep Your Garage Clean For Good

To keep your garage clean for good, keep a bag of kitty litter in your garage. If you have an oil spill, spread the kitty litter on the spill to clean it up.

Plan to sweep your garage every week to remove all dirt that has been collected over the week. You should also mop your garage floor seasonally to keep it clean.

Finally, plan time each summer to go through your garage to reorganize and declutter. Everyone collects items they don't need over time so you need to plan to declutter your garage periodically. It's also a good idea to consider replacing or purchasing more storage containers such as boxes, buckets, and storage bags.
Expert Tips
Stop Air Leaks Between the Garage And House
While your garage is empty, check for air leaks between the garage and the house.
Do this by going over the wall between the house and the garage. Look for gaps. You don't want the hot, cold, or moist air coming into your garage which will cause higher energy bills.
You can use caulk to seal the small cracks. Expandable spray foam can be used to seal the large cracks.
Invest in Door And Window Locks
Many house break-ins happen when people leave the garage door open and the door between the house and garage unlocked. Someone can just walk into the house and help themselves to your stuff.
So invest in some door and window locks. You'll want to put good strong locks such as deadbolts on the door between the house and the garage.
Also, put window locks on your garage windows. This will prevent someone from entering the garage through the window and walking into your house.
Start a habit of locking the door between the garage and the house when you leave. This will prevent people from entering your house through the garage.
Tips to Organize Your Garage Like a Pro
Use Labels
Use labels like they're going out of style. Many times you'll think you'll remember what's in a container when you put it away, but 6 months or a year later you won't remember. So label everything on the outside as you put it away.
Ensure that the label can be easily seen when you're looking at the container. Having to pull out a heavy container and turn it around to read the label can be quite irritating and time-consuming.
You can also invest in a label maker, especially if your handwriting is bad. This machine will create legible labels for you to put on your buckets.
Use Storage Bags
Storage bags are another useful item to store your things. They will protect holiday decorations, seasonal clothing, and camping equipment from dust. These canvas storage bags are easy to use. Just add a dryer sheet to the bag to prevent insects and animals from making a home in the bag.
Use a Garage Rack
Add heavy-duty shelving that can withstand a beating to your garage. This allows you to store items vertically. You can store bins of items or storage bags on these shelves.
If you don't want to pick up metal or plastic shelving at the local store, you can make your own shelves by attaching heavy-duty shelving brackets to the wall. Then place wooden planks over the brackets. Building your shelves in this manner allows you to install shelves that run the entire length or width of your garage.
Open shelving is better than using cabinets in a garage for several reasons. You won't need to plan extra space so you can open the cabinet doors. Or you won't need to pull the car out of the garage before accessing the items inside the cabinets.
Also, you can see everything easily on open shelving without needing to rummage about in a cabinet. Most people aren't worried about creating a formal setting in a garage, so open shelves work beautifully.
Use The Wall
Attach items to the wall of your garage. You can hang rakes, hoes, hoses, and bikes on the wall. The best way to hang items on your wall is to add ¾ inch plywood to your wall. This will allow you to attach hooks, shelves, and pegs to your wall.
Garage Storage Ideas
Vertical Storage
Vertical storage is storing everything you need in the garage vertically. It allows you to think up rather than out and use all your available space from the floor to the ceiling. You can hang shelves and racks on your garage walls. You can add cabinets. The options are endless.
Shelves
Shelves are an excellent hack that allows you to organize your space vertically and easily see everything you've stored. There are several types of shelves that you can make or purchase for your garage.
Wire Shelving
Wire shelves are a great addition to your garage. They're light and easy to install. You can spend a morning installing wire shelves, baskets, and hooks then put all your stuff away that afternoon.
Corner Shelves
Corner shelves are perfect for using up the normally wasted corner space of your garage. It's a great way to use your studs. Add strong brackets and use scrap wood to build the shelves yourself. You can also purchase corner shelves at your local hardware store.
Sliding Shelves
Sliding shelves and roll-out shelves are an excellent way of increasing your storage space even in a small closet. The shelves slide together for storage and then roll apart when you need to access the shelf.
Shelf Brackets
You can use shelf brackets to build your own custom garage shelves. Attach the brackets to the studs of your garage for more strength. Then add ½ inch plywood for the shelves themselves. You can even run the shelves along the length of the garage to use up every spare inch.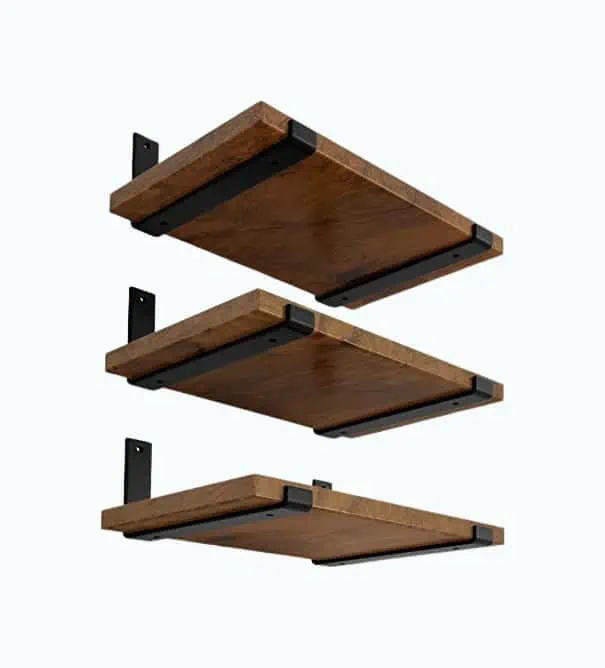 Ceiling-Mounted Shelves
Another option is to mount shelves to your garage ceiling. Do not store items on the ceiling that you will need to access often. However, the ceiling is a great place to store camping equipment, seasonal items, and holiday stuff that you only need periodically.
Monkey-Bar Shelves
Monkey-bar shelving is made of steel and designed to hold almost anything. It's an excellent way to store tools, skis, bikes, and other items on the walls of your garage.
Storage Cabinets
Storage cabinets are an excellent way to keep your mess behind closed doors. You will need to allow space to open the cabinets as you plan the garage. You can build your cabinets around your shelving or purchase cabinets from the local hardware store.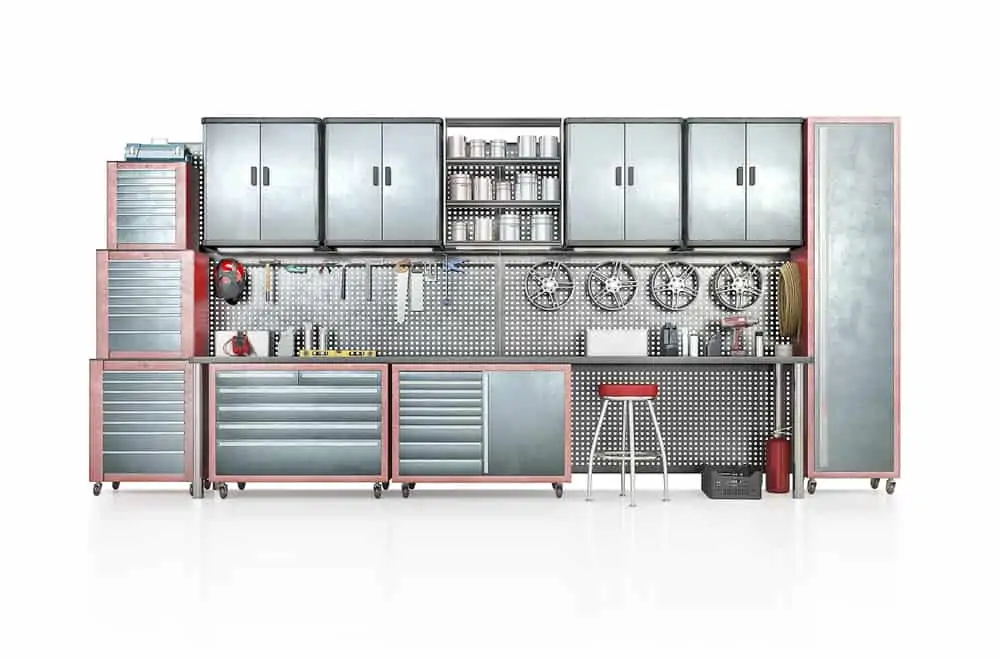 Safety Cabinets
If you have items that need to be stored safely in the garage such as hazardous chemicals, pesticides, or herbicides then a safety cabinet is what you need. They keep corrosive chemicals safe in case of fire. They also keep children and small animals away from the items.
Wall Storage Systems
There are several different types of wall storage systems to consider using in your garage. These systems include a pegboard, track-based systems, and panelized systems of storage.
Pegboard
A pegboard is just what it sounds like. Attach the pegboard to your studs leaving ½ inch of space behind the pegboard. You will need this space so that you can hang the hooks onto the pegboard.
The handy thing about a pegboard is that it will allow you to adjust the hooks and shelves as your shelving needs change over the years.
Track-based system
Use a track-based system for your garage shelves. Track-based shelving involves installing vertical 'tracks' up the wall of your garage. Then you can add shelves, hooks, and baskets according to your needs.
Panelized system
A panelized system of storage is a subtle and beautiful method of using your entire wall for storage. The panels look like the exterior of a house, yet they allow you to attach shelving, hooks, baskets, and other storage units to the walls of your garage.
Workbench
Many people work in their garage. Workbenches are a great way to store tools while still having a solid table to work on. You can add drawers, slots, and racks both above, and below the workbench for storage.
Foldable Workbench
One idea is to create a foldable workbench. The bench is built with hinges so that you can fold it up against the wall when you don't need to use it. Then you can easily pull it down again to use when you're working.
Rolling Workbench
A rolling workbench is handy in a garage. You can roll the workbench to the most convenient spot to work and then roll it back into a corner when you're finished. This gives you the most flexibility to create a custom workspace for woodworking yet gives you the room you need to pull your car into the garage.
Pegboard
Add lengths of pegboard to your workbench slots so you have a place to hang tools. You can hang saws, hammers, and drills on the pegboards so the tools are always easy to reach.
Overhead Storage
Overhead storage is perfect for storing your camping gear and holiday stuff. You can also hang bikes, backpacks, and lawn chairs from the ceiling.
Outdoor Storage
If your garage is becoming crowded with everything you're storing inside it, then you might want to consider some outdoor storage solutions. You can add outdoor trunks, bicycle storage units, and small sheds to store your lawn care and gardening tools.
Customizable Garage Storage System
You can use pegboards, tracks, or french cleats to create a customizable garage storage system. The advantage of a customizable system is that you can adapt it to fit your family's changing needs each year.
Storage Ideas For Tools And Equipment
Some tools and sports equipment have specific storage needs that are not easily met with shelves, hooks, and pegboards.
Balls
One easy solution for storing balls in your garage is to use a large rubber trash can. It will fit soccer balls, basketballs, and baseballs easily and keep them from bouncing all over the garage. Another idea is to build a ball storage container from wood and bungee cords. It will stretch to hold all the balls you need. You can even add shelves along the side for mitts or small balls such as baseballs.
Bikes
If left to their own devices, children will drop their bikes all over the garage which can be a hazard when you go to park your car. One excellent solution is to hang bikes on hooks that are fastened to the wall or ceiling of your garage.
Car Care Cabinet
Build yourself a care cabinet to store everything you need to care for your car. Not only will you have all the products, rags, and buckets you need on hand, but you'll be able to store them out of your children's reach.
Decorations
Use baskets and buckets to store your holiday decorations in your garage. They not only keep everything organized but also look great on your garage shelves.
Extension Ladder
Extension ladders are difficult to store. When you don't need them, the ladders take up valuable space. But when you do need them, you don't want to be digging through piles of clutter to pull out your ladder. The best solution is to store the extension ladder on the ceiling of your garage.
Fishing Gear
Use pegboards to create a customizable space to store your fishing gear. The rods can be hung on hooks while you can use hooks and plastic bags to hang other items you need.
Lawn Chairs
Use PVC piping to create a unique storage rack for folding lawn chairs. You'll be able to keep your chairs neatly organized and grab them the moment you need them.
Long-handled Tools
Use a series of 2X4s to create a customized storage solution for long-handled tools such as shovels, hoes, and rakes. You'll be able to store the tools out of the way, but easily be able to grab the tool you need.
Power Tools
Build or buy yourself a power tool organizer to hang on the wall. It will keep all the tools easily available, but also out of the way. It's a great storage solution especially if you do a lot of woodwork.
Sports Equipment
If your children are into sports, then you're going to have a lot of sports equipment to keep track of. One idea is to build a customized sports equipment storage system that will give everyone a place for helmets, balls, and rackets.
Sports Gear
Another idea is to purchase a cart to store your sports gear in one place. You can keep it organized with balls below, shoes, and helmets on top.
FAQs
Thank You For Your Feedback!
Thank You For Your Feedback!