Hot water is essential for effectively dislodging dirt, grime, and grease. If you're struggling to remove tough stains with a cold pressure washer, it's time to invest in one of the best hot water pressure washers on the market.
I have spent hours researching dozens of hot water pressure washers, investigating honest customer reviews and expert advice. I chose seven recommendations after looking at each product's cleaning ability, pressure, and water flow.
My list of the top seven hot water pressure washers will help make your search a lot easier. In only a few more minutes, you'll find something that ticks all your boxes!
Image
Model
Product Comparison Table
Features
Best on Wheels
Erie Tools Flat Surface Pressure Washer
On wheels for convenience
Versatile use
Powerful work horse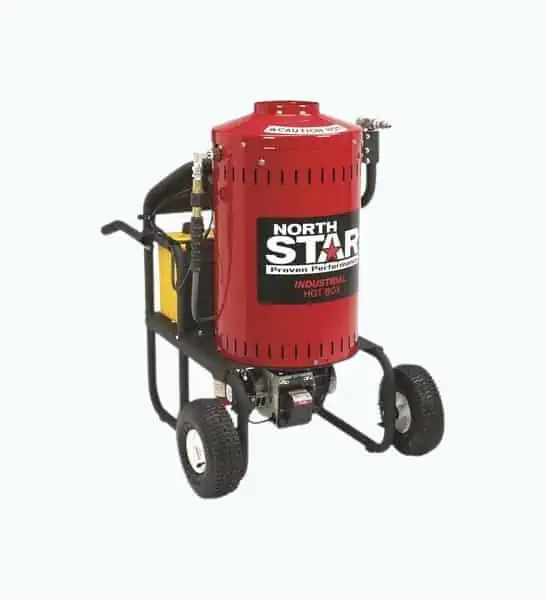 Best Steam Function
Northstar Electric Pressure Washer
Steam-powered
Reaches 250°F
Has temperature control
Most Portable
Easy-Kleen Commercial Pressure Washer
14 HP Kohler engine
Schedule 80 heating coil
Well-built frame
Best Gas Option
NorthStar Gas Hot Water Pressure Washer
4 GPM, 3000 PSI
Reliable Honda engine
State-of-the-art triplex pump
Budget Choice
Ar Annovi Reverberi Pressure Washer
Trigger lock safety feature
Adjustable pressure gauge
Mesh-designed water filter
Most Powerful
Steel Dragon Tools Hot Cold Pressure Washer
21 GPM flow rate
Maximum PSI of 4000
Weighs 59 lbs
Best Durable
Simpson Hot Water Pressure Washer
48 inch spray gun
13-inch tires
Has 120V induction motor
Review Methodology: At Oh So Spotless, our commitment to providing reliable information is backed by extensive research and hands-on experience. We've put together an in-depth analysis of the best hot water pressure washers, comparing their performance, design, and features to help you make an informed decision. As professionals in the field, we've assessed each product using important criteria such as efficiency, power, durability, and user experience. Our findings are based on facts and quantitative measurements, ensuring that our top recommendations stand out from the competition. We've considered key factors like water temperature, pressure output, portability, and ease of use, making sure you have all the necessary information to choose the perfect hot water pressure washer for your needs. Trust our expertise to guide you through the process of finding the best product for you.
---
---
The Best Hot Water Pressure Washers of 2023
I've researched and compiled a list of the best hot water pressure washers. My analysis covers customer reviews, expert recommendations, and key features like design, heating system, pressure, and water flow.
Soon enough, you'll find a pressure washer that delivers heat, power, and ultimate cleanliness!
Erie Tools Flat Surface Pressure Washer
Best on Wheels
For deep cleaning flat surfaces, a pressure washer on wheels may be your best bet. Simply slide this along your flat surfaces and let it do the deep cleaning for you as you go. Thanks to the lightweight design, this one from Erie Tools is simple to maneuver, a bonus for customers!
It's also powerful, ranging up to 4000 PSI. We can't forget the hot water feature either, which will clean quicker and dissolve dirt. It goes up to 212 degrees Fahrenheit, so you can enjoy the convenience of hot water.
What We Like
On Wheels for Convenience
Most pressure washers utilize handheld trigger guns that you aim at your dirt. This one comes with wheels. This is ideal for cleaning large flat surface areas much quicker and easier.
The wheels and lightweight design make it easy to maneuver. Last but not least, the wheels will not mark your surfaces.
Versatile Use
You can use this pressure washer on a range of surfaces. This includes concrete sidewalks and driveways, decks and patios, pool decks, and much more.
Aggregate and other textured surfaces? No problem for this guy!
Powerful Work Horse
Users love this pressure washer — it's a real workhorse! It's so handy and perfect for completing tasks quickly. With an impressive 4000 PSI and three gallons per minute, this tool is simply fantastic.
Easy To Use
This pressure washer has a handle and trigger gun, which makes it easy to control. Setting up is also a breeze, thanks to a quick-connect point.
What We Don't Like
Leaking Clamp Hose
A few customers reported that the clamp hose leaked. This isn't a massive problem as it's quite an easy fix, but certainly, it's frustrating when you're in the middle of cleaning.
Product Specs
| | |
| --- | --- |
| Portability | On wheels and lightweight; 26.4 pounds |
| Type | Electric |
| Heating System | Not specified |
| PSI | 4000 |
| GPM | 3 |
Our Ratings
Community Feedback
"My experience with this product has been mostly positive, but it did require some adjustments before it worked properly. Initially, I had to retighten some loose nuts and bolts, as well as replace a hose that exploded during my first use. However, once I made these changes, the deck washer performed exceptionally well with my 4000 PSI pressure washer, making tasks like cleaning my driveway and pool deck much easier."
---
Northstar Electric Commercial Pressure Washer
Best Steam Function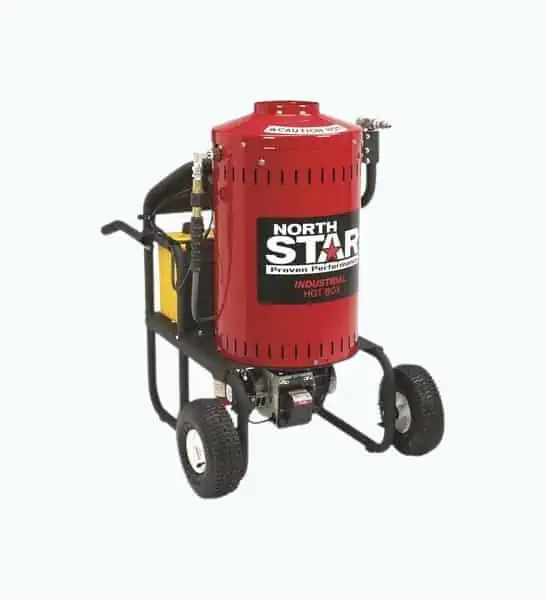 Utilize the power of steam cleaning by choosing this electric commercial pressure washer from North Star.
This upgrades your cold water into hot water or steam, which gives you the ultimate cleaning of your surfaces.
Plus, steam sanitizes and disinfects without the use of harsh chemicals. So if you're worried about germs, bacteria, mold, and mildew — this is a top choice!
What We Like
Reaches 250°F
The diesel burner in this industrial model heats water to 250°F, which is hot enough to melt grease, grime, and oil quickly and efficiently. Spend less time cleaning and more time relaxing when you choose something this powerful.
No More Interruptions
There's nothing more annoying when pressure washing than having to stop a million times to top up the fuel, give the hose a rest, or something else.
This device allows you to say goodbye to interruptions. The extended-run four-gallon tank lets you work for a long time without stopping for fuel.
The connections are also fast and easy to use, keeping your cleaning flow going.
Choose Your Own Temperature
Choose your own temperature with the handy temperature control. If you don't want to go all the way up to 250 degrees, you don't have to. This gives you more control over the tasks at hand.
High Power Pressure
This runs at 4000 PSI maximum, which is all you need for the deepest clean. It runs at a GPM between two and four, so you can utilize incredible power for your projects.
What We Don't Like
Hard To Manuever
This comes with a sturdy frame and a handle for portability, but that doesn't make it easy. Why? Because the wheels are too short.
The bottom of the pressure washer sometimes gets stuck on the ground, making it very difficult to move. It could do with some bigger wheels.
Prepare for Repairs
Quite a few customers had to order in repairs or send the product away for repairs. Hopefully, this doesn't happen to you, but remember that a few people experienced issues.
Product Specs
| | |
| --- | --- |
| Portability | Short wheels make portability hard; 253 pounds |
| Type | Electric |
| Heating System | Schedule 80 heating coil |
| PSI | 4000 |
| GPM | 2-4 |
Our Ratings
Community Feedback
"In my experience, this product has proven to be an efficient and powerful tool for cleaning farm equipment with its high-pressure hot water capabilities. The unit is well-made and has demonstrated its effectiveness in removing decades of grease and dirt from various surfaces, though it could benefit from a few design improvements. One issue I encountered was the difficulty in moving the unit due to its low ground clearance and small wheels; a larger set of wheels and struts on the backside would significantly improve maneuverability. Additionally, the inclusion of a system drain plug for water removal during freezing temperatures would be a practical addition. While there have been some concerns with internal rusting and the use of corrosive parts, my overall experience with this product has been positive and it has outperformed similar, more expensive models in the market."
---
Easy-Kleen EZO4035G-K-GP-12 Commercial Pressure Washer
Most Portable
Portability is key, especially with these heavy machines. This pressure washer from Easy-Kleen weighs a whopping 400 pounds! But on this sturdy and four-wheel frame, it's one of the easier high-power portable pressure washers to maneuver.
The front handles allow you to quickly push and pull it where you want to go. The thick wheels allow it to navigate different terrain, too.
What We Like
You're In Control
This machine has a pressure regulator and temperature controller, allowing you to customize the water temperature and PSI. While this machine is mega-powerful, you don't always need to utilize it to the maximum.
14 HP Kohler Engine
With the 14-horsepower Kohler commercial-grade engine is unbeatable in power and reliability. It has an electric start which makes it easy to get up and running. Plus, it's quiet and very durable.
Schedule 80 Heating Coil
The heating coil on this power tool can bring the water up to 150°F over the existing temperature. So if your water is coming in at 65 degrees, this can bring it up to 215 degrees.
The complete ceramic seal blanket over the coils allows for efficiency, quick heat-up time, and fuel-saving. Lastly, it works well in cold climates!
Well-Built Frame
When I talked of portability, I just could not discard the idea of finding durable support. The last thing we want people to worry about is getting stuck in the middle of nowhere because the frame just ended up like a scrap.
With this one, you're really getting your money's worth! It has a single-piece durable steel body housing the 10-gallon poly fuel tank. These are all welded with a lifting bar.
What We Don't Like
Hight Price Point
While this might not be the most affordable on the list, but it sure is one of the most durable and the only portable hot water pressure washer.
Product Specs
| | |
| --- | --- |
| Portability | Sturdy frame and wheels; 400 pounds |
| Type | Gas with electric start |
| Heating System | Schedule 80 heating coil |
| PSI | 4000 |
| GPM | 3.5 |
Our Ratings
Community Feedback
"If you're looking for a portable pressure washer, this product from Easy-Kleen is a solid option. Despite its 400-pound weight, I found it easy to maneuver thanks to the sturdy four-wheel frame and handles at the front. The 14 HP Kohler engine and Schedule 80 heating coil provide excellent performance, while the thick wheels make navigating various terrains a breeze. Keep in mind that this high-quality pressure washer does come with a higher price point, but its performance and build may justify the investment."
---
NorthStar Gas Hot Water Pressure Washer
Best Gas Option
Looking for a gas option? These are great if you want a higher PSI. With a PSI of 3000, this comes with unmatched power for heavy-duty and commercial cleaning.
Being gas, it has two 8.75-gallon tanks. They're color-coded for your understanding, too: red for gasoline and yellow for diesel, fuel oil, or kerosene. Keep in mind this has an electric start, but it runs on gas.
Overall, this is an awesome pressure washer that provides both hot water and steam up to 250°F.
What We Like
3000 PSI
With a PSI of 3000, anything is possible with this gas hot water pressure washer. This is strong enough to blast off all kinds of stubborn dirt from various surfaces.
Reliable Honda Engine
What benefits does the Honda engine give this pressure washer? Firstly, this device is always prepared for the task at hand. The commercial-grade engines also mean it's super reliable, easy to start, and very powerful.
Last but not least, it also has improved fuel efficiency, a longer run time, and perhaps best of all — quiet operation.
Durable and Trustworthy Machinery
When spending this much money, you want something that will be reliable — and this is it. It's kitted out with a state-of-the-art Cat triplex pump which aids its dependability. The pump's direct-drive design uses fewer moving parts, which cuts down on maintenance but maximizes value.
Kickstart With Easy Start
The Easy Start feature lets you get this up and running very easily. It has a smooth recoil puller which is a breeze to use. Whether you're preparing for a big or small job, you'll enjoy getting equipped with this unit.
What We Don't Like
Extremely Heavy at 547 Pounds
Without fuel, this unit weighs 547 pounds. Add fuel, and you're talking even heavier. This decreases the ease of portability, which is a struggle for many customers.
Hard To Maintain Hot Water
Firstly, it can take around 10 minutes for the hot water to come in, which is inconvenient. Secondly, it's hard to maintain the hot water.
A few customers reported that the burners are very strong and can damage the charging coil. So you'll need to check and replace the battery quite often.
Product Specs
| | |
| --- | --- |
| Portability | Sturdy frame and wheels; but it weighs 547 pounds |
| Type | Gas |
| Heating System | 12V diesel with schedule 80 heating coil |
| PSI | 3000 |
| GPM | 4 |
Community Feedback
"This product has its pros and cons, with my personal experience being a mix of both. When it functions properly, it efficiently cleans various items such as logging equipment and off-road vehicles. However, I've encountered issues with the pressure valve sticking, which led to the discovery of red paint chips in the system. While the product can be heavy to maneuver, it does a thorough job when operational, requiring the user to be diligent in maintaining diesel levels and turning off the burner switch to prevent battery drainage."
---
Ar Annovi Reverberi AR630-HOT Pressure Washer
Budget Choice
Hot water pressure washers are very expensive, but this is a pretty affordable competitor compared to other options.
This little guy can reach temperatures of 180°F which will be enough to deep clean grease, grime, and other dirt.
It has a maximum PSI of 1900. So it's actually one of the only options on our list that is more suited to home use than commercial. However, you can definitely still take it to work and see remarkable results.
Keep In Mind
This is not on any sort of portable frame, so it's a bit of a hassle to maneuver. However, you could set a frame up yourself for sure!
What We Like
Serious Safety Features
Safety comes first with this pressure washer. The trigger gun helps you determine when it's definitely switched off, giving you peace of mind. You can also lock the trigger to avoid accidental sprays.
Lastly, it automatically shuts down when it detects an electrical ground failure.
Adjustable Pressure Gauge
Choose your own PSI with the adjustable pressure gauge. This is ideal since different surfaces require a different PSI. For instance, you may want a different PSI when washing a bike versus a driveway.
Mesh Water Filter
This comes with a mesh-designed water filter, making the device easy to clean. Overall, this extends the pump's life so you can get years out of the product.
Suitable for Home and Professional Use
I mentioned earlier that hot water pressure washers are more suitable for commercial use rather than home use. But with a maximum PSI of 1900 and a 2.1 GPM, this is an excellent choice for home and professional use.
What We Don't Like
Not on Wheels
One of the most significant drawbacks of this appliance is that it's not on wheels. This makes it very difficult to maneuver and takes some of the practicality away from this option.
No Attachments Included
Due to the adjustable pressure gauge, this doesn't come with nozzles or the option to attach any nozzles. If you're used to this, this machine may require a bit of a learning curve. A few customers were put off by this.
You Need To Preheat Water
Make sure you have a hot water source before buying this. The machine itself will not heat the water for you. Instead, you must connect it to a hot water source like a tap to utilize hot water.
Product Specs
| | |
| --- | --- |
| Portability | Not on wheels; 65 pounds |
| Type | Corded electric |
| Heating System | You need to heat the water first |
| PSI | 1900 |
| GPM | 2.1 |
Our Ratings
Community Feedback
"This product initially seemed like the perfect hot pressure washer, but upon using it, I discovered it doesn't actually produce heated water. However, it does have its merits, such as being able to mount on a shelf, lacking exhaust fumes, and offering a quiet experience. Despite a few setbacks, like some units not starting or needing replacements, this pressure washer proves to be durable and well-made, even suitable for small business owners who use it daily."
---
Steel Dragon Tools Hot Cold Pressure Washer
Most Powerful
If you're on the hunt for something powerful with a high PSI, this is pretty unmatched.
The Steel Dragon Tools pressure washer has a PSI of 4000 and an amazing GPM of 21! That's going to give you some incredible power when you're pressure washing.
It also allows hot water up to 210°F as well as the use of cold water when you'd rather use that. Overall, this gives you versatility and control over your tasks.
What We Like
Clean Various Surfaces
You can use this for a variety of jobs. This includes parking lots, decks, patios, sidewalks, driveways, pool tiles & decks, and much more. It's best for commercial work due to the high power, but it can still tackle a range of duties.
59 Pounds Lightweight
Compared to some of our other recommendations, which are often up to 600 pounds heavy, this is a lovely little lightweight option. It only weighs 59 pounds due to the plastic frame, so it's easy to maneuver (though maybe not as durable).
Generous Range of PSI
While this has a maximum PSI of 4000, it has a minimum PSI of 1250, making this a super duper versatile product. You can use it for home use or commercial. The lighter pressure allows you to use this on house siding and cars without causing any damage.
Great Wheel Design
This is on wheels, but there's more to it than that. It has two 10-inch rubber tires on the rear with two non-marking casters at the front. This lets you easily maneuver it in various directions while protecting your flooring.
What We Don't Like
Plastic Housing
Most of our other recommendations have a sturdy steel frame that is durable and rust-resistant. However, this plastic one is slightly cheaper, less durable, and more subject to damage.
Product Specs
| | |
| --- | --- |
| Portability | On wheels; 59 pounds |
| Type | Gas |
| Heating System | Not specified |
| PSI | 4000 |
| GPM | 21 |
Our Ratings
Community Feedback
"I've been excited to use this product since it arrived, but I noticed an issue with uneven spinning on both sides. When I investigated further, I discovered that the left whirl spinner seemed locked up, causing it to spin slower than the right side. I'm not sure how to fix this problem, so any suggestions on how to take it apart and grease it would be appreciated."
---
Simpson MB1518 Hot Water Pressure Washer
Best Durable Hot Water Pressure Washer
Thanks to the welded steel frame and powder-coated finish, this pressure washer is highly durable and corrosion-resistant. If you're looking for something that's built to last, then the Simpson MB1518 is one to consider.
The motor is also highly reliable. It is a 120-volt heavy-duty induction motor system engine with a triple-A triplex pump to give your machine a powerful edge.
What We Like
Long Convenient Spray Gun
We think you'll like this spray gun. It's 48 inches long, allowing you to get into hard-to-reach places and tight corners. It's also finished with an insulated grip for maximum comfort and control.
13-Inch Tires
The 13-inch pneumatic tires are heavy-duty and strong. They provide great portability and can easily travel across different terrain types.
Versatile Functions
This pressure washer is designed for worksites, agricultural fleets, paint prep areas, and commercial job sites. While it isn't intended for home use, it still has a lot of purposes.
What We Don't Like
1500 PSI
The PSI is quite low for a commercial, gas-powered pressure washer. At 1500, this matches the average electric pressure washers used for the house. We don't recommend it for home use since the manufacturer hasn't specified that. However, it may not be strong enough for some commercial tasks.
Product Specs
| | |
| --- | --- |
| Portability | On 13-inch wheels; 255 pounds |
| Type | Gas |
| Heating System | Diesel fired burner |
| PSI | 1500 |
| GPM | 1.8 |
Our Ratings
Community Feedback
"This pressure washer is impressively durable and corrosion-resistant, thanks to its welded steel frame and powder-coated finish. I found the 120-volt heavy-duty induction motor system engine, combined with a triple-A triplex pump, to provide a powerful cleaning experience. The long spray gun and 13-inch tires added convenience and ease of use during my cleaning tasks. With 1500 PSI, this product offers versatile functions for various cleaning needs, making it a reliable choice."
---
Is a Hot Water Pressure Washer Worth It?
What are the main benefits of choosing a hot water pressure washer, especially one that also works with cold water?
Deeper cleaning: Hot water can more easily blast away dirt and keep it away. It's quicker at cleaning surfaces than cold water is.
Good match for detergent: Hot water works better with pressure washer detergent, particularly on greasy build-up. This makes it great for cleaning driveways and garage floors.
Easier to clean: Hot water takes the elbow grease out of many jobs, making it much easier to blast away dirt.
How To Choose the Best Hot Water Pressure Washer
Before we get into the nitty-gritty details you should consider when buying a hot water pressure washer, please note that these are designed for commercial use.
These appliances are expensive, super high power, and very hot — so they're not ideal for pressure washing around the house. Plus, your home driveway, garage floor, and other surfaces probably don't need scalding hot water. Normal pressure washers will work just fine.
These pressure washers are mostly aimed at people getting paid to pressure wash. A hot water pressure washer will get you through jobs quicker. Just know you'll need health and safety training for using one.
---
Tips for Maintaining Your Hot Water Pressure Washer
You're about to spend a lot of money on a hot water pressure washer, so taking care of it is important. Here are our top maintenance tips:
Turn the machine off when not in use: Don't leave your pressure washer turned on for more than three minutes when you're not spraying it. This can damage the pump, and you may require a replacement. Always turn off the machine if you are going to step away from it.
Check pump and oil: Always check the pump and engine oil levels before each use.
Drain moisture: Drain moisture from the heating coil regularly. There should be a drain valve on the boiler. Leave it open for a while, at least once a week, to remove any moisture residue.
Switch off the heater when finished: Always remember to turn off the heater before you stop spraying water. This ensures that only cool water flows out at the end. It also protects the metal part of your sprayer wand and allows the heating coils inside the cool down before you store the pressure washer.
Storage tips: If you plan to store your pressure washer away for a couple of weeks or longer, drain the water and chemical systems. Fill the machine with anti-freeze. Next time you go to use it, it will be in mint condition.
Check the air filter: Once a month, check the air filter to make sure it isn't clogged with dust or dirt. You will likely need to replace the filter every six months.
Change engine oil regularly: Change the engine oil every 100 hours of work or every three months. Only use oil that the manufacturer recommends.
Change pump oil regularly: Change the pump oil when you get the machine and replace the pump oil every 250 hours of work or every three months.
Change burner fuel filter regularly: Replace the burner fuel filter every three to six months.
Deal with condensation: If you find condensation or water in the fuel tank, drain the tank and leave it open for a little while.
Bonus Tip
While these are 10 important tips, there are many more to consider. Make sure to read the user manual that comes with your hot water pressure washer thoroughly to know all the essential maintenance tips for your model.
FAQs
---
Fire the Hot Shot
With these hot water pressure washers, you can fire hot shots — literally. Remember, hot water pressure washers do a better job than cold water at busting out grease, grime, and all kinds of other dirt.
Always consider the type of pressure washer, the PSI and GPM, the portability and the heating system. Never miss a detail before you buy, and you will end up with one that brings no surprises (other than how awesome it is).
My roundup of the seven best on the market will surely match you with one that will serve you and your projects for a long time.
Thank You For Your Feedback!
Thank You For Your Feedback!