If you're experiencing the consequences of dry air, such as chapped lips, dry skin, and throat, you could use a humidifier. However, you may have heard the horrors of noisy humidifiers with high maintenance.
That's where filterless humidifiers come in. These are quieter and easier to maintain. Plus, they'll bring back much-needed moisture and balance your home's humidity at comfortable levels.
We'll teach you everything you need to know about the best filterless humidifiers. Plus, after hours of research into expert advice, we have five amazing options to consider.
Image
Model
Product Comparison Table
Features
Best Overall
Levoit Cool Mist Humidifier
Runs for 60 hours
Excellent 360-degree coverage
Less than 30 decibels
Quietest Filterless Humidifier
Syvio Humidifiers
Less than 24 decibels
Long-lasting up to 45 hours
Easy to clean the tank
Most Attractive Design
Geniani 4L Ultrasonic Humidifier
Sleek design
18-hour run time
Oil diffuser feature
Best Humidifier Diffuser Combo
Everlasting Comfort Humidifier
Large 1.6 gallon capacity
Add essential oils
Auto-shutoff
Best Compact Filterless Humidifier
Vicks Ultrasonic Cool Mist Humidifier
Compact at 13.5 inches high
Large 1.2-gallon capacity
Quiet for nights
Review Methodology: At Oh So Spotless, we prioritize providing you with trustworthy, data-driven reviews to help you make informed decisions. Our team of professionals conducts thorough research and hands-on evaluations of the best filterless humidifiers, analyzing their performance, design choices, and user experience. We compare products based on key decision-making factors, such as energy efficiency, noise levels, ease of use, and coverage area. Our comprehensive assessment involves ranking each product using a set of quantitative measurements and criteria to identify the top performers. By examining first-hand evidence and sharing our expertise, we strive to offer you valuable insights into what sets each filterless humidifier apart from its competitors. Our goal is to ensure you find the ideal product that meets your needs and exceeds your expectations.
---
---
The Best Filterless Humidifiers of 2023
As we searched for the humidifiers on our list, the above points were well-considered to ensure user-friendliness. We also considered product specifications and genuine customer reviews. Here are the best filterless humidifiers.
Levoit Cool Mist Humidifier
Best Overall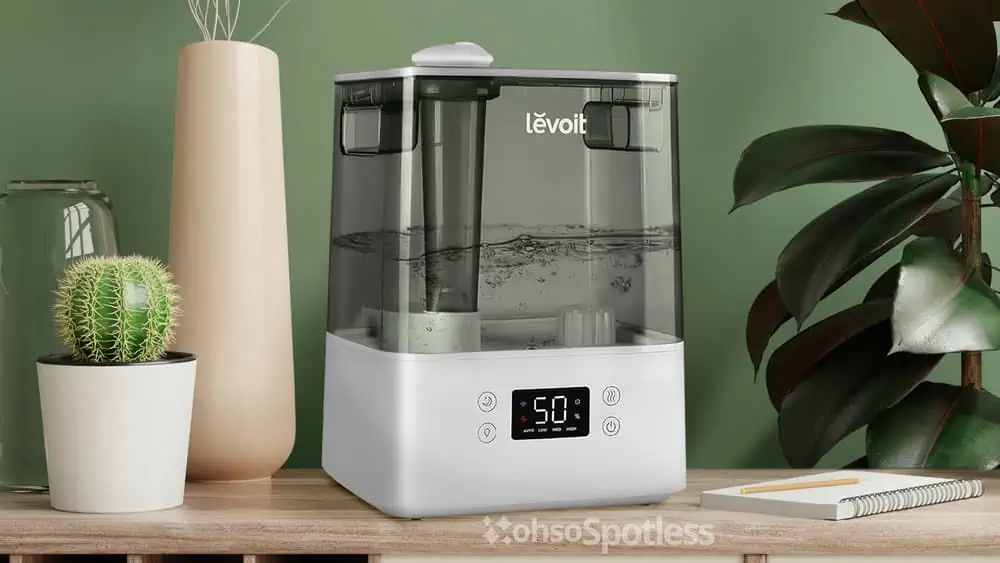 One filterless humidifier loved by many is the Levoit Cool Mist. It works like a dream, bringing up the humidity quickly and quietly. It uses ultrasonic technology to create a cool mist that won't cause dampness in your home.
Moreover, you can use essential oils to add instant freshness while maintaining the required humidity for the area. The humidifier has voice control features by using the app from the manufacturer and syncing it to third-party assistants such as Amazon or Google Assistant.
What We Like
Runs for up to 60 Hours
The water tank of this humidifier can hold an impressive 1.59 gallons of water. Thanks to the size of the tank, the humidifier can run for up to 60 hours straight on a low setting.
Consequently, you save time and effort of having to refill it multiple times. It can even run through the night to ease snoring and dry mouth.
Excellent 360-Degree Coverage
For the humidifier to cover your entire room or area, the nozzle can rotate 360 degrees to reach all corners. In addition, the cool mist will reach up to a maximum of 47 square meters. You can also set your preferred schedule of usage by using the app.
Comfort Via Ultrasonic Technology
Thanks to ultrasonic technology, the mist is not only cool but also very fine and even. This, of course, makes it more comfortable for you.
Less Than 30 Decibel
Although the tank is large, it has an impressive ultra-quiet technology emitting less than 30 decibels of noise which is a perfect addition to your child's nursery.
In addition, the automatic mode will monitor the room humidity and adjust the mist output based on the target humidity you want to attain.
Increases Humidity In Minutes
In just half an hour, this can increase the humidity level in your home by up to 12 percent. This is around four times faster than other units. So if you're desperate for moisture, this is the humidifier for you.
What We Don't Like
Tendency to Produce White Film
One visible downside of using this large humidifier is its tendency to leave a white film, especially when you have a dark countertop or furniture. However, it doesn't really leave a stain at all. You just need to wipe it down and notice as if nothing was even there.
Hard to Clean Bottom of the Tank
It's relatively easy to clean most of the unit. But the bottom of the tank is a whole other story. It has a cup with a grill at the bottom, which makes it hard to access the nooks and crannies.
Plus, even if you clean weekly, the water residue becomes gross and slimy, especially if you aren't using distilled water.
Humidity Sensor Is Off
When you compare the unit's humidity readings to a hygrometer, the numbers don't match. This can make it hard to trust the unit. Is it actually getting your home to a comfortable level?
Product Specs
| | |
| --- | --- |
| Working Hours | Up to 60 hours |
| Tank Capacity | 1.59 gallons |
| Max Mist Output | Not specified |
| Dimensions | 9.6 by 7.5 by 13.4 inches |
| Room Coverage | 215 to 505 square feet |
Our Ratings
Community Feedback
"This product has greatly improved my indoor air quality and overall well-being. The LEVOIT Humidifier features a 6-liter water tank, top fill design, smart sensor, and remote control, making it a convenient and practical choice. Since using this humidifier, I have experienced softer skin and hair, easier breathing, and better sleep quality. It also benefits my plants and pets by providing optimal humidity levels and adds a touch of elegance to my home with its sleek design. While it does require some cleaning and maintenance, the positive effects on my health and comfort make it worth the investment."
---
Syvio Cool Mist Humidifiers
Quietest Filterless Humidifier
If you're on the hunt for a small, compact and quiet humidifier, this is your guy. This humidifier might be tiny, but it's certainly powerful.
It produces a strong cool mist at a hushed level under 24 decibels. We love that it's equipped with a silencer to help minimize any potential noise.
Customers and experts praise how easy it is to clean and keep clean, thanks to the unique arched design. In addition to being easy to clean, it's also long-lasting and can produce mist for up to 45 hours.
What We Like
Runs At Less Than 24 Decibels
This humidifier works at a nearly silent level of fewer than 24 decibels. It's excellent to keep in the bedroom during the night or in the nursery for your baby to sleep comfortably. It also features an optional dimmed night light that could be convenient in a child's room.
Long-Lasting Humidification
Equipped with a 0.48-gallon tank, this humidifier can last between 15 and 45 hours at a time. If needed, it can run through the night as you sleep. Keep in mind, though, that it won't last 30 hours on high.
Easy to Clean the Tank
Cleanliness is vital in filterless humidifiers since dirt, dust, bacteria, and even mold can build up.
Luckily, this humidifier is a breeze to keep clean thanks to its ergonomic, smartly designed tank shape that easily fits a hand through. In addition, the shape makes it easier to grab as well so that you can empty or refill it without trouble.
What We Don't Like
Limited Color Options
This humidifier is not the most design-friendly out there. Customers have only two color options to choose from – blue and pink and these shades are not the easiest to complement for those minimalist who likes color coordination with their furniture. However, you may opt to use the night light instead which gives you seven color options.
Not the Most Functional
A few customers noted that it keeps on leaking. Keep this in mind and double-check the warranty details.
Product Specs
| | |
| --- | --- |
| Working Hours | 15 to 40 hours |
| Tank Capacity | 0.48 gallons |
| Max Mist Output | Not specified |
| Dimensions | 10.5 by 7.32 by 7 inches |
| Room Coverage | Not specified |
Our Ratings
Community Feedback
"This humidifier has been a fantastic addition to our home, offering both functionality and a unique dolphin design that is appealing to children. With its quiet operation, it never disturbs our sleep and effectively keeps the air in our bedroom from becoming too dry. This product is not only easy to clean, but also offers fun changing colors, although customizing the colors can be slightly challenging. On the downside, it does require refilling every night, and some users have experienced leaks from the cover piece after extended use. Despite these minor issues, the humidifier remains a cost-effective and worthwhile purchase for small to medium-sized rooms."
---
Geniani 4L Ultrasonic Cool Mist Humidifier
Most Attractive Design
If you need a humidifier that looks sleek and attractive, this is the unit for you.
This humidifier is also compatible with essential oils so that you can add your favorites. Whether that's to help with sleep or alleviate congestion, add the oils to the special tray and relax.
This also has an intelligent sensor that determines the room's humidity level. You can set it to your desired low, medium, or high level. When it reaches the desired level, the unit will turn off.
This also runs at 30 decibels which is ideal for nighttime. Put this in your room or your little one's nursery, and enjoy a sound sleep.
What We Like
Sleek and Attractive Design
This has won awards for its timeless design! It's a sleek, white unit that will look good in any home, especially if you're a minimalist.
We also love that there are various options for size. Choose from a half-gallon, one-gallon, 1.3-gallon, or a tiny 250-milliliter option.
18 Hour Run Time
This humidifier can hold a little over one gallon of water in the tank. As a result, it can work continuously for up to 18 hours with three mist outputs to choose from.
Easy to Clean
Cleaning your filterless humidifier is crucial because there's no filter to capture impurities. Luckily, this Geniani humidifier is super easy to clean thanks to its top-fill design.
You can detach the water base and run the tank under the sink. Regular cleaning will help to prevent mold or mildew from forming within the tube.
Oil Diffuser Feature
We love the ability to add essential oils that most humidifiers cannot accommodate.
Built-In Smart Humidity Sensor
This unit will maintain your desired humidity levels thanks to its intelligent sensor. This means you can set it and forget, while enjoying a comforatble home.
What We Don't Like
Not for Tap Water
Because of being filterless, the need to use distilled water to fill the humidifier is a must, at least for this product, as faucet water may trigger the build-up of mineral deposits.
Weak Mist Output
Something to be aware of is that the mist output is pretty weak. The water will shoot up a little, but it will settle on the surface underneath the unit. This means the surface (whether your desk or nightstand) will become damp.
Mold Grows Quickly
Due to the design of this unit, it's not the easiest to dry out. If you skip your weekly deep-cleaning routine and thoroughly drying the unit, mold and mildew will come for you.
Product Specs
| | |
| --- | --- |
| Working Hours | Up to 18 hours |
| Tank Capacity | 1.5 gallons |
| Max Mist Output | 7.47 ounces per hour |
| Dimensions | 9.06 by 6.69 by 12.2 inches |
| Room Coverage | Up to 220 square feet |
Our Ratings
Community Feedback
"I'm impressed by this product's ability to regulate humidity levels and its large water tank capacity, allowing for extended use without constant refilling. The design is sleek and modern, and it operates quietly, making it ideal for bedrooms or nurseries. However, after several months of heavy use, the humidifier stopped working, which raises concerns about its durability for those who plan to use it frequently. Despite this issue, the automatic features and overall performance make it a valuable addition to any home, especially in dry environments or during winter months."
---
Everlasting Comfort Humidifier with Essential Oil Tray
Best Humidifier Diffuser Combo
If you'd like a humidifier that can do more than add moisture to your air, check this out. The Everlasting Comfort humidifier is a two-in-one humidifier and diffuser with an essential oil tray. You can add a few drops of your favorite essential oils to create an aromatic atmosphere in your home.
In addition to the essential oil tray, the tank is impressively large, holding 1.6 gallons. It can last up to 50 hours straight when on a low mist setting. We love the color options available — you can choose between white and mysterious black.
What We Like
Large 1.6-Gallon Capacity
This humidifier will bring you endless hours of moist air to enjoy, thanks to the 1.6-gallon tank. It puts out a strong stream of mist and can cover areas of up to 500 square feet — great for a living room or large bedroom. Additionally, the large tank enables the humidifier to work for up to 50 hours straight.
Add Lovely Essential Oils
We all love a fresh-smelling home, but we like to avoid air freshening sprays. With this humidifier, however, you can enjoy the natural scents of your favorite essential oils.
Simply add a few drops to the tray, and the humidifier will circulate the oil through the mist, spreading it throughout your home.
Auto-Shutoff Prevents Dry Burns
As the humidifier begins to run out of water, the unit will automatically turn off to avoid dry burn. This is very helpful, especially if the humidifier runs out of water during the night when you are asleep.
Great for Nighttime
Running at less than 30 decibels, this is ideal for nights. It's like a soft white noise that soothes you to sleep and keeps you in a deep slumber. It's also wonderful for baby and toddler bedrooms.
What We Don't Like
Difficult to Clean
The opening to the tank is relatively small, so it's tricky to get your hand inside to give it a thorough clean. You may need to fill it with some warm soapy water and use a long brush or sponge to clean thoroughly.
Since the base is black, it's hard to see whether it's dirty or not, too.
Night Light Can't Switch Off
While you can switch off the water level light, you can't turn off the LED night light. It's very bright, and blue isn't a color that will help sleep. So if you're a light sleeper who's sensitive to light, this might turn you away from this unit.
Hard to Refill
Water drips from both ends when you remove the tank from the base to take to the sink. Customers dislike how messy it is to refill. You might find it's best to take the whole unit to the sink and refill it there.
This is easier said than done, considering the unit has no handles for carrying.
Product Specs
| | |
| --- | --- |
| Working Hours | Up to 50 hours |
| Tank Capacity | 1.6 gallons |
| Max Mist Output | 9.5 ounces per hour |
| Dimensions | Not specified |
| Room Coverage | Up to 500 square feet |
Our Ratings
Community Feedback
"I'm quite impressed with this humidifier's performance and features. It's incredibly quiet, making it perfect for use during the night, and the adjustable settings allow me to control the humidity level in my home with ease. The added bonus of the essential oil tray is a nice touch, although I did notice it might not work as well over time. One drawback is that the tank can be a bit cumbersome to refill and may cause some water drips, but overall, it's a minor inconvenience for the benefits it provides. The LED lit water level window is also a convenient feature, making it easy to see when it needs a refill."
---
Vicks Filter-Free Ultrasonic Cool Mist Humidifier
Best Compact Filterless Humidifier
This small humidifier is super user-friendly with its compact design and dial knob controller. It can hold up to 1.2 gallons of water in the tank and run for up to 33 hours on a low setting.
Furthermore, this humidifier is an excellent sleep companion thanks to the quiet operation and no bright LED lights.
Cleaning the tank can be easy since the opening is wide enough for your hands to fit.
What We Like
Compact at 13.5 Inches High
The size of this humidifier makes it an excellent choice for medium-sized rooms with compromised space. It can easily fit on any bedside table or shelf. It's also a good option for an office where dry air might be bothering you.
Large 1.2 Gallon Capacity
Despite the compact size, this humidifier is equipped with a 1.2-gallon tank. Although this may not be as impressive as others on our list, it's still excellent for this size. Depending on the mist setting, it can last anywhere from 30 to 33 hours of continuous use.
Quiet Operation for Nights
If you like a dark and quiet night's sleep, this little device is for you. It works ultra-quietly. Furthermore, there are no annoying bright LED lights that will disturb you while you're getting some much-needed beauty rest.
Fully Adjustable Mist Output
The dial on this allows you to vary up your mist output to your desired level. The option to increase it at multiple different levels gives you more control, depending on your desired humidity goal.
Wide Tank Is Easy to Clean
This filter-free tank has a large opening, so you can easily scrub it clean with a cloth or sponge. Keep the tank clean, and in turn, your air is also fresh.
What We Don't Like
Vapo Pads Not Included
Unfortunately, it does not include soothing menthol pads, which you can purchase separately.
Unit Stops Working After Cleaning
The cleaning instructions aren't clear about this: after you clean the unit, you have to give it a break. It won't work again right away. You may have to leave it for around 24 hours before it switches back on again.
Difficult to Keep Clean
Even if you clean this regularly, it still attracts deposits quickly. If you live in a hard water area, it's essential that you use distilled water. Over time, this can be costly.
Product Specs
| | |
| --- | --- |
| Working Hours | 30 to 33 hours |
| Tank Capacity | 1.2 gallons |
| Max Mist Output | Not specified |
| Dimensions | 10.87 by 9.45 by 13.46 inches |
| Room Coverage | 100-400 square feet |
Our Ratings
Community Feedback
"As a first-time humidifier user, I was pleasantly surprised by how easy this product is to operate. The large one-gallon tank is convenient and simple to fill, thanks to the built-in handle. While there is some noise, it's not bothersome and serves as a helpful reminder that the humidifier is running. One downside is the need for distilled water, which can be a bit inconvenient to purchase and carry upstairs constantly."
---
Why Use a Filterless Humidifier?
You may wonder why you would choose a filterless humidifier over a filtered one, considering the risk of impurities. However, filterless humidifiers are sometimes cleaner than their filtered cousins. This is because the filter in the filtered model can get very dirty, and if not replaced regularly, it can contaminate the mist.
Now, this doesn't mean filterless humidifiers emit dirty mist. Due to new technologies, these humidifiers can clean the moisture before it leaves the nozzle.
Here are a few other advantages of filterless humidifiers:
Quiet: Most filterless humidifiers use ultrasonic technology to create a fine mist. This is much quieter than evaporative units. The lack of filters also makes them quieter.
Easier maintenance: Filters become dirty and eventually need to be replaced or cleaned. Removing the filter can be rather tricky, depending on the type.
Cheaper: Although the initial price might be the same as a filtered humidifier, you'll save in the long run. You'll be ditching the expensive cost of replacing filters regularly.
Filterless Humidifiers Need Cleaning
It's still crucial to
clean your humidifier
regularly to avoid a build-up of bacteria or mold growth. The tank and tube should be cleaned and rinsed well
(1)
.
How to Choose a Filterless Humidifier
There are many advantages to opting for a filterless humidifier. Still, you should choose wisely. Here are a few points to consider:
---
FAQs
---
Going Filter-Free
The best filterless humidifiers are becoming more and more popular due to low maintenance costs and quieter operation. These devices effectively increase your humidity to create a more comfortable home environment.
Before settling on a unit, consider its efficiency and how it will suit your lifestyle. You should also consider how easy it is to clean to save time and effort.
Thank You For Your Feedback!
Thank You For Your Feedback!