Buying a dehumidifier can seem overwhelming if you don't know what to look for. With so many different brands and models vying for your attention, it's no wonder many people get decision fatigue when shopping for a new one.
How big should it be? Do you need one for every room? What on earth is reservoir capacity?
We've put together an ultimate guide to help you find the best dehumidifier for your home. In conclusion, we also found 10 fantastic options that might be the right fit for your lifestyle.
Image
Model
Product Comparison Table
Features
Best for RVs
Pro Breeze Mini
Lightweight & portable
Quiet enough for bedrooms
Auto-shutoff
Best Compact
Seavon Dehumidifier
Quiet below 35 decibels
Compact and portable
Eco-friendly and energy-efficient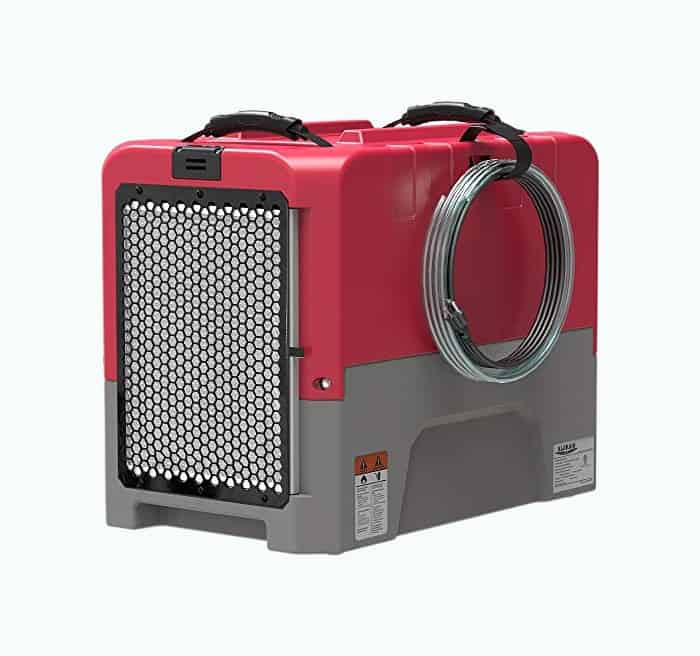 Best for Crawl Spaces
AlorAir LGR 85-Pint Dehumidifier
Smart features
Five-year warranty
Commercial grade
Best for Basements
Vremi Energy Star Dehumidifier
Portable with handles
Easy maintainance
Energy efficient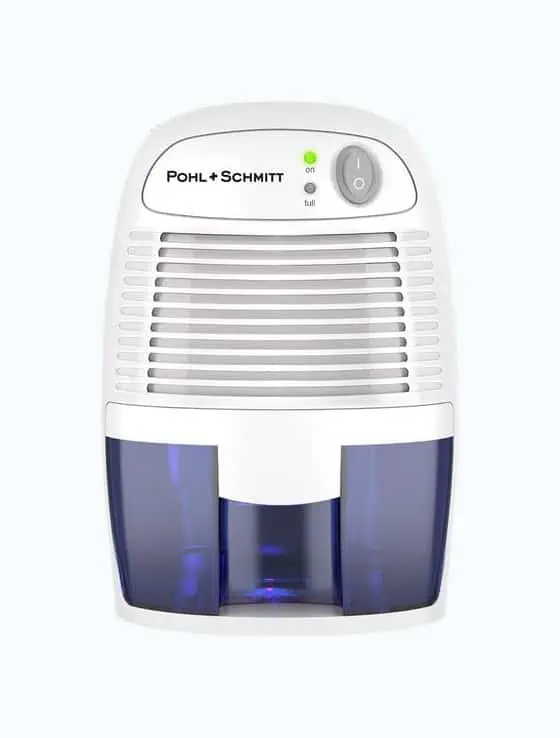 Best for Allergies
Pohl Schmitt Compact Dehumidifier
Lightweight and portable
Quiet enough for nighttime
Efficiently removes 10 ounces daily
Best for Bathrooms
Seavon Electric Dehumidifier
Compact sizing
Quiet enough for nighttime
16-ounce tank
Best 70-Pint
Keystone HE Dehumidifier
Huge 1.6-gallon capacity
Smart features
Easy to clean filter
Best for the Whole House
Aprilaire E100 Pro
Easy maintainance
Auto-shutoff and restart
Removes 100 pints daily
Best 30-Pint
Black+Decker BDT30WTA
Easy to use
Includes auto shutoff
Extra drainage
Best for Garages
HomeLabs Energy Star Dehumidifier
Portable with four wheels
Odor Remover
Large 1.6 gallon capacity
Review Methodology: At Oh So Spotless, we conduct thorough research and analysis on the best dehumidifiers to provide you with reliable, hands-on assessments and evaluations from a user's perspective. Our experienced professionals measure and compare key factors and criteria, such as performance, energy efficiency, noise level, and design choices, to determine which products stand out from their competitors. We rank and review dehumidifiers based on quantitative data and first-hand experience, ensuring you have the necessary information to make an informed decision. Trust us to deliver expert advice and evidence-based recommendations to help you choose the perfect dehumidifier for your needs.
---
---
The Best Dehumidifiers of 2023
We put the top-rated products to the test. Scouring reviews from real users and industry leaders and using research and experience from our team of experts, we've identified 10 of the best dehumidifiers on the market this year. Check them out.
Pro Breeze 2200 Cubic Feet Mini Dehumidifier
Best Dehumidifier for RVs
Thanks to its lightweight, compact design and incredible efficiency, we love this dehumidifier for hitting the road.
When traveling with a dehumidifier, you don't want something you'll have to lug around. Luckily, moving and storing the Lonove dehumidifier is a breeze since it only weighs around five pounds.
Pro Breeze is ideal for overnight use, thanks to its quiet efficiency and auto-shutoff feature.
The tank is easy to remove, too: slide it out, empty it outside or over the sink, and slide it back in. You'll know when it needs emptying, thanks to the transparent design.
With the Pro Breeze, your whole family can keep your RV's humidity under control.
Pros
Lightweight and portable, weighing five pounds.
Quiet enough for the bedroom.
Easy to use and empty the water.
Auto-shutoff prevents leaks.
Low power consumption saves energy.
Spacious 52-ounce water tank.
Cons
You can't remove the top cover.
Might heat the room you keep it in.
Struggles to work well in super humid rooms.
Product Specs
| | |
| --- | --- |
| Dimensions | 6.6 by 9 by 12.69 inches |
| Weight | 5.04 pounds |
| Removal capacity | 18 ounces |
| Warranty | 1 year |
| Room coverage | 250 square feet |
Our Ratings
Community Feedback
"I'm impressed with this dehumidifier's ability to pull moisture from the air in smaller spaces like closets and bathrooms. It's not as quiet as I expected, but the noise is bearable and comparable to a large standing fan. While it may take some time to fully reduce humidity in larger areas, it's been effective in keeping my home comfortable without adding any heat to the room."
---
Seavon Small Dehumidifier
Best Small Dehumidifier
The Seavon dehumidifier is perfect for bedrooms, offices, or anywhere else you want peace and quiet. Because it's so compact, you can also use it in closets or pantries.
This unit is designed for small spaces, so you'll have to empty the tank regularly. But the auto-shutoff feature means you don't have to worry about the tank overflowing. Feel free to leave it running overnight.
Despite its size, the Seavon packs a punch, collecting up to 12 ounces of moisture a day. It's also a great eco-friendly option as it runs on minimal energy.
One thing to note is the bright LED light that the machine displays. This bothered some users at night.
Others found it helpful as it could double as a night light for kids' rooms. Whether you love or hate this feature will come down to personal preference.
Pros
Quiet below 35 decibels which is great for nighttime.
Compact and portable.
Eco-friendly and energy-efficient.
Auto-shutoff function prevents leaks.
Removes 12 ounces of water per day.
Cons
Bright LED light is annoying at night.
Only works for tiny rooms (240 square feet maximum).
Not strong enough to decrease high humidity levels.
Product Specs
| | |
| --- | --- |
| Dimensions | 6.2 inches by 4.9 inches by 10.1 inches |
| Weight | 2.55 pounds |
| Removal capacity | 12 ounces |
| Warranty | 12 months |
| Room coverage | 240 square feet |
Our Ratings
Community Feedback
"I recently purchased this mini dehumidifier to help combat humidity in my small bedroom, and I've been quite impressed with its performance. It's compact and quiet, making it a great fit for the space, and it's been effective in reducing the humidity from around 60% down to 52%. The only downside is the awkward placement of the charging port, which makes it difficult to hide the cord. Additionally, the bright light on the power button can be a bit disruptive at night, but it's a small trade-off for the increased comfort in the room. I do wish it had a longer lifespan like some other brands, but the company's excellent customer service more than makes up for it."
---
AlorAir LGR 85-Pint Dehumidifier With Pump
Best Dehumidifier for Crawl Spaces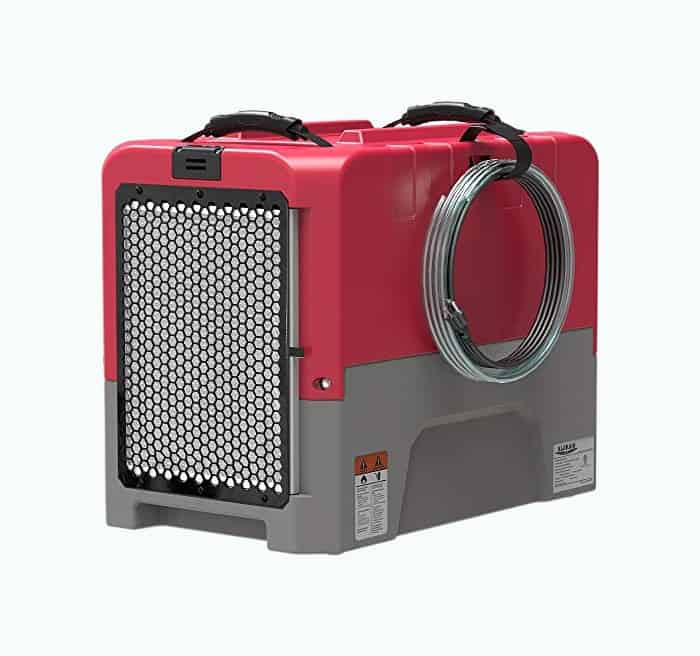 This commercial-grade dehumidifier is designed for flooded areas, so it's highly efficient. It's waterproof and can be used in temperatures as low as 35 degrees, making it ideal for crawl spaces.
The AlorAir has many features, including a digital humidistat control, timer, condensate pump, and hot gas defrosting system. It can remove up to  180 pints of moisture a day at saturation. With a built-in pump, you can drain moisture from anywhere in your home.
It's also stackable, which makes transporting it a breeze. Be wary of the weight, though. At 78 pounds, this isn't the most portable dehumidifier. It also doesn't come with wheels, so you'll need to be careful about moving it safely.
Despite the hefty weight, users report that the dehumidifier is easy to use and clean. And you won't need an extension cord in your crawl space, thanks to the 19.6-foot power cord.
Pros
Smart features, including auto operation and auto defrost.
Commercial grade, removing up to 180 pints per day.
Built-in pump allows for automatic drainage.
Remembers setting after losing power.
Suitable for industrial spaces, basements, and crawl spaces.
Five-year warranty included.
Cons
78 pounds heavy.
Not the most durable option.
Coils freeze over often, so the unit has to defrost a lot.
Product Specs
| | |
| --- | --- |
| Dimensions | 22.8 by 13.7 by 17.3 inches |
| Weight | 78 pounds |
| Removal capacity | 180 pints per day |
| Warranty | 5 years |
| Room coverage | 2,300 square feet |
Our Ratings
Community Feedback
"This product works really well at removing humidity and is more energy-efficient than other consumer-grade units. I've had it running in my basement for over 6 weeks and it has significantly improved the air quality. The condensate pump is quiet, but the fan can be somewhat noisy due to air turbulence. Although it's a bit heavy and expensive, it's worth the investment considering its performance and capabilities."
---
Vremi Dehumidifier Energy Star Rated
Best Dehumidifier for Basements
This is our top pick for basement dehumidifiers thanks to its efficiency and lightweight, portable design. It's ideal for basements of up to 1,500 square feet, which will suit most households.
With an easily removable tank and filter, users love how straightforward this device is to maintain. Its simple design makes cleaning the filter each month a breeze.
The Vremi comes with a removable tank and drain access, so you can decide how you want to use it. You'll have to buy a separate hose if you want to run it continuously, though.
The tank can hold up to 22 pints, which some users found small compared to other basement dehumidifiers. The unit has an auto-shutoff feature, so it won't overflow when the tank is full, but you may have to empty it once or twice a day if you run it a lot.
Pros
Portable with built-in handles.
Easy to maintain with a reusable filter.
Energy efficient model won't cost you loads of money.
High-performance filter traps dust, mold, and bacteria.
Cons
Hose not included.
Small 1-gallon water tank.
Product Specs
| | |
| --- | --- |
| Dimensions | 16.1 by 10.4 by 19.9 inches |
| Weight | 30.9 pounds |
| Removal capacity | 22 pints |
| Warranty | 12 months |
| Room coverage | 1,500 square feet |
Our Ratings
Community Feedback
"My experience with this dehumidifier has been mostly positive. It effectively reduces humidity in my home, even in large rooms, and is surprisingly powerful for its compact size. The continuous drain feature is convenient, but the plastic hose connector and small wheels could be improved. While the noise level is audible, it's not disruptive and can easily be tuned out when watching TV or sleeping."
---
Pohl Schmitt Compact Dehumidifier
Best Dehumidifier for Dust Mites and Allergies
If someone in your household is allergic to dust mites or other allergens, they might need their own dehumidifier. A portable dehumidifier is also great for anyone with a respiratory illness or families with small children.
We recommend the Pohl Schmitt dehumidifier because of its compact size and high efficiency. This unit is the perfect size to sit on a bedside table or shelf in a bedroom. It's so small you can carry it around with you, effectively clearing the air in every room of the house.
The unit doesn't have a compressor, so it won't disturb your sleep at night. This makes it an excellent option for bedrooms and nurseries where you want to keep allergens to a minimum.
If your home is particularly damp, the unit may take some time to kick in. However, given its size, this is a small price to pay.
Pros
Lightweight, portable, and small enough for a bedside table.
Quiet operation is suitable for nighttime.
Highly effective at removing 10 ounces daily.
No harmful chemicals included.
Cons
Slow at extracting moisture.
Struggles to bring down levels by more than five percent.
Product Specs
| | |
| --- | --- |
| Dimensions | 11.2 by 6.4 by 5.2 inches |
| Weight | 2.53 pounds |
| Removal capacity | 17 ounces |
| Warranty | Not specified |
| Room coverage | Not specified—small rooms |
Our Ratings
Community Feedback
"My experience with this dehumidifier has been a mix of pros and cons. On the positive side, it efficiently removes humidity in smaller spaces and has a handy automatic shut-off feature when the reservoir is full. However, I did notice that it takes a bit longer to fill up compared to other brands, and it may not be suitable for highly humid locations or larger rooms."
---
Seavon Electric Portable Dehumidifier
Best Dehumidifier for Bathrooms
In most houses, the bathroom is the dampest room. Even if you're blessed with a dry home, regular showering, damp towels, and limited space means there is a lot of moisture in bathrooms. This is why it's worth getting a small dehumidifier to keep in your bathroom, even if you have a dehumidifier for the rest of the house.
The Seavon is an excellent choice. It's compact so that you can store it out of the way on a window sill or shelf.
This product also performs incredibly well, collecting up to 16 ounces a day. While this won't be suitable for your whole house, it will keep your bath mat, ceiling, and mirror dry even when multiple people use the bathroom daily.
Customers love how easy this dehumidifier is to use and clean. With a user-friendly design and an auto-shutoff feature, this is one you can set and forget.
Pros
Compact enough to fit on tables or countertops.
Quiet enough for using through the night.
16-ounce tank can hold a day's worth of moisture.
Auto shutoff feature prevents leaks.
Cons
Not suitable for larger spaces.
It's difficult to clean, and the lid can't be removed.
Removes moisture too slowly for some situations.
Product Specs
| | |
| --- | --- |
| Dimensions | 7.2 by 6.2 by 11 inches |
| Weight | 2.5 pounds |
| Removal capacity | 16 ounces |
| Warranty | 1 year |
| Room coverage | 110 square feet |
Our Ratings
Community Feedback
"My experience with this dehumidifier has been a mixed bag. On one hand, it's been effective in collecting more water than my previous unit, and operates quietly enough to fade into the background. However, its performance seemed to decline over time, leading me to question its long-term reliability and forcing me to rely on a humidity sensor to monitor its effectiveness."
---
Keystone High-Efficiency 70-Pint Dehumidifier
Best 70-pint Dehumidifier
If you're looking for a dehumidifier to cover large spaces, this 70-pint unit is a fantastic option. With a huge tank, you'll spend less time emptying your dehumidifier and more time enjoying your home.
The Keystone has many smart features, including a transparent water level indicator and full tank alert. It also has an auto-restart function which will save your settings if there's a power cut.
This unit allows continuous draining, although many users found this wasn't as efficient as using the tank. Several customers also reported difficulty removing the bucket, which you'll need to do to use the continuous draining function.
With a 1.6-gallon reservoir, however, you can still use the Keystone for long periods between emptying. Thanks to the simple design and four castor wheels, you can easily use this unit in any room of the house.
Pros
Huge 1.6-gallon capacity.
Smart features include a 24-hour timer and auto-shutoff.
Easy to clean the filter.
Continuous draining option, which is great for humid rooms.
Excellent for large areas up to 4,500 square feet.
Cons
Bucket difficult to remove and reinsert.
Many customers found it only worked for two to three years.
The sound level might be too loud, especially at night.
Product Specs
| | |
| --- | --- |
| Dimensions | 10.8 by 15.4 by 23.2 inches |
| Weight | 40 pounds |
| Removal capacity | 70 pints |
| Warranty | 4 years |
| Room coverage | 4,500 square feet |
Our Ratings
Community Feedback
"I've been using this product for a while now, and it has effectively reduced the humidity in my home, improving the overall air quality and even helping with my allergies. However, I found that the heat generated by the device can be quite intense, raising the room temperature by a few degrees. Despite the noise being louder than my previous model, it still does a great job at dehumidifying and offers the convenience of continuous gravity draining with a hose attachment."
---
Aprilaire E100 Pro 100-Pint Dehumidifier
Best Dehumidifier for the Whole House
Got issues with mold, mildew, or allergies? Then you may want to invest in a whole-house dehumidifier. The Aprilaire is a fantastic choice for homes of up to 5,500 square feet. It can remove up to 100 pints of moisture every day.
You can connect the unit to your heating and air conditioning system for easy use. Many customers found that having it professionally installed yielded better results. Still, it's easy enough to get it up and running yourself.
This dehumidifier is designed for continuous use. It doesn't have a tank which makes it easy to maintain. Instead, the unit comes with a drain line allowing water to flow naturally.
We love that it has an enviable range of features. These include auto-shutoff and restart, energy efficiency, and an easy-to-use panel. The Aprilaire is ideal for keeping your whole house at the perfect humidity level.
Pros
Easy to maintain with a continuous drainage option.
Great for large spaces up to 5,500 square feet.
Removes 100 pints daily to prevent mold and mildew.
Durable and corrosion-resistant aluminum coils.
Easy to set this up and get it started ASAP.
Cons
High price point.
65 pounds heavy.
Product Specs
| | |
| --- | --- |
| Dimensions | 26 by 9 by 15 inches |
| Weight | 64 pounds |
| Removal capacity | 100 pints |
| Warranty | 5 years |
| Room coverage | 5,500 square feet |
Our Ratings
Community Feedback
"I'm thrilled with the performance of this dehumidifier in managing the humidity levels in my home. Initially, it ran continuously for a few days, but now it maintains a comfortable 45% humidity in my previously damp basement. The E100 model has been running smoothly for nine months, and I'm so satisfied that I'm planning to install an E130 in my attic for even better results throughout my living space."
---
Black+Decker BDT30WTA 30-Pint Dehumidifier
Best 30-Pint Dehumidifier
The Black + Decker 30-pint dehumidifier is a good choice for a small, portable option. It can extract up to 30 pints of water from the air in just 24 hours, making it ideal for basements, cellars, or smaller rooms in the house.
It's not bulky or too ugly, either. So whether you have a modern or cozy aesthetic in your home, this dehumidifier has been designed to fit right in without being obtrusive.
It's straightforward to use. On top of the unit is an electronic panel with LED lights so you can easily adjust your settings day or night. It has three fan speeds to choose from, depending on the humidity levels around you.
Pros
Easy to use with three simple settings.
Easy to read LED display buttons.
Includes auto shutoff and auto defrost.
Select your desired humidity levels between 30 and 90 percent.
Small and portable, suitable for most rooms.
Cons
Water tank doesn't line up seamlessly.
Some leaking issues were reported.
Product Specs
| | |
| --- | --- |
| Dimensions | 10 x 13.4 x 19 inches |
| Weight | 49.6 pounds |
| Removal capacity | 30 pints per day |
| Warranty | 1 year |
| Room coverage | Not specified |
Our Ratings
Community Feedback
"Definitely a worthwhile purchase for tackling humidity in my 10x12 bedroom. This product is effective in reducing humidity levels, as confirmed by my separate hygrometer and the need to empty the bucket every other day. However, the noise from the compressor and fan can be a bit distracting, making it harder to sleep with the unit on. The installation was surprisingly simple, but the water reservoir could use some improvement in design for easier emptying and reinserting."
---
HomeLabs Energy Star Dehumidifier
Best Dehumidifier for Garages
We love this dehumidifier for the garage because it eliminates odor as well as moisture. It will leave your garage smelling fresh and clean.
The unit covers a whopping 4,500 square feet and is, therefore, suitable for commercial and residential garages. It's also fully portable, with four wheels for safe and easy handling.
With a 70-pint tank and an auto-shutoff feature, you won't have to worry about emptying it often. If you want total peace of mind, you can attach a hose and set it up near a drain for continuous use.
However, some users found this cumbersome without a pump. The system is designed to let gravity do its thing, which can take longer.
Pros
Portable with four wheels.
Gets rid of bad odors.
Large 1.6-gallon capacity with a drawer-like tank.
Removes 50 pints per day, preventing mold.
Great for using after a flood or leak.
Includes a drain for continuous draining.
Cons
No pump, so it takes longer to drain.
On the pricey side.
Reaches 62 decibels, making it quite loud.
Product Specs
| | |
| --- | --- |
| Dimensions | 15.4 by 11 by 24.3 inches |
| Weight | 40 pounds |
| Removal capacity | 50 pints |
| Warranty | 2 years |
| Room coverage | 4,500 square feet |
Our Ratings
Community Feedback
"Excellent dehumidifier for maintaining indoor humidity levels! I've used both the Frigidaire and hOmeLabs dehumidifiers, and while both are effective, I find the Frigidaire to be slightly more polished and user-friendly. This product has made a noticeable difference in the comfort of my home, and although it may be a bit noisy and generate some heat, it's a small price to pay for the benefits it provides."
---
Do I Need a Dehumidifier?
If your home is old, uninsulated, or doesn't get a lot of sunlight, this moisture can linger and become trapped in your walls, floor, and ceiling. Damp homes are breeding grounds for bacteria, fungi, and allergens.
Having fungi and mold in the home can present serious health risks for you and your family. So it's important to regularly clean, ventilate, and dehumidify your home.
Dehumidifiers collect excess moisture from the air. This lowers humidity levels and makes it harder for mold and dust mites to thrive.
Signs you should consider investing in a dehumidifier include:
Condensation on the walls or windows.
Visible mold or mildew.
Allergic reactions to mold or dust mites.
A stuffy feeling inside.
Peeling wallpaper or blistering paint.
What Is the Optimal Humidity Setting?
The Environmental Protection Agency (EPA) recommends indoor humidity be kept below 60 percent. Most people find 40–50 percent is the sweet spot (1).
How to Choose the Right Size Dehumidifier
The size of your dehumidifier will depend on the size and dampness of your home. Just want to dehumidify a small room like a bedroom or office? Then you can get away with using a smaller dehumidifier.
What if, however, you want to use your dehumidifier in a large garage? Or, perhaps, in an open-plan living area? Then you'll need something that can hold more water.
You should also consider whether you'll be moving your dehumidifier between rooms or even buildings. This will determine whether you go for a heavier device or a lighter, portable one.
Types of Dehumidifiers
There are several types of dehumidifiers, and which one you choose will depend on your home, budget, and individual needs. The two most common dehumidifiers are compressor dehumidifiers and desiccant dehumidifiers.
Compressor Dehumidifiers
Compressor dehumidifiers use a fan, heat pump, and heat exchange coils to collect moisture from the air. The coils are extremely cold, which causes moisture to condense and collect in the tank. These are the most popular types of dehumidifiers and are best for warm, damp rooms.
Pros
Easy to use.
Great for warm or damp spaces.
Usually uses less electricity than other dehumidifiers.
Great for large spaces as they can dehumidify up to 70 pints per day.
Cons
Difficult to move since they are larger.
Coils can freeze in colder conditions.
Can be noisy, with a minimal level of 40 decibels.
Desiccant Dehumidifiers
You know those little silica gel packets you get when you buy new shoes, bags, or electronics? They're there to attract moisture and protect your new purchases. Desiccant dehumidifiers work similarly, using materials such as silica gel to attract and absorb moisture.
Pros
Portable, since they are more compact.
Ideal for cold environments.
Quieter than other types, often less than 35 decibels.
Cons
Can be pricey to run.
Not the best option for medium or large spaces.
They are a more expensive option to buy.
How to Choose a Dehumidifier
Researching the right dehumidifier for your needs will ensure you are satisfied with your purchase and save you money in the long run. Here are some of the things you should consider before making a purchase.
Top Dehumidifier Brands
When you're looking for a new dehumidifier, you'll notice that a few brands seem to dominate the market. And for good reason too.
---
Dehumidifier FAQs
---
Thank You For Your Feedback!
Thank You For Your Feedback!