Are you struggling to keep your hardwood floors dust and scratch-free? The truth is, caring for hardwood floors isn't always easy — you have to be careful. If not, they can scratch, stain, and even dent.
If you discover damage to your flooring, your vacuum cleaner may be the culprit. It's therefore essential that you choose the right one.
You may be tempted by cordless vacuums. After all, no one wants to be tied to a power outlet.
Thankfully, there are some amazing options for you. We'll share with you five of the best cordless vacuums for hardwood floors. You'll have clean, scratch-free floors and an easy vacuuming experience.
Image
Model
Product Comparison Table
Features
Self-Cleaning Technology
Tineco Cordless Stick Vacuum
Easy to clean
Multi-purpose cleaning ability
Strong motor
Best Motor
Dyson Absolute Lightweight
Large bin
Extremely versatile
Point and shoot bin function
Lowest Noise Level
Wowgo Cordless Stick Vacuum
HEPA filter
Lightweight and easy to carry
Nearly noise free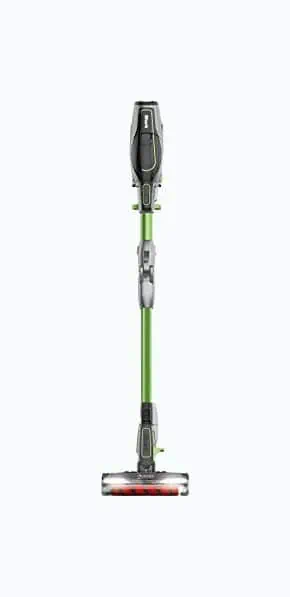 Best Lightweight
Shark DuoClean
Freestanding design
Removable batteries
Bendable wand
Best Filtration System
Eureka Stylus
Handheld and stick
Works everywhere
45-minute runtime
Review Methodology: At Oh So Spotless, we are committed to providing our readers with a thorough analysis and assessment of the best cordless vacuums for hardwood floors, ensuring that the information we share is based on research, hands-on experience, and professional expertise. Our evaluation process includes a comprehensive comparison of the top products on the market, taking into account key decision-making factors such as performance, design, and user experience. We measure and rank each vacuum based on relevant criteria, such as suction power, battery life, ease of use, and effectiveness on hardwood surfaces. We also consider customer reviews and testimonials, as well as our own tests and findings, to provide first-hand, evidence-based recommendations. Our goal is to help you make an informed decision by presenting the facts, scores, and results that set the top cordless vacuums apart from their competitors. Trust in our expertise as we guide you in choosing the perfect cordless vacuum for your hardwood floors.
---
---
The Best Cordless Vacuums for Hardwood Floors of 2023
Here are five of the best cordless vacuums that will eliminate dirt while protecting your floors.
Tineco iFloor3 Cordless Stick Vacuum Cleaner
Best Self-Cleaning Cordless Vacuum for Hardwood Floor
This vacuum could be a good helper if you're a busy mom like me. Tineco comes with self-cleaning technology that removes dirt and hair debris in a hands-free manner. It's designed to keep the brush and tubes spic and span. Plus, it eliminates odors. Simply place the vacuum in the charging storage tray, press a button, and the self-cleaning program will begin.
Tineco iFloor3 also has a 3000mAh lithium-ion battery which will cover enough area for cleaning.
It supports three strong suction. This is optimal for hardwood floors, although it can accommodate laminate, linoleum, vinyl, and marble floors too.
What We Like
Easy to Clean the Vacuum
Did you know you should clean your vacuum monthly?
Bagless vacuums can be a mess to clean since you have to empty the container. But, Tineco has made it easier by adding a self-cleaning function. This saves you precious time.
No Drill Needed for Installing Charging Station
Tineco comes with a standing charging station. So, you won't have to drill holes in the wall to set it up. The stand is also compact and won't take up too much space. Plug it into an outlet, and you're set.
Strong Battery and Motor
The lithium-ion battery is lightweight but incredibly durable. It supports the powerful motor and gives you enough time to finish vacuuming.
Multi-Purpose Cleaning Ability
Tineco is a great size and weight for multiple purposes. Weighing under ten pounds, it's easy to move around. The extended stick reaches 43 inches, making it a breeze to reach ceilings and curtains.
Meanwhile, the soft brush gets the hardwood clean without scratches.
What We Don't Like
Battery Runtime of 25 Minutes
The only downside about this vacuum is that it can only support a short runtime of 25 minutes. So, although you can use this as a quick fix for spills, this may not be suitable for larger area cleaning.
Product Specs
| | |
| --- | --- |
| Weight | 9.9 pounds |
| Maximum runtime | 25 minutes |
| Dimensions | 11.3 x 10 x 43.3 inches |
| Manufacturer | Tineco |
| Battery type | Lithium-ion |
Our Ratings
Community Feedback
I recently purchased the TINECO Floor One S3 Cordless Hardwood Floor Cleaner and, let me tell you, it has made a huge difference in my home! This incredible device vacuums and scrubs my hard floors at the same time, leaving them spotless and dry in no time. With its self-cleaning cycle and easy-to-remove dirty water tank, maintenance is a breeze. One small drawback is that it doesn't handle pet hair as well as I'd like, so I recommend a quick sweep before using it if you have furry friends at home.
---
Dyson Cyclone V10 Cordless Vacuum
Best Suction Power Cordless Vacuum for Hardwood Floor
Weighing just under six pounds, the Dyson Absolute is excellent for hard cleaning jobs. It comes with a V10 digital motor which spins up to 125,000 rpm. This gives it the same suction abilities as a regular vac.
The Absolute has three modes of suction. The first and second are excellent for hardwood floors, while the third is for carpets. We like that the soft roller gets all the fine dust and debris out of tiny cracks in a hardwood floor.
We also love that the vacuum is cordless. You don't have to worry about power cords getting in your way. Simply charge it up, press the trigger button and start vacuuming.
What We Like
Large 25 Ounce Dust Bin
The dust bin can hold a little over 25 ounces (0.76L) of dust and dirt. You won't have to empty it regularly. Enjoy uninterrupted cleaning.
Extremely Versatile Due to Cleaning Tools
You get several extra tools to make cleaning easier. These include a crevice and combination tool, a mini soft dusting brush, and a mini-motorized attachment.
This vacuum can get into all the small spaces, even if you have a low couch. It can become almost entirely flat. With the long attachment, you can get deep under sofa cushions and over mattresses.
You can also remove the stick and use it as a handheld vacuum instead.
Gentle on Hardwood Floors
The soft roller brush is made of woven nylon and anti-static carbon fiber filaments. The nylon preserves the delicate wooden floor, while the carbon fiber removes fine dust and dirt. You won't have to worry about scratches or marks.
60 Minutes Runtime
Its powerful lithium polymer battery gives you 60 minutes when you're not using the motorized tool. You'll also get 40 minutes of runtime with the soft roller in the second suction mode. This should be more than enough to get through a vacuuming session in one go.
What We Don't Like
Continuous Push Button
You can't lock the vacuum in the ON position. Therefore, you have to keep the button pressed continually. Users occasionally complain about this.
Dyson claims it saves battery life, which is true since it won't run unless you're cleaning. However, it can be an inconvenience.
Our Dyson vacuum has this feature, and it took a while to get used to it, but now we love it.
Wall Mounted Charging Station Involves DIY
It includes a charging station that you mount to the wall. So this does mean you have to drill a few holes. Several customers were unhappy about this.
But we think it has its advantages. At least when it's hanging on a wall, it won't be taking up floor space.
Product Specs
| | |
| --- | --- |
| Weight | 5.88 pounds |
| Maximum runtime | 60 minutes |
| Dimensions | 9.8 x 10.1 x 49.2 inches |
| Manufacturer | Dyson |
| Battery type | Lithium polymer |
Our Ratings
Community Feedback
As a proud owner of the Dyson V10 vacuum, I've experienced both positive and negative aspects of this product. The battery life is surprisingly impressive, allowing me to clean my entire 1,600 square foot house on a single charge, though I do wish it had removable dual batteries. The push button design conserves battery life but can be uncomfortable for people with smaller hands, like my wife. While the vacuum is undeniably expensive, its performance and convenience make it worth the investment for me.
---
Wowgo Cordless Stick Vacuum Cleaner
Lowest Noise Level Cordless Vacuum for Hardwood Floor
A common complaint about vacuum cleaners is the noise. But frankly, vacuuming is generally not a quiet job. However, this Wowgo vacuum is quieter because it works on a lower frequency. At 68 decibels, this is similar to a hairdryer or toilet flushing.
It comes with a lithium-ion battery which gives you 20 to 40 minutes of runtime. But as always, the actual time will depend on which setting you use.
The head of the vacuum is flexible, so you can quickly maneuver around corners and furniture. The strong suction power will pull up pet hair and fine dust.
You can buy a spare battery since it is detachable to allow uninterrupted tidying up.
What We Like
Washable HEPA Filter
The HEPA filter is easy to maintain as you can detach it and wash it when needed. However, it's essential to let it dry completely before putting it back into the vacuum.
It filters out the smallest dust particles. Families with furry members often deal with lots of hair. Therefore, the HEPA filter is excellent for getting rid of allergens so you can keep your family healthy and happy.
Nearly Noise Free
The Wowgo's reduced noise level emits as low as 68 decibels. While it isn't entirely silent, it's not annoyingly loud as some models. Families with young children or pets will appreciate this feature.
Flexible Head for Easy Maneuvering
The vacuum head can bend and bow to accommodate your home. It's easy to get around corners and furniture and underneath any obstacles. There's no need to lift anything or struggle when something gets in your way.
Easy to Carry at Three Pounds
It weighs just over three pounds, making it a breeze to move — you might even get your kids involved. And, when you need to vacuum smaller areas, you can convert it into a handheld vac instead.
What We Don't Like
Not as Powerful
The Wowgos isn't as powerful as other cordless vacuums. It works fine on hardwood floors that don't require much power. If you have big messes to clean, you might be disappointed with the suction power.
Four Hour Long Charging Time
It takes four hours to charge fully. This could be highly inconvenient if you are in a hurry. Otherwise, you can get a spare battery to save time.
Product Specs
| | |
| --- | --- |
| Weight | 3.3 pounds |
| Maximum runtime | 40 minutes |
| Dimensions | 17.68 x 11.42 x 7.48 inches |
| Manufacturer | WowGo |
| Battery type | Lithium-ion |
Our Ratings
Community Feedback
In my experience, this cordless vacuum has been incredibly convenient, thanks to the two rechargeable batteries that can be charged separately. The flexible 90-degree head allows for seamless movement, making it easy to clean under furniture and in tight spaces. I've found that the lower power mode is still quite effective, even with my Maine Coon cat's shedding.
---
Shark IonFlex Ultra-Light Cordless Vacuum
Best Lightweight Cordless Vacuum for Hardwood Floor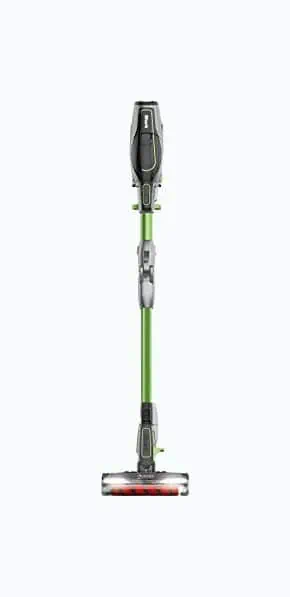 Having a cordless vacuum means you can take it anywhere in the house. But who wants to lug around a heavy machine? The Shark IonFlex weighs only 8.7 pounds; it's easy to carry around your home.
The vacuum features MultiFlex technology which enables the wand to bend in half. This makes it easier to get underneath tables.
Since dust and debris can get stuck in the filter, Shark recommends that you clean it regularly. The screen can be tapped clean, or you can remove it and wash it. Keep in mind, though, that it's crucial to let it dry for 24 hours before putting it back into the vacuum.
What We Like
Freestanding and Cordless Design
The Shark DuoFlex gives you ultimate flexibility, being cordless and freestanding. We sometimes have to stop in the middle of the job – to move furniture, or maybe to answer the phone. But most models can't stand on their own, so they end on the floor.
Removable Batteries
Two lithium-ion batteries power the Shark DuoFlex. These are removable, which allows you to replace them once they're dead. This expands the life of the vacuum and saves you money in the long run.
Another plus is that you can recharge one battery while using the other.
Bendable MultiFlex Wand
As the name implies, the IonFlex is flexible. It features a smart MultiFlex system that allows the wand to bend in half. This makes it simple to reach underneath furniture without getting down on the floor yourself.
Easy Transition Between Surfaces
This is also an excellent multi-surface vacuum. The DuoClean function gives you a deep-cleaning brush for carpets and rugs.
It also comes with a soft roller that will keep your precious hardwood floors intact. You can quickly switch between the two brushes by clicking a button.
What We Don't Like
Small Dust Bin
The dust bin only holds 0.3 liters, which is significantly smaller than many other models. This means you need to empty the bin more often.
Product Specs
| | |
| --- | --- |
| Weight | 8.7 pounds |
| Maximum runtime | Not specified |
| Dimensions | 13.4 x 10.4 x 45.9 inches |
| Manufacturer | SharkNinja |
| Battery type | Lithium-ion |
Our Ratings
Community Feedback
For someone with messy birds and a mix of tile floors and low-medium pile carpets, this cordless Shark Ion Flex vacuum has been a game changer. Surprisingly powerful suction for a cordless vacuum, it easily handles everyday pickups and even larger debris like bird food. The Duo Clean rollers pick up every speck of dirt, and the flex wand effortlessly slides under furniture and cages. The dust cup is easy to clean and has adequate capacity. After using it multiple times a day for a week, I am extremely impressed by its performance and convenience, making my daily cleaning routine a breeze.
---
Eureka Stylus Lightweight Stick & Handheld Vacuum
Best Filtration System
This is an amazing vacuum, especially if you're looking for something with an astounding cyclone filtration system. The Eureka Stylus cordless vacuum has a 350W BLDC motor capable of picking up both small and large particles.
It has three cleaning modes to adjust the level of suction power according to your cleaning needs.
The vacuum is equipped with headlights which are particularly helpful in cleaning dark spaces or upholstery. You can use this for getting into corners, vacuuming under tables, and even squeezing underneath the bed.
Vacuum in any direction and maneuver around obstacles to ensure no unwanted dirt is left during the cleaning process.
What We Like
Handheld and Stick Design
With this vacuum, you can clean floors both as a stick vacuum or as a handheld. The handheld attachment is terrific for cleaning furniture, upholstery, hard-to-reach places, and the car. It includes a crevice tool and a 2-in-1 dusting brush. Nevertheless, it has been designed for easy assembly.
Works Everywhere, Literally Everywhere
This vacuum is a versatile option. It works great on hardwood floors, of course. But it's also fantastic on carpets, stairs, windowsills, furniture, desks, curtains, cars and anywhere else you can think of.
In terms of hard floors, we're talking wood, tile, and laminate. So you can thoroughly clean every room in the home.
45 Minute Runtime
Its rechargeable lithium-ion battery delivers up to 45 minutes of cordless cleaning on a regular mode which is impressive for its price point.

What We Don't Like
No Battery Percentage Indicator
Some users are not satisfied with just having the two different LED lights as a measure of battery while charging the unit and would prefer to see how much power is already loaded.

Product Specs
| | |
| --- | --- |
| Weight | 6.4 pounds |
| Maximum runtime | 45 minutes |
| Dimensions | 11.1 x 7.9 x 43.3 inches |
| Manufacturer | Eureka |
| Battery type | Lithium-ion |
Our Ratings
Community Feedback
I'm thrilled with the convenience of this lightweight, easily portable vacuum that effortlessly slides under most furniture and navigates tight spaces. The swivel head is quite handy, but it's worth mentioning that it only sucks up dirt when pushed forward. While it struggles with heavy pet hair and doesn't stand on its own with all attachments, it's perfect for quick cleanups and regular use. It may not replace a traditional vacuum, but the ease of use certainly makes up for it. Just be diligent about keeping it clean to avoid dirt or hair backing up in the handle and canister.
---
| Product | Best | Weight | Maximum runtime | Dimensions | Manufacturer | Battery type |
| --- | --- | --- | --- | --- | --- | --- |
| Tineco Stick | Self-Cleaning | 9.9 lbs | 25 min | 11.3″ x 10″ x 43.3″ | Tineco | Li-ion |
| Dyson Absolute | Motor | 5.88 lbs | 60 min | 9.8″ x 10.1″ x 49.2″ | Dyson | Li-polymer |
| Wowgo Stick | Lowest Noise Level | 3.3 lbs | 40 min | 17.68″ x 11.42″ x 7.48″ | Wowgo | Li-ion |
| Shark IonFlex | Lightweight | 8.7 lbs | Not specified | 13.4″ x 10.4″ x 45.9″ | SharkNinja | Li-ion |
| Eureka Stylus | Filtration System | 6.4 lbs | 45 min | 11.1″ x 7.9″ x 43.3″ | Eureka | Li-ion |
What Type of Flooring Do You Have?
Before deciding on a vacuum exclusively made for hardwood, it's essential to consider all your flooring types.
Different types of flooring require specific suction levels from your vacuum.
For instance, carpets often need a deep clean due to hidden dust and debris. On the other hand, smooth and hard floors can do with less suction. They don't require a lot of force to move and pull the dirt into the machine.
But if you have mixed flooring, a robust hybrid is the way to go. This way, you'll get the most for your money since you'll have one appliance to clean all the rooms in your house.
Things to Consider
Before you find yourself a new vacuum, consider the following points. This can help you to find the best product based on your specific needs and preferences.
---
FAQs
---
In Conclusion
Having a cordless vacuum means you avoid stepping on a cord and aren't tethered. A downside, however, is limited cleaning time on a single charge.
When buying, it's essential to consider your needs. Don't just assume that a high price tag means quality. Our favorite of the bunch is the Tineco Cordless Stick Vacuum Cleaner. It has a powerful motor and replaceable batteries.
Hardwood needs care – that's why we want to avoid using a rough brush when cleaning it. We've also made sure that all the products included are specifically made to clean sensitive flooring. Plus, some can tackle carpets as well.
Thank You For Your Feedback!
Thank You For Your Feedback!