A leafblower is a must-have tool for cleaning your yard, but the cords can get in the way, making this task harder than it needs to be. A cordless leaf blower is more practical for many folks since it allows you to take the power tool anymore. Plus, they're quieter and more eco-friendly.
It can be hard to choose the best cordless leaf blower when there are so many options available. We've put hours of research into finding the most prestigious on the market. After studying real customer reviews, expert advice, and dozens of products, we have put together a list of the seven more practical leaf blowers for any customer.
Whether you want something weather resistant, quiet, or wearable, we have seven excellent recommendations that will aid your backyard cleanup project.
Image
Model
Product Comparison Table
Features
Best Weather Resistant Option
EGO Power+ Cordless Leaf Blower
Turbo button blasts away debris
Variable speed settings up to 400 CFM
75-minute run time
Most Quiet
DEWALT 20V Max XR Leaf Blower
High-performance brushless motor
Concentrated nozzle blasts away debris
66 decibel sound level
Best Leaf Blower Combo
Greenworks G-MAX Trimmer Leaf Blower
Up to 45-minute battery life
Cruise control feature
Axial fan design for deep cleaning
Best Backpack Leaf Blower
Greenworks Cordless Backpack Leaf Blower
Brushless motor delivers gas-like performance
Variable speed settings
Cruise control keeps you steady
Best Budget Pick
SnapFresh Cordless Leaf Blower
Advanced copper motor
Two speeds in one
User-friendly design
Best for Large Yards
KIMO Cordless Leaf Blower
30 minute battery life
Converts to a vacuum
4.4 pounds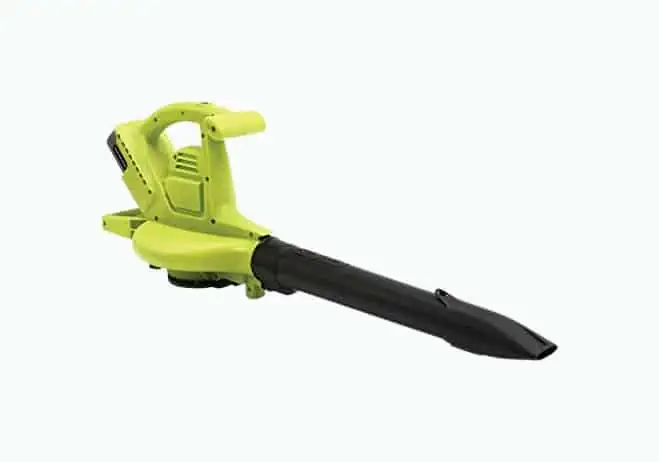 Best Leaf Blower With Mulcher
Sun Joe Cordless Blower Vacuum Mulcher
High impact-resistant impeller
Six speed options up to 200mph
56-minute run time
Review Methodology: At Oh So Spotless, we understand the importance of providing trustworthy information when it comes to finding the best cordless leaf blowers. Our team of professionals conducts thorough research, hands-on testing, and data analysis to evaluate products from a user's perspective. We compare and rank cordless leaf blowers based on key factors such as power, battery life, performance, and design choices. Our assessment takes into account quantitative measurements and first-hand experience to help you make an informed decision. By identifying the top ten most important aspects, such as airspeed, noise level, and ease of use, we ensure that our reviews and recommendations meet the highest standards of quality and reliability. Trust us to guide you in choosing the best cordless leaf blower for your needs.
---
---
The Best Cordless Leaf Blowers of 2023
After hours of researching and analyzing products, customer reviews, and expert advice, we have created an accessible list of the seven best cordless leaf blowers. Packed with a handy description of each product, pros, cons, and specific details, you can easily choose the best one for your backyard.
Blow your socks off with these seven superb leaf blowers.
EGO Power+ Cordless Leaf Blower
Best Weather Resistant Option
Come rain or shine, your leaf blower should withstand the various elements. Thanks to the weather-resistant construction, this leaf blower will work wonders if you live in an area that experiences all kinds of weather types.
Besides that, it has many other cool features, making this one of the best cordless leaf blowers on the market. Keep reading to learn all about it!
What We Like
Turbo Button Blasts Away Debris
Make use of the turbo button to get rid of heavy debris that's blocking your way. The turbo boost will quickly move it out of your way using the power of 530 CFM.
Variable Speed Settings
The variable speed settings allow you to go from 260 to 400 CFM. I love this feature because it gives you ultimate control over your machine. You can even lock it at your chosen CFM for steady control over your debris.
75-Minute Run Time
With 75 minutes of run time, you are getting one of the most powerful and long-running batteries. It will give you enough time to do a variety of jobs.
Durable Brushless Motor
The motor has to be high-quality if you want it to last. Thankfully, this unit includes a brushless motor with low vibrations that keep it in fantastic condition for longer.
What We Don't Like
More Expensive Option
For a handheld option, this is on the more expensive side compared to some other leaf blowers. While it is good and I think it's worth the money, it's important to factor in price when considering this product.
May Last 30 Minutes Max
Depending on the setting you use, the battery may not go for the whole 75 minutes. Some customers reported it only lasted 20-30 minutes when using higher power.
Product Specs
| | |
| --- | --- |
| Type | Handheld |
| CFM | 530 |
| MPH | 110 |
| Battery Life | Up to 75 minutes |
| Weight | 7 pounds |
Community Feedback
For someone who needs a convenient and powerful tool for clearing debris, this product is perfect. I used to struggle with gas-powered blowers and annoying cords, but this battery-operated blower makes my life so much easier. The turbo button provides an extra boost of power when needed, and the adjustable airflow is a great feature. The battery life is sufficient for most tasks, and the overall performance is on par with gas blowers. It's a bit heavy, but the option to attach a shoulder strap makes it manageable even for a senior citizen like me.
---
DEWALT 20V Max XR Leaf Blower
Most Quiet
Your neighbors will thank you for choosing a leaf blower that isn't too loud. At only 66 decibels, this is akin to the noise level produced by a vacuum cleaner. So it still makes noise, but it's not enough to wake your neighbors on a Sunday morning.
As well as producing low noise, it also produces no emissions. So it's kind to the ears and to the environment!
What We Like
High-Performance Motor
Get any job done with the performative specs. With a CFM of 450 and 125 MPH, you can tackle a range of jobs in as little time as possible.
Concentrated Nozzle Blasts Through Debris
The concentrated nozzle ensures that the air comes out at a concentrated angle. This can help with ensuring you blast away as much as possible of precisely what you're aiming for. It also increases airspeed to cut the leaf-blowing time down.
Long-Lasting Brushless Motor
The high-efficiency brushless motor means your leaf blower runs longer at a better quality. Overall, this increases the lifespan, as proven by a lifetime warranty (1).
66 Decibel Sound Level
If you want something quiet, then this is a fantastic option. At only 66 decibels, this isn't much louder than a vacuum cleaner. You can do your yardwork without worrying about waking up your sleeping family inside.
What We Don't Like
10-Minute Battery Life
While some customers reported 15 to 20 minutes of battery life, others reported 10 if they were lucky. This is pretty poor, especially if you have a lot of mess or a big yard.
Product Specs
| | |
| --- | --- |
| Type | Handheld |
| CFM | 450 |
| MPH | 125 |
| Battery Life | 10-15 minutes, maximum 30 |
| Weight | 5.4 pounds |
Our Ratings
Community Feedback
My experience with this product has been mostly positive, as it is lightweight and easy to use. The blower has excellent power and is perfect for tasks like leaf blowing, sawdust corralling, and cleaning out car interiors. However, the battery life is shorter than advertised, so I recommend having a spare battery handy. I also appreciate the battery indicator feature, which shows how much charge is left.
---
Greenworks G-MAX Trimmer Leaf Blower
Best Leaf Blower Combo
Leaf blowers can go the extra mile by combining with another product. In this instance, you have a leaf blower and trimmer combo. The trimmer has a 12-inch cutting path that quickly and easily trims even the most stubborn of weeds, totally cleaning up your yard.
It includes a flower guard to protect your precious daisies, tulips, and other flowers around the garden. It also comes with a wrap-around handle, making it extra easy to hold.
What We Like
Up to 45-Minute Battery Life
Compared to other cordless leaf blowers, this one has a much longer battery life. It can last up to 45 minutes, whereas some others last 30 minutes but can be as little as 10 minutes.
Cruise Control Feature
The handy cruise control feature means you can choose your speed and stick to it. This gives you ultimate control over your machine while giving your finger a break.
Axial Fan Design for Fab Cleaning
This innovative axial fan technology ensures that it can clear all kinds of messes. Whether you're dealing with heavy-duty messes or light-duty, the 110 MPH speeds and 390 CFM can handle all kinds of messes.
Maintenance-Free Design
Once you've got this up and running, there's very little for you to do to keep it in good condition. You don't need to add gas, oil, or other emissions. It's easy to start with a push button, it's quiet, and it's very practical.
What We Don't Like
Power Decreases as Battery Dies
While the battery can last 45 minutes, the first 20 to 25 minutes are significantly more powerful. After that, the power decreases, which is quite inconvenient.
String Only Lasts a Few Minutes
The string strimmer tends to go through its spool quickly, working for only 50 to 80 yards before you need to refill it. This is going to cost a lot of time and money in the long run.
Product Specs
| | |
| --- | --- |
| Type | Handheld + trimmer |
| CFM | 390 |
| MPH | 110 |
| Battery Life | Up to 45 minutes |
| Weight | 16.5 pounds |
Our Ratings
Community Feedback
For those seeking a convenient and eco-friendly lawn care solution, this product offers a great combination of a trimmer and blower. I particularly enjoyed the lightweight and well-balanced trimmer, which made it easy to maneuver without feeling fatigued. The blower impressed me with its power and ability to clear debris effectively. However, I did find that the battery life was slightly shorter than advertised, which may require purchasing additional batteries for larger yards. On the other hand, the charge time was quite impressive, taking less than 30 minutes to fully recharge. While the trimmer's line feed system could be improved, overall, this product is a solid choice for those looking to make the switch from gas-powered equipment to a more environmentally friendly option.
---
Greenworks Cordless Backpack Leaf Blower
Best Backpack Leaf Blower
If you don't want to carry around a handheld leaf blower, a backpack option may be best for you. The Greenworks one is a popular choice amongst very satisfied customers.
It is excellent for cleansing your property from dirt and leaves in no time. Thanks to the technology and design, it even works on soggy and wet leaves. Besides that, it's very comfortable to wear, making each job you do as easy as possible.
What We Like
Brushless Motor Delivers Gas-Level Performance
While some cordless leaf blowers are a bit less powerful than gas leaf blowers, this one isn't. The brushless motor allows the machine to deliver the same performance as a gas option but without the nasty fumes. We're talking 180 MPH of air speed and 610 CFM of airflow.
Variable Speed Settings
With this machine, you get variable speed settings which allow great versatility. It goes up to 145 miles per hour which is super powerful. But you also get the option of other speeds in case you don't need to use the full flow.
Cruise Control Keeps You Steady
A really cool feature of this leaf blower is the cruise control setting. It allows you to maintain your chosen speed so it doesn't flick between speeds. Customers absolutely love this setting!
Recharges in 45 Minutes
Nobody wants to wait around for hours while their batteries recharge. This battery recharges in as little as 45 minutes, meaning you can get back out to your yardwork a few times in one afternoon.
What We Don't Like
Short Battery Life
Unfortunately, the battery life on this leaf blower isn't too long. It lasts around 18 minutes before needing to be charged for around 45 minutes. It takes about 30 to 45 minutes to clean average-size yards, which means three battery recharges.
Sensitive Trigger
Customers found the trigger to be both sensitive and finicky. It's not the most sturdy or easy to use, so keep that in mind, as it's a pretty important feature of a leaf blower.
Product Specs
| | |
| --- | --- |
| Type | Backpack |
| CFM | 610 |
| MPH | 180 |
| Battery Life | 18 minutes |
| Weight | 14.6 pounds |
Our Ratings
Community Feedback
I'm really enjoying this product for its lightweight and easy-to-use design. It's not as powerful as my gas blower, but it's perfect for smaller jobs and it's much quieter too. The battery life is good, lasting a few weeks with regular use, and the 'boost' feature provides extra power when needed. However, if you plan to use it on full throttle for longer periods, I'd recommend getting a second battery.
---
SnapFresh Cordless Leaf Blower
Best Budget Pick
On a budget? No problem. You don't need to spend hundreds of dollars on a leaf blower. This one from SnapFresh is affordable and loved by many customers.
This product is super versatile, and you can use it for a variety of tasks such as snow blowing, dusting, and leaf blowing. It would be a valuable addition to any garden shed.
What We Like
Advanced and Durable Copper Motor
This is built with an advanced copper motor and turbo tech. This ensures the product will last longer and be energy efficient compared to standard engines. It also ensures a generous air output of 130 miles per hour, so you can do various jobs.
Two Speeds in One
Get the best of both worlds with the speed-adjusting function on this leaf blower. You can simply press a button to switch between 60 and 130 miles per hour. This is great for going from indoor to outdoor jobs where you'd use different speeds depending on the job.
User-Friendly Design
With a lightweight of 2.7 pounds and a flexible rubber handgrip, this is an easy and comfortable leaf blower to use. Not only will it prevent you from experiencing fatigue, but it also won't slip down while you're working.
Adjustable Tubes for Ergonomic Use
You'll love that the blowing tubes are adjustable, meaning you can turn them at slight angles to get into hard-to-reach spots. This makes it easy to blast debris from all places, including underneath shelving, along sidewalks, and under your car.
What We Don't Like
Light Duty Design
This is best for light-duty work in small areas, not the most ideal for larger yards. It's not so much a drawback, but something to keep in mind and be careful with if you have a larger backyard.
Low on Power
The CFM only goes up to 140. Customers report that it's low and there isn't a lot of power behind this leaf blower. As mentioned, it's best for light-duty work, but keep in mind that you may get much more power by investing a little bit of extra money.
Product Specs
| | |
| --- | --- |
| Type | Cordless |
| CFM | 140 |
| MPH | 130 |
| Battery Life | 20-25 minutes |
| Weight | 2.7 pounds |
Our Ratings
Community Feedback
My experience with this lightweight product has been mostly positive, as it's perfect for clearing leaves, pollen, and debris from my patio and car without causing strain on my shoulder. However, it doesn't quite match the power of my plug-in blower, and the battery life leaves a bit to be desired. Nonetheless, this product is a suitable option for seniors or those with smaller yards, offering a convenient and easy-to-use solution for maintaining outdoor spaces.
---
KIMO Cordless Leaf Blower
Best for Large Yards
Got a large yard? Then it's important to find a leaf blower that will last a good length of time. This leaf blower has a battery life of up to 30 minutes which is more than most cordless options.
It also charges within one hour, so if you do run out of battery power, it shouldn't be too long until you can use the machine again. Last but not least, it has double the output efficiency, so you can do more in the 30 minutes you do have.
What We Like
Converts to a Vacuum
Wait until you hear this. This leaf blower converts to a vacuum! So now you can use the suction power to clean up around you. This is suitable for food mess, pet hair, dust, and other such debris.
4.4 Pounds
We think you'll love the 4.4-pound weight of this machine. It makes it super simple to take with you all around the yard, up the street, and along the sidewalk without getting tired.
30-Minute Battery Life
For such an affordable unit, this battery life is pretty impressive! It lasts up to 30 minutes, twice as much as other options. It also has four battery indicator lights to show you how much charge you have left.
150 MPH at 20,000 RPM
This unit runs at 150 miles per hour and up to 20,000 RPM, which makes it a fantastic option for blowing away all kinds of debris. We're talking wet and dry leaves, pebbles, snow, pet hair, and more.
What We Don't Like
It's Not Full Size
This is a small leaf blower, so beware of that. Despite the small size, it is powerful.
Customers are impressed with it in that department. But some found it to feel more like a toy than a tool.
Short Tube Requires Bending
The short tube means some customers had to bend over quite far to use it. This is inconvenient and uncomfortable for some. It also clogged quite easily for some.
Product Specs
| | |
| --- | --- |
| Type | Handheld |
| CFM | Not specified |
| MPH | 150 |
| Battery Life | Up to 30 minutes |
| Weight | 4.4 pounds |
Our Ratings
---
Sun Joe Cordless Blower Vacuum Mulcher
Best Leaf Blower With Mulcher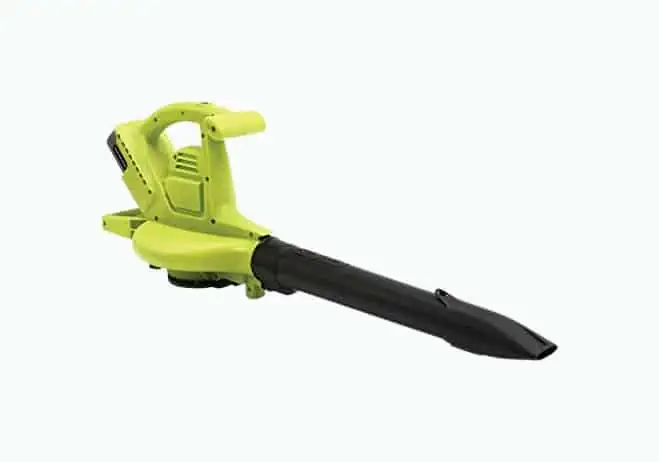 Leaf mulchers are very useful machines. Combine that with a leaf blower, and you'll find this Sun Joe machine. What's even more remarkable is that it also works as a leaf vacuum!
To change between the different settings, all you need to do is flick a switch. It's as easy as that!
Overall, the aim is to turn 17 bags of debris into one, thanks to the high-quality mulching technique.
What We Like
High Impact-Resistant Impeller
The reason this mulcher is so effective is that it's made of metal. The impeller uses two stages to cut up debris. It chops everything down into a 17:1 mulch ratio, which seriously minimizes the bags of debris you'll have at the end of your shift.
Six Speed Options
Go up to 200 mph with this machine. The six variable speeds allow you to change up the speeds depending on the task at hand.
56-Minute Run Time
This takes one of the top places when it comes to battery life. With 56 minutes of run time between charges, you're getting enough power to do a whole load of jobs before the battery runs out.
Includes Gutter Cleaning Attachment
As if I couldn't be more impressed by this unit, it also includes a gutter-cleaning blower attachment. So if your gutters are weighed down by leaves and debris, blow them away with this long attachment that includes a slight bend at the top.
What We Don't Like
High Power = Low Battery Life
If you are using the highest power, then the battery doesn't last longer than 15 minutes. So while you can get 56 minutes out of your battery, the lowest setting is too slow for some customers.
Not the Best for Big Jobs
I recommend this for smaller jobs than bigger jobs. It just takes too long sometimes. If you want a mulcher that can handle big jobs, a cordless option isn't the most ideal. An electric leaf blower is better.
Product Specs
| | |
| --- | --- |
| Type | Handheld + mulcher |
| CFM | 300 |
| MPH | 200 |
| Battery Life | Up to 56 minutes |
| Weight | 8.7 pounds |
Our Ratings
Community Feedback
My experience with this product has been a mix of pros and cons. During the summer, it was great for weekly clean-up tasks, and the battery life was sufficient for blowing down walkways, decks, and garage floors. However, when it came to vacuuming leaves in the fall, the suction power was not as effective as I had hoped. On the other hand, the impeller does a good job of chopping leaves, which allowed me to fill fewer bags. The fact that it's not gasoline-powered and doesn't require a cord is a plus, but I believe there's still room for improvement in terms of power and efficiency.
---
Types of Cordless Leaf Blowers
There are two main types of cordless leaf blowers: handheld and backpack. What's the difference?
Handheld Leaf Blowers
Handheld leaf blowers are usually very lightweight — between seven and 15 pounds — making them easy to carry and transport around. Combined with the cordless design, these are a breeze to maneuver. However, some customers may find them still too heavy.
Pros
They are usually lightweight, making them very easy to use.
They are eco-friendly since they run on a battery.
They are a breeze to maneuver, and you can use them anywhere.
Cons
Some customers may still find them too heavy.
If you want a true hands-free option, you could opt for a backpack cordless leaf blower. You simply wear the main body on your back, like a backpack, and use your free hands to operate the nozzle. This is often more comfortable for people because even though these are slightly heavier, your back is holding the weight.
Pros
Leaves your hands free so you have more flexibility.
Takes the weight off your arms since it's on your back.
More comfortable to carry than a handheld option.
Cons
Significantly more expensive than handheld ones, by about $200.
Heavier overall, but this shouldn't be a huge issue because it's on your back.
How To Choose the Best Cordless Leaf Blower
When choosing a cordless leaf blower, there are some important factors to consider to help you find the best one for your specific yard.
---
Cordless Leaf Blower FAQs
---
Thank You For Your Feedback!
Thank You For Your Feedback!