Are you looking for something a little more powerful than the "as seen on TV" vacuums? Is your home (or business) large and in need of a vacuum with stronger specs and higher capabilities?
Commercial vacuums could be the solution you're looking for. These models are intended for industrial or specialized environments. So they're built to cover more ground and last longer.
But before we reveal our picks for the best commercial vacuum cleaners, we want to tell you why they're worth considering. They have many advantages over their residential counterparts and could improve your cleaning experiences.
Image
Model
Product Comparison Table
Features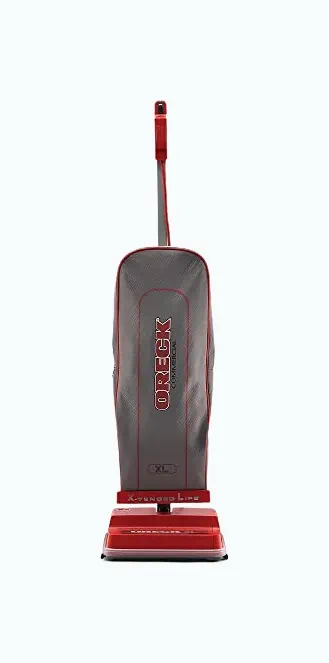 Best All Round
Oreck Commercial U2000RB1
Top-filling bag reduces clogs
Auto-adjusting head
High powered motor
Best for Smaller Spaces
Vacmaster Industrial Vacuum
Multiple uses including wet/dry
Quiet at 72 decibels
Handy add-ons
Most Versatile
ProTeam Backpack Vacuum
Residential kit for home use
Extra 50 foot reach
Allergy friendly
Best for Deep Cleaning
Eureka NEU182A
Extra-large dust cup
Handy accessories
Multi-floor machine
Best for Your Back
Hoover C2401
Comfortable to use
Great for pets
Cool accessories
Most Compact
Oreck XL2100RHS
Less fuss and user-friendly
Side brushes for cleaning edges
Auto-adjust brush
Best for Precision
Hoover CH30000 PortaPower
Convertible as blower
For various surfaces
Compact design for easy storage
Review Methodology: At Oh So Spotless, we understand the importance of trustworthy information when it comes to choosing the best commercial vacuums. Our team of professionals conducts thorough research, hands-on testing, and assessment of various models to provide you with accurate and reliable data. We evaluate products from a user's perspective, focusing on key decision-making factors such as suction power, filtration, durability, and ease of use. Through our in-depth analysis and comparison of top-performing models, we identify standout features and design choices that set them apart from competitors. By sharing first-hand experiences and quantitative measurements, we rank and review the best commercial vacuums to help you make an informed decision. Trust our expertise and let us guide you in finding the perfect vacuum for your needs.
---
---
The Best Commercial Vacuums of 2023
Here are the seven best commercial vacuums that you should consider.
Oreck Commercial U2000RB1 Upright Vacuum
Best All Round Commercial Vacuum
Happy customers agree that this is a durable machine. It's a high-powered, light machine that's easy to use, even for home use.
This multi-floor vacuum automatically adjusts to your floors. We like that it's suitable for hardwood floors, laminate floors, tile floors, and carpets. It fits well under furniture too.
It's got high-speed double-helix brushes and a 12-inch cleaning path. Protective features prevent clogs, jams, and slippage. The 40-foot power cord gives you great range and includes a clamp for easier management.
This machine has a top-fill build to prevent loss of suction as you vacuum. It has a trigger grip for easy control. Finally, its Helping Hand carry handle makes it more maneuverable.
What We Like
Top-Filling Build Prevents Suction Loss
What a genius and effective engineering decision. This machine is built to conserve suction power by filling the bag from the top so that collected dust won't interfere with dirt coming in. Combined with the safety features, this machine is unlikely to clog.
Auto-Adjusting Head for Multi-Surface Use
The head adjusts to the type of floor you're cleaning without needing to switch settings or change the brush. This protects your hard floors and cleans carpets better. It also has soft wheels, built especially to preserve hard floors.
High Powered Motor
A high-speed motor, top-fill design, and anti-clog feature make this vacuum a strong machine. You'll get consistent, powerful suction that will tackle even tough debris.
What We Don't Like
Assembly Required Upon Arrival
An unusual feature is that you have to put this machine together on your own. Don't worry; there isn't any complicated science involved. It's just something worth considering if you're unwilling to spend extra time preparing this machine.
No Cleaning Accessories
Considering how strong this machine is, perhaps you won't need any extras. Still, vacuums that come with attachments and handy accessories are favored. Sadly, you don't get much more than the basics with this model.
Product Specs
| | |
| --- | --- |
| Power | 480 watts |
| Dimensions | 35 inches by 13 inches by 5.5 inches |
| Weight | 8 pounds |
| Special Features | Auto-adjusting brush, anti-clog safety feature, top-fill design, Helping Hand handle |
| Accessories | Cable Clamp |
Our Ratings
Community Feedback
"I've been using this lightweight vacuum and it's been perfect for my tri-level home. The long cord allows me to reach all rooms without unplugging, and as a 70-year-old woman, I appreciate the back handle for easy carrying. The vacuum is quite loud, but I adjusted quickly and it does an amazing job picking up pet hair from both carpets and hard floors. Just make sure to use the correct vacuum bags (PK800025DW) for optimal performance!"
---
Vacmaster Industrial Vacuum
Best Commercial Vacuum for Smaller Spaces
This vacuum may not have as wide a range as other commercial models, but it's still as powerful. It's a multi-purpose machine with a four-gallon tank. It also has an 18-foot cable with automatic rewind.
Whether you're looking for commercial power at your home or you have a small commercial property, this might be the vacuum for you.
You can use this machine on all surfaces, and users mention that it manages outdoors as well. Its best feature, though, is its wet/dry capacity.
It comes with a crevice tool, three extension wands, and a dust brush. You also get a floor nozzle and a 2-in-1 utility tool. Onboard storage makes stowing these components easy. There's also a HEPA filter, so it's good for those with allergies.
What We Like
Multiple Uses Including Outdoor
We like that you can use this vacuum for almost everything. It's a multi-floor machine with wet/dry capabilities that work well outdoors. Versatility like this isn't standard in traditional vacuum cleaners.
It's Quiet at 72 Decibels
Believe it or not, this model only reaches 72 decibels. So it's a good option for parents and pet owners. It's designed to make less noise while retaining its suction power.
Handy Add-Ons for Deep Cleaning
Commercial vacuums typically come with only the basics, but this one breaks the mold. It includes an excellent selection of accessories that each makes cleaning a breeze.
It comes with three extension wands, which is a great courtesy. The dust brush, floor nozzle, and utility tool widen this model's functionality.
What We Don't Like
It's Better for Residential Use
Customers have noted that this vacuum isn't as powerful as its commercial competitors. We think that it's a strong contender. However, it shines better in homes than it will in industrial environments.
It Needs Attention
Users also say that this machine's filters fill surprisingly quickly. They complain that the extra effort needed to manage them can be tedious.
Product Specs
| | |
| --- | --- |
| Power | 960 watts |
| Dimensions | 17.1 inches by 13.2 inches by 17.3 inches |
| Weight | 15 pounds |
| Special Features | Wet/dry capabilities, insulated motor, onboard storage, automatic cord rewind |
| Accessories | Crevice tool, 3 extension wands, dust brush, 2-in-1 utility nozzle |
Our Ratings
Community Feedback
"After using the Vacmaster VF408 vacuum for a while, I found it to have excellent suction and a user-friendly design. The vacuum is lightweight and maneuverable, which made cleaning various areas in my home much easier. However, the retractable cord stopped working and some attachments were flimsy, but overall, this vacuum performed well for its price range."
---
ProTeam Super CoachVac Backpack Vacuum
Most Versatile Commercial Vacuum
This backpack model is built to prevent fatigue and strain. It uses four-level filtration for more effective suction, and a great bonus is that it includes a certified HEPA filter.
The ProTeam Backpack vacuum works for various surfaces. It also comes with a variety of cool accessories for more effective cleaning. It's great for hard floors, low pile carpets, and upholstery.
In terms of its suction, ProTeam claims that it's three times as strong as standard vacuums. It's designed for versatility and is an excellent choice for those with larger homes or spaces.
Moving it up or downstairs is effortless with a 50-foot cord and the backpack style.
What We Like
7-Piece Residential Kit Included
Though this machine is commercial, it includes a 7-piece residential kit to help around your home. The kit is a set of handy attachments that improve cleaning upholstery, crevices, and out-of-reach spots.
Extra Reach Thanks to Long Cable
We like the 50-foot cable, telescoping wand, and flexible hose. These all add to this machine's versatility, portability, and accessibility. You can get around more space without having to move from plug to plug.
Allergy-Friendly Filter
The combination of the four-level filtration and HEPA filter is a must-have for those with sensitivities. This is an excellent machine for easy deep cleaning. Plus, since it's a commercial model, it's built for frequent use.
What We Don't Like
There May Be Discomfort
We love the idea of backpack vacuums, but they take some getting used to. Some customers note that this machine is awkward to wear at first. In its defense, though, it includes an adjustable harness for extra comfort.
Room for Improvement
Customers also note that this machine isn't as durable as they hoped. The hose comes apart easily, and the build's quality isn't as high as other machines.
Product Specs
| | |
| --- | --- |
| Power | 1188 watts |
| Dimensions | 10.12 by 18 inches |
| Weight | 11 pounds |
| Special Features | 4-level filtration, flexible hose, adjustable harness |
| Accessories | Crevice tool, soft dusting brush, claw nozzle, turbo brush, intercept micro filter bags, hard floor tool, telescoping wand, mesh storage bag |
Our Ratings
Community Feedback
"I'm an older individual with back issues, so I was initially concerned about the weight of this vacuum. However, after using it for the past 7 months in my cleaning business, I am thoroughly impressed. Not only does it have strong suction, but the adjustable straps make it easy to carry the weight on my waist rather than my shoulders. The attachments on the belt are a genius idea, making it easy to switch between cleaning tasks. Although it may feel a little heavy at times, I highly recommend this vacuum for its efficiency and thorough cleaning capabilities."
---
Eureka NEU182A Bagless Upright Vacuum
Best Commercial Vacuum for Deep Cleaning
This model implements a dynamic motor that combats stubborn dirt and debris. It has a 12.6-inch nozzle designed to clean up more and faster. The 4.1-liter deep dust cup eliminates extra maintenance, saving you time. Overall, if you're looking for a deep clean, then this vacuum might be your best friend.
Whether you have hard floors, carpets, or rugs, you can count on this vacuum. Its brush adjusts to five heights, and its smooth wheels protect hard floors from scratches. It comes with the standard tools, but they're much appreciated.
You get a crevice tool, a dusting brush, an upholstery tool, and a washable filter. There's also a stretch-hose for high cleaning. Each accessory is stored on-board for convenience and can also be used to clean pet hair.
What We Like
Extra-Large Dust Cup
The 4.1-liter dust cup on this machine makes a big difference. In line with how convenient this model is meant to be, you will spend less time on maintenance. It also reduces the risk of clogging and loss of suction.
Handy Accessories for Deep Cleaning
Reiterating that not all commercial vacuums come with extras, we like that Eureka included the basics for home use. We especially like the flexible hose for cleaning high spots or difficult areas.
Multi-Floor Machine
This machine's brush is adjustable, and it has smooth wheels. So, it preserves the condition of your hard floors and protects against abrasions. You can use the machine on carpets, rugs, and upholstery too.
What We Don't Like
Unstable and Heavy
It's not the lightest machine out there. It weighs 10 pounds which is quite heavy. While it's not a big issue, some customers report a slight instability in the machine. A few users say that it tends to lean or tip over if you let it go.
It's Louder Than Competitors
It won't break the sound barrier, but this machine is one of the louder ones. Though it can clean pet hair, it might frighten or disturb sensitive or indoor animals.
Product Specs
| | |
| --- | --- |
| Power | 960 watts |
| Dimensions | 13.4 inches by 14 inches by 44.5 inches |
| Weight | 10 pounds |
| Special Features | Stretch hose, adjustable height, washable filter, extra-large dust cup |
| Accessories | Crevice tool, dusting brush, upholstery tool |
Our Ratings
Community Feedback
"I recently replaced my old vacuum with the new Eureka bagless model and couldn't be happier with the results. The powerful suction and adjustable brush height settings make it perfect for tackling various surfaces, from shag carpets to hardwood floors. The lightweight design, easy-to-empty canister, and useful attachments make cleaning a breeze, even with a long-haired cat in the house."
---
Hoover C2401 Lightweight Backpack Vacuum
Best Commercial Vacuum for Your Back
A chiropractor designed this Hoover backpack vacuum so you know it's safe for your back. It registers at only 66 decibels and is one of the quietest on the market, so it's excellent for pet owners.
There are great accessories included too. It's got a Hypercone filter with HEPA capabilities. You'll also receive two straight wands, a crevice tool, an upholstery tool, a turbo tool, and a dusting brush.
There's a 43-foot, three-wire quick change cord that saves time in installation, repairs, and replacements. Its transparent dome lid enables easy monitoring. Plus, it has the capacity for a disposable bag if you prefer.
What We Like
Comfortable to Use
It's reassuring that a chiropractor designed the harness of this machine. This vacuum cleaner is easy to carry and won't cause fatigue, strain, or injury. It's better for your posture, muscles, back, and shoulders.
Filter and Volume Are Great for Pets
This model is both quiet and HEPA efficient. Pet owners stand to benefit greatly from this machine. It clears your space of allergens and won't frighten your pets.
Cool Accessories for Versatile Use
We like that this machine includes two wands and a turbo brush. You get the basics, too, making it a versatile machine that you can use on various surfaces in your home.
What We Don't Like
It's Finicky to Use
Customers say that the attachments are tricky to use and can be frustrating to connect. It's not that it's challenging to work with. You might just need to take some time to figure it out first.
Lower Residential-Level Suction
Users mention that this machine doesn't suck as well as they expected. Compared to other commercial vacuums, this one's suction feels more residential. It is still a powerful machine, though, and most customers are satisfied with it.
Product Specs
| | |
| --- | --- |
| Power | 1020 watts |
| Dimensions | 13.2 inches by 13.2 inches by 30 inches |
| Weight | 9.2 pounds |
| Special Features | Chiropractic harness, Hypercone filter, 66-decibel motor |
| Accessories | Crevice tool, dusting brush, upholstery tool, turbo tool, two straight wands |
Our Ratings
Community Feedback
"Love this vacuum for hardwood floors and area rugs! I run a cleaning business and this lightweight machine has been a dream to use. It's easy on the back, and with some adjustments like wearing a waist strap, it's comfortable even for petite users like myself. The floor attachment is fantastic for various surfaces, effortlessly picking up dirt, dust bunnies, and even larger items like spare change."
---
Oreck XL2100RHS Commercial Upright Vacuum
Most Compact Commercial Vacuum
Like our top choice, it has a 12-inch cleaning range for more effective cleaning. This vacuum is designed for easy storage and only weighs 8.2 pounds. The Arthritis Foundation has also noted the Helping Hand handle. It certainly enables easier portability and use of this machine.
It's a multi-floor model that's effective on hard floors and carpets, and its brush will automatically adjust accordingly. With its high-speed motor, it can easily tackle stubborn dirt and debris. We like that it includes side brushes too.
One more feature that makes it compact is its 35-foot cord. It's a good length, but less than other commercial vacuums. This is handy if you're in a smaller space and don't need excessive reach.
What We Like
Less Fuss, More User-Friendly
The 35-foot cable is handier if you're looking for a commercial vacuum for home use. This is especially true if you're in a smaller home and could do without the extra length of other commercial vacuums. Handling it is less of a hassle, as is its storage and portability.
Side Brushes Clean Edges
We think it's cool that this upright vacuum has the capacity for Side Edge brushes. It adds to the machine's versatility and cleans spots that are difficult to reach with other uprights.
Auto-Adjust Brush for Multi-Surface Use
This is a multi-floor machine that protects your hard floors from abrasions by automatically adjusting to them. It's also quite a flexible upright and works well under furniture. Plus, if you've got carpets, this vacuum will cover you too.
What We Don't Like
Not As Durable As Customers Hoped
Some customers have said that they struggled with the durability of this machine. It's unclear whether or not these complaints stem from negligence or design faults. So, take care to maintain this model properly to lengthen its lifespan.
No Accessories Included
As with our top choice, you won't get many extras with this model. It includes the tools you need, but there aren't any attachments for crevices, upholstery, or extra reach.
Product Specs
| | |
| --- | --- |
| Power | 480 watts |
| Dimensions | 6 inches by 13 inches by 35 inches |
| Weight | 8.2 pounds |
| Special Features | Side Edge brushes, Helping Hand handle, auto-adjust brush |
| Accessories | N/A |
Our Ratings
Community Feedback
"My experience with the new Oreck Commercial Upright Vacuum has been fantastic! It's lightweight and easy on my back, making it a breeze to move around my condo. The vacuum effortlessly transitions from carpet to kitchen floors, and its low-profile motor head allows me to clean under kitchen cabinets with ease. Although I miss the headlights from the older model, the overall performance of this vacuum has exceeded my expectations and I highly recommend it."
---
Hoover CH30000 PortaPower Commercial Canister Vacuum
Best Commercial Vacuum for Precision
This Hoover's strength lies in versatility and handling. It's a lightweight model, weighing only 8.3 pounds. Despite its compact size, the 33-foot cord gives you a good amount of range.
You can use this vacuum on various surfaces, including fabrics, upholstery, rugs, and hard floors. It's portable too, so it's great for stairs, car interiors, or high spots. There's a choice between paper and cloth dust bags, which is unique. So you can alternate according to what needs to be cleaned.
However, the highlight of this model is that it doubles as a blower too. It's an all-rounder that you can use outdoors if need be.
What We Like
Blower Vacuum Combo
A defining feature of this vacuum is that you can also use it as a blower. It's a top choice for people who need a vacuum for outdoor use. A bonus is that it will save you money on extra equipment.
For Various Surfaces Including Upholstery
This vacuum stands out as a commercial model because it can effectively handle fabrics and upholstery. It's perfect for car interiors, furniture, and floors and is one of the more versatile commercial vacuums on the market.
It's Compact and Easy to Store
The small stature of this model makes storage, portability, and usage so much easier. Its weight is competitive when compared to other canisters and commercial vacuums. People with larger or multi-story homes should shortlist this vacuum.
What We Don't Like
It's Lacking for Carpets
A few users are dissatisfied with how this vacuum handles carpets. It's apparently better for hard floors or small messes. It seems to work well on upholstery and interiors but may be ineffective if you're looking to deep clean.
Small Dust Capacity
Remember that this is a compact commercial vacuum, so its dust capacity is smaller than others. It's not a deal-breaker if you stick to using it as you would a handheld, rather than a deep-cleaner. But, if you use it daily, expect more maintenance.
Product Specs
| | |
| --- | --- |
| Power | 1440 watts |
| Dimensions | 20.9 inches by 7.8 inches by 12.5 inches |
| Weight | 8.3 pounds |
| Special features | 33-foot cord, blower |
| Accessories | Dusting brush, floor nozzle, crevice tool, filter bags, filter bag kit |
Our Ratings
Community Feedback
"My experience with this vacuum has been mostly positive, as it's lightweight, convenient, and powerful for its size. It's particularly handy for tight spaces, stairs, and various floor types, from area rugs to hardwood floors. However, I found the suction to be lacking compared to my Hoover, and it didn't come with a carpet attachment. Additionally, the extra-long power cord is useful, but tends to twist and tangle easily, making it a bit frustrating to put away. Despite these minor drawbacks, I still prefer this vacuum over more expensive options like Dyson, which didn't last as long in my experience."
---
Commercial vs. Residential Vacuums
You've probably heard that commercial vacuum cleaners are more efficient than residential machines, but do you know why? What sets the two apart? And is it true that the former are generally better machines?
There's a simple explanation to differentiate between the two. Residential vacuums are designed for lighter use in smaller, less populated spaces.
On the other hand, commercial machines are meant for regular use in high-traffic zones. People typically use them in hospitals, factories, schools, and hotels.
Commercial machines are also made to withstand high usage levels, so they're stronger structurally.
Commercial and residential vacuum cleaners differ in more subtle but important ways. But you shouldn't be intimidated by commercial vacuums. They're not impossible-to-wield, gigantic pieces of machinery.
You can use one in your home if you want to. It's their build, design, and specs that matter. Here's how commercial vacuums weigh up against residential models.
Types of Commercial Vacuums
Commercial vacuum cleaners don't come in as wide an assortment as residential ones. Don't confuse commercial with industrial vacuums — they're an entire category on their own.
The most significant difference is that industrial machines are much larger. And as a result, they often require more than one set of hands to operate them.
Upright Commercial Vacuums
These are the prime example of commercial vacuums. They're designed almost exactly like their residential equivalents and only have a few unique traits.
We mentioned that commercial vacuums have larger capacities, so don't be surprised if they're bigger. This won't always be the case, of course. But there is potential for commercial uprights to be slightly chunkier than you'd expect.
Their cables are longer, and their plugs are different. Also, standard vacuums have two prongs, while commercial vacuums have three. They need more power, so it makes sense that their structure accommodates their electricity demand.
Their brushes are bigger, but they have fewer accessories than residential vacuums. You can still purchase extras or add-ons, of course. But a new model likely has only the basics to begin with.
Pros
Excellent for deep cleaning floors.
Extra-long cables for a wider range.
Stronger suction than residential vacuums.
Reasonably priced compared to industrial commercial vacuums.
Larger dust capacity, often 2-4 liters.
Cons
Heavy, averaging around eight pounds.
Limited accessories make it difficult for tight spots.
Not as versatile as residential upright vacuums.
Backpack Vacuums
Backpack vacuums aren't popular in homes, but they're incredibly versatile. The premise is that you carry the canister of this vacuum on your back. Holding them this way makes the machine as a whole more moveable, versatile, and functional.
Since you wear these vacuums, they have to be lightweight. They usually come with a range of attachments and are often multi-surface vacuums. They have stronger suction and higher capacities than residential backpack vacuums.
People love them because they're easy to transport and won't get in your way. Users get more reach and power out of these machines, and they can be helpful in larger cleaning areas.
Pros
Versatile, working on multiple surfaces.
Lightweight, so it shouldn't hurt to wear it for long periods.
Portable due to the backpack design.
Allow for more reach for uninterrupted cleaning.
Cons
They cost more than upright or canister vacuums.
Not as popular for home use.
Could be uncomfortable at first.
Canister Vacuums
Canister vacuums are prevalent in residential cleaning because they're more versatile than uprights. However, they're not as widespread in commercial cleaning.
With canisters, you don't have to push the entire machine along with you as you go. A hose connects the wand to the canister, which trails behind you on a set of wheels. They make for less laborious cleaning, thanks to their design.
What's most appealing about canister vacuums is their capacity for accessories. Most canisters come with standard add-ons, so save you money on tools.
Pros
Easiest to use, which makes for quick cleaning.
Less effort to operate than upright vacuums.
Accessories are included to save you money on add-ons.
Versatile hose lets you get into high or low spots.
Cons
Less control over the canister.
Not common in commercial use.
Assembly may be required.
How to Choose a Commercial Vacuum
If you've got your heart set on a commercial vacuum but aren't sure which one to choose, we can help you decide. Commercial vacuums typically cost more than residential ones, so don't waste money on something you're unsure of. Before you go shopping, determine the following:
---
FAQs
---
Thank You For Your Feedback!
Thank You For Your Feedback!