A clothes steamer is a great tool to have in the house. Many people use it as an alternative to an iron, or even better, in addition to one! They are great because they can be used on delicate fabrics, like silk, wool, curtains, and much more.
There are many different steamers on the market, so it can be hard to find the best ones. That's where we come in. We've spent hours researching real customer reviews, expert advice, and various products.
To bring you the list of the best clothes steamers, we investigated each product's purpose, capacity, ease of use, and weight. We want to ensure that there's an option for everyone. So whether you're looking for something for traveling, compact, or for commercial use, we've got you covered.
---
---
Product Reviews
It's time! After hours of researching products, comparing their specifications, and reading user reviews, we've found our picks. We have gathered 10 of the best clothes steamers on the market to recommend to you.
---
---
---
---
---
---
---
---
---
---
What Is a Clothes Steamer?
These are super useful tools that contain water and produce steam which is emitted through a wide nozzle that you aim at your clothes. This de-wrinkles clothing so that you don't have to go over them with an iron. Clothes steamers also use high heat to sanitize your clothes.
Overall, these are handy gadgets that work on nearly all fabrics. Plus, they will save you a lot of time because you don't need to set up an ironing board for each item. Just aim and steam!
Are Steamers Worth It?
We know that adding another item to your laundry room can seem daunting, but we believe steamers are worth it!
Steamers make the de-wrinkling process much easier. We especially love that we can use them on furniture and upholstery, too. That's something you can't do with an iron.
The drawback to a steamer is that you won't get the same crispness as you do from an iron. That's why for some, this may work as an additional tool — not an alternative.
Does a Steamer Get Wrinkles Out?
Yes, and it does so easily; you don't have to put your back into it. The steamer requires no contact since the high heat does all the work for you. While it might not leave you with as professional a finish as an iron, it definitely does the job.
Types of Clothes Steamers
Like every good product, there are a few different types of clothes steamers. This ensures that you find one that suits your specific requirements.
Things to Consider (Buying Guide)
When shopping for a clothes steamer, you should consider some vital points. You want to make sure the steamer ticks all of your boxes.
---
How to Steam Your Clothing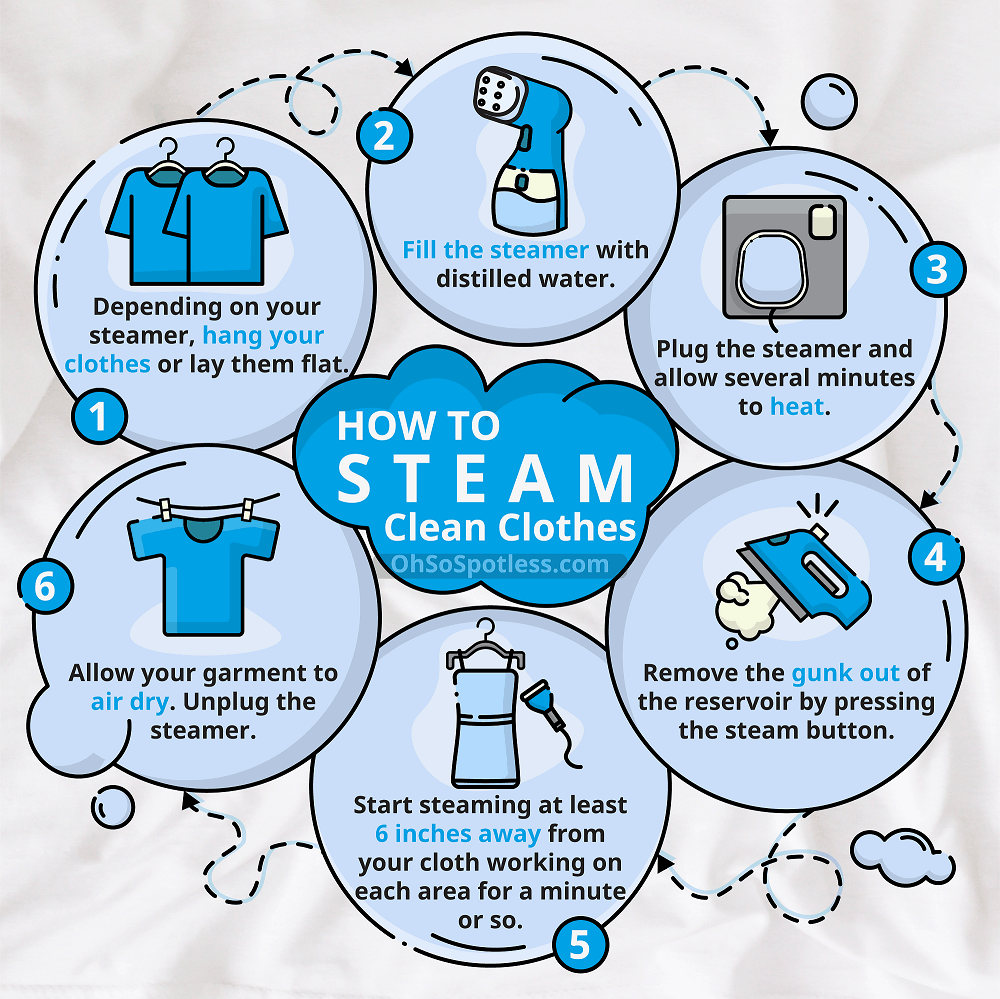 Let's go over exactly how you can steam your clothing!
Hang up your clothes: Most clothes steamers require you to hang up your clothes before you steam them. The gravity will help to work out the wrinkles so that it doesn't crumple on a surface. Some steamers, however, work at all angles, so you can keep your clothes flat if you prefer.
Fill the steamer: Use distilled water to fill your steamer to the max line.
Plug it in: Turn the steamer on. Give it the allocated time to heat up before using it.
Let the steam out: Before you use the steamer, press the steam button for about a minute to get all the gunk out of the reservoir. It's better to do this away from your clothes than onto them!
Hold the steamer: Hold the steamer six inches away from your garment. You don't want the steam to be too close in case it burns the clothes.
Hold the garment: Hold the garment taut, so you don't set in any wrinkles.
Steam: Now, it's time to steam! It's most effective to do this in sections and go slowly. Work in each area for a minute or so. If you come across a stubborn wrinkle, you can keep your steamer in front of it for a minute. This will help to get the wrinkle out.
Dry: Give the garment a few minutes to air dry before wearing it.
FAQs
---