A clothes steamer is a great tool to have in the house. Many people use it as an alternative to an iron, or even better, in addition to one! They are great because they can be used on delicate fabrics, like silk, wool, curtains, and much more.
There are many different steamers on the market, so it can be hard to find the best ones. That's where we come in. We've spent hours researching real customer reviews, expert advice, and various products.
To bring you the list of the best clothes steamers, we investigated each product's purpose, capacity, ease of use, and weight. We want to ensure that there's an option for everyone. So whether you're looking for something for traveling, compact, or for commercial use, we've got you covered.
Image
Model
Product Comparison Table
Features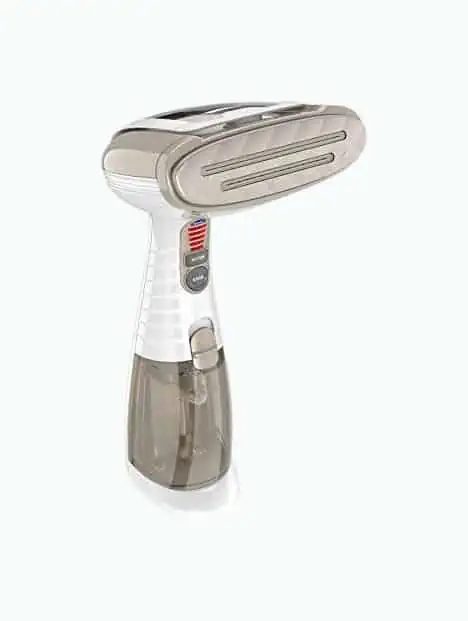 Best Travel Garment Steamer
Conair Turbo Extreme
Fast & powerful
Steam any fabric
Kills 99.9% of bacteria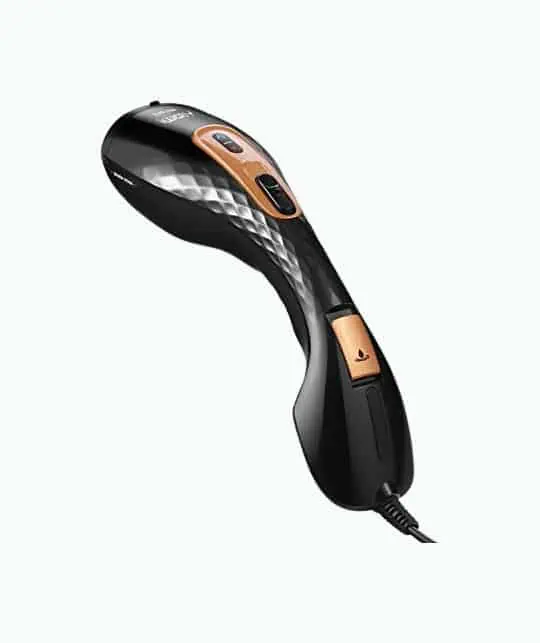 Best 2-in-1 Garment Steamer
Iwoly Garment Steamer
Horizontal & vertical steaming
Safety protection
Great for daily use
Best Multipurpose Steamer
Hilife Handheld Clothes Steamer
Powerful steam
Works on different fabrics
Multipurpose cleaning abilities
Best Mini Garment Steamer
Bizond Mini Steamer
No spitting water
Strong and quick
Timesaving
Best Commercial Steamer
Jiffy Garment Steamer
Long steaming time
Practical features
Heats water quickly
Easiest to Use
Rowenta DR8120 Steamer
Two steam levels
Use at any angle
Includes four accesories
Best Steamer and Iron Combination
PurSteam Steamer
Powerful wattage
User friendly
Suitable for all materials
Best for Wedding Dress
Beautural Clothes Steamer
Vertical or horizontal steaming
Cool safety features
Steam Lock Button
Best Budget Steamer
URPower Clothes Steamer
One for all fabrics
Easy to use
Portable and compact
Best Standing Garment Steamer
Salav GS18-Steamer
Foldable adjustable hanger
Double insulated hose
Heats quickly and lasts long
Review Methodology: At Oh So Spotless, we understand the importance of providing trustworthy information when it comes to finding the best clothes steamers. Our team of professionals conducts thorough research, hands-on testing, and data analysis to evaluate products from a user's perspective. We compare performance, design choices, and key decision-making factors to rank and rate each product based on criteria that matter most to our readers. Our expertise and first-hand experience allow us to share quantitative measurements and evidence for each steamer's performance, setting apart the best from the competitors. In our assessment, we focus on factors like ease of use, steaming power, safety features, water tank capacity, and durability. Trust in our comprehensive review and score of the top ten clothes steamers to make an informed decision for your steaming needs.
---
---
The Best Clothes Steamers of 2023
It's time! After hours of researching products, comparing their specifications, and reading user reviews, we've found our picks. We have gathered 10 of the best clothes steamers on the market to recommend to you.
Conair Turbo ExtremeSteam Fabric Steamer
Best Travel Garment Steamer
Traveling from place to place can be exhausting. Take some of the edge off by treating yourself to the Conair travel garment steamer. This is a handy item to have in your suitcase so you can remove wrinkles in a flash.
It's super compact, so it can fit in your luggage or your backpack. The size doesn't compromise power, though. This device heats up in 40 seconds and produces up to 15 minutes of steam at 1875 watts. Wow!
What We Like
Fast and Powerful
The Conair steamer is fast and powerful. It heats up in 40 seconds and produces a powerful flow of steam for 15 minutes. The heated, dual-plated ceramic plate helps for a smoother and faster glide.
Steam Any Fabric
When traveling, it's common to find yourself with a wide variety of clothes. So it's important to get a travel clothes steamer that works on any material. That's why we love the Conair. Aside from that, it has a built-in creaser to give perfect pleats and folds.
Suitable for Steaming Delicates
You can steam your cotton items, delicates, and beddings. It also comes with a brush attachment which allows the steam to penetrate the fabric for well-pressed results, heavy sweaters included.
Kills 99.9% of Bacteria
Not only does its job of removing wrinkles on your clothes, but it also gets rid of germs, mites, and bugs. Hitting two birds with one stone, eh?
What We Don't Like
Water Reservoir
Designed for traveling, you may need to refill when doing plenty of cloth steaming as the water tank is on the smaller side. But you can't expect much more from a device this compact. Nonetheless, we recommend you stay near a tap to easily refill it as needed.
Heavy and Bulky
Weighing 2.84 pounds, this might seem lightweight off the bat. But once you've added the water, it weighs over three pounds. When steaming multiple items in a row, this can feel like a major arm workout.
Product Specs
| | |
| --- | --- |
| Type | Travel |
| Tank Capacity | 215 ml |
| Steam Time | 20 minutes |
| Heating Up Time | 40 seconds |
| Weight | 2.84 pounds |
Our Ratings
Community Feedback
This product is highly effective and impresses me with its quick heat-up time and various steam settings. I've used it on a range of fabrics, from shirts to drapes, and it tackled wrinkles with ease. The water tank is smaller than expected, making it slightly inconvenient for larger steaming tasks, but its overall performance outweighs this minor issue. Just be cautious of the weight, as it is heavier than some other steamers, but it's a great investment for those seeking wrinkle-free clothes.
---
Iwoly Garment Steamer for Clothes
Best 2-in-1 Garment Steamer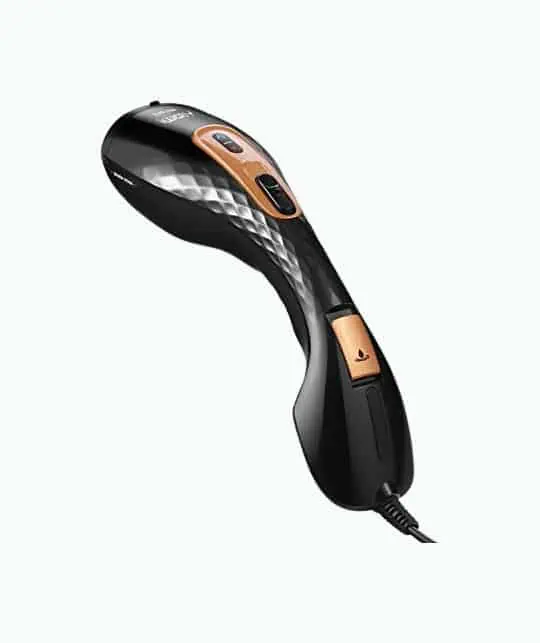 Go the extra mile in terms of portability with the Iwoly garment steamer. This device is compact and easy to transport, but it's also great for multiple uses. It can serve either as a steamer or as an iron.
This is amazing for zapping out those wrinkles. It's designed to give you fast and easy results. It removes wrinkles, sanitizes, and refreshes your clothes.
It's got 1200 watts of power and is ready to use in only 50 seconds. So if you're in a rush, this is a wonder product!
What We Like
Horizontal and Vertical Steaming
This is a great tool for horizontal and vertical steaming. Horizontal steaming is also great for bedding and furniture. Plus, this product guarantees no spits and leaks.
Safety Protection
We could also award this product as the safest garment steamer! The unit automatically shuts off when it gets too hot or when the water level is too low.
Lastly, it's safe to use on literally all fabrics — even velvet and plush toys.
Great for Daily Use
The Iwoly garment steamer is fantastic for daily use. You can't go wrong with this little steamer. It gets wrinkles out very quickly.
Customers claim it only takes two minutes to spruce up a shirt. So if you're looking for a quick way to de-wrinkle your shirt before work, this is an excellent choice.
Doubles as an Iron
Remember when we said a steamer is a great addition to an iron? This gadget does both. You can use it as a dry iron, evenly distributing heat across your clothes to blast out wrinkles.
Powerful Steam Output
This outputs 22 grams of steam per minute which is impressive for such a compact gadget. With 72 inner energy towers, this provides continuous steam bursts to give you the best results.
What We Don't Like
It's Heavy
Even the most satisfied customers comment on this product being quite heavy once it's filled with water. It comes in at just over two pounds once it's filled, which we don't think is too shabby! But customers are always right — so keep this in mind.
Small Water Tank
Because of the high steam output, this device runs out of water quickly. With a 150ml tank, you're not getting much time before you have to refill with water.
Product Specs
| | |
| --- | --- |
| Type | Handheld |
| Tank Capacity | 150 ml |
| Steam Time | N/A |
| Heating Up Time | 50 seconds |
| Weight | 1.98 pounds |
Our Ratings
Community Feedback
Definitely a stylish and modern steamer, this product works well with continuous steam output and no need to hold down a button. However, it is a bit heavy and has a small water capacity, resulting in frequent refills during use. It can be used horizontally and vertically without leaking water, making it suitable for various fabrics from delicate lace to heavy linen. On the downside, its size and weight may not be ideal for traveling or for those with limited mobility. While it may not be perfect, this steamer is reliable and effective for everyday use.
---
Hilife Handheld Clothes Steamer
Best Multipurpose Steamer
The Hilife model is our top pick for a multipurpose handheld clothes steamer. It is portable and lightweight, making this household chore a simple task.
It has a 240ml capacity which allows for 15 minutes of steaming. It's not a massive amount of time, but for a handheld steamer, it's great. This allows you time to steam a few garments before refilling the tank.
What We Like
Powerful Steam
The 700-watt Hilife handheld steamer produces powerful steam to bust out wrinkles. You will see a big difference in your clothes.
Works on Various Fabrics
You can use this steamer on a variety of fabrics. From cotton to nylon to silk to even bedding, this steamer can be put to use. It's also suitable for chiffon, wool, linen, and more.
Multipurpose Cleaning Abilities
Customers have actually put the Hilife steamer to the test in other areas. You can try using this to get sticky residue, like fingerprints or crayons, off the walls. In fact, if you have kids or pets, steamers are great since they can blast away all kinds of dirt.
Long Power Cord
This has to be plugged in to power up. But thankfully, the power cord is 9.2 feet long, so you get good range. Plug it in nearby, and move across your bedroom to steam the bed frame, curtains, and more.
What We Don't Like
It's Not Cordless
This product comes with a generous nine-foot power cord. But that can be a drawback for some people since you always need to be near a power outlet.
You Can't Tilt It
Unfortunately, this leaks water if it's tilted. It's really only for vertical steaming. You don't want boiling water to spill out onto you and cause burns.
Brush Attachments Falls Off
The brush attachment is super handy at penetrating steam deeper into the fabric. However, many customers had trouble keeping it on the unit. It might fall off as you use it.
Product Specs
| | |
| --- | --- |
| Type | Handheld |
| Tank Capacity | 240 ml |
| Steam Time | 15 minutes |
| Heating Up Time | 130 seconds |
| Weight | 1.7 pounds |
Our Ratings
Community Feedback
After using this product for a year, I can confidently say that it is a reliable and efficient steamer for clothes. I appreciate the compact design, making it travel-friendly and easy to store. The steamer heats up within a minute and is capable of handling various fabrics, from delicate silk to rugged denim. However, it is not a complete replacement for ironing, especially for formal attire, as it can be time-consuming.
---
Bizond Mini Steamer for Clothes
Best Mini Garment Steamer
Tight on space at home or in your travel bag? Not to worry — the Bizond is our favorite mini garment steamer!
It's super compact, making it perfect for small apartments or traveling. In fact, it even fits in a carry-on. Plus, it's lightweight and has a comfortable handle.
It also has a nifty feature not seen in many garment steamers: a nano filter. So you can fill the tank with tap water, and it filters it. This stops calcification and extends the lifetime of the steamer.
What We Like
No Spitting Water
There is nothing more annoying than your steamer spitting water at your clothes. Especially if you're about to head out on a date or an important meeting. Well, the Bizond doesn't spit at all.
It works at all angles — even upside down! It protects your hands and clothes, doesn't spill, and can be placed on any surface without leaking.
Strong and Quick
This garment steamer heats up in 15 seconds, so you can use it at the last minute before leaving the house. Plus, it's a strong device. It uses 900 watts to get wrinkles out of your clothes in no time!
It's a Timesaver
Customers love this product because it saves them time; it's quicker than many irons. The steam penetrates deep into the fabric to get wrinkles out fast. It also comes with many accessories to help you steam certain fabrics.
Nano Filter Protects the Tank
Using distilled water can be expensive. Thankfully, you can use tap water in this unit. The nano filter will purify the water, protecting the heating element from calcification. Overall, this extends the life of the gadget, which is covered by a 3-year warranty.
What We Don't Like
10-Minute Steam Time
Since this is a mini garment steamer, it's expected that it will have the shortest steam time on our list. But 10 minutes is extremely short.
You will need to refill the Bizond many times if you're doing a big load. But it's perfect for a few shirts or an outfit!
Not the Most Powerful
While this is a strong unit, it's not the most powerful at removing wrinkles. It's pretty impressive on synthetic clothing, but it struggles with linen and cotton.
Short Power Cord
The power cord is advertised at 9.8 feet, but customers say it's only around six feet long. This is not convenient.
Product Specs
| | |
| --- | --- |
| Type | Travel |
| Tank Capacity | 100 ml |
| Steam Time | 10 minutes |
| Heating Up Time | 15 seconds |
| Weight | 1.63 pounds |
Our Ratings
Community Feedback
Got this compact steamer for travel and everyday use, and it's been a pleasant surprise. It's small and powerful, quickly steaming out wrinkles and making my clothes look polished. The only downside is the need to refill the water reservoir when working on multiple garments, but overall, I'm very satisfied with this product.
---
Jiffy Garment Steamer
Best Commercial Steamer
The Jiffy garment steamer is practical for both home and commercial use. If you work in a laundromat or hotel, this is a great product.
It also has a huge water capacity that allows for 1.5 hours of steam time! So if you have a lot of clothes to get through, this is a top choice.
This steamer can remove wrinkles, wallpaper, steam bedding, table linens, and much more. It is practical, too. It has a long hose for getting into hard-to-reach places. Plus, it has wheels that make it easy to move around.
What We Like
Long Steaming Time
The Jiffy garment steamer is the best option if you have a lot of clothes to steam. It can last for 1.5 hours on one full tank. The tank capacity is 2.84 liters, giving you enough time to get through many loads of laundry or go from room to room steaming furniture.
Practical Features
It's on wheels, has a long hose, and can tackle various jobs. What more could you want? The Jiffy steamer is easy to use.
Plus, it's not just for clothes. You can use this to strip wallpaper, too! That's never a fun task, but you'll loathe it much less with this steamer.
Heats Water Quickly
For such a large water tank, this product heats quickly. In only two minutes, you'll go from zero to hero with this steamer! Don't waste any time with this product.
Durable Build
This steamer is made from quality materials. It has a brass heating element and a high-impact plastic housing. This means it can withstand repeated use, even in industrial environments.
What We Don't Like
Heavy to Use
It's no doubt that such a product will be heavy, but we suggest you keep that in mind anyway. Even the hose itself is heavy, which is a bit disappointing.
Uncomfortable Handle
The handle is also quite uncomfortable, so if you suffer from joint pain, this might not be your top choice. It also gets very hot, putting you at risk of burns.
No Steam Settings
For such a large and expensive product, it would be nice if there were steam settings. Higher steam would be better for larger and thicker clothing. However, there is just an on and off button, so it can take a while to eliminate wrinkles from certain garments.
Product Specs
| | |
| --- | --- |
| Type | Standing |
| Tank Capacity | 2.84 liters |
| Steam Time | 1.5 hours |
| Heating Up Time | 2 minutes |
| Weight | 17.4 pounds |
Our Ratings
Community Feedback
If you're looking for an effective and efficient way to get rid of wrinkles, this product is a must-have. I've used it for several months now, and it has made steaming clothes a breeze, even on synthetic fabrics. However, be cautious while using it as it's quite powerful and can cause minor burns if not handled properly. The steamer is durable and well-built, making it a worthwhile investment.
---
Rowenta DR8120 X-Cel Fabric Steamer
Easiest to Use
You're not sure you'll enjoy using a fabric steamer? Well, the Rowenta DR8120 X-Cel is our top pick for a garment steamer that's easy to use. So you don't have to put much effort into learning how to use this one!
Rowenta has prioritized ease of use with this product. It comes with a removable water tank, so you can easily fill it up. It has a steam locker, so you have free movement. Plus, the base is sturdy.
What We Like
Two Steam Levels
This product has two steam levels: a turbo level and a delicate level. You can change the steam output level depending on the fabric!
Turbo mode has a higher steam output and is better for heavy fabrics. The delicate level is suitable for silk, lace, and wool.
Use at Any Angle
It's always a bonus when a clothes steamer can be used at any angle, for horizontal and vertical steaming. That makes it great for curtains and couches, too. The heated soleplate prevents condensation, so it won't drip when you tip it over.
Hello, Accessories!
This device comes with four accessories. The fabric brush helps to remove lint and hair from clothes. The steam bonnet can be used on delicate fabrics to glide over the clothes.
You can easily hang your clothes for steaming with the handy door hook. And finally, the crease attachment is perfect for putting creases in pants and shirts.
Powerful Steam Output
We're super impressed by the fact that such as small unit holds such great power. This runs at 1600 watts, outputting 26 grams of steam per minute! You'll have your clothes smooth and sanitized in no time.
What We Don't Like
Not Cordless
This product does have a 9.5-foot long cord, making it easy to use in most rooms. But remember that it's not cordless, so it might be frustrating to use in hidden corners or larger rooms.
It's Heavy
Weighing three pounds without water, the Rowenta is heavier than your average handheld steamer. Some customers complain that it gets heavy after a few minutes of use. So you might need to work on those arm muscles a little before using this!
Product Specs
| | |
| --- | --- |
| Type | Handheld |
| Tank Capacity | 180 ml |
| Steam Time | 10 minutes |
| Heating Up Time | 40 seconds |
| Weight | 3 pounds |
Our Ratings
Community Feedback
Love the efficiency and effectiveness of this product, as it quickly heats up and releases wrinkles from various garments. While the steamer is somewhat heavy and not ideal for travel, it works best when used on clothes hanging from a hanger. The water tank is small, requiring frequent refills, but overall, this product does an exceptional job and I highly recommend it.
---
PurSteam Professional Garment Steamer
Best Steamer and Iron Combination
Try a combination option if you want to replace your iron and get a new steamer. The PurSteam professional series garment steamer is a cool 2-in-1 steamer and iron combo.
With this, you can steam vertically, at an angle, or horizontally with its built-in ironing board. Or you can lay it flat and iron as you usually do! So this combo device can do the job, no matter what you're trying to achieve — creases, de-wrinkling, or sanitizing.
What We Like
Powerful Wattage
This steamer-iron combo is a powerful device. It has 1500 watts of power, making it one of the most powerful steamers on the market. If you're looking for pristine results, you can count on the PurSteam to deliver.
User Friendly
Don't be intimidated by this innovative design; it's still straightforward to use. It gives you steam output easily and effectively in as fast as 45 seconds. The adjustable hanger also makes it easy to steam or iron any item, from a small t-shirt to a wide-shouldered jacket.
Suitable for All Materials
You can use this device for all materials. The steamer can be used on delicates, synthetics, and tougher materials. When ironing, make sure to check the fabric care label to see if the garment can be ironed or not.
Four Steam Settings
Some super expensive standing steamers don't even have this option. But this one is more affordable and has the option to adjust the steam level. You can choose a lower steam for delicates or high-pressured steam for more sturdy fabrics.
What We Don't Like
Steamer Is Better Than Iron
It does seem like the company put more time into designing the steamer than the iron. If you're not ready to give up your iron just yet, then maybe test this out for a while before considering it a complete replacement.
Hanger Is Hard To Use
While the included hanger is super useful to have, the construction of it is not great. Clothes slip off easily, and the clips aren't very strong, even for light garments.
No Storage for Accessories
This unit has handy accessories, but there is nowhere to store them. This means you're at a higher risk of losing these valuable extras.
Product Specs
| | |
| --- | --- |
| Type | Standing |
| Tank Capacity | 2.5 liters |
| Steam Time | 60 minutes |
| Heating Up Time | 45 seconds |
| Weight | 13.7 pounds |
Our Ratings
Community Feedback
This steamer has been a great addition to my event setup arsenal, as it quickly and effectively removes wrinkles from table linens. The lightweight design and fast heat-up time make it a convenient tool for on-the-go use. However, the attachments can be a bit difficult to work with, and the hose length may limit its effectiveness for taller projects.
---
Beautural Steamer for Clothes
Best for Wedding Dress
If you need to steam your wedding dress, it's essential to use the right garment steamer. The Beautural clothes steamer is safe to use on all fabrics.
You can use this for cotton, wool, nylon, polyester, silk — anything! It also comes with a fabric brush, creaser, and lint brush to get the most out of this gadget.
In terms of steaming, this device is fast — it heats up in only 30 seconds. It's efficient, too. It will give you wrinkle-free results, which is what you want when steaming your wedding dress.
What We Like
Vertical or Horizontal Steaming
We love this steamer because you can use it vertically or horizontally. You will get no leaks or spills when you rotate and turn the garment steamer, no matter which way you use it.
Cool Safety Features
Safety should be a top priority when using a garment steamer. The Beautural automatically shuts off when it's overheated or after eight minutes of inactivity. So if you forget to turn it off, you don't need to worry.
Steam Lock Button
If you hate holding down a steam button and tend to get sore fingers, this device is for you. It comes with a handy steam lock button, so you don't have to hold it down. Then it emits continuous steam until you turn it off.
Useful Extras Included
For the price, this is a mega impressive unit. It's powerful, quick to use, and versatile. But we also love the extras included: a lint brush, fabric brush, and a crease clip.
The lint brush removes lint from your clothes, while the fabric brush can remove dust deep inside an item.
What We Don't Like
Better on Some Fabrics Than Others
Customers claim that this steamer works better on some fabrics than others. It works better on things like tulle and synthetics rather than thick cotton. But if you want to use it for a wedding dress, it'll be grand!
Might Give In After a Few Months
Customer service isn't great, so if yours starts to fail after a few months, there might be minimal support. Unfortunately, this isn't the most durable steamer out there.
Product Specs
| | |
| --- | --- |
| Type | Handheld |
| Tank Capacity | 260 ml |
| Steam Time | 15 minutes |
| Heating Up Time | 30 seconds |
| Weight | 2.09 pounds |
Our Ratings
Community Feedback
I recently purchased this product to eliminate the hassle of using an ironing board for quick wrinkle removal. My experience with this steamer has been fantastic, as it manages to make my clothes look as though they've been ironed rather than just steamed. This product works on a variety of fabrics and heats up quickly, allowing me to steam multiple garments in one go. Although the unit is somewhat bulky and not ideal for travel, its performance and versatility outweigh this minor drawback.
---
URPower Steamer for Clothes
Best Budget Steamer
Our top pick for a budget garment steamer is the URPower steamer. This is a powerful steamer at a reasonable price.
It's very easy to transport, too. So if you're looking for a travel garment steamer, this is another super option. It's also suitable for all materials: silk, jersey, plush toys, shirts, suits, wedding dresses, and more.
Because it's a budget option, you will sacrifice some features. For example, it takes two minutes to heat up, double the length of other handheld steamers we've recommended. But you will be left with wrinkle-free clothes, which is the most important thing.
What We Like
One for All Fabrics
The top reason we love this budget steamer is that it's suitable for all fabrics and materials. You can use it on synthetics, natural materials, toys, upholstery, and furniture for great, wrinkle-free results.
Easy to Use
We love when a steamer is easy to use. Because of all the extra features, it takes time to figure out some garment steamers.
But the URPower steamer is a breeze to use. Just turn it on, wait two minutes, and watch the steam come out. Aim at your clothes and watch the wrinkles disappear.
Portable and Compact
Customers love this steamer because of its practical portability. You can take this one with you on the go, during your travels, or keep it in a small cupboard between uses. It's a convenient little gadget and does a great job, too.
Affordable Price
This is one of the most affordable quality steamers that we could find. So if you still want something that will reliably blast away wrinkles but isn't going to break the bank — this is it.
What We Don't Like
It Takes Time
A steamer doesn't come at this price without a drawback. The main thing to remember is that this steamer takes time to use.
You might find yourself going over a garment a few times to eliminate the wrinkles! If that frustrates you, we recommend expanding your budget a little for a higher-quality steamer.
Leaks at an Angle
It will leak if you tilt this at more than a 45-degree angle. This garment steamer is only intended for vertical steaming, which isn't necessarily a flaw, but just something to remember.
Short Steam Time
This unit runs out of water quickly. Customers said that it lasts for a maximum of 10 minutes per tank. Sometimes it's closer to five minutes which is frustrating.
Product Specs
| | |
| --- | --- |
| Type | Travel |
| Tank Capacity | 180 ml |
| Steam Time | 10 minutes |
| Heating Up Time | 2 minutes |
| Weight | 1.46 pounds |
Our Ratings
Community Feedback
Definitely a convenient and efficient steamer for both home and travel use. This product heats up quickly, taking only 1-2 minutes, and works great on various fabrics, effectively removing wrinkles. However, be cautious of water splashing when using it, and keep in mind that you may need an adapter for international use.
---
Salav GS18-DJ/120 Garment Steamer
Best Standing Garment Steamer
There are many standing steamers on the market, but this one had to make the list.
You can use this steamer for clothes, upholstery, drapes, and much more. It tackles stubborn wrinkles with its powerful steam performance. The nozzle helps to soften, straighten, and sanitize fabrics.
It's also very slender and tall, making it easy to store in narrow cupboards. If you're avoiding a standing garment steamer because of its size, you might want to think again.
What We Like
Foldable Adjustable Hanger
A big reason why this standing steamer is so popular is because of its foldable adjustable hanger. It folds and extends to fit any garment.
Because you need to steam vertically, you must hang up clothes. This garment steamer allows you to do that within the device, adding ease to this chore!
Double Insulated Hose
It's not every day you see a company put so much thought into their hose. But the Salav clothes steamer has a double insulated hose. This ensures that the steam temperature is maintained and the surface heat is regulated.
Heats Quickly and Lasts Long
You should always look at steam time. The Salav garment steamer has a 1.8-liter tank, allowing for an hour of powerful steam time. Perfect if you do a lot of laundry! It also heats up in a quick 45 seconds, which is pretty magic for a steamer this size!
Powerful Hot Steam
This continuous vapor is fantastic, with the steam reaching over 200 degrees Fahrenheit at 1500 watts. It will soften fabrics, remove wrinkles, and can even sanitize your clothing.
What We Don't Like
It's Clunky
Customers complain about this steamer being clunky. We think that for a standing steamer, it's pretty compact, but some users say otherwise.
It's also been noted that the wheels don't operate super smoothly, so keep this in mind when considering this product.
Not Hot Enough, But Still Dangerous
Since it doesn't reach 212 degrees, we can't reliably say it will sanitize everything. On that note, the water is still super hot and can spit out hot steam, causing burns.
Product Specs
| | |
| --- | --- |
| Type | Standing |
| Tank Capacity | 1.8 liters |
| Steam Time | 1 hour |
| Heating Time | 45 seconds |
| Weight | 9.03 pounds |
Our Ratings
Community Feedback
Love this steamer for its large water capacity and effectiveness in removing wrinkles. The hanger is helpful, but the wheels could use improvement for better mobility. While it may feel a bit flimsy and could use a longer cord or adjustable height, it's still a great value for the price. It's perfect for various clothing items and occasions, making it a must-have for parents during graduation season or for special events like weddings.
---
What Is a Clothes Steamer?
These are super useful tools that contain water and produce steam which is emitted through a wide nozzle that you aim at your clothes. This de-wrinkles clothing so that you don't have to go over them with an iron. Clothes steamers also use high heat to sanitize your clothes.
Overall, these are handy gadgets that work on nearly all fabrics. Plus, they will save you a lot of time because you don't need to set up an ironing board for each item. Just aim and steam!
Are Steamers Worth It?
We know that adding another item to your laundry room can seem daunting, but we believe steamers are worth it!
Steamers make the de-wrinkling process much easier. We especially love that we can use them on furniture and upholstery, too. That's something you can't do with an iron.
The drawback to a steamer is that you won't get the same crispness as you do from an iron. That's why for some, this may work as an additional tool — not an alternative.
Does a Steamer Get Wrinkles Out?
Yes, and it does so easily; you don't have to put your back into it. The steamer requires no contact since the high heat does all the work for you. While it might not leave you with as professional a finish as an iron, it definitely does the job.
Types of Clothes Steamers
Like every good product, there are a few different types of clothes steamers. This ensures that you find one that suits your specific requirements.
Standing Steamers
Standing steamers are really useful, especially if you do a lot of laundry. While they're not the most aesthetically pleasing devices, they are practical.
They have a much larger water tank than handheld steamers. So if you have a massive pile of clothes to get through, you might want to invest in one of these!
Pros
Large water tank for longer steaming time.
Great for commercial use.
Wheels for mobility.
Emit higher steam levels for better results.
Cons
Difficult to store.
Can leak onto the floor.
They take up a lot of space.
Handheld Steamer
Handheld garment steamers are a popular choice for many people. They are very easy to use, easy to store, and lightweight.
Since they are handheld, the water tank will be much smaller — but this doesn't compromise their power. They're useful little things to have and make steaming hard-to-reach places (like the back of the couch) a breeze.
Pros
Lightweight, often weighing less than three pounds.
Easy to use.
Powerful steam output for great results.
They don't take up much space.
They heat up within seconds.
Cons
Smaller water tank.
Less steam time.
Travel Steamers
Finally, we can introduce you to travel steamers. They are essentially the same as handheld steamers, except slightly more compact.
If you're on the go a lot, these can easily slot into your suitcase or handbag. We definitely recommend getting one of these if you're always away on business trips. They are easier to store than an iron and great for sprucing up your clothes and removing wrinkles.
Pros
Compact enough to fit in hand luggage.
Easy to use.
Heats up super quickly.
Practical for traveling.
Cons
Short steaming time of around five to 10 minutes.
Small water tank.
They won't deliver as crisp results.
How to Choose the Best Clothes Steamer
When shopping for a clothes steamer, you should consider some vital points. You want to make sure the steamer ticks all of your boxes.
---
How to Steam Your Clothing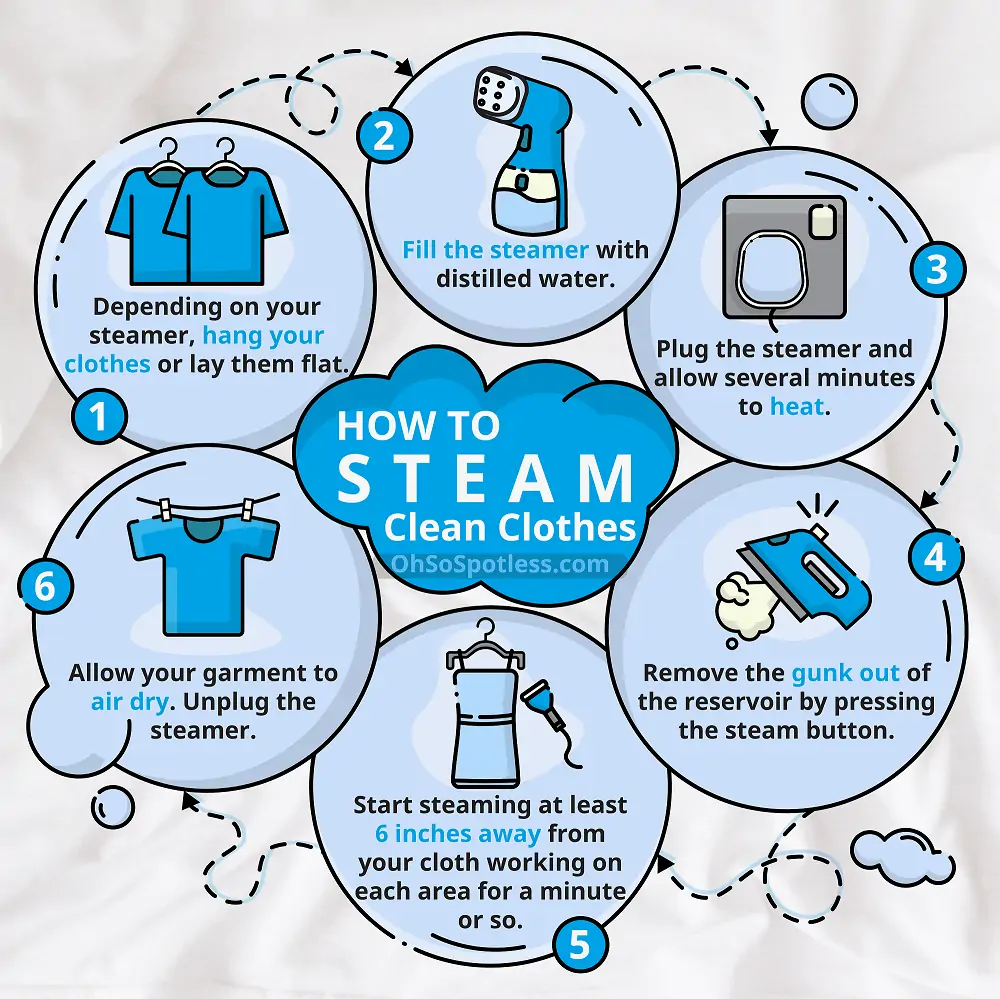 Let's go over exactly how you can steam your clothing!
Hang up your clothes: Most clothes steamers require you to hang up your clothes before you steam them. The gravity will help to work out the wrinkles so that it doesn't crumple on a surface. Some steamers, however, work at all angles, so you can keep your clothes flat if you prefer.
Fill the steamer: Use distilled water to fill your steamer to the max line.
Plug it in: Turn the steamer on. Give it the allocated time to heat up before using it.
Let the steam out: Before you use the steamer, press the steam button for about a minute to get all the gunk out of the reservoir. It's better to do this away from your clothes than onto them!
Hold the steamer: Hold the steamer six inches away from your garment. You don't want the steam to be too close in case it burns the clothes.
Hold the garment: Hold the garment taut, so you don't set in any wrinkles.
Steam: Now, it's time to steam! It's most effective to do this in sections and go slowly. Work in each area for a minute or so. If you come across a stubborn wrinkle, you can keep your steamer in front of it for a minute. This will help to get the wrinkle out.
Dry: Give the garment a few minutes to air dry before wearing it.
Steaming Delicates?
Test the clothes steamer in an inconspicuous area first, just in case it damages the item.
FAQs
---
Thank You For Your Feedback!
Thank You For Your Feedback!