Have you got a large home that takes immense effort to vacuum? Do standard machines just add to the hassle rather than solve it? Then we've got a solution for you.
Central vacuum systems may not be much to look at, but they sure are the most efficient machines you can find. With them, it's almost as though your home helps you clean. They make vacuuming as quick, easy, and accessible as possible.
We've done the research, so you don't have to. In this process, we have concluded the five best central vacuum systems. Keep reading to find your true match.
Image
Model
Product Comparison Table
Features
Best for Medium-Sized Homes
Allegro MUA50
Quiet at 69 decibels
HEPA compatible
Durable with lifetime warranty
Best for Large Homes
OVO Heavy Duty
Heat protection
Anti-clogging
Sound-proofing foam
Most Durable
Prolux CV12000
Strongest suction
HEPA filter
25-year warranty
Best for Small Homes
Nutone Purepower
Disposable bags
Soundproof to be quieter in your home
Strong suction
Most Quiet
Electrolux QC600 Quiet Central
It's quiet at 72 decibels
Bagless or bagged option
Safe for allergy sufferers
Review Methodology: At Oh So Spotless, we take pride in providing you with a comprehensive analysis of the best central vacuum systems on the market. Our experienced professionals conduct thorough research, hands-on evaluations, and data-driven assessments to compare products based on key decision-making factors. We examine the performance, design choices, and user experience of each system, and rank them according to established benchmarks and criteria. Our article shares first-hand evidence and quantitative measurements, such as suction power, filtration efficiency, and noise levels, to help you understand what sets each product apart from its competitors. Trust our expert review and findings to guide you in choosing the ideal central vacuum system for your home.
---
---
The Best Central Vacuum Systems of 2023
Check out these five fantastic central vacuum options, rated by their power, capacity, filter quality, and bonus features.
Allegro MUA50 Central Vacuum Power Unit
Best Central Vacuum System for Medium-Sized Homes
This vacuum system is suitable for homes up to 6000 square feet. It gives you 600 air watts of power and a dirt capacity of over 18.9 liters. One of its best qualities is that it's surprisingly quiet, running at only 69 decibels.
It comes with permanent self-cleaning micro-fiber filter, but it's compatible with HEPA filters. This, complemented by its low noise level, makes it ideal for pet owners. One feature is its large collection capacity which requires minimal maintenance.
It's suitable for two-story homes and is powered by ametek lamb with three-stage fan system bypass motor. Upon purchase, the lifetime warranty you receive is a testament to how durable this unit is.
What We Like
It's Quiet at 69 Decibels
Most other central vacuum systems use mufflers or other sound-proofing devices to control the noise. This unit, however, does not require any unique installations or components. It runs at only 69 decibels and is perhaps the quietest central vacuum system on the market.
This is excellent for homes with children or pets who might be frightened by other systems' excessive noise.
HEPA Compatible
If you need air purification, you can be confident that this unit has a built in HEPA filter. Therefore it is convenient for those suffering with allergies against pet hairs and danders.
It's Durable With a Lifetime Warranty
All central vacuums are designed to last for a few years, but this goes the extra mile. Moreover, it has seven years motor warranty from its manufacturer.
We also like that it comes with a lifetime corrosion perforation warranty, which is more than enough for most homes.
What We Don't Like
Growing in the Industry
This model isn't as popular or widespread as others are, so more time is needed to gauge how well it holds up against competitors. For now, buyers have only had good to say about it. However, perhaps in time, more criticism will emerge.
As far as we can see, though, those who have given it a chance can't find fault with it. Customer satisfaction is extremely high, and we think it will remain that way.
Product Specs
| | |
| --- | --- |
| Power | 600 air watts |
| Square feet | 6000 |
| Capacity | 18.9 liters |
| Filter | Micro-fiber/HEPA filter |
| Special features | Lifetime warranty, quiet |
Our Ratings
Community Feedback
I've recently switched to the UA50 and I'm extremely satisfied with its performance and durability. This Canadian-made vacuum easily outshines competitors like Shark, and its powerful suction even managed to clean up live mice in my garage effortlessly. The easy-to-change bucket and thick metal construction demonstrate its high quality, making it the best vacuum I've ever owned.
---
OVO Heavy Duty Central Vacuum
Best Central Vacuum System for Large Homes
This unit features a 2-stage motor, cased in steel. It can provide suction for up to 9000 square feet, so it's a fantastic choice for larger homes. The system implements Soft-Start and Soft-Stop technology that preserves the unit's lifespan while preventing clogging.
It uses hybrid filtration, combining high-efficiency cyclonic filtration and triple-layer disposable bags for more efficiency. It's efficient for those with allergies, and the permanent filter is washable.
This unit has a heat protection feature that guards the system against overheating. Air-containment gaskets prevent suction loss, and an LED screen allows easy monitoring. Plus, soundproofing reduces noise to 65 decibels.
What We Like
Heat Protection Prevents Overheating
Given that central vacuums use up more energy, overheating is a reality, even if it's rare. It's better to be safe rather than sorry, so we appreciate the heat protection in this unit. It could save your system from damage and spare you money in repairs.
Anti-Clogging System Included
The soft-stop function in this unit stops dirt and debris from re-entering your home and prevents clogging. Combined with the soft start that eases you into cleaning, it preserves the condition and lifespan of your system.
It's Quiet at 65 Decibels
The sound-proofing foam incorporated into this unit drops its noise to only 65 decibels. It's one of the quietest central vacuum systems you can find, and it makes a significant difference in your sessions. It's also better for pets who might be frightened by louder systems.
What We Don't Like
For Larger Homes
This is more of a warning than a drawback. This high-powered machine is intended for heavy-duty cleaning throughout larger homes and may be unnecessarily large in smaller settings. If you don't need its range, you could save money by using a better-suited system.
Product Specs
| | |
| --- | --- |
| Power | 700 air watts |
| Square feet | 9000 |
| Capacity | 35 liters |
| Filter | Bag or bagless |
| Special features | Sound-proofing foam, heat protection |
Our Ratings
Community Feedback
If you're looking for a powerful and quiet central vacuum power unit, this one's a winner! I installed it myself and saved a ton of money compared to a professional installation. The suction is so strong that it pulled out years' worth of forgotten toys and even a long-lost car key remote from the pipes. After months of use, it's still working flawlessly and I couldn't be happier with my purchase.
---
Prolux CV12000 Central Vacuum Power Unit
Most Durable Central Vacuum System
Like our first choice, this machine can cover up to 12000 square feet. It has 400 air watts of suction and is a strong contender in the world of central vacuum systems.
It implements a 2-stage motor, and sound-proofing reduces noise throughout your home. A great feature is the washable HEPA filter alongside a washable Micron Pre Filter. Matched with the high suction power, it's recommended to those with allergies.
This durable vacuum will work well if you want to deep clean. However, what's most notable about it is that it comes with a truly whopping 25-year body warranty. There is also a 10-year warranty for the motor.
What We Like
Strongest Suction for Deep Cleaning
12000 square feet is a lot, and this vacuum is powerful enough to manage it. Its 2-stage motor supplies an immense amount of suction that makes a big difference in how you clean.
HEPA Filter for Those With Asthma
The washable HEPA filter added to this model will help pet owners and people who struggle with allergies or asthma. Whether or not you need one, it's a lovely addition that will go above and beyond in improving the air in your home.
25-year Warranty
The 25-year warranty should tell you that Prolux built this unit to last. It's rare to see such an extended deal. Over the decades, you'll save a lot of money. And, the 10-year warranty on the motor is just as impressive.
What We Don't Like
Higher Cost
You'll pay a little extra for this model, but think about what you're getting out of it. It's a small price to pay for a unit that's meant to last for decades.
It's Bagless
One flaw is that it doesn't support the desired design in central vacuums. You may have to spend more time on maintenance, and routine inspections are recommended.
Product Specs
| | |
| --- | --- |
| Power | 400/500 air watts estimated |
| Square feet | 12000 |
| Capacity | 18.9 liters |
| Filter | Bagless |
| Special features | Sound-proof, washable HEPA filter, 25-year body warranty |
Our Ratings
Community Feedback
I've recently replaced my old vacuum with the Prolux central vacuum system and I couldn't be happier with the results. The installation was a breeze and the suction power is impressive, easily handling pet hair and daily dirt from my 3000 sq ft house. This unit is significantly quieter than my previous vacuum and has a sleek design that saves space in my garage. For the price and quality, I believe this vacuum is an amazing investment for any home.
---
Nutone Purepower 5501 Central Vacuum System
Best Central Vacuum System for Small Homes
If you live in a smaller space, this unit will work well. It can handle up to 4000 square feet and has a large capacity in both suction and dirt collection. This model delivers 500 air watts and has a 22-liter disposable bag.
Sound-proofing material is built in to reduce noise from the motor. The quiet muffler system reduces noise so you can relax while you're vacuuming.
It's a bagless option that might require more maintenance, but the good news is that it also features a clear window. This lets you see when the tank is full, and you need to empty it.
Last but not least, it comes with three filtration levels. The washable pre-filter and HEPA filters give you clean air and save you money on replacements in the long run.
What We Like
Clear Window in Bagless Canister
While it is a bagless option, the transparent window almost makes up for that. You can see when the tank is full of dirt and when to empty it, which saves you some guesswork.
Soundproof Muffler System
An interesting fact about this unit is that it's built with sound-absorbing material. Other vacuums include sound-proofing foam or mufflers to reduce noise. In this case, none of that is necessary.
Convenient Design for Ease-Of-Use
Almost everything about this unit is there to make your life easier. It has strong suction, a large capacity, and it's quiet. We like that it saves you any hassle — even maintenance is significantly reduced.
What We Don't Like
It Might Not Be Sufficient
This is an excellent example of a central vacuum system. However, it only covers 4000 square feet, so it may not work well in larger homes.
No Bagged Option
This model used to be a bagged option that customers liked, but now it only accommodates being a bagless design.
Product Specs
| | |
| --- | --- |
| Power | 550 air watts |
| Square feet | 4000 |
| Capacity | 22.7 liters |
| Filter | Bagged |
| Special features | Sound-proof, disposable bags |
Our Ratings
Community Feedback
I'm impressed with the Nutone Purepower 550 as a replacement for my old central vac system. Although the piping connections were not identical, the smaller size and additional 50W power make up for the minor installation inconvenience. The suction power is exceptional, and I found it to be much quieter than my previous unit. While the exhaust piping does get warm after extended use, the overall performance and ease of installation make this a worthwhile investment. It's an ideal choice for those looking to upgrade their existing central vac systems.
---
Electrolux QC600 Quiet Central Vacuum Power Unit
Best Quiet Central Vacuum System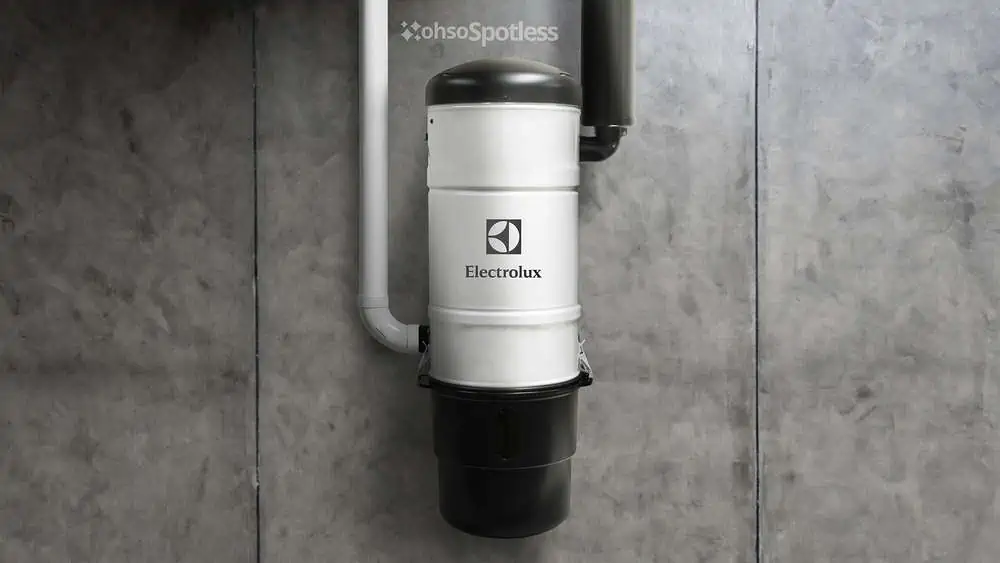 The Electrolux QC600 is the best quiet vacuum system. So, you can tackle morning chores while your family is relaxing and without annoying neighbors.
It's ideal for smaller homes such as condos and townhomes, but it's more than capable of cleaning living spaces exceeding 8,000 square feet.
The sound foam in the motor ensures that it remains quiet and unobtrusive. Also, the integrated exhaust pipe has a muffler connection for even less noise.
What We Like
It's Quiet at 72 Decibels
As mentioned, this is a quiet product. It has a unit sound level of 72.3 dBA, similar to your dishwasher or washing machine. It has a patented insolation system, so it boasts an unmatched sound level compared to other brands.
Go Bagless or Bagged
This hybrid central vacuum system allows you to go bagged or bagless. Every family has a different preference, especially when cleaning out the unit. But with this product, you can choose your preferred method. Without a bag, it can hold up to four gallons of dirt.
Safe for Allergy Sufferers
This is a safe system, especially if you have allergies. This product comes with a self-cleaning HEPA filter, which removes 99.97% of the home's dust, dirt, and allergens. So if safety was an issue for you, now it won't be. Lastly, it comes with a 10-year parts and labor warranty. It's definitely worth the investment.
What We Don't Like
Stops and Starts
A few customers have found that this isn't the most reliable vacuum. Some say that it will randomly stop after a few minutes of use. The machine won't give any details as to why. Sometimes, customer service will say it needs a deep clean, which isn't covered in the warranty.
Product Specs
| | |
| --- | --- |
| Power | 600 air watts |
| Square feet | 8000 |
| Capacity | 15 liters |
| Filter | Bag or bagless option |
| Special features | Self-cleaning HEPA filter |
Our Ratings
Community Feedback
From the moment I started using the Electrolux QC600, I was impressed by its quiet operation. I could easily vacuum in the morning without disturbing my family or neighbors. This vacuum is perfect for smaller homes, yet powerful enough to clean larger spaces up to 8,000 square feet. With its sound foam motor and muffler connection, this vacuum is not only quiet at 72 decibels but also offers the option to go bagless or bagged, making it a great choice for allergy sufferers.
---
| Product | Award | Power | Square feet | Capacity | Filter |
| --- | --- | --- | --- | --- | --- |
| Allegro MUA50 | Best For Medium-Sized Homes | 600 a/w | 6000 | 18.9 L | Micro-fiber/HEPA filter |
| OVO Heavy Duty | Best For Large Homes | 700 a/w | 9000 | 35 L | Bag or bagless |
| Prolux CV12000 | Most Durable | 400-500 a/w | 12000 | 18.9 L | Bagless |
| Nutone Purepower | Best For Small Homes | 550 a/w | 4000 | 22.7 L | Bagged |
| Electrolux QC600 Quiet | Most Quiet | 630 a/w | 12000 | 26 L | Bag or bagless |
How Do Central Vacuum Systems Work?
It might sound like rocket science, but understanding central vacuum systems is relatively straightforward. Instead of carrying a vacuum unit with you every time you need to clean, one of these will turn your house into a vacuum.
In a central vacuum system, a power unit — comparable to the motor of a standard vacuum — is installed permanently. These are typically placed somewhere out of sight, like in a garage or a basement.
This unit sends suction to wall outlets across your home through pipes in your walls. On your side, all you have to do is connect a vacuum hose to the outlet, and you'll have suction when and wherever you need it. The power of the suction is controlled by a switch on the hose's handle (1).
As you vacuum, dirt and debris are drawn into the pipes and through a filtration system. The collected dirt is deposited into a large canister or container, much like a standard vacuum. Finally, contaminated air is sent out of your home while fresh air is circulated into it.
When you're ready to vacuum the next section of your home, all you have to do is unplug the hose, move it to your preferred outlet, and fire up the system again.
Why Invest in a Central Vacuum System?
We won't pretend that central vacuums are the most popular way to clean, but more people should know about them. They have benefits that moveable vacuum units will never be able to match. If you don't believe us, see for yourself.
How to Choose a Central Vacuum System
Buying a central vacuum system will be quite different from shopping for a traditional vacuum. The premise is the same — you want a powerful, value-for-money system that suits your needs. However, the considerations are different.
For one, you won't have to look at your central vacuum system, so style isn't a priority. Storage isn't a problem either because the components you use (the wand, hose, or other attachments) won't take up much room.
Still, investing in a central vacuum system will require some technical focus. To ensure you aren't wasting your money, think about the following.
---
Considerations Before Buying a Central Vacuum System
Central vacuum systems are life-changing in their efficiency, and we completely understand if you're eager to install one. But before you do, you must take a few things into account. There are some drawbacks to central vacuum systems, and they could influence how well one will work for you:
Installation is necessary: You can't just buy a central vacuum and have it up and running as soon as you bring it home. Your home will have to be renovated, and installation will involve drilling.
Not everyone can install them: Installing a central vacuum system into a pre-existing home is possible. In fact, it's easier than you may realize. However, the problem is that if you're renting your property, you will need permission to do so. So make sure that you can install one before you spend your money.
They use more electricity: These systems aren't the greenest option. If you're environmentally conscious or hope to save money on utilities, you may want to settle for a less complex cleaner.
There are extra costs: Central vacuums don't necessarily cost more than standard ones. But bear in mind that installation might cost you extra. Plus, if you ever need repairs or replacements, it may cost more. Also, consider that routine maintenance is something you may have to spend on.
Potential re-installation: If you have one installed and decide to move house, you could take your system with you. The catch is that if your new home isn't set up for one, you'll have to repeat the installation process. Alternatively, if your new home is larger, you might have to replace the entire system.
FAQs
---
Built-In Cleaning
Central vacuums are worth considering, but they will require some thought. Buying one is a bit different because you have to plan to make sure that it will fit in your home.
Once you've conquered the technical stuff, you'll see that central vacuums are the most straightforward, most efficient models you can find.
They're well worth the money, and we strongly recommend them. We've showcased five of our favorites, and we're sure one will tick your boxes.
Thank You For Your Feedback!
Thank You For Your Feedback!