Taking your car to the cleaners can be expensive and time-consuming. But doing it from home can be a hassle, especially if you don't have one of the best vacuums for car detailing.
These vacuums make deep cleaning and detailing your car super easy, effective, and quick. They're specifically designed to get into all the nooks and crannies and suck up a range of dirt and debris.
There are many options on the market, and choosing can be overwhelming. We're here to help by narrowing it down to our favorite 10. After hours of researching expert advice, real customer reviews, and tons of products, we compiled this list after hours.
Confident that we're suggesting only the best, get ready to meet these detailing vacuums that will spruce up your car.
Image
Model
Product Comparison Table
Features
Most Powerful
Craftsman 16 Gallon Wet/Dry Vac
Wet/dry vacuum
Doubles as a blower
Dual-flex technology
Best Vacuum for Pet Hair
Vacmaster Professional Wet/Dry Vac
On board storage
Rugged polypropylene tank
Powerful 5.5 HP motor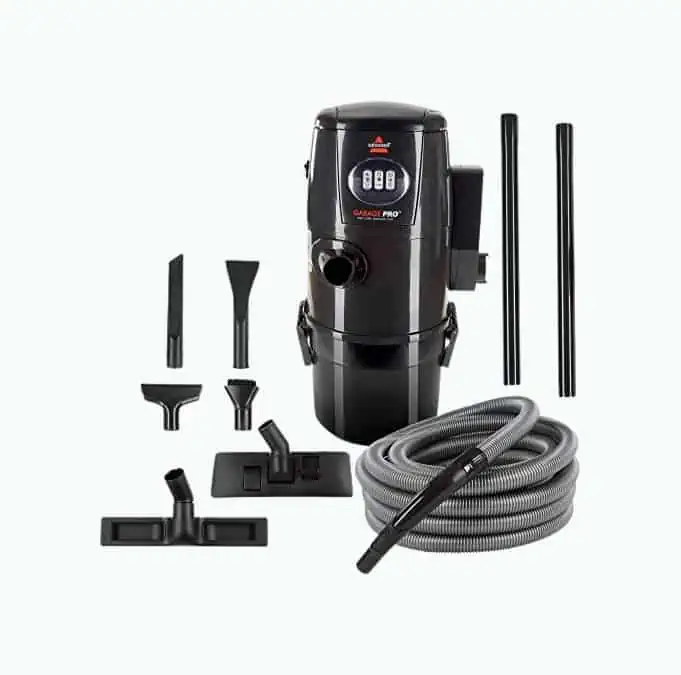 Best Wall-Mounted Vacuum
Bissell Wet/Dry Car Vac
4-gallon dirt tank
Doubles as a blower
7 handy attachments
Best Budget Choice
Fresmol Car Vacuum
High power motor
Useful attachments for deep cleaning
HEPA filter included
Best for Hard To Reach Areas
Stanley 10 Gallon Wet/Dry Vacuum
3-in-1 design
Powerful 4-HP motor
Durable 10-gallon tank
Best Wet & Dry Vacuum
Stanley 3 Hp Portable Car Vacuum
3 HP motor
Portable and lightweight design
Use inside and outside the home
Best for Car Carpets
Armor All Wet/Dry Shop Vacuum
Lightweight at 7 lbs
Complete on board storage
Narrow nozzles for corners
Best Cordless Car Detailing Vacuum
Opolar Cordless Air Duster & Vac
Has 2-in-1 air duster
77,000 RPM motor
Includes 3 nozzles
Best Upright Vacuum
Orfeld 4 in 1 Stick Vacuum
40 min battery life
Folds at 180 degree angle
Cyclonic HEPA filtration
Best Mini Vacuum
Baseus 70W Car Vacuum Cleaner
Wireless & portable
HEPA filter included
5600 Pa suction
Review Methodology: At Oh So Spotless, we understand the importance of trust when it comes to choosing the best car detailing vacuums. Our team of professionals conducts thorough research, analysis, and hands-on testing of various products, comparing them based on criteria such as performance, design, and user experience. We evaluate vacuums from the perspective of users like yourself, sharing quantitative measurements and data that demonstrate our expertise. Our reviews identify key decision-making factors such as suction power, filtration systems, and portability, while highlighting unique features that set each product apart from its competitors. By providing first-hand evidence and ranking products based on our findings, we ensure you can make an informed decision on the perfect vacuum for your car detailing needs. Trust Oh So Spotless to help you keep your vehicle immaculate and spotless.
---
---
The Best Vacuum for Car Detailing of 2023
We have spent hours researching real customer reviews, expert advice, and product descriptions. We looked at each product's design, motor power, capacity, weight, and other important details. In the end, we chose 10 incredible vacuums to share.
Get ready to take your car from crumby to crisp!
Craftsman 16 Gallon Wet/Dry Vac
Most Powerful
Power equals cleanliness. So if you want every speck of dirt, dust, dander, and debris lifted from your car, this is the vacuum for you.
At a horsepower of 6.5, this heavy-duty vacuum can tackle literally any job, whether you're cleaning domestically or professionally.
What We Like
Wet/Dry Vacuum
Not only can this vacuum suck up regular dry dirt and debris, but it's also a wet vacuum. So if you've spilled juice or water in the car or garage, this vacuum can clean it up in no time.
Doubles as a Leaf Blower
This vacuum has a built-in blower port. At the rear of the machine, the blowing port means you can use it as a leaf blower. Get rid of leaves, grass clippings, and other debris from your garage and driveway.
Dual-Flex Technology
The dual-flex technology allows 180-degree mobility at each end of the vacuum hose. This prevents kinking in the hose so that your vacuum experience is smooth and straightforward.
16-Gallon Tank Capacity
Considering the average tank size is around five gallons, this is generously spacious. With the larger tank, you can clean up more mess without interruptions. Fewer trips to the garbage can is always a bonus in our eyes!
What We Don't Like
Heavy Construction (26 Pounds)
Some customers don't agree that this is a vacuum for domestic jobs. It's perhaps better for professional settings. That's because it is very heavy.
It may require a couple of people to operate. It's hard to maneuver, transport, and navigate around a car and garage.
Low-Quality Materials
Keep in mind that the materials are made from what feels like cheap plastic. The wheels are also not great and make it very hard to move the main body around. As for durability, it should last at least a year, but the quality is disappointing for some customers.
Product Specs
| | |
| --- | --- |
| Corded or Cordless | Corded (20 feet) |
| Motor Power | 6.5 HP |
| HEPA Filter | No |
| Capacity | 16 gallon |
| Weight | 26 pounds |
Our Ratings
Community Feedback
"I'm really impressed with this product's performance and versatility. The powerful suction made quick work of cleaning up both wet and dry messes, and it even managed to lift my carpet off the floor! The large 20-gallon tank allowed me to clean for extended periods without having to stop and empty it. The included accessories are incredibly useful for reaching tight spaces, and the built-in blower port comes in handy for clearing debris from my garage. However, some minor design flaws with the hose and cord storage could be improved, but overall, this vacuum has been an excellent addition to my cleaning arsenal."
---
Vacmaster Professional Wet/Dry Vac
Best Vacuum for Pet Hair
Are your furry friends messing up your pristine car? Then you need a high-quality, heavy-duty vacuum cleaner to return the car to mint condition.
This Vacmaster Professional wet-dry vacuum is our top choice for pet owners.
Customers absolutely love how it sucks up every last strand of hair. Thanks to the 5.5 HP, this vacuum can handle all sorts of messes.
What We Like
Wet and Dry Vacuum
The superior suction of this vacuum can handle dry debris, pet hair, and other dirt. But it can also handle wet messes, like spills and pet accidents.
On-Board Accessory Storage
You can easily wrap up all the attachments and keep them on board, which makes storage super easy. Plus, you can easily transport this from place to place with the attached handle.
Rugged Polypropylene Tank
If you want something that will last for years to come — this vacuum is it. The rugged polypropylene tank is super durable, corrosion-resistant, and can handle the impact. So if you drop it, bump it, or nudge it with your car — it's built to last.
Doubles as a Leaf Blower
The added leaf blower means you can also use this vacuum for leaf blowing. This saves you money and storage space since it's a combo tool.
What We Don't Like
No Wheels Included
This vacuum does not come with wheels (but they can be purchased and installed separately), which is very annoying for customers. It makes it hard to move it around.
Attachments Could be Better
Customers have said that the attachments are of poor quality. For instance, one said the hose broke in a couple of places.
Product Specs
| | |
| --- | --- |
| Corded or Cordless | Corded (18 feet) |
| Motor Power | 5.5 HP |
| HEPA Filter | No |
| Capacity | Five gallons |
| Weight | 13.5 pounds |
Our Ratings
Community Feedback
"This product offers powerful suction, easily outperforming other models I've tried in the past. The vacuum efficiently handles both dry and wet messes, significantly reducing cleaning time. Despite the blower exhaust being a necessary feature, the included sound muffler helps minimize noise and air flow intensity. The design is compact and user-friendly, with onboard storage for accessories. The only drawback is the lack of a carrying/storage case, but overall, this vacuum delivers excellent performance at an incredible price."
---
Bissell Wall-Mounted Wet Dry Car Vacuum
Best Wall-Mounted Vacuum
Wall-mounted vacuums are very convenient. They stay placed on the wall, so you just drive up to them, open your car doors, and get to work. This is our top choice for a wall-mounted vacuum.
Why? Firstly, it's a wet/dry vacuum, so it can tackle solid and liquid debris. Secondly, it converts to a blower. Thirdly, it comes with all the essential attachments.
What We Like
Convenient Construction
Of course, being mounted to the wall is convenient enough. But this goes a bit further. It has a 32-foot hose which means you can get around the whole car without any hassle.
Finally, there's an LED full water tank indicator, so you know when that needs emptying, too.
Doubles as a Blower
We think the added blower function is super handy, especially since driveways and garages can get pretty dirty. Now you can blow away leaves, grass, and other debris so they're out of your way.
Seven Attachments
The seven handy attachments make this the perfect tool for car detailing. You can get into every nook and cranny with these, as well as picking up every type of dirt while still being gentle on your car's surfaces.
Semi-Transparent Dirt Tank
No more guessing when the tank is full. With a semi-translucent dirt tank, you can see what's going on inside. You now know precisely when it's time to empty the bin.
What We Don't Like
Inflexible Hose
Some customers are frustrated by the hose. They say it's inflexible and flimsy at the same time, hard to use, and it kinks and gets stuck in places.
Suction Could Be Better
According to many customers, the suction could be better. The 12-amp motor implies that this would be a fair suction power, but you may find that your local gas station has stronger vacuums.
Product Specs
| | |
| --- | --- |
| Corded or Cordless | Corded and wall-mounted (32 feet) |
| Motor Power | 12 amps |
| HEPA Filter | No |
| Capacity | Four gallons |
| Weight | 25 pounds |
Our Ratings
Community Feedback
"After using this product for several months, I can confidently say that its strong suction power and 32-foot hose have made cleaning my garage and car a breeze. However, the air flow valve tends to slide open, reducing the suction, and the hose hanger seems too small, making storage a bit difficult. Despite these minor issues, this Bissell vacuum has proven to be a reliable and efficient addition to my cleaning arsenal."
---
Fresmol Portable Vacuum Cleaner
Best Budget Choice
On a bit of a budget? No problem. The Fresmol portable vacuum cleaner is one of the best vacuums that a bit of money can buy! It won't break the bank but will still clean the car.
This high-power vacuum cleaner has 100 watts, so it has decent suction power. And it has a HEPA filter, so it can bust out allergens, mold spores, and bad smells from your car!
Perfect for cleaning dust, debris, dirt, and hair. If you have pets, this can deep clean the car after they've rolled around in the back seats.
What We Like
High Power Motor
As mentioned, the motor is about 100 watts (equivalent to 0.13 HP), so this is impressive for a budget-friendly and compact vacuum cleaner. The vacuum has 8000 pa, which is great suction!
Useful Attachments
This vacuum comes with all the necessary attachments to deep clean your car. It has a brush for getting out debris in the carpets.
It has extended nozzles for getting in narrow places, like between seats. The long cable helps you get into hard-to-reach places. Finally, the carrying bag helps store all of the vacuum accessories in one place.
HEPA Filter Included
This vacuum has two HEPA filters, so it traps dust, dirt, and other debris. This prevents it from circulating back into your car. With a great seal, your car will be cleaner than before!
Vacuum in the Dark
This vacuum has an included LED light, so you can vacuum in low-light conditions and still see what you're doing. This is great for vacuuming underneath seats or in the evenings.
What We Don't Like
Car Needs To Be On
One of the significant drawbacks of this vacuum is that it needs to be plugged into the car charging port, and the car needs to be on. This can drain the car battery, for starters. Plus, if you have a poor car battery, this will decrease the vacuum's suction power.
Vague Instructions
For some users that are not familiar with the accessories, it would take a learning curve to familiarize which accessory is used for a particular task because the manual does not include a guide about the aforementioned accessories.
Product Specs
| | |
| --- | --- |
| Corded or Cordless | Corded (16.4 feet) |
| Motor Power | 0.13 HP |
| HEPA Filter | Yes |
| Capacity | Not specified |
| Weight | 1.9 pounds |
Our Ratings
Community Feedback
"I recently purchased this inexpensive car vacuum and was pleasantly surprised by its performance and versatility. It easily picks up larger debris like pebbles and food crumbs, and the handy attachments make it possible to clean every nook and cranny of my car. The only downside is the poor quality of the carrying bag, but the vacuum itself more than makes up for it with its impressive cleaning capabilities."
---
Stanley 10 Gallon Wet/Dry Vacuum
Best for Hard To Reach Areas
While most car vacuums are designed to reach tight corners or hard-to-reach places, this one does an exceptional job.
With a 10-foot power cord and a 6-foot cleaning hose, you can get under seats and all around the trunk with no problem.
It also comes with various nozzles so you can squeeze the hose in tighter areas. This will help you thoroughly clean the car and make it look brand new again.
What We Like
3-In-1 Design
Not only does this work as a regular vacuum, but it also works as a wet vacuum and a blower. So you can clean up spills and liquids. But you can also blow grass and leaves out of the road so that you have a clear path again.
Powerful 4-HP Motor
The 4-HP motor makes for quick and efficient clean-up. This vacuum is intended for heavy-duty purposes, so if you have a big mess at hand, you can get the car back to sparkling clean with one fine sweep.
Durable and Spacious Tank
The 10-gallon tank is super huge! It gives you tons of space for all the dirt and debris you collect. Less emptying of the tank between uses.
Also, the tank is super durable. It's made with buoy technology, so it withstands damage from water.
Converts To a Leaf Blower
You know we love to see this detail! You can blow the debris away with this unit if you live in a leafy area. It converts to a leaf blower, so that's one less power tool you need to buy.
What We Don't Like
Clogging Problems
Some customers reported that the vacuum could clog easily. At the connection point, a lot of debris seemed to get stuck. We recommend not sucking up large bits of debris, such as food wrappers, to avoid this problem.
Top Heavy Design
One major design flaw is that the vacuum is top-heavy, so it often falls over when you pull it toward you.
Product Specs
| | |
| --- | --- |
| Corded or Cordless | Corded (10 feet) |
| Motor Power | 4 HP |
| HEPA Filter | No |
| Capacity | 10 gallons |
| Weight | 16.6 pounds |
Our Ratings
Community Feedback
"This product exceeded my expectations in terms of power and performance, making it perfect for cleaning my vehicles and tackling pet hair around the house. It was intuitive to assemble and use, allowing me to quickly finish vacuuming every floor in my apartment. The only downside is the short cord, but using an extension cord resolved that issue for me. The wide base of the vacuum prevents it from tipping over, and it even works well for cleaning up after my woodworking hobby."
---
Stanley 3 Horsepower Portable Car Vacuum
Best Wet and Dry Vacuum
We have quite a few wet and dry vacuums on our list, but here's another one if that's what you're specifically looking for. This Stanley portable vacuum has a large three-gallon tank, so you can do big jobs without needing to stop and empty the tank.
It can clean up wet spills, liquids, as well as dry debris, dust, sawdust, dirt, and other messes. The safe buoy technology inside prevents it from any breakdowns if it gets wet. So you're safe to do all the cleaning jobs!
What We Like
Three-Horsepower Motor
At 3 HP, this is a mighty wet-dry vacuum. It can tackle a huge range of wet and dry messes with excellent suction power, so your car is cleaner than ever before!
Portable and Lightweight Design
Although this is a large vacuum, it's not too heavy. At 8.65 pounds, and with the ergonomic carrying handle, this is easy to transport and move from room to room. Plus, it has onboard storage so that you can keep the attachments together with the vacuum.
Versatile Use
This vacuum isn't just good for the car. Nope! You can use this inside, too. It's excellent for general cleaning, cleaning up spills in the kitchen, cleaning upholstery, vacuuming the mess from a DIY project, and much more.
Budget-Friendly Price
For those on a budget, this might tick your boxes. It's a fraction of the cost of other vacuums but also is from a trustworthy brand.
What We Don't Like
Short 6-Feet Cord
The short cord might get annoying. It's only 6 feet long, so it doesn't allow much flexibility. You may want to consider a separate extension hose to get around the whole car.
Durability in Question
Many customers reported that after a few uses, it stopped working. Other customers reported that the wet vacuum function didn't work well and actually sprayed the liquid right back out onto the floor.
Product Specs
| | |
| --- | --- |
| Corded or Cordless | Corded (6 feet) |
| Motor Power | 3 HP |
| HEPA Filter | No |
| Capacity | Three gallons |
| Weight | 8.65 pounds |
Our Ratings
Community Feedback
"I'm really impressed with this small vacuum cleaner's powerful suction and lightweight design. It has been perfect for cleaning up messes in my car and around my garage or home. One thing to note is that the cord is quite short, so getting a long extension is recommended."
---
Armor All Wet/Dry Shop Vacuum
Best for Car Carpets
If you have carpets in your car — which most people do — then this is a great device to deep clean car carpets. The range of devices works on all kinds of surfaces, from carpets to leather to the dashboard.
It's also a wet/dry vacuum, so you can clean up excess liquid on the carpets.
You can also use it on your garage or shop floor. Overall, this is a convenient vacuum for literally any job!
What We Like
Lightweight and Portable
At only seven pounds, this is a lightweight and portable design. You can transport it around your car with total ease.
On-Board Accessory Storage
This vacuum has complete onboard storage. It has space for all six accessories, so you can minimize the risk of losing them when you need them most.
Narrow Nozzle Deep Cleans Corners
This vacuum comes with a lot of cool nozzles. But we love the narrow one, which can get into tight corners and hard-to-reach spaces. You can easily fit it between the car seats and down the sides of seats where your hand can't reach!
Wet and Dry Cleaning
No matter what you've spilled, this vacuum can clean it up! It has both wet and dry capabilities, saving you time and ensuring that cleaning is a breeze.
What We Don't Like
Suction Power Lacking
Unfortunately, this doesn't have the highest suction power of the vacuums on our list. It's not bad, but it's not the strongest.
It has an HP of two, so it's decent, but we don't want you to be disappointed, so keep in mind it's good for light to medium cleaning.
It Clogs Easily
This vacuum tends to clog easily. The design means there's not a lot of space at the connection point, so items can easily clog this and cause the vacuum to lose all suction power until you've cleared the clog.
Product Specs
| | |
| --- | --- |
| Corded or Cordless | Corded (10 feet) |
| Motor Power | 2 HP |
| HEPA Filter | No |
| Capacity | 2.5 gallons |
| Weight | 7 pounds |
Our Ratings
Community Feedback
"If you're seeking a compact yet powerful vacuum for various tasks, this product could be the answer. I've personally found it easy to use for cleaning my car and even tackling messes left by my birds. The variety of attachments enhances its versatility, allowing me to clean delicate surfaces like my car's dashboard without causing damage. While it has strong suction and is lightweight, there are a couple of drawbacks; it only comes with one bag, and the power cord could be longer for added convenience. I've even heard of people modifying this vacuum for bee swarm collecting, which speaks to its adaptability."
---
Opolar Cordless Air Duster & Vacuum
Best Cordless Car Detailing Vacuum
Go cordless with the Opolar air duster vacuum. This little gadget makes it easier than ever to navigate around your car, getting into every nook, cranny, cup holder, and crevice.
In between seat cushions, under seats, all around the trunk — anywhere you've dreamed of vacuuming!
You can even use USB-powered devices such as laptops and car chargers so you can charge it while you drive.
What We Like
2-In-1 Air Duster
Besides vacuuming, this also works as an air duster. So if your vents, keyboard, dashboard, or window sills are looking a little dusty, blast the dust away with the air effect. You can use this inside the home, in the car, or anywhere else you need.
77,000 RPM Motor
This super powerful air duster vacuum has a 77,000 RPM motor with a wind speed of over 30 meters per second. Therefore, it can remove 99 percent of dust from any surface so that you can deep clean every inch of your car.
Three Included Nozzles
This vacuum has three included nozzles to get into hard-to-reach places without much effort. Using these nozzles helps get the jobs done quicker and more efficiently.
30 Minute Run Time
This gadget charges quite quickly and lasts 30 minutes which is generous for a corded vacuum. It only takes three hours to charge fully.
What We Don't Like
Not as Good as Compressed Air
If you're expecting it to replace compressed air cans, then think again. While this is better in the long run since you don't have to keep buying compressed air, it's not as effective. This is partly down to the wide nozzle that doesn't shoot out the same force of concentrated air.
Loud Noise Level
The noise level on this gadget might annoy you. It's loud, but it's also quite high-pitched. So if you have sensitive ears, you might want to skip this one.
Product Specs
| | |
| --- | --- |
| Corded or Cordless | Cordless |
| Motor Power | 77,000 RPM |
| HEPA Filter | No |
| Capacity | N/A |
| Weight | 0.87 pounds |
Our Ratings
Community Feedback
"I'm impressed with this product's versatility as both a mini-vacuum and an air blower. The battery life is long-lasting, and it doesn't overheat like other air dusters I've tried. However, the vacuum's suction power could be improved, and the exhaust placement on the side can be inconvenient in vacuum mode. Additionally, the switch between speeds is jumpy and could benefit from a more user-friendly design. The air blower function is quite effective for cleaning electronics, but the nozzle size could be smaller for better access to tight spaces."
---
Orfeld 4 in 1 Stick Vacuum
Best Upright Vacuum
While you don't necessarily get upright vacuums specifically for car detailing, the Orfeld 4 in 1 stick vacuum is a great option for an upright vacuum that will work well on cars.
It has a 4-in-1 design, so it works as an upright vacuum and a handheld vacuum. The handheld vacuum can get along skirting boards and room edges, upholstery, and of course: cars!
So if you want something you can use in and out of the house, including the car, this is the upright vacuum for you.
What We Like
Cordless Cleaning
No matter where you use this vacuum, it works as a cordless device. It has a battery life of 25 minutes on high power and 40 minutes on low. This is enough to clean a 120-meter squared house and, of course, plenty of time to clean an entire car.
Folding Handle Makes Storage Easy
You'll love the awesome folding handle when using this as an upright vacuum. It folds at a 180-degree angle, not only while you store it but also as you use it!
This helps you go all the way under furniture to get every bit of dust. It also means you don't have to bend over to get into hard-to-reach places.
Cyclonic Hepa Filtration
The fully-sealed HEPA filter traps 99.97 percent of particles as small as 0.3 microns, giving you cleaner air. This is great for people with allergies, as the air in the car will be much purer. The filters are detachable and washable for your ease.
LED All-Terrain Brush
This vacuum works on all kinds of flooring and surfaces, including hardwood, tiles, and more. The head is equipped with six bright LED lights so you can clean in dark areas and corners.
What We Don't Like
Hard To Charge
This is a very specific disadvantage, but it was seen across many customer reviews. It's hard to place the vacuum on the charger. It is challenging to click it into place, so much so that many customers have recommended against the vacuum!
For Light Cleaning Only
This isn't a heavy-duty vacuum cleaner. It's recommended for light pickups. So if your car is super messy, we recommend this for in-between deep cleans.
Product Specs
| | |
| --- | --- |
| Corded or Cordless | Cordless |
| Motor Power | 0.16 HP |
| HEPA Filter | Yes |
| Capacity | N/A |
| Weight | 6.6 pounds |
Our Ratings
Community Feedback
"This lightweight, easily maneuverable cordless vacuum has quickly become my go-to for daily use on various surfaces, including hardwood floors, area rugs, and stairs. The battery life is impressive, lasting longer than the manufacturer's claim, and the suction power is better than expected. I particularly appreciate the versatility of the vacuum, as it can be used as a handheld device for hard-to-reach areas and comes with a second filter and brush for easy cleaning. The LED light on the vacuum head is a helpful addition, illuminating dirt and debris that may otherwise be missed."
---
Baseus 70W Car Vacuum Cleaner
Best Mini Vacuum
You can't get much mini-er than this. At only 9.93 inches long, and a weight of 1.8 pounds, this is the perfect compact and portable vacuum cleaner to keep in your car.
Its mini size makes it super great for getting in tight places. You can clean your car seats, corners, trunk, sunroof, cup holders, and floors with this vacuum.
It's around the same size as a thermos, so keep it in the glove box or a cup holder for convenience.
What We Like
Wireless and Portable
This lightweight and cordless vacuum cleaner is free from wires, giving you hassle-free car cleaning. The portable convenience of it makes it easy to take it with you on all kinds of trips. Why not ask your passengers to vacuum your car while you drive?
HEPA Filter Traps Bacteria
With an included HEPA filter, you can avoid dirt, debris, allergens, and bacteria from being blown back around the car. The HEPA filter traps all kinds of nasties, protecting you and your family.
5600PA Suction Power
With such strong suction for such a tiny vacuum cleaner, we think you'll be super impressed. It can really zap away all kinds of dirt. That's not all, though — the other end functions as a blower. So you can blast away dust from all kinds of surfaces.
Works In All Areas of the Home
You can use this vacuum to clean your car in great detail. But you can also use it around the home. The advanced cyclone technology quickly cleans dust, debris, crumbs, and pet hair.
What We Don't Like
Irritating Noises
Watch out for the annoying high-pitched noise this vacuum cleaner makes. It can be very irritating to use, especially if someone is cleaning up their mess while you're driving. That can be distracting.
Hard To Empty
Customers found this vacuum quite hard to empty. Access to the dust bin was hard, especially with removing the filter. Keep in mind that cleaning it out may be a hassle for you.
Product Specs
| | |
| --- | --- |
| Corded or Cordless | Cordless |
| Motor Power | 0.09 HP |
| HEPA Filter | Yes |
| Capacity | N/A |
| Weight | 1.83 pounds |
Our Ratings
Community Feedback
"My experience with this product has been a mixed bag. On one hand, the vacuum feels well made and sturdy, with impressive suction power when used in my car. The added functionality of the smaller blow-piece for pushing air was a pleasant surprise. However, I encountered some issues when attempting to clean the filter, as debris tended to get stuck in between. Moreover, I found the product's suction power to be lacking when it came to removing dust from my sewing machines, making it a less versatile vacuum option than I had hoped for."
---
What Is a Car Detailing Vacuum?
These differ from normal vacuums because they are made to get into tight spots, like between seats and down cup holders. They usually have longer hoses to reach around large vehicles or across garages.
You'll also find many cordless options so that you can navigate the car's interior without getting tangled up.
They usually come with many different attachments so you can tackle various tasks. Last but not least, they have a high horsepower for ultimate suction.
Something To Note
You can use a regular handheld vacuum for
cleaning your car
, but it may not have the same suction power.
How To Choose the Best Vacuum for Car Detailing
What are the most important details to consider when buying a vacuum for car detailing?
---
FAQs
---
Thank You For Your Feedback!
Thank You For Your Feedback!