When dealing with pets, the biggest problem we find is the insane amount of hair they leave behind! When you love your pet — but still love a clean house — you're left in a bit of a pickle.
Thankfully, you have a couple of options in this situation. Vacuums are the best option for removing pet hair, but brooms can do the trick, too.
However, it can be challenging to find the right brooms to tackle pet hair. That's where we come in.
We'll review some important things you should consider when shopping for your new broom. We also share those we believe to be the best brooms for pet hair.
Image
Model
Product Comparison Table
Features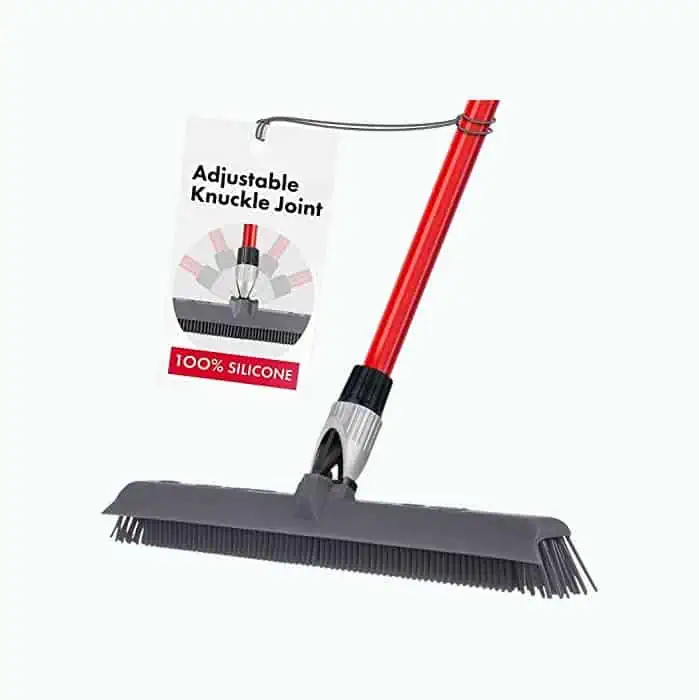 Best for Hard Surfaces
Ravmag Silicone Broom
Comfortable handle
Weighs less than 2 pounds
Jointed head
Best Set
Yanxus Broom & Dustpan
Rubber lip
Multi-purpose use
Long-handled
Best Heavy-Duty
Yocada Heavy-Duty
Durable quality
Maximum cleanup
Ease of use
Best Budget
FURemover Pet Hair Broom
Built-in squeegee
Adjustable handle
Heavy-duty rubber bristles
Best Small Rubber Bristle
Mr. Siga Rubber Broom
Compact and lightweight
Great maneuverability
Suitable for carpeting
Review Methodology: At Oh So Spotless, we understand the importance of choosing the best broom for pet hair to keep your home clean and allergen-free. Our team of professionals has conducted thorough research, hands-on testing, and in-depth analysis to evaluate and compare various brooms based on key factors such as performance, design, and user experience. We've considered criteria such as bristle type, handle length, and effectiveness in picking up pet hair while taking into account first-hand experiences and evidence. By assessing each broom's score in these areas, we provide you with an accurate ranking, ensuring you make an informed decision. Our comprehensive review not only highlights the top-performing brooms but also explains what sets them apart from their competitors, ensuring you find the perfect broom to meet your pet hair cleaning needs.
---
---
The Best Brooms for Pet Hair of 2023
Here are five brilliant broom recommendations to consider.
Ravmag Silicone Rubber Broom
Best Pet Hair Broom for Hard Surfaces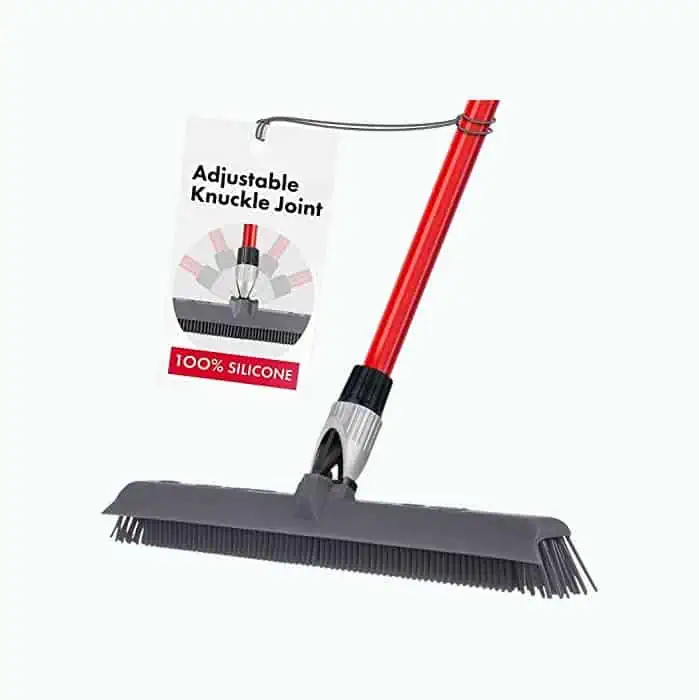 This Ravmag broom works well on all floor types. You can trust that the soft, single-cast silicone bristles won't damage more delicate floors.
The shape of the head is designed to catch errant hairs along the edge of the room. With the head being only three inches tall, this broom is easy to navigate under more substantial pieces of furniture, like dining room tables.
With 55 inches in length, this model is suitable for users of many different heights. The 16-inch wider head also allows you to cover more space at a time while not being too wide to maneuver through your home.
What We Like
Comfortable Handle for Better User Experience
The extra length through the handle gives you better control over the broom, providing an excellent angle for cleaning. This allows you to maneuver the unit where it's needed most and provides the user with a comfortable cleaning experience.
Weighs Less Than Two Pounds
Although this is a push-style broom complete with an oversized head, it's lightweight at less than two pounds. The lighter weight makes it easier to use for prolonged cleaning sessions. It's also an excellent feature for carrying over multiple stories.
Jointed Head Helps With Navigation
A joint between the head and the handle allows you to get the right angle every time you sweep. Twist the knuckle joint to lock your broom into place and make it rigid. When you need to change the angle to reach tricky spots, twist it back into its open position.
What We Don't Like
Better Suited for Hard Surfaces
While this unit will work on carpets, you'll need to use significant elbow grease. The bristles are too soft and don't provide enough pressure to grasp the hair and pull it from the carpet.
Product Specs
| | |
| --- | --- |
| Weight | 1.6 pounds |
| Dimensions | Broom rod: 55.5 inches; broom head: 15.7 inches by 3 inches by 3 inches |
| Bristle Type | Silicone |
| Floors | Wood; tile; carpet; linoleum |
| Additional Features | Jointed head |
Our Ratings
Bristle Material & Design
Community Feedback
"For anyone seeking a reliable and efficient cleaning tool, the Ravmag Silicone Rubber Broom & Squeegee is a fantastic choice. Its innovative design, featuring 100% silicone bristles, makes it highly effective at gathering dust, pet hair, and debris from various surfaces, while the comfortable grip handle and lightweight construction allow for easy maneuvering around furniture and tight corners. Personally, I have been thoroughly impressed with its exceptional cleaning performance, versatility, and durability, making it a standout addition to my household cleaning arsenal."
---
Yanxus Broom and Dustpan Combo
Best Pet Hair Broom Set
This traditional upright broom has a slim profile, which helps you get to hard-to-reach places. You can also adjust the handle height to give you the right length for cleaning. The broom also includes a long-handled dustpan to save your back and knees during sweeping.
Long, synthetic bristles quickly grab pet hair. Typically, it can be hard to pull hair free from other similarly bristled brushes. However, this broom comes with a dustpan equipped with a rubber lip, making it easier to keep your broom clean.
What We Like
Rubber Lip On the Dustpan Unit
A rubber comb is affixed to the top of the dustpan unit. Slide the bristled head up against the comb and pull it upward. The comb works to attract and snag the pet hair, leaving it to fall into the dustpan below and making disposal easy.
Multi-Purpose Use
Traditional bristles make this an excellent choice for all kinds of messes, not just pet hair.
The dustpan has a rubber lip at the front that gives a tight seal to the floor for dust and dirt collection.
Long-Handled and Adjustable Length
Both the dustpan and broom are equipped with a long handle. The broom's handle is adjustable; this lets you create a custom length.
Additional length does create some flex in the broom but saves your back and allows you to reach more places during cleaning.
What We Don't Like
Requires Assembly Upon Arrival
It feels a bit off for this dustpan and broom combo to require an assembly because you will usually receive an assembled unit, but with this, it will require some critical thinking skills.

Product Specs
| | |
| --- | --- |
| Weight | 2.66 pounds |
| Dimensions | 54.3 inches by 11.2 inches by 10 inches |
| Bristle Type | Synthetic PET bristles |
| Floors | Hardwood; garage floor; tile |
| Additional Features | Extended comb to remove pet hair; dustpan |
Our Ratings
Bristle Material & Design
Community Feedback
"I've been using this broom and dustpan set, and I appreciate the long handle on the dustpan, as it saves me from bending down while sweeping. The broom and dustpan lock together, making storage a breeze. However, the set is a bit heavier than others I've used, and the broom's bristles are too wide for the dustpan, causing some to bend outward. Despite this, it was easy to assemble and works well on various surfaces, including wood floors and picking up fine dust and pet hair."
---
Yocada Outdoor Commercial Broom
Best Heavy-Duty Pet Hair Broom
The Yocada is one of the customer-favorite options on the list, durability-wise and at a great price point.
Each broom bristle is made of a triple layer of polyethylene terephthalate, making it durable yet lightweight.
It enables easy cleanup but also convenient storage. Furthermore, you can easily disassemble the brush into four parts. This makes it easy to store, but it's also simple to reassemble. Customers love the handle; it's comfortable to use and strong enough to stand the test of time.
This broom works perfectly on hardwood floors. So if that's where pet hair gathers in your home, consider this sweeper.
What We Like
Durable Quality for Long-Lasting Results
The majority of positive feedback from customers has something to do with this broom's durability. This can be primarily attributed to the plastic materials used to produce this helpful cleaning buddy. Despite being sturdy, it remains to be lightweight at only 2.33 pounds.
Broom Provides Maximum Cleanup
The broom has stiff bristles. This makes it super effective at cleaning up everything on your floors, including human and pet hair! We recommend it for personal and commercial usage.

Easy to Install and Use
When this broom arrives, it's super easy to install. Measuring 59.8 inches long and 13.4 inches wide, you can disassemble it into four parts should you need to clean or store it.
The handle comes with a protective pad for an extra cushion to get to your household chores in no time without straining your hand. Plus, it's effortless to use this. Customers love how simple it is to sweep their floors clean.
What We Don't Like
Can't Handle Outdoor Usage
Although it says in the description that you can use it outdoors, many people noticed that it could not handle rough surfaces outside. The level of roughness is subjective, though, but this is something to keep in mind.
Product Specs
| | |
| --- | --- |
| Weight | 2.33 pounds |
| Dimensions | 2.36 inches x 13.4 inches x 59.8 inches |
| Bristle Type | Plastic |
| Floors | Hard floor |
| Additional Features | 3-part handle |
Our Ratings
Bristle Material & Design
Community Feedback
"I've recently started using this heavy-duty broom and it's made cleaning my garage a breeze. The stiff bristles effectively sweep up dirt and debris, and the angled brush is perfect for reaching into tight corners. However, the handle occasionally comes loose during use, so it needs to be tightened from time to time. Despite this minor issue, the broom has remained sturdy and efficient, making sweeping less of a chore and giving me more time for other tasks."
---
FURemover Pet Hair Rubber Broom
Best Budget Pet Hair Broom
Great pet hair cleaning products can be found even on a budget.
This broom offers an adjustable handle and a squeegee edge that's great for collecting debris and pet hair. It's suitable for use on various floor types and can be used on both wet and dry surfaces.
Cleaning and caring for this brush is easy. When needed, wash the rubber bristles with soap and water to altogether remove debris and pet hair. This reduces the likelihood of transferring pet hair from one room to another. Plus, it keeps your broom ready for its next cleaning session.
What We Like
Built-In Squeegee
An integrated 12-inch squeegee makes it convenient to use this broom on all kinds of messes. It's suitable for indoor and outdoor use and can be used in dry or wet areas.
All you need to do is alter the angle during use to create a firm edge and work the squeegee feature.
Adjustable Handle of 36 to 60 Inches
The broom rod on this unit can be adjusted down to 36 inches in length and extended to 60 inches. This makes it an excellent choice for people with both small and large areas that need cleaning.
Having a shorter handle length can also make it easier to store.
Heavy-Duty Rubber Bristles
Some rubber-bristled brooms aren't durable enough for tough chores or carpet use. However, this broom is unique. It is an excellent choice for indoor pet hair maintenance, but it's also great for outdoor use.
What We Don't Like
Better for Pushing Than Pulling
True to its design, this model works best when used in a traditional push-broom fashion. Therefore, you may lose effectiveness when pulling this broom towards you.
Product Specs
| | |
| --- | --- |
| Weight | 0.92 pounds |
| Dimensions | 36.9 inches by 1.65 inches by 7.9 inches |
| Bristle Type | Rubber |
| Floors | Wood; tile; carpet; rugs; linoleum; vinyl; and concrete |
| Additional Features | Built-in squeegee; adjustable handle |
Our Ratings
Bristle Material & Design
Community Feedback
"This broom has been a game-changer for my home with pets and hard surfaces. The rubber bristles effectively collect pet hair and dust without scratching the floor or walls. Additionally, the squeegee side is perfect for dealing with wet messes on the tile. While it does require some effort to use, especially on rugs, the results are worth it and it's become my go-to broom for tackling pet hair and dust bunnies."
---
Mr. Siga Soft Bristle Rubber Broom
Best Small Rubber Bristle Pet Hair Broom
At only 12.5 inches wide, this unit gives the same great features an oversized push broom does, at a fraction of the size. This allows for more accessible storage. It also makes it possible to use in homes with limited open floor space.
Its soft rubber bristles are gentle enough to clean even on delicate flooring.
A telescopic handle allows for excellent maneuverability and makes it possible to reach difficult spots to clean.
Weighing less than a pound, this is also an excellent choice for multi-floor homes and long cleaning sessions.
What We Like
Compact and Lightweight for Convenience
This model has both a space-saving and lightweight head. It also offers an adjustable lightweight handle that you can set between 29.5 inches and 57 inches. Adjust the broom to its smallest setting for secure storage or use in tight spaces.
Great Maneuverability Due to Telescopic Handle
The telescopic handle lets you position the broom as needed without creating extra strain on your back. This makes it easy to navigate around furniture and through your home.
Suitable for Carpeting and Hard FLoors
This broom works well on hard and soft surfaces, including indoor carpeting, indoor/outdoor rugs, and astroturf.
The soft bristles will not damage fragile surfaces. Yet they're stiff enough to provide resistance and pressure needed on more delicate areas.
What We Don't Like
Not Suitable for Large Spaces
While this is an excellent option for smaller areas, you'll find it's much too small to use in large spaces effectively. So, if you have both large and small rooms, it may be wise to consider another option.
Product Specs
| | |
| --- | --- |
| Weight | 15.2 ounces |
| Dimensions | 3 inches by 12.5 inches by 29.5 inches |
| Bristle Type | Rubber |
| Floors | Hardwood; linoleum; vinyl; tile |
| Additional Features | Adjustable handle; squeegee edge |
Our Ratings
Bristle Material & Design
Community Feedback
"Love this broom for tackling pet hair and long human hair on carpets! As a carpet cleaning business owner, I find it perfect for low pile carpets, area rugs, and even stairs. When used once a week before vacuuming, it helps remove hair and prevent odors caused by oils and dander from pets. Although not great for deep cleaning plush carpeting, it definitely excels at picking up hair and debris on various surfaces."
---
| Product | Best For | Weight | Dimensions | Bristle Type | Floors |
| --- | --- | --- | --- | --- | --- |
| Ravmag Broom | Hard Surfaces | 1.6 lbs | Rod: 55.5″; Head: 15.7″ x 3″ x 3″ | Silicone | Wood; tile; carpet; linoleum |
| Yanxus Broom and Dustpan | Broom Set | 2.66 lbs | 54.3″ x 11.2″ x 10″ | Synthetic PET bristles | Hardwood; garage floor; tile |
| Yocada Heavy-Duty Broom | Heavy-Duty | 2.33 lbs | 2.36″ x 13.4″ x 59.8″ | Synthetic PET bristles | Hardwood |
| FURemover Pet Hair Broom | Budget | 0.92 lbs | 36.9″ x 1.65″ x 7.9″ | Rubber | Wood; tile; linoleum; vinyl; concrete |
| Mr. Siga | Small Rubber Bristles | 15.2 oz | 3″ x 12.5″ x 29.5″ | Rubber | Hardwood; linoleum; vinyl; tile |
Why You Need a Special Broom for Pet Hair
Have you ever reached for your trusty broom only to see tufts of pet hair scatter across the floor? Traditional bristled brooms can be fantastic for snagging pet hair but not so much for removing and containing it.
On the other hand, brooms specifically designed with pets in mind are created to trap pet hair so you can remove it from your home.
Vacuums can be another excellent option for keeping pet hair under control. However, they can be challenging to use in small spaces and can be hard to get under furniture.
A decent broom alleviates these issues and keeps your home looking great when a vacuum can't (1).
Types of Brooms for Pet Hair
There are two main types of brooms you'll probably come across. The first is a traditional upright room featuring bristles (usually synthetic). The second is a push broom style and has silicone bristles.
Upright Broom
An upright broom has a small footprint, handy for both storage and cleaning sessions. They're lightweight, easy to maneuver, and work on various hard surfaces.
They're also an excellent choice for regular home maintenance, picking up more than just pet hair when used.
Pros
Less space is needed for storage.
Fits under furniture for easy cleaning.
An excellent choice for navigating small spaces.
Cons
Not suitable for carpeted areas.
Time-consuming to clean the broom.
Push Broom
Push brooms have an extra-wide head and cover a significant amount of space in a single pass. This helps keep cleaning sessions short while leaving your home pet hair-free.
Silicone or rubber "bristles" attract and collect hair. This prevents tumbleweeds from forming and skittering away during cleans.
Cleaning is fast and easy, but the oversized head can make working in smaller spaces difficult.
Pros
Fantastic for large spaces due to the extra-wide head.
Works on the carpet as well as hard surfaces.
Easy to clean the broom, thanks to the silicone or rubber bristles.
Cons
Hard to use in tight quarters since the head is broad.
Requires a larger storage space since the broom is bigger.
How to Choose a Broom for Pet Hair
When selecting your new broom, keep the following in mind to ensure you bring home a product that suits your needs.
Take Note
Think you're dealing with an excessive amount of pet hair? Remember, cleaning up after the fact is only part of approaching a pet hair issue. So make sure your pet doesn't have an underlying health issue. Keep them regularly groomed to reduce excessive hair in the house.
---
FAQs
---
In Conclusion
Keeping your pet hair problem under control can make a world of difference when it comes to maintaining a clean house.
The right broom can be a great way to start tackling the problem. To find the right broom for you, first determine your house's particular needs. Then try out one of our favorite brooms and get cleaning.
Keep in mind that this is not a replacement for vacuuming but an aid when working in small or tight areas.
Thank You For Your Feedback!
Thank You For Your Feedback!