Are you tired of pulling out the vacuum every time the floors need sweeping? Having a broom close at hand can make quick cleaning jobs a breeze.
Hardwood flooring is one of the most popular types in residential areas. It's durable, easy to clean, and can add to the value of your property. However, these floors are also sensitive, so it's important to keep dirt away.
Buying a broom might seem like a fairly easy decision, but there are a few things you should be considering. With our expertise, you're sure to find the right tool for you. To help you out, we've found the five best brooms for hardwood floors on the current market.
Image
Model
Product Comparison Table
Features
Best Dry & Wet Mop
Swiffer Sweeper Dry Mop
Thick cloths trap dirt
Easy to assemble
Large supply of dry cloths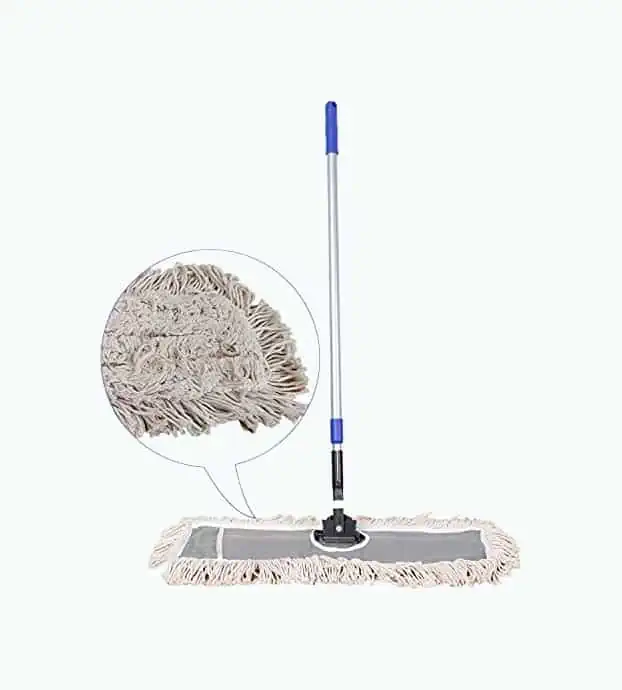 Best Large Head
JinClean Cotton Dry Mop
Gentle cotton is kind to floors
Provides quick cleaning
Height adjustable
Best with Dustpan
TreeLen Dustpan and Broom
Adjustable length
Maximum cleanup
Ease of use
Best for Pet Hair
Evriholder Furemover Squeegee
Pet hair eliminator
Broom and blade
Telescopic wand
Best for Corners
O-Cedar PowerCorner Angle Broom
Double bristle technology
Picks up more dirt
Clicks together
Review Methodology: At Oh So Spotless, we provide you with a thorough analysis and evaluation of the best brooms for hardwood floors, based on extensive research, hands-on experience, and professional assessments. Our experts compare and rank products using key criteria, such as performance, design, and user experience, to help you make an informed decision. We gather data from various sources, conduct benchmark tests, and measure the effectiveness of each broom, highlighting their unique features and benefits. In our comprehensive review, we cover essential factors like bristle material, handle length, durability, and ease of use, ensuring you find the perfect broom for your needs. Trust our findings and recommendations to guide you in selecting a broom that stands out from its competitors and delivers exceptional results on your hardwood floors.
---
---
The Best Brooms for Hardwood Floors of 2023
These five brooms will help you keep your hardwood floors clean.
Swiffer Sweeper Dry Mop
Best Dry and Wet Mop For Hardwood Floor
The Swiffer Sweeper is a popular choice among hardwood floor owners. It's quick to whip out and runs smoothly on the hard surface.
The dry cloths collect fine dust hiding away in the crevices of the floor. When you want to be more thorough, you can switch to a wet cloth to get a sparkling finish.
One of the many things homeowners like about the Swiffer is how easy it is to assemble. Everything is included to get started right away.
What We Like
Thick Cloths Lock In Dirt
The thick, dry cloths collect even the finest dust particles as it runs over your floor. It will also get into the notoriously tricky grout lines. As the dry cloth sweeps the dust, it traps and locks it in its core.
Easy to Assemble
The Swiffer is designed to be assembled quickly. You connect three poles and attach them to the sweeper's head.
Then, take out a dry cloth, wrap it around the head, and it'll lock in place. When the cloth is dirty, you simply remove and replace it.
The wet cloth attaches the same way and is used for a deeper clean.
Large Supply of Dry Cloths
You'll get 14 disposable dry cloths in the set. This is called a "starter kit" and is ideal for trying out the different pads. You also get five wet pads in the pack.
Many customers were happy with the starter kit, and the Swiffer is gaining fans daily.
Works on Multiple Surfaces
The ultra-soft dry cloths are excellent for sensitive hardwood floors. They're also ideal for tile flooring, and you can even use them on cupboards or other wooden surfaces.
The wet pads, however, aren't suitable for oiled, waxed floors or unfinished wood.
What We Don't Like
Cloths Won't Last
Unfortunately, this product is made to be replaced. The sweeper's "body" will last, but the cloths have to be changed quite often.
The wet pads are only meant to be used once and then should be tossed. This can become expensive in the long run. However, a few consumers have found ways to use other, inexpensive cloths to get the same effect.
Product Specs
| | |
| --- | --- |
| Type | Dry mop |
| Telescopic Wand | No |
| Material | Cloth |
| Height | Not specified |
| Width | Not specified |
Our Ratings
Community Feedback
As a frequent traveler, I found this Swifter kit to be a great solution for cleaning the laminate floor in my travel trailer. The dry pad effectively picks up dust and grime that my broom misses, while the wet pads add a final clean and shine. However, the swivel feature of the mop head can be a bit bothersome, as it tends to flip up during use, causing some discomfort in my wrist and lower back. Despite this minor issue, the convenience of disposable pads and the ability to easily tackle small to medium-sized areas make this mop a valuable addition to my cleaning routine.
---
JinClean Industrial Class Cotton Dry Mop
Best Large Head Broom for Hardwood Floor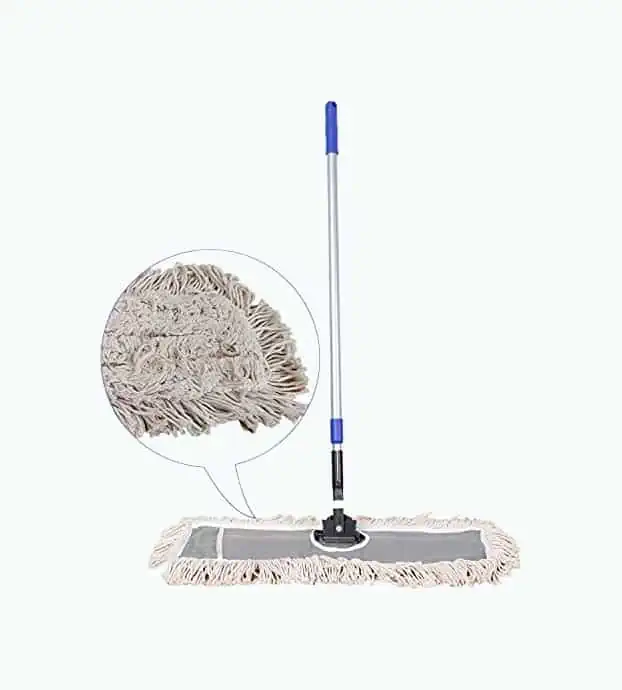 When cleaning hardwood floors, it can be a time-saver to sweep across while catching all of the dirt quickly. This dry mop is excellent for this type of cleaning. It has soft cotton fibers that attract dust and fine hair.
The large sweeper-head gives the bonus of covering a greater area in one go. The broom is quick to assemble, and the cotton sleeve is easy to attach. You can adjust the height to suit you, which helps you reach more difficult areas.
What We Like
Gentle Cotton Clothes Protect Floors
Cotton is one of the most gentle fabrics available, so it's excellent for hardwood floors.
The dry mop head catches all the fine dust particles as it sweeps across the floor.
When the pad gets too dirty, you can easily wash it with warm water and detergent.
24-Inch Head Provides Quick Cleaning
Sweeping the floors is sometimes the last thing you want to do — busy parents might not even have the time. Thankfully, the large 24-inch mop head allows you to cover more in one go. It also removes dust and gives shine to the floors, so there's no need for water afterward.
Height Adjustable From 34 to 59 Inches
The telescoping wand allows you to match the sweeper to your height. You can adjust it to anything between 34 and 59 inches.
Many customers were pleased with this feature, saying it comfortably suited everyone using the mop.
Versatile Cleaning On Various Floors
If you have multiple types of flooring in your home, you know the struggle to find the right cleaning tool. This dry mop is made to transition from one type to another smoothly. You can use it on hardwood, tiles, and even cement floors.
What We Don't Like
Mop Head Doesn't Swivel
The mop will only go in one direction at a time. It can be a challenge to navigate around corners and furniture.
Pole Collapses Sometimes
A few customers noted that the pole kept collapsing as they cleaned. This was a bit of an inconvenience since they had to stop and readjust.
Product Specs
| | |
| --- | --- |
| Type | Dry mop |
| Telescopic Wand | Yes |
| Material | Cotton |
| Height | 34–59 inches |
| Width | 24 inches |
Our Ratings
Community Feedback
Excellent dust mop for my new vinyl floors - it easily reaches under furniture and maneuvers well. However, the two-piece handle can unscrew and become loose when applying slight pressure, making it challenging to clean tight corners. The mop head is easy to clean by lightly slapping it against a wall, and it seems quite durable.
---
TreeLen Dustpan and Broom
Best Broom with Dustpan for Hardwood Floor
The TreeLen is a super convenient broom that also comes with a dustpan. This makes for easy cleanup but also convenient storage. The two parts snap together to store it standing up, which saves a little space.
The product is made of high-quality plastic for extra durability. It works on hardwood floors and carpets. The soft bristles are kind on your beautiful hardwood floors, so you don't need to worry about scratches.
What We Like
The Handle Is An Adjustable Length
This is an excellent option whether you're really tall or really short. The broom extends from 38.5 inches to 52 inches, with an optional extension pole included for even more length. The extra length is great if you have mobility issues or suffer from back pain.
Maximum Cleanup Provided
The broom has a scraper and teeth between its soft bristles. This makes it super effective at cleaning up everything on your floors, including human and pet hair! Then the dustpan has a flexible lip, so when you sweep the dirt and debris into it, it goes straight in rather than underneath the lip.
Ease of Use for Customers
When this broom and dustpan arrive, it's super easy to install. So you can get to your household chores in no time. Plus, it's straightforward to use this. Customers love how simple it is to sweep their floors clean.
What We Don't Like
Broom Head Size Is Too Small
The broom head size could be bigger and is a drawback for many customers. This is great for hard-to-reach places and corners, but it definitely takes longer if you have a large floor area to cover.
Product Specs
| | |
| --- | --- |
| Type | Broom and dustpan |
| Telescopic Wand | Attachable handle options |
| Material | Plastic |
| Height | 52 inches |
| Width | 10 inches |
Our Ratings
Community Feedback
This broom and dustpan combo has made cleaning up after my four cats a breeze, thanks to its deep dustpan and effective "teeth" that keep the broom clean. The convenience of having both items attached together makes it easy to grab, sweep, and store. However, the broom's slightly narrow width and shorter handle may make it less suitable for those with larger areas to clean or for extended use.
---
Evriholder Furemover Squeegee Broom
Best Hardwood Floor Broom for Pet Hair
Living with pets means you have to deal with hair. It can become challenging to keep the fur at bay without the right equipment.
Fortunately, this innovative broom has a unique head designed to attract fine hairs and tiny dust particles. It can suit various heights with its telescopic wand. Plus, you can use it on multiple surfaces.
The broom also has an extra feature to help you get rid of wet messes and spills quickly.
What We Like
Pet Hair Eliminator
It can be a hassle to get out a heavy vac every time you notice pet hair on the floor. However, this broom is quick to get out and will remove a significant amount of hair in one swoop.
The squeegees are made of soft rubber that effortlessly glides over hardwood floors without scratching.
Broom and Blade Included
Turn the broom over to use the blade for cleaning up wet messes. It's made of natural soft rubber and won't leave spots on your floors.
You can use the blade on windows, windshields, and pool decks.
Can Be Used on Multiple Surfaces
You can go between hardwood floors, tiles, and carpets effortlessly. The squeegees can glide over carpets while picking up pet hair, dust, and debris. You can also use it on flat and curved surfaces.
Telescopic Wand
The telescopic wand will extend from 36 to 60 inches, making it a comfortable fit for everyone in the family. It's also useful for when you need to reach higher places, such as cleaning windows.
Easy Broom to Clean
It's easy to clean with, but it's also a breeze to keep clean. Whenever you feel it's time for a wash, detach the head and wash it in soapy water. However, depending on the amount of hair you pick up, it might need washing often.
What We Don't Like
Weak Handle At the Joints
While the squeegee head works like a dream, the handle is relatively weak at the joints. Some customers said they had to replace it with a wooden broomstick instead.
Product Specs
| | |
| --- | --- |
| Type | Squeegee broom |
| Telescopic Wand | Yes |
| Material | Natural rubber |
| Height | 36–60 inches |
| Width | 12 inches |
Our Ratings
Community Feedback
This rubber broom is truly a game-changer for pet owners with hard surface floors. After trying various other brooms and dusters, this one effortlessly collected pet hair and dust without any of it sticking to the bristles. Not only did it make cleaning easier, but it also doubled as a floor squeegee and proved to be effective on rugs as well – just be prepared for a little extra effort.
---
O-Cedar PowerCorner Angle Broom
Best Hardwood Floor Broom for Corners
The O-Cedar PowerCorner broom is the best option for tight corners. If you have pets, you'll know the pain of their hair getting everywhere — even in places you didn't think it could! But this broom is also great for dust, food, and other debris that gathers in corners throughout the day.
The angled design makes it effective at removing fine dust and dirt from hard-to-reach places. Now, every corner of your home will look neat and tidy.
What We Like
Double Bristle Technology
This broom has two rows of bristles. The black bristles are firm: they do the hard job of pulling dirt out of corners. Next, the gray bristles, which are semi-soft, capture and move the dirt so you can easily sweep it up. The bristles are also described as "memory bristles", meaning they don't bend and keep their original shape.
Picks up More Dirt
If you're sick of brooms missing pieces of dirt and debris on the ground, this is a good choice. The flare tips capture even the finest amount of dust and hair. The double bristle technology holds on tightly to it as you sweep it across the floor.
Clicks Together for Easy Assembly
The broom and dustpan click together. This creates secure and easy storage. You'll never lose your dustpan again! Customers love this added feature. It also saves a bit of storage space.
What We Don't Like
Not for Outdoor Use
Of course, a versatile broom is a bonus for everyone! But unfortunately, the O-Cedar broom does not withstand outdoor use. One customer who used it on patio bricks found that the broom broke because of the pressure. So if you want a broom that can tackle every job, this isn't the broom for you.
Dustpan Disappointment
Many customers love the dustpan and don't have an issue with picking up dirt. The rubber seal is intended to secure to the floor so no dirt can sneak underneath it.
But some customers have a different experience and find that the rubber seal isn't secure. It bows up in the middle, and dust ends up underneath the pan rather than in it.
Product Specs
| | |
| --- | --- |
| Type | Broom and dustpan |
| Telescopic Wand | No |
| Material | Plastic |
| Height | 54 inches |
| Width | 12 inches |
Our Ratings
Community Feedback
For the past two months, I've been using the O-Cedar PowerCorner Pet Pro Broom & Dust Pan, and it's been a fantastic addition to my cleaning routine. As a cat owner, this broom has made sweeping up litter and cat food a breeze, and it's terrific for general apartment tidying too. The wide broom head and soft bristles make it easy to reach tight spots and corners, while the angled dustpan allows for efficient sweeping without having to bend down too much. The only minor drawback is that some debris can slip through the dustpan's storage channel, but it's not a deal-breaker.
---
What to Look For (Buying Guide)
Going over the same spot several times while you clean can be frustrating. So when sweeping hardwood floors, you want a broom that will easily remove fine dust and dirt. Here are a few things you should be looking for during your broom search.
1.

Soft Bristles

Hardwood floors require a more gentle cleaning approach. Four types of mop heads work on this kind of flooring:
Plastic: These are the new normal. Plastic bristles are durable and don't shed. Frayed ends are a must for hardwood floors since they are softer.
Horsehair: This is the "traditional" broom material. It's durable and can sweep wet messes without scratching.
Rubber: Featuring electrostatic bristles, the rubber draws in fine pet hair and dust. You can use them on hardwood and carpets, and you can easily wash them.
Dry dust mop: A popular choice for homeowners with hardwood floors. They're static-charged and attract dust and dirt; an excellent way to get the same results as a mop without water.
2.

Handle

To make sweeping more manageable, it's important to consider the handle and height of the broom.

If you're tall, you're familiar with crouching and a sore back while you sweep. If you're shorter, a long broom can feel awkward to use.

Some brooms have a telescopic wand that you can adjust to suit your height. These are also effective for any above-floor cleaning.

Choose High-Quality

A common problem with telescopic and extended wands is that the joint might weaken over time. To combat this, go for a high-quality model.
3.

Accessories

Some brooms will come with a matching dustpan to help you get the dirt from your floors to the bin. Other useful accessories include special squeegees that are effective when cleaning up wet messes. These are also great for picking up larger particles like coffee grinds and sand.

A smaller handheld brush is sometimes included with the broom. These are quick to whip out for small areas. Some brooms allow you to detach the head, which you can then use for hard-to-reach areas.

If the brush head detaches, it's essential that it's ergonomically built for smaller jobs rather than being cumbersome.
---
FAQs
---
Thank You For Your Feedback!
Thank You For Your Feedback!