Bosch is known for their incredible dishwashers. With some of the most popular and reliable dishwashers in the world, your dishes will be clean without any fuss. If you're in the market for a Bosch dishwasher, you have plenty of options before you.
We're here to narrow it down to the top seven best Bosch dishwashers, plus a review of each one.
---
History of Bosch
Nearly 130 years ago, Robert Bosch lay down the foundation of this company (1). They started by making fridges, the Neuzeit I kitchen machine, and washing machines.
In the 60s, they brought out their dishwasher which helped families immensely, since it was now common for both parents to go out to work.
Bosch is known as Europe's number one home appliance brand. They are committed to performance, ease of use, quality and reliable products, as well as being sustainable. They are conscious of the waste they produce, and ensure to minimize it from start to finish.
If you want the most eco-friendly appliance, look for one that has a "Green Technology Inside" logo.
Are Bosch Dishwashers Reliable?
Bosch dishwashers are reliable, with a service ratio of 11.14 percent (2). The average service ratio for the top 15 dishwasher brands is 13.55 percent, so Bosch is a little better than average, coming in at number 6 out of 15.
However, if you go for a Bosch Benchmark model, the service ratio is 35.71%.
Types of Bosch Dishwashers
Bosch has a variety of different series to choose from.
100 Series
The Bosch 100 Series is the most budget-friendly. While they're still pretty pricey, compared to some other brands, they have cool features and will serve you well.
PROS:
Cost-effective.
Third rack for extra space.
Indicator light.
Towel bar on some models.
CONS:
Plastic bottom isn't as durable.
Not super quiet — roughly 48-50 dB.
---
300 Series
All Bosch 300 Series models are made with stainless steel. There are lots of options within this series, with a variety of fun features.
PROS:
Stainless steel tub for durability.
Some models have a water softener.
Racks are adjustable.
ADA compliant models.
Pretty quiet at 44 dB.
Leak protection models.
CONS:
Fairly pricey.
Drying power isn't as strong as the higher models.
---
500 Series
The next step up is the 500 Series. It's slightly better than the 300 Series, and slightly more expensive, too.
PROS:
Recessed handle design.
44 dB.
Easy-glide upper racks.
AutoAir Dry on some models.
CONS:
No 18-inch options.
No ADA compliant options.
---
800 Series
These are the most quality Bosch dishwashers. If you have the budget for one of these, then we definitely recommend considering it.
PROS:
Responsive controls.
The most quiet (most are 39-42 dB).
Flexible stacking options.
ADA compliant models.
Multiple size options.
Wi-Fi option.
CrystalDry on some models.
CONS:
Some 800 models go up to 44 dB.
Expensive.
---
Benchmark Series
The Benchmark series is the most luxurious. But from what we know about the service callouts — these dishwashers aren't super reliable.
PROS:
All gliding racks.
Water softener included.
Flexible stacking options.
CrystalDry in certain models.
CONS:
Super expensive.
Not very reliable. May need to be serviced more often.
---
Bosch Dishwashers Design Styles
Bosch has a variety of dishwasher design styles.
There are three different sizes: 24-inch standard height, 24-inch ADA compliant height and 18-inch.
As for colors, you'll find stainless steel, black and white finishes. However, some models are panel-ready to fit in with your existing cupboards.
Finally, Bosch has a variety of handle options. The five choices include the bar handle, pocket, recessed, scoop and custom panel.
The bar handle is traditional and provides a place to hang dish towels. The pocket handle is streamlined and classic with no obtrusive section or buttons.
We think the scoop handle is the most classic, with front controls. The recessed handle is also sleek and classy, and allows for buttons at the front without being too obvious.
Finally, the custom panel can be fitted with your desired handles to suit the rest of your kitchen interior.
How to Choose the Best Bosch Dishwasher
Decided you want to kit out your kitchen with one of the best Bosch dishwashers? Here's what to look for to make sure that you find the perfect one for you.
Bosch dishwashers come in three sizes: 24-inch standard height, 24-inch ADA compliant height and 18-inch. The 18-inch ones are great for small kitchens, the ADA compliant ones are suitable for people with disabilities, and the 24-inch standard height models are great for most other kitchens.
Bosch has the quietest dishwashers on the US market so you're in for a treat. Noise level is measured by decibels. The higher the decibel, the louder the appliance.
Top Tip
If you have an open plan home, a studio apartment or a tiny house — noise levels may be a top priority. If you're going to shut the kitchen door in the evenings while the dishwasher runs, noise may not matter as much.
Consider how many wash cycles the Bosch dishwasher has. We recommend one with a variety of cycle options if you do specific loads.
For instance, if you have a lot of heavily soiled dishes, you'll want one with an intensive or heavy cycle. Bosch dishwashers also have unique washing cycles, such as PrecisionWash™. This uses sensors to judge how much water and power to use in order to achieve spotless dishes.
Bosch dishwashers currently have three drying features. You can choose between these three to find one that suits your lifestyle best.
CrystalDry is the most effective. It gets everything dry, including plastic. In fact, it works 60 percent better than the other drying features.
AutoAir is available on the 500 Series dishwashers. The door automatically opens at the end of the cycle to let moisture escape and allow good airflow. This is ideal if you're out of the room when the cycle finishes.
PureDry is the base system on all Bosch dishwashers. It has a sanitization option that provides an extra hot wash at the end of each cycle which helps to dry the dishes as well as sanitize them.
All Bosch products are eco-friendly. However, if you want the best of the best, look for one that has a "Green Technology Inside" logo. You can also consider one with an eco cycle as this uses a lower temperature and less energy.
Would you prefer something that allows for a custom panel, or something sleek and classic? No two Bosch dishwashers look alike, but you can find something that fits in seamlessly with your kitchen.
There are three main color options: black, silver and white. There are five handle options. And finally, there are a few different sizes.
Capacity is very important, especially for large families. You want to make sure there is space for everyone's dishes, and this is measured by place settings. Also, consider the presence of a third rack which provides extra space for cutlery, bowls, and utensils.
If you want something extra fancy, Bosch dishwashers have a range of extra features. One cool feature is the MyWay rack which allows you to customize the rack positioning.
Some Bosch dishwashers have Wi-Fi so you can control the dishwasher from your phone or smart speaker. There's also leak protection and many other details.
Bosch provides a two-year warranty for all their dishwashers, but this may change if you buy your dishwasher from a different seller. Most sellers have an option to add on extra cover.
---
The Best Bosch Dishwashers of 2020
We've spent hours researching expert advice, Bosch's mission as a dishwasher provider, as well as real customer reviews. With all that in mind, here is our list of the seven best Bosch dishwashers that we think you'll love.
1. Bosch 800 Series 24 Inch Built-In
Best Spacious Bosch Dishwasher
For large families, the Bosch 800 Series 24" Built-In is a must-have. It has a 16-place setting capacity so there is room for everyone's dishes. It even has a third rack for extra items, such as utensils.
We also love this for large families because it's quiet. So when everyone is doing their own thing in the evenings, the dishwasher won't interrupt you.
Why We Love It
CrystalDry™ Technology
CrystalDry technology ensures that everything is super clean and super dry — even plastics. The stainless steel tub helps to achieve this as it doesn't cling to moisture.
EcoSilence
At only 42 decibels, this ultra-quiet dishwasher won't interrupt your lifestyle, conversations and quiet evenings. It has the added EcoSilence technology to reduce disruptive sounds during the cycle.
10 Cycle Options
The world is your oyster with this dishwasher. You will find that you can tackle any dishwashing job, no matter how lightly or heavily soiled. The 10 cycles are: half load, delicate wash, normal, auto, rinse, eco wash, heavy wash, sanitary, 1 hour, and CrystalDry.
Keep In Mind
Complex Controls
If you aren't tech-savvy, the control panel on this dishwasher might be hard to navigate. Customers have had issues figuring it all out, but once you get the hang of it, you'll be grateful for all the options. Some people just prefer a more simple navigation.
Third Rack Issues
The third rack may be useful for some, but for others — not so much. Because it spans the entire width of the tub, it means there is less room on the top rack for tall glasses. If you have a lot of larger tableware, you may need to remove the third rack.
Additional Specs
| | |
| --- | --- |
| Noise Level | 42 dB |
| Washing Cycles | Nine |
| Drying Cycle | CrystalDry |
| Handle | Bar |
| Capacity | 16 place settings |
---
2. Bosch 800 Series 40 dBa Stainless Steel
Best Quiet Bosch Dishwasher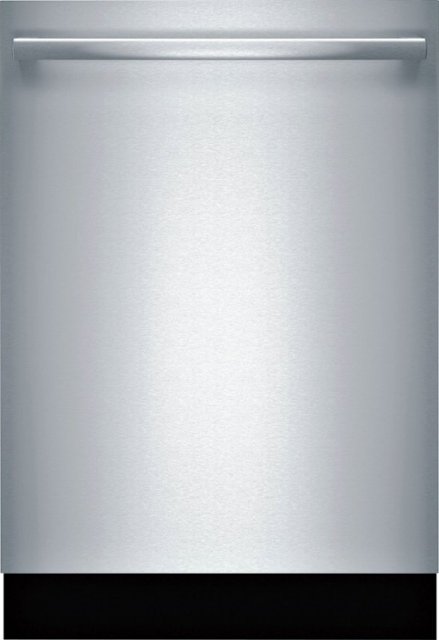 At only 40 decibels, this is one of the quietest dishwashers on the current market. It has EcoSilence technology to minimize the disruptive sounds within the dishwasher.
Compare this to a refrigerator hum or a stream of water — you really will barely notice this dishwasher running. Perfect for small homes and people sensitive to sound.
Why We Love It
CrystalDry
This dishwasher uses CrystalDry technology — Bosch's finest drying mode. It gets dishes 60 percent drier than their other drying cycles. Even your plastic items will be nice and dry, ready to be put away.
Nine Washing Options
With plenty of options to choose from, you can easily customize the settings to suit your load of dishes. The options are half load, delicate, normal, auto, rinse, eco wash, heavy wash, sanitary and one-hour wash.
16 Place Settings
This dishwasher has room for 16 place settings. This spacious roomy option allows space for everybody's daily dishes. If you don't have a big family, this is still ideal for cleaning up after a dinner party.
Keep In Mind
Trouble Loading
Loading this dishwasher is a task. The third rack is a bit of a hit or miss — but thankfully it can be removed if you don't like it. However, in general, people struggle to place large pots and pans, so if you aren't hand-washing your cookware, maybe think again before purchasing.
60-Minute Cycle Power
While a one-hour wash cycle sounds ideal, especially if you're in a rush, it's best for lightly soiled items. You may also find that water sits on top of the dishes sometimes which means they need to be rinsed or re-washed.
Additional Specs
| | |
| --- | --- |
| Noise Level | 40 dB |
| Washing Cycles | Nine |
| Drying Cycle | CrystalDry |
| Handle | Bar style |
| Capacity | 16 place settings |
---
3. Bosch 800 Series with CrystalDry Tub
Best Drying Bosch Dishwasher
CrystalDry is Bosch's most advanced drying technology. It uses a naturally occurring mineral called Zeolite (3).
Zeolite absorbs moisture and provides heat. The fan draws excess moisture into the base of the dishwasher where the minerals are.
The minerals heat up and the fan blows hot air back into the tub to dry the dishes.
Why We Love It
Touch Top Control
This dishwasher has a top control panel with touch buttons. This keeps buttons away from curious kids and pets. But it also ensures that the buttons are super simple and easy to press, which is especially user-friendly. The LED lighting behind each button makes it easy to see, even at night time.
Quiet Operation
You'll hardly know this dishwasher is running. With EcoSilence technology and a 42-decibel rating, this dishwasher is one of the quietest on the market. Perfect for cozy evenings in, small homes and those with sensitive ears.
16 Place Settings
The 16 place settings make sure there is room for everybody's dishes. Plus, the third rack provides a little extra room for utensils and small mugs and bowls.
Keep In Mind
Loading Issues
Watch out for loading the dishes. Some customers find it a tricky process.
First off, the third rack is shallow so unless the mugs and bowls are really small, they won't fit. Secondly, the middle rack loses a bit of space because of the third rack. Finally, the cutlery rack on the bottom tier is placed so that tall butter knives can interfere with the spray arm.
Rinse Aid Required
Even if you don't live in a hard water area, we suggest using a rinse aid with this one since it uses minerals to dry the dishes. If you don't use a rinse aid, you may notice mineral buildup on the dishes. While this isn't a massive problem, it's another product to keep in stock.
Additional Specs
| | |
| --- | --- |
| Noise Level | 42 dB |
| Washing Cycles | Nine |
| Drying Cycle | CrystalDry |
| Handle | Pocket |
| Capacity | 16 place settings |
---
4. Bosch 500 Series Pocket Handle Dishwasher
Best Stylish Bosch Dishwasher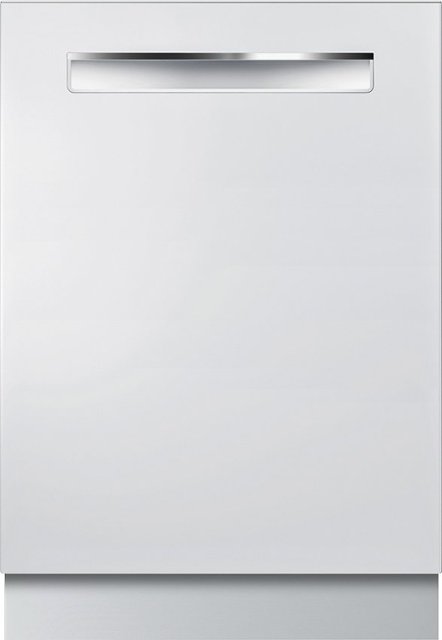 We can't help but suggest the 500 series pocket handle dishwasher if you're in the market for a stylish option.
This dishwasher is available in black or white. The sleek classy finish on the dishwasher makes it a showstopper in the kitchen. It definitely has a luxurious vibe.
The pocket handle, which is slightly recessed, means the overall design is unobtrusive and subtle.
Why We Love It
RackMatic
You'll love the loading options this dishwasher provides. Firstly, it's been built with RackMatic design so you can fit every item in the dishwasher. It allows three different heights and up to nine different positions so you can customize the layout to suit your dishes.
This appliance also has a third rack to provide extra room. Lastly, the racks have EasyGlide technology to ensure they glide out smoothly, making loading and unloading a breeze!
24/7 Aquastop®
The four-part leak prevention system will stop leaks in their tracks. It uses sensors to find and prevent leaks, even if the dishwasher is turned off or in mid-cycle. This protects your floors, the dishwasher and your bank account!
Quiet Operation
At only 44 decibels, this dishwasher operates super quietly. You may not even know it's on — but thankfully, there's an indicator light which lets you know. It has a sound reduction capability as well to ensure that the dishwasher remains quiet during the most powerful segments of the wash.
Keep In Mind
Can't Dry
Customers are disappointed that this dishwasher cannot dry dishes. The description says this has heated and condensation drying. However, it doesn't tend to do a good job, leaving you with wet dishes.
What's That Smell?
A few customers have commented on the strange odor this dishwasher has. Even after using it many times, cleaning it and using proper dishwashing detergent, this dishwasher clings to a weird smell.
Additional Specs
| | |
| --- | --- |
| Noise Level | 44 dB |
| Washing Cycles | Five |
| Drying Cycle | Heated and condensation |
| Handle | Pocket handle |
| Capacity | 16 place settings |
---
5. Bosch 300 Series Recessed Handle Dishwasher
Best Quick Bosch Dishwasher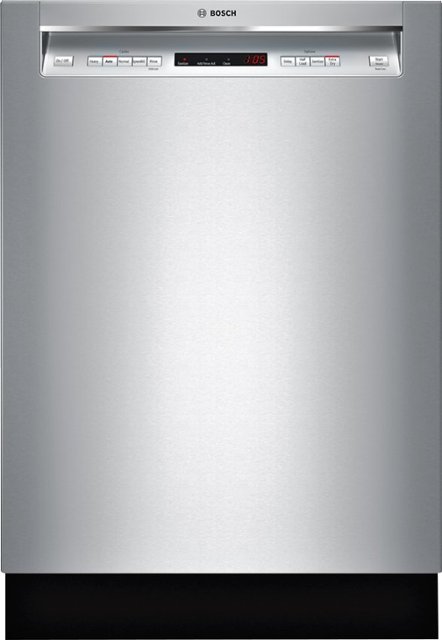 If you do a lot of dishes and meal-prepping and you need something that can quickly clean dishes between meals, then this is one to consider.
This Bosch 300 Series model has a special Speed 60 option which takes dishes from dirty to dry in only one hour.
Plus, there is room for everything you need due to the third rack and RackMatic system. Get everything clean in no time!
Why We Love It
RackMatic
The RackMatic design allows up to nine different rack positions with three different height levels so you can customize the layout to suit your dishes.
24/7 Aquastop®
Worried about leaks? Don't be! The 24/7 Aquastop is always on standby to sensor and detect leaks. It stops them in their tracks so your floors are always protected. This works whether the dishwasher is on or off.
Child Lock
If you have little ones running around, this is the dishwasher for you. The child lock ensures that kids are safe from sharp objects and the hot steam. It also means kids won't accidentally turn it on while the child lock is in place.
Keep In Mind
Flimsy Parts
Although RackMatic is awesome, the racks are quite flimsy plastic. You need to be careful when adjusting the racks. You should never adjust them once they're already loaded as too much pressure can cause the racks to fall off the tracks.
Bad Smell
A common complaint is that this dishwasher has a weird smell, similar to petroleum. Even after cleaning and running it for multiple uses, the smell doesn't seem to fade. This isn't prevalent for every customer though.
Additional Specs
| | |
| --- | --- |
| Noise Level | 44 dB |
| Washing Cycles | Four |
| Drying Cycle | Condensation and heated dry |
| Handle | Recessed handle |
| Capacity | 16 place settings |
---
6. Bosch 500 Series Dishwasher with AutoAir Tub
Best Panel-Ready Bosch Dishwasher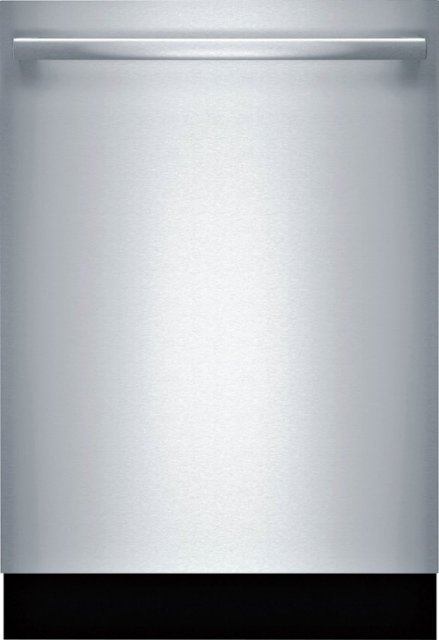 While the Bosch designs are sleek and classy, many people want their appliance to fit right in with the rest of their kitchen decor.
If that's the case for you, this 500 Series model is a panel ready dishwasher so you can add your preferred panel to the front.
As well as fitting into your kitchen, this appliance will also fit right into your family. With 16 place settings and flexible loading options, this dishwasher can handle everybody's dishes.
Please Note
The custom panel and handle must be purchased separately.
Why We Love It
AutoAir™
With the AutoAir function, the dishwasher door pops open at the end of each cycle to help dry the dishes. The good airflow will help ensure moisture is removed without the appliance using any additional energy.
Flexible Loading Options
This dishwasher has some thoughtful features which make loading the dishwasher incredibly easy, no matter what kind of items you're putting in. The upper basket is adjustable. The tines are foldable. There is a third rack, and there are FlexSpace tines which make extra room for cups and utensils.
24-Hour Delay Start
A 24-hour delay start option allows you to programme the cycle to fit in with your schedule. Kickstart the cycle anywhere from one to 24 hours later. This is ideal for going out of town, so that your dishes are freshly cleaned and dried closer to your arrival home.
Keep In Mind
Not 100% Dry
Although the AutoAir feature is convenient and loved by many, especially for being low on energy consumption, it's not perfect. Your dishes won't be 100 percent dry unless you let them air dry for a while afterwards. So if you're in a rush to get them put away, then we recommend going with a Bosch CrystalDry model.
Additional Specs
| | |
| --- | --- |
| Noise Level | 44 dB |
| Washing Cycles | Five |
| Drying Cycle | AutoAir |
| Handle | Bar style |
| Capacity | 16 place settings |
---
7. Bosch 100 Series with Hybrid Stainless-Steel Tub
Best Budget Bosch Dishwasher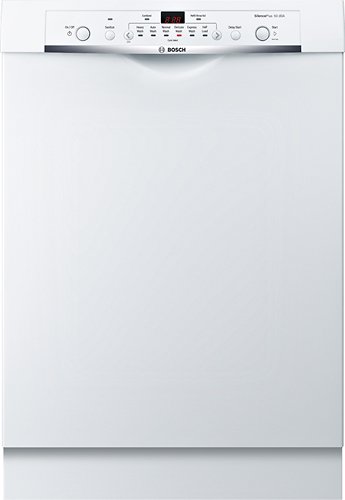 This is one of Bosch's most budget-friendly and affordable dishwashers. But just because it comes in at a cheaper price doesn't mean it's bad.
This is a high-quality dishwasher with lots of space, flexible loading options and multiple wash cycles.
So no matter how many people are in the family, and how messy the dishes are, this dishwasher can handle it.
Why We Love It
14 Place Settings
This dishwasher has room for the entire family's dishes. With 14 place settings, everybody can stack their dishes throughout the day or you can clean up quickly after a dinner party. If you're still struggling for space, you can reposition the silverware basket and even adjust the top rack.
Variable Spray Pressure System
Do you find your experience with dishwashers has been that they can't clean in hard to reach spots? Well, this dishwasher has a variable spray pressure system which uses a high and low spray pressure. This enhances the cleaning performance so that all dishes can come out spotless.
Overflow Leak Protection
The 24/7 leak protection system protects against leaks. It works even during the dishwasher cycles or when the dishwasher is turned off.
The appliance senses leaks and if the water level becomes too high, the dishwasher pumps the water into the tub and closes the water valve. This protects your floors, electrics and helps to save money from costly accidents.
Keep In Mind
Bottom Rack Comes Off Rails
Annoyingly, the bottom rack isn't secured to the rails with a stopping system. So you have to be extremely careful when you pull out the bottom rack or it will fall off and spill the dishes everywhere.
Wet Dishes
This dishwasher uses condensation to dry the dishes. This involves a super hot wash at the end of the cycle to help the water droplets evaporate quicker. However, this specific mode clings to moisture a little bit and leaves the dishes fairly wet.
Additional Specs
| | |
| --- | --- |
| Noise Level | 50 dB |
| Washing Cycles | Six |
| Drying Cycle | Condensation drying (PureDry) |
| Handle | Recessed |
| Capacity | 14 place settings |
---
---
Choosing Bosch
When you choose Bosch, what can you expect? Well, for starters, all Bosch dishwashers are very spacious with lots of room for everyone's dishes. When it comes to noise, they range from 40 to 50 decibels so they're all quiet.
Finally, you'll find a variety of different drying cycles. Our top recommendation is CrystalDry which gives you ultra-dry dishes, even for plastics.