Bathrooms need so many items stored in them from toilet paper and towels to toiletries such as shampoo, creme rinse, and soap. Yet, bathrooms are some of the smallest rooms in the house, so they're hard to organize and keep organized.
Today we're sharing some of our best bathroom organization ideas to help you keep your bathroom neatly organized.
Key Takeaways
Use vases, matching bottles, and trays on bathroom counters to organize toiletries and make the space visually appealing.
Maximize storage by using over-the-toilet shelves, cabinets, and racks for towels, toilet paper, and other bathroom essentials.
Keep bathroom cabinets organized with over-the-door racks, lazy susans, and small baskets for various items.
Utilize baskets throughout the bathroom for wall storage, toilet paper, and dirty towels to maintain a tidy space.
---
Bathroom Counter
Bathroom counters are a magnet for clutter. Washcloths, toothbrushes, soaps, and barrettes get left all over the counter. So here are a few hacks to help you organize your counter so you can easily find the items you need.
Use Vases on Your Bathroom Counter
Use vases on your bathroom counter to hold cotton balls, cotton swabs and makeup brushes. They're also a great place to keep your bathroom sponges. The vases look beautiful and organized on your bathroom counter and turn your bathroom into a room where you can relax.
Vases with Glass Beads For Makeup Brushes
Another option is to put a glass vase on your counter and fill it with marbles or glass beads. The marbles or glass beads help the makeup brushes stand upright which gives you the perfect place for you to easily store your makeup brushes, with the added bonus of it looking beautiful.
Magazine Holder
Use an upright magazine holder to store your towels. You can set it on the floor, roll the towels, and always have clean towels that are easy for your family and guests to find.
Matching Bottles
Decant shampoo, creme rinse, liquid soap, and any other containers you have into matching bottles. The different containers for all the soaps and lotions you need in a bathroom create a jumbled appearance and add to the 'noise' of the bathroom. By using matching bottles for all your different soaps, lotions, and shampoos, you create a unified appearance.
Pretty Tray
Gather toiletries in a pretty tray on the counter instead of leaving them all over the place. The tray is an easy spot for you to drop the items after you've used them and an easy spot for you to find them again. Plan what to pack here so that it doesn't become a dumping site. Also, the pretty tray keeps your counter looking organized.
Holders on the Wall
Instead of leaving soap dispensers, toothbrushes, and toothpaste containers on the counter, mount a holder on the wall. This will alleviate the clutter on your bathroom counter while giving you an easy spot to store the items you need.
Over The Toilet Storage
There's quite a bit of wall space over the toilet. Instead of leaving it blank, try using this area to give you more storage space. There are fun and easy ways to use the space over the toilet that won't take a lot of time and effort to install.
Shelves
The empty wall over the toilet is a good spot to install shelves. You can use wire mesh shelves, wood, or glass shelves for a unified look in your bathroom. These shelves will be able to hold toilet paper, towels, washcloths, and extra containers of shampoo and creme rinse that you need in the bathroom.
Cabinet
Install a cabinet above the toilet. This will give you the shelves you need for bathroom storage, plus it will keep items from falling off the sides. This allows you to use the entire shelf of the cabinet for storage without worrying about toiletries falling on your head.
Wine Rack
Have you thought about putting up a wine rack above your toilet? You'll need to attach it to the wall so it hangs above the toilet. Then you can use it to hold clean towels for family and guests to use when they bathe.
The towels will be safely stored so they won't be getting in anyone's way.
Hang Crates
Instead of going to the store to purchase shelves or putting up a shelf cabinet, consider hanging wooden crates above the toilet. You'll have a beautiful combination of shelf and open cabinet. The space on top of the crate will work as a spot for decorative items, toilet paper, or towels.
The shelf inside the crate will also work to hold items. Most bathrooms have the room for you to put up two crates for a total of 3-4 shelves.
Ladder Over the Toilet
Install a ladder over the toilet. It's a great place for you to hang towels and washcloths in your bathroom. A ladder is also an excellent place to hang any clothing you may have needed to handwash in your bathroom as well.
There are many ways to use a ladder over the toilet.
Rack Over the Toilet
A great place for a storage rack is over the toilet. The rack will be a good place to store toilet paper, towels, and washcloths so they're always ready when you need them. You can store cups, jars, and clear bins that you're not using on a regular basis on the rack as well.
Wire Baskets
Another option is to install wire baskets above the toilet. These baskets can be large enough to hold towels, toilet paper, and washcloths. You can also install small baskets to keep your toiletries in.
Either way, wire baskets will look beautiful hanging above the toilet as well as give you the storage space you need.
Bathroom Shelves
There are several ways you can organize your bathroom shelves so they look more unified and you can find the items you need on the shelves. These shelf ideas will give you the tips you need to use your shelf space wisely.
Cups and Jars for Storage
Pick up some glass cups or jars to store items on your shelf. You'll be able to easily see what's inside the jars and the glass jars or cups will look unified as well. You can use them to store cotton balls, makeup sponges, cotton swabs, makeup brushes, and toothbrushes among other items.
Use Clear Bins
Find yourself some clear bins so you can see what's inside them to store items on your shelves. The advantage of using clear bins instead of cups or jars is that you can stack them on top of each other.
Label Bins, Cups, and Jars
Use a label maker to create labels for the bins, cups, and jars. While you may be able to see inside the containers, labeling the containers will help you keep them organized. It will also create a unified appearance, especially if you use a mix of bins and jars to organize your bathroom supplies.
Wire Baskets
Use small and medium wire baskets on your shelves to help you store washcloths, toilet paper, and various containers. You'll be able to see what is where and you'll also have a unified appearance in your bathroom. Wire baskets are a great way to organize your shelves.
Bathroom Cabinet
The bathroom cabinet tends to become a cluttered mess if you don't stay on top of it. You'll have make-up, toothbrushes, toothpaste, and lotions rattling around. Hairbrushes will not have a spot and the hairdryer, curling iron, and flat iron cords will become tangled. You need a good way to keep your bathroom cabinet organized.
Over the Door Rack
Over-the-door racks are a great way to create an organized space within your cabinet. It simply hooks onto your cabinet's door. A wire one works best This is an excellent place to keep your hair supplies such as your hairbrush, curling iron, hairdryer, and flat iron.
You can also keep barrettes, hair bands, and combs on the door rack as well.
Use a Lazy Susan
A lazy susan spins, so it's perfect to use in your bathroom cabinet. You'll be able to access the items at the back of your shelves by spinning the lazy susan. It's perfect for larger shelves where it's easy for small containers to get lost at the back of the cabinet.
Essentials at Eye Level
Be sure to keep the essential items you need in your bathroom at eye level so everyone can easily find the toothpaste, their toothbrush, and shaving cream. Save the upper shelves for storing extra soap, additional shampoo, and other items you don't need to access on a regular basis.
Small Baskets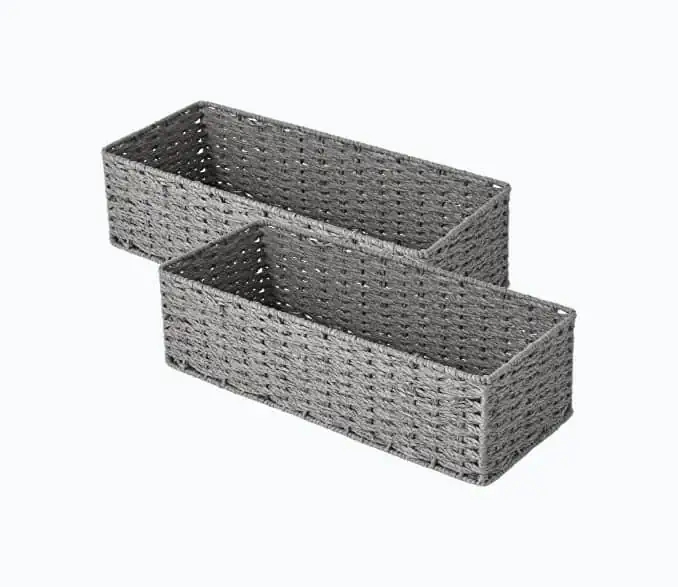 Put small baskets in your cabinet to keep it organized. Store like items in each of the baskets. For instance, use one basket for hair supplies such as hair bands, barrettes, and brushes.
Use another basket for toothpaste and toothbrushes. A third basket can be used for skin care items such as soaps, exfoliants, and moisturizers.
Hang Toothbrushes
Hang a toothbrush holder on the back of the cabinet door. This will keep the toothbrushes from getting jumbled inside the cabinet and keep them from getting mixed up with each other. You'll also be able to store the toothbrushes neatly and each family member can have their own space for their toothbrush.
Bathroom Rack
Bathroom racks are versatile and useful to have in a bathroom. From over-the-door racks to baker's racks, you'll be surprised at the many uses you can find for a rack in your bathroom. Remember to use small baskets to keep items on the racks organized.
Over the Door Rack
Put an over-the-door rack on your bathroom door. This gives you a great place to store your hairdryer, hairbrush, and other hair tools. It's also a great place to store extra soaps, shampoo containers, and other toiletries that you need in your bathroom.
Shelf and Towel Rack
Put a shelf and towel rack on the wall. The shelves will hold toilet paper, toiletries, plants, and washcloths. Plus you can hang towels on the bar under the rack. A shelf and towel rack is a wonderful way to use the empty space in your bathroom to increase your storage and turn your bathroom into a spa.
Ladder to Hold Towels
Install a ladder in the empty space, especially if the space is behind the bathtub. You can hang towels and washcloths. If you put shelves on the rung, you'll even have a place for plants, essential oils, and knick-knacks!
Baker's Rack
Put a baker's rack in the corner of your bathroom. Baker's racks are an excellent place to keep a basket of toilet paper, towels, containers of cotton balls, or small baskets of soaps. The baker's rack is a versatile tool for the bathroom.
Bathroom Baskets
Baskets are an amazing item to have in the bathroom. Not only can you use them on shelves, in cabinets, and on racks to help keep your stuff organized, but you can also use them on the wall as well.
Attach Small Baskets to Wall
Attach some small baskets to the wall of your bathroom. These baskets are an excellent place to hold any makeup you need, sponges, and cotton balls. You can also put washcloths and toiletries in these baskets as well.
Store Toilet Paper in a Basket
Put a larger basket on the floor of your bathroom. It will look attractive and give you a good place to store your toilet paper. If you keep it full, you'll never have to worry about running out of toilet paper in your bathroom again.
Basket for Dirty Towels
Keep a basket in your bathroom for dirty towels. If the basket is right there in your bathroom, no one will have an excuse for leaving a dirty towel on the floor. It's also easy to grab the basket and head to the laundry room to wash the towels on a regular basis.
Plastic Basket Next to Tub
Keep a plastic or waterproof basket next to or over your tub. This is not only a great place to keep soaps, shampoos, and conditioners, but also a great place to store your children's bathroom toys.
The basket fits over the tub making it easy if your child wants to play with the toys. It also makes it simple to pick up the toys after their bath.
Vanity Organization
It's important to also keep your vanity organized as well. This will give you a place to store items neatly and you'll also be able to find the items you need when you need them. An organized vanity will save you a lot of time when you're getting dressed in the morning.
Organizer or Dividers for Drawers
Use a long drawer organizer in your vanity drawers. You can assign one partition to each family member so they have a place to keep their toiletries. Another option is to assign one partition to each type of toiletry so toothbrushes and toothpaste have a section and won't get mixed up with soaps, hairbrushes, and bobby pins.
Storage Box on Vanity
Put a storage box on your vanity. It's a great way to hold all the small supplies you need when you're getting ready in the morning. You can put hairbrushes in one section, makeup in another section, and nail polish in a third section. You'll be able to stay organized and quickly get ready to go in the morning.
Decorative Jars
Decorative jars are a fun way to keep your cotton balls, cotton swabs, makeup supplies, and makeup brushes organized on your vanity. The jars look pretty and will store all the supplies you need for both getting ready in the morning and for removing makeup in the evening.
Use a Candelabra
Another fun idea is to put a candelabra on your vanity to hold your decorative jars. The jars will look amazing as they're sitting on the candelabra. Plus you can not only have jars on the candelabra but under the candelabra as well for double the storage space.
Hang Flower Pots
Hang flower pots on a rod to hold makeup brushes, hairbrushes, razors, cotton swabs, and sponges. The flower pots will look decorative and unique, and you'll clear up space on your vanity for you to use. If you want, you can also paint the flower pots for a whimsical look.
Shower Organization
There are several options for keeping your shower organized. If you think through the organization carefully, you'll always have the supplies you need in the shower. No more dripping across the bathroom to grab that new container of shampoo.
Tension Rod in Shower
Hang a tension rod in your shower. You can hang a waterproof shower caddy off the tension rod. You can also install S-hooks so you can hang shower brushes, shampoo, creme rinse, or a basket for bathtub toys in the shower area.
Plastic Baskets
Hang a series of plastic baskets in the shower area using adhesive hooks or a tension rod. You can store kids' toys, extra supplies, and soaps in these baskets so they're always available when you need them.
Mesh Shoe Organizer
Hang a mesh shoe organizer on the inside of the shower curtain. A mesh shoe organizer is waterproof and will give you a great spot to hold shower supplies such as shampoo, creme rinse, and soaps. It's also an easy spot to store your child's bathroom toys as well.
Fruit Hanger
Another option is to hang a fruit hanger from the ceiling to hold your shower supplies. You'll have a basket for each type of item you need from washcloths and shower brushes, bathtub toys, to extra shampoo and creme rinse containers.
Under The Sink Organization
While you'll find pipes underneath your bathroom sink, it's a great place for extra storage when you need it. You'll be able to add extra shelving, rolling baskets, or a cleaning caddy. Plus you can store extra containers of supplies you need such as soap, toothpaste, and shampoo.
Cleaning Caddy
Keep a cleaning caddy underneath your sink so you can quickly and easily clean the bathroom. Just pull it out and you'll have everything you need to keep your bathroom spotless. When you're finished, put it away underneath your sink and move on with your day.
Shelving Unit
There are some shelving units designed to work around the pipes underneath a sink. Pick up one of these shelving units to help you store items you rarely need to use or the extra items that you do not need right now. It's also a great place to keep extra toilet paper rolls.
Mesh Cabinet Drawer Organizer
Put in a mesh cabinet drawer organizer underneath the sink. It will help you keep all your supplies organized and also help you find what you need when you need it. It's an easy and quick method for adding extra storage space to your bathroom.
Rolling Caddy
Install a small rolling caddy under your sink. You can roll the caddy out when you need the items in it and roll the caddy back under your sink when you're finished. It's a great place to store extra supplies.
Basket
Put a basket underneath your sink. The basket can hold an assortment of items, your hairdryer, flat iron, and curling iron, or just extra toilet paper. A basket underneath the sink is also a great place for you to put your dirty towels until you're ready to wash them.
DIY Storage Ideas
Linen Cabinet
Build a free-standing cabinet to hold your linens in your bathroom. It's also a great cabinet for towels as well. This linen cabinet can be painted so it matches your bathroom and gives you plenty of extra storage space as well (1).
Shaving Caddy
An easy DIY project is to make a shaving caddy. The shaving caddy will be a great place to store all the items you need to shave such as razors, shaving cream, and extra blades. This DIY Shaving Caddy is easy to put together as a weekend project (2).
2-Tier Wood Bathroom Caddy
Caddies have all sorts of uses in the bathroom from holding cleaning supplies or shaving equipment, to holding all the items you need for your hair. This 2-Tier Wood Caddy is a wonderful weekend DIY project to build for your bathroom (3).
Crown Molding Shelves
You don't need to install plain old shelves in your bathroom. Instead, liven things up by using crown molding to make customized bathroom shelves. These aren't the widest shelves, but they're perfect for decorative jars, labeled jars, and clear bins. They also don't take up a lot of space and could easily fit behind a door. (4).
Basket Shelves
Instead of leaving baskets on the floor of your bathroom or putting baskets on shelves, have you ever thought about using those baskets to actually create the shelves you need in your bathroom? This is a great afternoon DIY project to add the extra storage space you need in your bathroom (5).
FAQs About Organizing The Bathroom
Thank You For Your Feedback!
Thank You For Your Feedback!