If you live in an apartment, there's a good chance you're already living a busy life. Working in the city, gym sessions, coffee with friends, lots of time commuting. Wouldn't it be great if you could spend less time on household chores?
We think that just because you live in an apartment, no matter how small, you shouldn't miss out on having a dishwasher. It takes less time, energy and saves you money!
While you can get countertop or portable dishwashers, maybe you have space for one of the best apartment size dishwashers.
Image
Model
Product Comparison Table
Features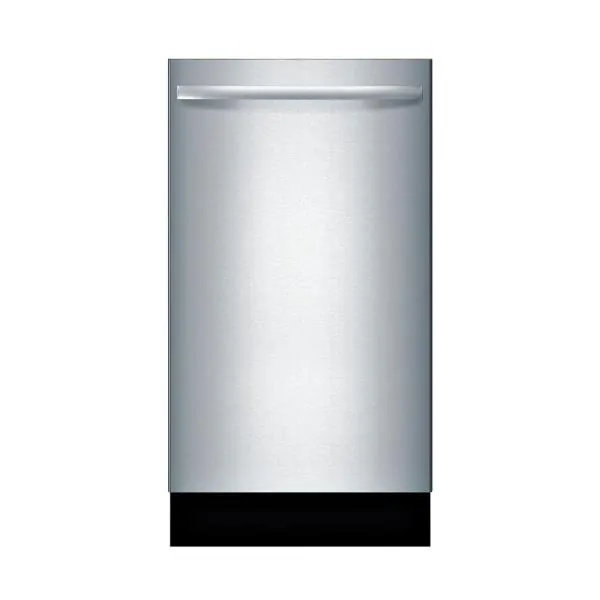 Best Quiet Apartment Size
Bosch 800 Series Stainless Steel Dishwasher
Flexible third rack
Precision wash cycle
PureDry condensation drying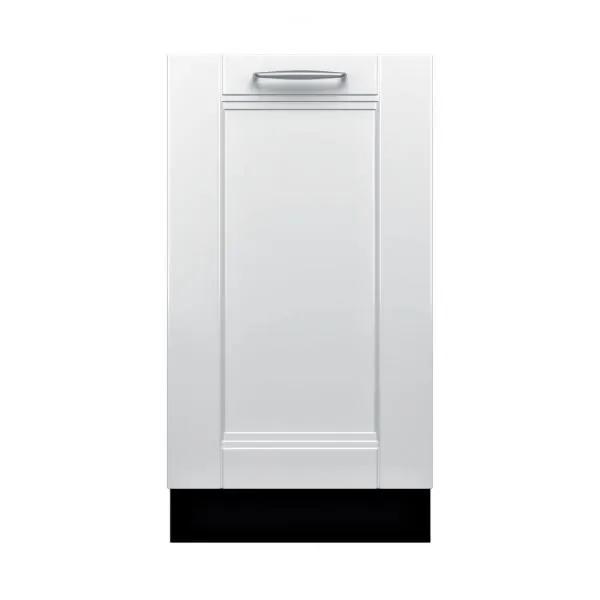 Best Spacious Apartment Size
Bosch 800 Series Custom Panel Ready
Certificate central
Sanitize option
6 cycles, 5 options
Best Stainless Steel Apartment Size
Frigidaire Stainless Steel Tall Tub
Dual spray arm
Cycle status indicators
Self-cleaning filtration
Best Budget Apartment Size
SPT Built-In With Heated Drying
Heated drying system
1-24 hour time delay
Has 2 spray arms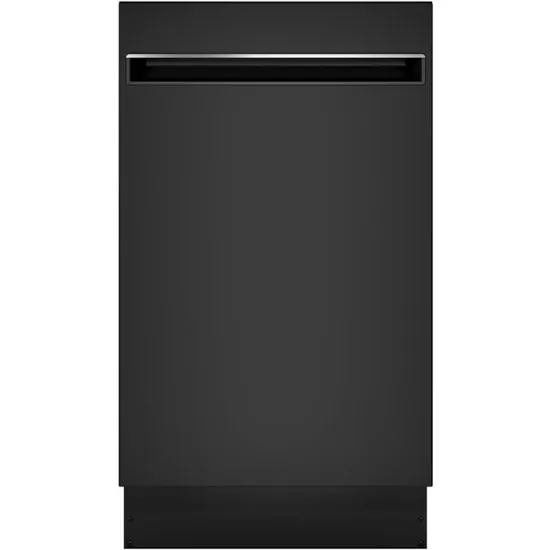 Best for Hard Water
GE Profile Series 18
Three-level wash
Autosense washing
Includes hard food disposer
Best Eco-Friendly Apartment Size
Whirlpool 18 Front Control Built-In
Cycle memory
ADA complaint
Adjustable upper rack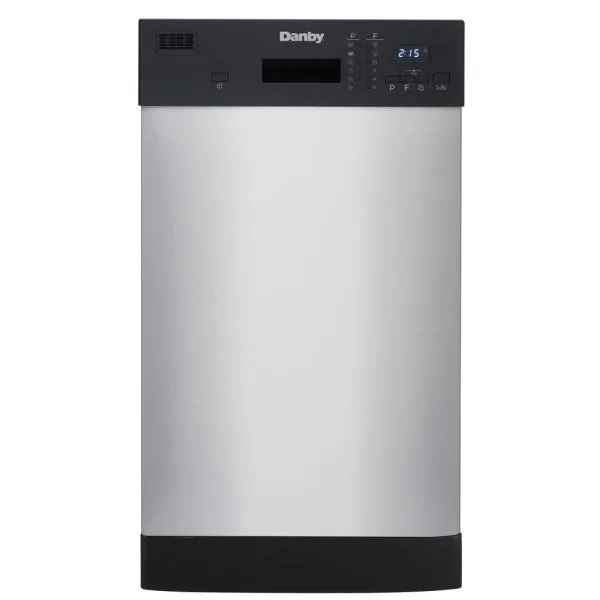 Best Built-In Apartment Size
Danby 18 in. Front Control Dishwasher
Wide front control panel
6 cycles, 4 options
Stainless steel tub
---
What Size Is an Apartment Size Dishwasher?
A full size 24-inch dishwasher may be too big for apartments, so we're focusing on the best 18-inch dishwashers. These are slim enough to fit in most apartments, but still have a lot of power behind them.
There are other space-saving options, such as countertop or portable dishwashers, but we're focusing on 18-inch options today. They're as close as you'll get to 24 inch dishwasher standards.
Is an 18-Inch Dishwasher Big Enough?
18-inch dishwashers, while smaller than standard dishwashers, still have a good capacity. Most have around an eight to ten place setting capacity. Make sure to look at the finer details to see the place setting capacity on each model. With these seven options, we will let you know the capacity.
How Much Space Do You Need Around a Dishwasher?
This will vary by model, but you should have at least the amount of space that matches the dimensions of the dishwasher plus about half an inch extra on each side. Except for the back which should be about two inches bigger, so the dishwasher doesn't stick out.
You can leave gaps around the dishwasher if necessary, but the gaps aren't good looking, and debris can fall down the side.
If your space is bigger, or meant for a standard dishwasher, you can tuck it into this space. Still, you may need to renovate your surrounding cabinets for it to look good.
Top Tip
Hire a professional or make sure the manufacturer you're purchasing from offers installation. It takes a load off your shoulders.
How to Choose the Best Apartment Size Dishwasher
Looking for an apartment size dishwasher to make your life easier? Here's what you should look out for.
Within this genre of dishwashers, there are a few categories. You can find custom panel dishwashers, of which you can change the front panel to suit the rest of your kitchen.
There are built-in options, as well as portable. You'll also find top or front control dishwashers. Some people prefer one type over the other.
Apartment size dishwashers are 18 inches, so you only really have one option in the width department. But always check the height and length to make sure it will fit in your dedicated spot.
Always check the decibel level. The higher this number, the louder the dishwasher. Dishwashers usually run between 39 and 65 decibels, with 39 being the quietest. Apartment size dishwashers typically aren't quieter than 44 decibels.
Consider the design of the dishwasher. Many brands have a variety of design options to make the overall experience easier.
Have a look at the different handles, whether it's recessed, a pocket handle, or a bar handle. You should also consider the material: is it plastic or stainless steel? Stainless steel dishwashers are built to last longer.
How many wash cycles does the dishwasher have? Does it have everything you want, such as heavy, sanitization, delicate, or express cycles?
Not every dishwasher does a good job at drying dishes. If this is important to you, look for a dishwasher with a specific drying cycle.
Other drying options include condensation drying, which does a decent job. Perhaps the dishwasher has an automatic door which opens at the end of the cycle? This helps to air dry dishes.
Dishwasher capacity is measured in place settings. The higher this number, the more spacious the dishwasher is.
Apartment size dishwashers usually have a place setting of up to 10. If you need something more spacious, you'll have to go for a portable or standard dishwasher.
Dishwashers can be a bit of a challenge to install but once you familiarize yourself with all the steps, it's definitely a doable DIY job. Consider how easy the dishwasher you're choosing will be to install. You can always ask the manufacturer to install it for you.
Dishwashers can do more than just wash and dry your dishes. Consider the extra features on the dishwasher. These could include LED lights, foldable tines, adjustable racks, Wi-Fi, a hard food processor, and much more.
Check the dishwasher is Energy Star certified. If so, it will be an energy-efficient option. To go the extra mile, check to see if it has an eco cycle. You may also want one that's CEE certified. Lastly, check how much it costs annually to run.
Don't forget about the warranty. This gives you a rough idea about how long the dishwasher will last and how good the customer service is. This tends to range from one year to 10 years, depending on the brand.
---
The Best Apartment Size Dishwashers of 2022
Get ready for your new apartment appliance! We've spent hours researching real customer reviews, expert advice, as well as applying our own insight to create this list of the best apartment size dishwashers.
1. Bosch 800 Series Stainless Steel Dishwasher
Although standard dishwashers go down to 39 decibels, 18-inch dishwashers can't quite reach that sound level yet. But the Bosch 18-inch 800 series dishwasher is still super quiet. At only 44 decibels, this is similar to the sounds of birds calling (1).
If you're sensitive to sounds, this is a really great option for your apartment, even if it's on the smaller side. Once you're all tucked up in bed, you won't be able to hear this as it deeply cleans all your dishes from that day.
The Pros
Flexible Third Rack
The third rack, which is deep enough to hold cutlery and small cups, actually adds 30% more capacity in the dishwasher. Located at the top of the dishwasher, you can put cutlery, utensils and cups here to give yourself more space on the other racks. If you don't like it, you can remove it!
PrecisionWash
Forget about pre-rinsing your dishes. Finish your meal, scrape your plate and shove it in the dishwasher. The PrecisionWash cycle uses intelligent sensors and powerful spray arms to ensure your dishes are spotless.
PureDry
PureDry uses condensation drying to bring your dishes, even plastic, to ultimate dryness. It ends the cycle with an extra hot wash which means moisture wicks away as the dishes cool. There are no heated fans, which means it's safe to put your plastics on any rack!
The Cons
Some Aesthetic Flaws
We think this is a pretty classy looking dishwasher, but not everybody thinks so. And we can understand why, when you look at it more closely. Firstly, it doesn't come with a baseboard, so the legs are visible. Secondly, the print on the buttons fade over time, meaning that after a couple years, you may not be able to see which cycle you're selecting!
Third Rack Cleaning Issues
While we love the third rack, you may struggle to clean heavily soiled items on it since it doesn't have a dedicated spray arm. It shares the same spray arm as the rack below it, meaning not everything gets fully clean. If you have heavily soiled utensils, we recommend laying them flat on one of the other racks.
Additional Specs
| | |
| --- | --- |
| Type | Built-in top control |
| Noise Level | 44 dB |
| Wash Cycles | Six |
| Drying Capacity | Condensation drying |
| Dishwasher Capacity | 10 place settings |
---
2. Bosch 800 Series Custom Panel Ready Dishwasher
The Bosch 18-inch dishwashers are definitely the most spacious on the market. They have 10 place settings, plus a third rack which adds 30 percent more loading space. The third rack is great for utensils, small bowls and small cups.
As well as being spacious, this is also a panel-ready dishwasher. You can customize the front panel to suit the rest of your kitchen decor so the dishwasher seamlessly fits into your home.
The Pros
Certificate Central
This dishwasher is the proud owner of a few important certificates. Firstly, it's ADA compliant so it's specially made for customers with special height requirements. It also has a CSA certificate, so it meets Canadian standards. It's also NSF certified, as well as UL listed. Let's not forget that it's also Energy Star certified so it's an efficient and eco-friendly option.
Sanitize Option
We love dishwashers with a Sanitize cycle. It's so useful, especially if someone in the family has been sick! This cycle reduces 99.9 percent of bacteria with a hot-wash rinse. This also provides extra clean dishes with reduced spots. It's great for hard water areas!
Six Cycles, Five Options
This little dishwasher has a lot of wash options so you can customize it to suit your needs. The six wash options include Heavy, Auto, Normal, Delicate, Express, and Rinse. The five additional options are Delay Start, Half load, Delicate, Sanitize and Extra Shine.
The Cons
Difficulty Drying
This dishwasher has a bit of struggle fully drying dishes. Even if you run it overnight, they might not be dry in the morning. You may have to air dry them afterwards for 30 minutes or so to achieve complete dryness.
Installation Problems
Before you buy this model, keep in mind that it's very difficult to install. The instructions aren't clear and some people had missing parts. Not only that — but adding your custom panel is quite a project!
Additional Specs
| | |
| --- | --- |
| Type | Built-in custom panel top control |
| Noise Level | 44 dB |
| Wash Cycles | Six |
| Drying Capacity | Condensation drying |
| Dishwasher Capacity | 10 place settings |
---
3. Frigidaire Stainless Steel Tall Tub Dishwasher
Stainless steel dishwashers are our top pick over plastic. While there are many great plastic dishwashers on the market, stainless steel takes the lead. It's more durable, easier to clean and helps wick away moisture.
Plastic tends to cling to moisture, so stainless steel is better for dryer dishes as well as limiting bad odors in your appliance.
We also love this dishwasher for its dual spray arm, eight place settings, 24 hour delay start, heated drying system and much more.
The Pros
Dual Spray Arm
Sometimes one spray arm isn't enough, especially if your dishes are heavily soiled. This dishwasher has a top and bottom rack spray arm which ensures thorough cleaning every cycle.
Cycle Status Indicators
The status lights tell you when your dishwasher is running. Plus, they also let you know which stage the cycle is at so you know how long is left.
Filtration System
The self-cleaning filter (which can also be cleaned manually) removes food particles during the cycle to ensure the water is as clean as possible. This results in super clean dishes without gross food residue.
The Cons
Awkward Spacing Interior
You may find this awkward to load. Firstly, the cutlery rack is at the back, not the front, so it means reaching far into the dishwasher when you want to pop just one fork in there.
Secondly, the tines are close together, so your dishes will be pretty narrowly stacked. This is fine, except if you have larger bowls or plates. Then they might hit each other.
Leaking Issues
A few customers experienced leaks as soon as they set up their dishwasher. This is covered by the warranty and can be fixed, but it might ruin your floors. Other customers had an error message that there was a leak, even though there wasn't. Pretty annoying!
Additional Specs
| | |
| --- | --- |
| Type | Built-in front control |
| Noise Level | 52 dB |
| Wash Cycles | Six |
| Drying Capacity | Heated drying |
| Dishwasher Capacity | Eight place settings |
---
4. SPT Built-In Dishwasher With Heated Drying
Shocked by the price of dishwashers? Even these slimline dishwashers often have a steep price point. Thankfully, there are a few budget-friendly dishwashers in the market. The SPT built-in dishwasher is our favorite budget-friendly option that still delivers amazing results.
It has eight place settings so it's a great addition to all apartments, whether you live alone or with your family. Of course, it still takes up minimal space, so it's great for most kitchens.
As for features, it has six wash programmes, a time delay option, and a new heated dry cycle.
The Pros
Heated Dry
As mentioned, this dishwasher has a heated dry cycle. This means your dishes are likely to come out much drier than condensation cycles. Now, you can go from dirty to dry with very little effort.
1-24 Hour Time Delay
With the option to extend the start time from 1-24 hours after you've loaded it, this dishwasher can fit into your busy schedule. Programme it to be finished by the time you wake up, get home from work or are ready for your next meal.
Two Spray Arms
Each rack in this dishwasher has its own spray arm. This provides for maximum coverage and cleaning, for both racks. Our dishwasher has one spray arm, and we definitely don't get consistent results! Two spray arms is a big bonus.
The Cons
Awkward Loading
A few customers hate the design of the tines on the racks. While fine for plates and standard bowls, they don't fit larger items well, such as deep bowls or big mugs.
Look, a Leak!
Unfortunately, leaks are no stranger to this dishwasher. A few unsatisfied customers had issues with leaks. Of course, you can return the dishwasher within the warranty period if this happens to you, but it's something to watch out for.
Keep in mind, that this is a rare problem and the majority of the customers didn't experience this.
Additional Specs
| | |
| --- | --- |
| Type | Built-in front control |
| Noise Level | 52 dB |
| Wash Cycles | Six |
| Drying Capacity | Heated drying |
| Dishwasher Capacity | Eight place settings |
---
5. GE Profile Series 18 Inch Built-In Dishwasher
I think we can all agree that this is one classy GE dishwasher. It has a very aesthetic front panel, with a sleek pocket handle. It's also available in three colors: black, white and stainless steel. So you can find one that looks magic in your kitchen!
As for hard water areas, we think this is a great choice. Of course, it has space for a rinse aid to eliminate hard water spots at the end of the cycle. But it also has a steam-prewash cycle which helps get rid of any hard water residue from previous washes or dishwashers.
The Pros
Three-Level Wash
The three-level wash system means that your dishes are extra clean. Rather than one spray arm, this has three levels of water ensuring that every last item is clean and sparkling.
Autosense
A fancy beam of light measures soil levels on the dishes. It adjusts the water temperature and cycle time to best suit your dishes. This saves you time and energy where possible.
Piranha Hard Food Disposer
A stainless steel blade rotates at 3,600 RPM to finely grind up food remains. This ensures the cleanest dishes ever, since food particles won't stick around during the cycle.
Of course, you should still rinse your plates before putting them in the dishwasher. But if you do forget some scraps, you don't need to worry.
The Cons
Average Drying
Don't expect amazing drying results from this dishwasher. It uses a condensation drying cycle without an automatic door, which provides average results.
A heated drying system would be better, or an automatic door to help with extra moisture after the condensation drying.
Loading Confusion
Loading this dishwasher may be more difficult than installing it! Many customers find loading this dishwasher to be a confusing experience. The racks have an unusual layout. Every time they load this dishwasher, it's like finding a new way that works best.
Additional Specs
| | |
| --- | --- |
| Type | Built-in top control |
| Noise Level | 47 dB |
| Wash Cycles | Three |
| Drying Capacity | Condensation drying |
| Dishwasher Capacity | Eight place settings |
---
6. Whirlpool 18 Inch Front Control Built-In Dishwasher
This Whirlpool dishwasher, available in three colors (black, white and stainless steel), is a great eco-friendly option.
It's Energy Star certified, CEE Tier 1 certified and comes in around $28 per year.
So if you're looking for something to save you time and money, as well as being kind on the planet — this dishwasher is one to consider.
The Pros
Cycle Memory
Do you have a favorite cycle that you use most often? This dishwasher will remember it. It automatically turns the dishwasher onto the last cycle you used. Of course, this does mean if you switch it up a lot, it will just choose the most recent cycle it used. Still a cool feature!
ADA Complaint
Not enough dishwashers are ADA compliant, but this one is. It's intended to provide easy access to most people since it meets the Disabilities Act standards.
Adjustable Upper Rack
You can adjust the height of the upper rack to fit more items in the bottom rack. Tall plates, baking sheets, large pots? Move the upper rack higher and fit them in!
The Cons
Low on Space
While this says it fits eight place settings, many customers found it much smaller than other 18-inch dishwashers they've had in the past. It seems to be a bit shorter than normal 18-inch dishwashers, so keep that in mind, especially if buying for a family.
Long Cycles
Despite the smaller size, the cycles are still average for a standard dishwasher. The normal cycle takes over two hours to complete, which some customers dislike. Of course, if you're running the dishwasher at night — time won't be an issue.
Additional Specs
| | |
| --- | --- |
| Type | Built-in front control |
| Noise Level | 50 dB |
| Wash Cycles | Five |
| Drying Capacity | Heated drying |
| Dishwasher Capacity | Eight place settings |
---
7. Danby 18 in. Front Control Dishwasher
Looking for something that can be built-in to your cabinet space? All of our options are, but here is one more for the road! Plus, it's budget-friendly so it shouldn't break the bank. Just watch out, because the price can easily add up when you consider extra parts and labor costs.
Besides these features, you can also expect to find eight place settings and low water consumption. There's also delay start, quiet operation, an adjustable upper rack and much more.
The Pros
Easy Controls
The wide front control panel is so easy to use! If you struggle with the tiny buttons on top control dishwashers, this is one to consider. It has easy-to-use buttons as well as a digital control screen so you can see the settings you've chosen.
Six Cycles, Four Options
With six cycles and four wash options, you can customize each cycle to suit the dishes within. The six wash cycles are Heavy, Normal, Eco, Rapid, Glass and Rinse. The four extra options include a variety of temperature options including a sanitization cycle.
Stainless Steel Tub
Just because it's a budget-friendly dishwasher, doesn't mean it needs to be made of plastic. This stainless steel tub is built to last for years to come, it's easy to wash, and it helps with wicking away moisture.
The Cons
Can't Stack Dishes Too Close Together
In a small dishwasher, this is a big problem. If you want to stack your dishwasher full, you run the risk of the dishes not getting 100 percent clean since the detergent and water seem to struggle to get in between plates and bowls.
Price Adds Up
While this is a budget-friendly option, the price can add up. Many customers had to hire a plumber to fit the dishwasher.
Plus, not every part is included. For instance, it comes without a power cord since it's meant to be built into a countertop which is typically hard-wired into the house. If you need a power cord, that's another price to pay on top of the dishwasher.
Additional Specs
| | |
| --- | --- |
| Type | Built-in front control |
| Noise Level | 52 dB |
| Wash Cycles | Six |
| Drying Capacity | None |
| Dishwasher Capacity | Eight place settings |
---
---
Small but Mighty
Although these dishwashers are 18 inches, instead of the standard 24 inches, they're still mighty. They'll give you super clean dishes, the option to customize your cycles, and some even have superior drying cycles!
When shopping for one of the best apartment size dishwashers, make sure to consider the noise level, design, washing and drying capacity as well as how many place settings the appliance has.