Do you find black spots on the bathroom tiles or white bits in the kitchen cabinets? Not only does it look gross, but when mold travels through the air, it can cause health problems, including but not limited to respiratory conditions.
Even the best air purifiers for mold won't wipe it out from whatever surface it's lurking on. However, they can remove spores in the air, odors and can help you breathe better.
We've spent hours researching real customer reviews and expert advice to round up the five best options. This is based on important features of the air purifiers, including the filtration system, handy features, room coverage, and effectiveness.
Image
Model
Product Comparison Table
Features
Best Quality
Renpho Air Purifier for Home
Three-stage filtering process
Smart-auto mode detects air quality
Child-friendly features
Best Filters
Hathaspace Smart Air Purifier
Customer get better sleep
Five-in-one purification system
Remote control included
Best Budget-Friendly Air Purifier
Pure Enrichment Air Purifier
Overall user-friendly design
Five-year warranty
Three-stage purification system
Best in size
360-Degree air intake
Two-year warranty and lifetime support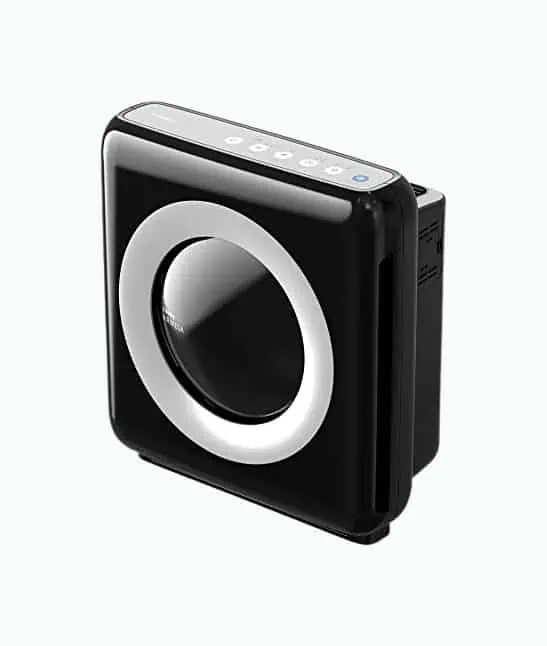 Best for Saving Energy
Coway Mighty Air Purifier
Sleek and stylish
Convenience factors
Washable pre-filter
Review Methodology: At Oh So Spotless, we strive to provide you with the most accurate and reliable information on the best air purifiers for mold. Our team of experts has conducted extensive research, analysis, and hands-on testing to evaluate products from a user's perspective, ensuring that our recommendations are based on real-life experiences. We compare and rank air purifiers using key decision-making factors such as performance, design, efficiency, and mold removal capabilities. Through our rigorous assessment process, we identify what sets each product apart from its competitors and provide you with the top ten choices that will effectively tackle mold in your home. Trust our knowledge and expertise as we share our findings, results, and reviews that will help you make an informed decision for a cleaner and healthier living environment.
---
---
The Best Air Purifiers for Mold of 2023
We've searched high and low across the interwebs to bring you the best air purifiers on offer. This includes top features, effectiveness, and customer feedback, which helps us determine which devices are worth mentioning. Of course, we've also included any existing drawbacks. Here are the top five:
Renpho Air Purifier for Home
Best Quality
This air purifier is made to cover large rooms up to 356 square feet. The manufacturer claims it traps and eliminates up to 99.97 percent of airborne pollutants as small as 0.3 microns. This includes smoke, odor, pet dander, pollen, and mold.
These allergens will be met by a five-stage filtering process, including a pre-filter, charcoal filter, activated carbon filter, and, lastly, a HEPA filter.
The smart-auto mode adjusts the fan speed as the purifier scans the air for particles. A sleep mode offers a quiet 28-decibel option during the night or baby's naptime.
A handy filter replacement indicator will notify you when it's time for a change.
What We Like
Five-Stage Filtering Process
The pre-filter will remove the largest of particles, including dander and hair. A charcoal filter is also in place, specifically for volatile compounds and gases, while the activated one further enhances that process. This includes cooking and pet odors.
Lastly, the HEPA filter covers the rest, trapping any remaining pollutants in a fine mesh section. This includes tiny particles such as dust, pollen, and mold.
These filters combine to take care of anything and everything that could be floating in the air around you.
Smart-Auto Mode Senses Air Quality
We appreciate that this machine has a mind of its own.
As it scans the air, it'll automatically switch between "good", "fair", or "bad" notifications. The color will also change depending on the level, from blue to yellow or red.
The machine will then change speeds based on these qualities, maintaining proper circulation and filtration. This indicates that the machine works with both precision and efficiency.
Child-Friendly Features
With a quiet mode of 28 decibels, the purifier shouldn't bother you or your little ones at night.
Secondly, a child-safety mode ensures the machine won't change course if your child tries to push any buttons or change the setting.
Quality Customer Service
A professional customer service support team can make a big difference. This is especially so when something goes wrong, or you simply have a question.
Thankfully, Renpho covers you with a 100 percent satisfaction guarantee. You're covered under warranty if anything goes wrong within the first year.
For any questions beyond that, they pledge "lifetime support." This means they're available to answer any inquiries or help you troubleshoot issues that arise.
What We Don't Like
No Remote Control
Many high-quality air purifiers come with a remote control. For obvious reasons, this can be useful when convenience is a top priority.
This machine, however, doesn't have this option. It only means that when you want to change the setting, you must do it by hand, or you can install an app to adjust the settings. However, the app is finicky, and even connecting it to Alexa doesn't give you many options.
Given it's made to purify one room at a time, we don't see it as such a big deal, though some may disagree.
High Speed is Loud
While the lowest setting is nice and quiet, the middle and highest settings get louder. If you need to do some intense air purifying, keep in mind you'll be doing it at the expense of a zen surrounding.
Filters Need Replacing Often
This machine alerts you when the filters require replacing. Many customers get notified about this every 1-2 months, which is a bit excessive.
Product Specs
| | |
| --- | --- |
| Dimensions | 13.98 inches by 8.11 inches by 20.87 inches |
| Weight | 14.99 pounds |
| Color options | White |
| Number of filters | Four |
| Extra features | Real-time monitoring, child safety features |
Our Ratings
Community Feedback
Love how well this air purifier works for detecting and eliminating various odors and airborne particles in my home, especially with pets around. The multiple layers of filters, including charcoal and HEPA, ensure my air stays fresh and clean, and it's easy to find affordable replacement filters. Plus, the design is sturdy, portable, and relatively quiet, making it a great addition to any room.
---
Hathaspace Smart Air Purifier
Best Filters
With a five-in-one air purification system, the Hathaspace machine means business. Filters include a nano-cold catalyst filter and a cellular-activated carbon filter. There's also an antibacterial filter, HEPA filter, and an ionizer.
Say "goodbye" to mold spores, pet dander, and more. The auto mode continuously scans the air and adjusts speed accordingly.
Difficulty sleeping with light and sound? The quiet mode not only brings the noise down a notch, but the bright indication lights also switch off.
It's suitable for up to 350 square feet, which is a fair amount of space to cover.
What We Like
Customers Get a Better Sleep
Few things annoy us more than bright lights, loud noises, and yucky air when we're trying to sleep. This machine takes care of all those things.
When in "whisper-quiet" mode (18 decibels), the lights power off to save your eyes from popping open. And, the noise stays at a minimum. With consistent monitoring of the air around you, deep sleep shouldn't be an issue.
Five-In-One Purification System
The nano-cold catalyst filter is the first one up to bat, handling large particles, toxic chemicals, and mold. Next is the cellular-activated charcoal filter for absorbing smoke, odors, and gases.
Then we have the antibacterial option that we love because it handles viruses, bacteria, and fungi, all of which seem to multiply come wintertime. After this, the HEPA filter handles 99.97 percent of any remaining particles.
The ionizer on the backside of the machine releases negatively-charged ions. These work to remove and neutralize any odors left in the air.
Remote Control Included
It's a special add-on that can be convenient. You'll be grateful for this if you're busy doing other things or working at home from across the room.
The remote control offers you the flexibility you need when time is of the essence (or you're just feeling lazy — that's okay).
Smart Air Purifier With Auto Sensor
We love that this unit gives you air quality feedback. The smart sensor detects the air around you, looking for pollutants. It then adjusts the fan in real-time, going higher if the air quality is poor and staying low if the air quality is okay.
Plus, the unit displays the air quality level, so you know what's happening in your home environment.
What We Don't Like
Doesn't Impress In Big Rooms
While the coverage for this is 700 square feet, customers find that it works better in smaller rooms. In larger rooms, they don't tend to notice a huge difference, even when the air sensor says the air quality is good.
Air Quality Sensor Malfunctions
While we love that this includes an air quality sensor, and don't get us wrong, it works a lot of the time, some customers are dissatisfied. When the unit turns on, it's usually red, even if you have good air quality. But within an hour, it turns green, letting you know the air quality is good, even if customers can still smell and see dirty residue. You can't always trust it.
Product Specs
| | |
| --- | --- |
| Dimensions | 13 inches by 7 inches by 20 inches |
| Weight | 12 pounds |
| Color options | White |
| Number of filters | Four + ionizer |
| Extra features | Whisper quiet mode, remote control included |
Our Ratings
Community Feedback
Love the Hathaspace 2.0 air purifier for its effectiveness in removing dust and odors from our home. The control panel is user-friendly, and the purifier operates quietly even at the highest speed. The device is sensitive to changes in air quality, adjusting its fan speed accordingly. However, I am concerned about the warranty registration process, which seems to be restrictive for purchases made outside the manufacturer's website.
---
Pure Enrichment Air Purifier
Best Budget-Friendly Air Purifier
With thousands of reviews, you know this machine is popular for a reason. It's a budget-friendly option and smaller in size than the rest. Its size makes it suitable to tote around and place at your discretion.
An intuitive control panel allows you to easily select your mode of choice. An auto-timer also runs continuously for two, four, or eight hours.
Combined with a UV-C light, the three-in-one filter technology destroys pesky microorganisms and captures both large and small particles. A carbon filter and HEPA filter are both included here.
What We Like
Overall Simple and User-Friendly Design
We appreciate the overall design of this machine. From the intuitive control panel to the straightforward filtration process, it's a simple option that still offers quality. With four easy-to-use buttons, anyone can figure it out.
When it comes to looks, it won't stand out or be a nuisance to your room's aesthetic. Still, it's worth noting that the only color option is white.
Five-Year Warranty
A five-year warranty guarantees coverage of any malfunction, much longer than many other companies on the market. If anything goes wrong regarding the machine's mechanisms, contact them immediately to solve it.
Maybe you just don't like the machine? Send it back for a full refund. The customer service team operates seven days a week, so they shouldn't be difficult to reach.
It's Popular With Customers
That may seem like a silly reason to believe in something but hear us out. Word of mouth means a great deal these days.
Many boast about its effectiveness and how simple it's to operate. Furthermore, customers also appreciate the design and overall appearance. With all this backup cred, our minds are put at ease.
Three Stage Air Purification With HEPA
Even though this is a pretty budget-friendly option, we love that it comes with a true HEPA filter. The three-stage air purification process includes a pre-filter with activated carbon, a true HEPA filter, and UV-C light.
This unit captures 99.97 percent of particles in your home. The UV-C light takes care of 99.9 percent of viruses and bacteria, which is great if you're immuno-compromised or just don't want to get sick!
What We Don't Like
Only Covers 200 Square Feet
Smaller than many, this machine will function best in a cozy room or office space, up to 200 square feet. Otherwise, you might be disappointed with the lack of efficiency in larger spaces.
High Speed Setting Is Loud
The low and medium-speed settings are nice and quiet, but if you want the cleanest air, you'll need to opt for the high-speed setting. Unfortunately, it's quite loud. If you have this in your office, you'll need to turn it down for work calls.
Hit or Miss With Eliminating Odors
Customers find that this is hit or miss with odors. Some customers say it's great for odors, but many disagree. It seems to work much better in smaller rooms, but if you have stinky dogs, smoke residue, or even cooking smells you want to eliminate, this unit might not hit the mark.
Product Specs
| | |
| --- | --- |
| Dimensions | 10.8 inches by 7 inches by 12.5 inches |
| Weight | 6 pounds |
| Color options | White |
| Number of filters | Three + UV-C |
| Extra features | Auto timer |
Our Ratings
Community Feedback
This air purifier has been a great addition to my home, especially with my severe pollen allergies. Setting it up was a breeze, and I appreciate the quiet operation that allows me to run it throughout the night without disturbance. I've experimented with different cycles, including an 8-hour cycle during the day, and found that it effectively improves the air quality in my home. Cleaning the pre-filter is also simple, which is a major plus for me.
---
Levoit Air Purifier
Best Portable Air Purifier
At five pounds, this little guy wins the portability award. The dimensions come in at 7.9 inches by 7.9 inches by 12.9 inches, making it the best option for transport and moving between locations.
It's the only one on our list thus far that comes in a cylindrical shape. This may allow you to fit it into areas where larger, boxy machines are a no-go. The 360-degree air intake also ensures it can be placed virtually anywhere in the room and still work as it should.
The company also claims this machine saves on energy if that's important to you. It reportedly uses less than 30 percent of the energy of other air purifiers.
What We Like
Best in Size With Good Coverage
Yes, it will only cover a small area because of this — 161 square feet, to be exact. However, it weighs just five pounds and is easy to carry around!
Some of us need our air purifiers on the go, whether it's nap time, working hours, or any other situation. Even better, its shape makes it easy to toss into a carry-on bag or backpack. Need we say more?
Three-Stage Filtration System
Three stages of filtration and the same amount of fan speeds offer comparable options to other machines out there. Filters include a pre-filter, true HEPA, and activated carbon one. This can help remove organic compounds, ammonia, and more.
Unique Specs Including 360-Degree Air Intake
This machine offers a few specifications that stand out in our books. The first being its 360-degree side air intake. It ensures you have options where placement is concerned. Plus, it promises better ventilation than devices with a one-sided intake.
The second unique feature worth mentioning is the advanced brushless motor. Without brushes that wear down with time, you should be able to prolong the machine's lifespan, saving costs in the long run. This may help prevent the air purifier from overheating too.
Two-Year Warranty and Lifetime Support
As you're probably aware, investing in new electronic equipment can have pitfalls. These difficulties can range from a faulty machine to poor customer service.
Thankfully, you have a two-year warranty on this machine, should any issues arise during that period. The lifetime support option indicates that a customer service team will be ready to support you the entire time you have the purifier at home.
It's good to know you have someone to call when something goes funny.
What We Don't Like
No Filter Change Indicator
With no filter change indicator, you must stay up-to-date on when the filters need changing. While the company recommends this occurs every six months, depending on your air quality, it may need to be sooner.
Consult your user manual to ensure you don't miss any important directions.
It's Loud on Every Setting
Even though this comes with a night mode, customers find that every setting is loud in its own way. On night mode, it's quiet, but it has a high-pitched whining noise. On the highest setting, you'll need to raise your voice to chat over this air purifier. We don't recommend this option if you need something more discreet.
Prompts You to Change Filters Often
The filters should last around six months, but the unit might prompt you to change them earlier. Some customers said they got notified after two weeks! This might make sense if your house is pretty dirty, but overall, you'd like the filters to last longer.
Product Specs
| | |
| --- | --- |
| Dimensions | 7.9 inches by 7.9 inches by 12.9 inches |
| Weight | 5 pounds |
| Color options | White |
| Number of filters | Three |
| Extra features | Pre-filter, 360-degree side air intake, brushless motor |
Our Ratings
Community Feedback
In my experience, the Levoit Vista 200 air purifier has been a valuable addition to my home. Its sleek design and ease of use make it a great choice for small to medium-sized rooms. While it may not completely eliminate my wife's allergies, the device is effective in improving overall air quality and reducing odors. However, I do wish it had an air quality monitor to provide more concrete data about its effectiveness.
---
Coway Mighty Air Purifier
Best for Saving Energy
For those concerned with their energy consumption, we have an air purifier for you. After 30 minutes of undetected air troubles, the machine automatically switches to eco mode. It will still be on, but the fan won't be running.
Accommodating areas up to 361 square feet, it covers quite a bit of ground.
Like many other purifiers, three fan speeds are automatically selected based on the rate of pollutants in the area. The auto timer and filter change indicator add to this unit's convenience.
What We Like
Sleek and Stylish Appearance
Many may not care about the looks so much, but for others, it's a crucial consideration. The box is thin and presents an understated aura. Its black color will fit in various modern and minimalist design schemes.
A circular structure on the front side resembles a speaker; overall, the aesthetics are pleasing.
Convenience Factors Make This Unit Stand Out
Between the auto timer, filter indicator, and auto-switching between modes, we couldn't ask for much more convenience in a machine.
The timer can be set to one, four, or eight hours, depending on your schedule and when you need a particular room ready.
When changing the filter, you won't need to determine what's up as the indicator does it for you. Following that, there's no guessing the state of the air quality. The machine handles this too and switches modes when need be.
Washable Pre-Filter
Many filters aren't washable, and we're glad this one is. For those with many bodies in the house and especially pets, listen up.
The pre-filter catches hair, dust, and other large particles lurking about. So, the fact that you can clean it and not have to change it automatically is a big bonus.
4-Stage Filtration System
With four stages, this does a fantastic job of clearing the air. It has a pre-filter, deodorization filter, a True HEPA filter, and a vital ion. Together, these filters capture 99.97 percent of particles as small as 0.3 microns.
What We Don't Like
It's Huge and Bulky
This isn't a discreet air purifier. It's almost two feet tall! At 16.8 by 9.6 by 18.3 inches, you need quite a bit of free space for this unit.
Up to 53 Decibels Loud
While the lowest setting only runs at 24.4 decibels, the highest setting is much noise at 53.8 decibels.
Much Maintenance Required
After a few weeks, you will need to clean the filters and the unit often. It's not the easiest to clean. Plus, the replacement filters don't seem as high quality as the original filters.
Product Specs
| | |
| --- | --- |
| Dimensions | 16.8 inches by 9.6 inches by 18.3 inches |
| Weight | 12.35 pounds |
| Color options | Black |
| Number of filters | Three |
| Extra features | Eco mode, air quality indicator, filter change indicator |
Our Ratings
Community Feedback
My experience with this air purifier has been nothing short of amazing. Right from the easy unboxing process, the sleek design, and its intuitive operation, it exceeded my expectations. It has significantly improved the air quality in my home, especially in my stuffy bedroom, making a noticeable difference in my mild allergy symptoms. After 7 months of constant use, it still works efficiently and effectively, proving itself to be a reliable and worthwhile investment for anyone seeking cleaner indoor air.
---
Causes of Indoor Mold Growth
Not all fungi are harmful, but mold, in particular, spreads quickly. It's often found in the great outdoors but can also make its way inside, coming from vents, windows, and more (1).
Mold reproduces by traveling through the air, and it thrives on moisture. If you live in a particularly humid or wet environment, you're more susceptible to it.
Imagine all the damp places in your home. We're talking about crawl spaces, bathrooms, kitchens, basements, and laundry rooms, to name a few. When these locations aren't kept clean and dry, the chance of mold growth increases.
Other ways to prevent mold growth include:
Keep your laundry, bathrooms, and shower areas well-ventilated.
Don't procrastinate on leaking roofs, windows, and pipes.
Be highly cautious when cleaning after flooding.
How Does Mold Affect Your Health?
Some are more sensitive to mold than others. If you already have allergies, you could be a victim of mold growth (2). A few symptoms are:
Irritated throat
Eye discomfort
Runny nose
Coughing or wheezing
Skin irritation
Shortness of breath
For Those With Already Existing Lung Conditions
These symptoms could be magnified by the presence of mold. So if you suspect mold growth in your home, take care and eradicate the source as quickly as possible.
What Are the Benefits of an Air Purifier?
An air purifier won't reverse already present mold growth, but it will lessen the chance of future growth. It may also help your symptoms subside. Plus, odors will be removed along with airborne mold spores (3). Other benefits include:
Removes triggers for asthma and other respiratory conditions
Eliminates other allergens, including dust, pollen, and dust mites
Traps smoke which can lead to ear infections or worse (4)
Helps decrease outside fumes and environmental toxins
How to Pick the Best Purifier for Mold
Air purifiers come in various sizes and shapes, offering different features. There are a few stand-out specifications to keep in mind while shopping:
---
FAQs
---
Mold Be Gone
From the air, at least! We can't guarantee that the best air purifiers for mold will cut it out at its original location. However, the machines can make a big difference where air quality is concerned.
Generally speaking, giving the air a good sweep will tackle mold spores and other annoyances, including pet dander, pollen, dust, and more.
Know what you're looking for before you buy. This includes what types of filters you need and any important convenience factors.
We hope our top five list has been insightful for you, and we wish you luck in your mold war.
Thank You For Your Feedback!
Thank You For Your Feedback!