It can sometimes feel like no matter how much you clean, there's still dust in the air. This can irritate your eyes and throat, and even trigger allergies. Dust isn't always visible and, therefore, is tricky to deal with.
Using the best air purifiers for dust can make a significant difference inside your house. But how can you find a suitable unit? There's a range of air purifiers available on the market in different sizes and price ranges.
We've spent hours researching expert advice and real customer reviews. We've compared dozens of products, analyzing room coverage, air changes per hour, effectiveness, durability, and filtration systems to ensure we're only recommending the best.
Image
Model
Product Comparison Table
Features
Best High-End Purifier
Whirlpool Whispure True HEPA
High-quality filters
Good for large rooms
Programmable timer
Best Deodorizer
Hathaspace True HEPA Air Purifier
Highly effective
Air quality sensor
Super quiet
Best Smart Purifier
Levoit Smart WiFi Air Purifier
Energy Star certified
Multiple control options
True HEPA filter
Best Design
Blueair Blue Pure 211+ Air Purifier
360-degree air consumption
Energy star certified
Quiet at 31 Decibels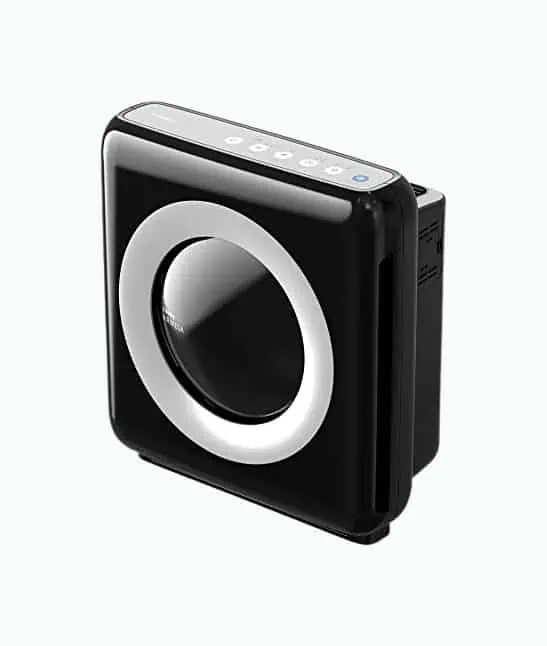 Best Budget Air Purifier
Coway Mighty Air Purifier
Four-stage filtration
Smart features eliminate guesswork
Pollution sensor analyzes air quality
---
---
The Best Air Purifiers for Dust of 2023
If you're having trouble keeping dust at bay, an air purifier will help. We've sought out the best true HEPA filters and pre-filters that would eliminate as much dust as possible. After our expert team researched products and customer feedback, we created our list of the best air purifiers for dust.
Whirlpool Whispure True HEPA Air Purifier
Best High-End Purifier
Our all-time favorite air purifier for dust is the Whirlpool Whispure. The sleek look combined with the True HEPA filter makes this a hard one to beat.
It might be a compact device, but it can cover large rooms and areas. There are four fan speeds to choose between. You can also set it to auto mode, which will adjust the fan speed to the room.
You might be worried about how loud the Whispure is but think again. It's surprisingly quiet and can be used during the night when you're sound asleep.
What We Like
High-Quality Carbon and HEPA Filters
For this air purifier to be as effective as it is, Whirlpool has equipped it with an active carbon filter and a true HEPA filter. The carbon filter removes odors such as smoke, cooking, and pet smells. Then, the HEPA filter removes up to 99.97 percent of allergens such as dust.
A true HEPA filter removes particles as tiny as 0.3 microns. This includes pollen, mold spores, and pet dander. So you and your family get to enjoy much cleaner air.
Four Fan Speeds, Including Auto Mode
You get four fan speeds to play around with. These include low, medium, high, and turbo. The low and medium speeds are quiet enough to use at night while you're sleeping.
When you're unsure of the air quality, activate the auto mode. Here, the Whispure will monitor the air and adjust to it. The LED light will change color to indicate its current speed.
Good for Large Rooms
Despite being no taller than 25 inches, this air purifier will clean the air of a room up to the size of 508 square feet. Its CADR (Clean Air Delivery Rate) is at a sturdy 328, which means it's both fast and powerful when removing dust.
Programmable Timer
One of the smarter features of the Whispure is the programmable timer. This enables you to set the purifier to start automatically whenever needed.
What We Don't Like
Replacement Filters Are Expensive
Overall, we are more than happy with this unit. However, when a replacement is needed, it falls flat. Replacement filters are not only expensive but can be difficult to get your hands on, depending on where in the country (or world) you are.
Irritating Noise
While some folk might love the humming background noise, others found it irritating. Some compared it to a buzzing or squeaky noise, which can be super frustrating at night when you're trying to sleep.
High Price Point
This is a pretty expensive option. You'll be making a bit of a dent in your wallet. Customers find that it's maybe a bit overpriced for what you get.
Product Specs
| | |
| --- | --- |
| Unit Size | 19.45 x 10 x 25 inches |
| Room Size | 508 square feet |
| Air Changes Per Hour | 4.8 |
| Ionizer | No |
| Filtration Stages | Three-stage |
Our Ratings
---
Hathaspace True HEPA Air Purifier
Best Deodorizer for Dust
If you want cleaner air, but within a fair budget, this Hathaspace air purifier is for you. It's a smart-looking unit that uses a four-stage filter and an optional ionizer.
You can effectively clear your living space of VOCs, dust, dust mites, mold, and even viruses. If you have pets and are slightly bothered by certain odors, such as cat litter, this unit will remove all odors.
The compact device can clean the air of a small to large-sized room. It should change and replace your air twice per hour. Its prominent features include an air sensor and auto mode. You can even control it with a remote.
What We Like
Highly Effective Four-Stage Filtration System
Although this unit isn't as grand as other air purifiers, it's still effective and high-quality. The four-stage filtration system includes a nanocatalyst filter that removes larger dust particles and chemicals. The unit is fitted with an activated charcoal filter to remove odors such as smoke and gases.
An anti-bacterial filter destroys bacteria, viruses, and fungi such as mold. However, if you're dealing with allergies, the true HEPA filter is the most crucial part. This effectively removes up to 99.97 percent of airborne particles, including pollen, fine dust, and mites.
Air Quality Sensor
Most of us might think our indoor air quality is less polluted than outdoors, but this isn't always the case. This unit will let you know how polluted or clean your air is. It will monitor the quality and alert you via the changing LED lights.
When in auto mode, the air purifier will adapt the fan's speed to suit the air quality. This gives you optimal results without having to guess or use more energy unnecessarily.
Super Quiet at 18 Decibels
If you enjoy purer air while sleeping and appreciate a silent room, this is for you. When in sleep mode, the unit will generate a mere 18 decibels — virtually silent.
700 Square Feet Coverage
This air purifier has been upgraded to cover up to 700 square feet. This will do an amazing job for your home if you're living in a medium or large space.
What We Don't Like
Vague Instructions
Although this air purifier is top-notch, its instruction manual could do with a few more details. The manual tells you how to set the unit up and identify the various parts. But, it won't tell you the reason behind different light signals that might indicate trouble or filter replacement.
Sensor Doesn't Seem to Work
This comes with a sensor that is supposed to indicate the air quality. For poor air quality, the sensor turns red. When the air quality is good, it turns green.
However, some customers find it automatically turns red even after being green for hours, which doesn't make sense. Other customers found that it shows green even though they know their home is contaminated with smoke.
Product Specs
| | |
| --- | --- |
| Unit Size | 13.5 x 7 x 19.5 inches |
| Room Size | 700 square feet |
| Air Changes Per Hour | 2 |
| Ionizer | Optional |
| Filtration Stages | Four-stage |
Our Ratings
---
Levoit Smart WiFi Air Purifier
Best Smart Air Purifier
If you want a high-tech air purifier, look no further. This unit from Levoit has multiple smart features and modes to accommodate you and your home.
For one, it's voice controllable via Alexa and Google Assistant. You can also control it using a smartphone. Setting the purifier to your desired fan speed at any time is easy.
The smart filter will calculate its real lifespan according to its use. This will give you a more precise replacement time, so you won't have to guess.
You can easily use this air purifier during quiet hours as it produces only 27 decibels. With a height of 21.5 inches, it packs a mighty punch. It can clean the air of a medium to a large room of up to 360 square feet.
What We Like
Energy Star and CARB Certified
This air purifier is Energy Star, and CARB certified for being effective and energy-saving. You can easily use it knowing it's safe, reliable, and eco-friendly.
Multiple Control Options
We're always looking for more ways to become smarter in our everyday lives. The Levoit Smart Air Purifier allows you to control it any way you'd like.
Activate the purifier through Alexa or Google Assistant by simply using your voice. You can also control it via an app on your smartphone. This allows you to set a schedule and timer while monitoring the air quality from the palm of your hand.
Smart Life Filter
The smart life filter will tell you exactly when it's time for a replacement. This is much better than other purifiers, which simply state that a replacement is needed after a certain number of months. You can check this via the app as well.
True HEPA Filter Traps Small Particles
You need a true HEPA filter for the best dust and mites trap. This one will trap dust particles as small as 0.3 microns. A honeycomb filter will take care of large particles, while the activated charcoal filter will remove odors.
What We Don't Like
The Filter Doesn't Last for Long
Unfortunately, the filter on this smart unit won't last for long. Most customers received a replacement notification only after two months of use.
Not the Most Durable Unit
Customers love this while it lasts, but after about 18 months, many people noticed their device started to dwindle. If you want something that lasts a little longer, you might want to consider another option.
Product Specs
| | |
| --- | --- |
| Unit Size | 21.5 x 17.2 x 10 inches |
| Room Size | 360 square feet |
| Air Changes Per Hour | 4.5 |
| Ionizer | No |
| Filtration Stages | Three-stage |
Our Ratings
---
Blueair Blue Pure 211+ Air Purifier
Best Design
The Blueair air purifier is a stunning device that looks more like a speaker than a purifier. It's equipped with an advanced Swedish-designed filter that captures viruses, dust, mold and more.
The color options are one of the main things that make this air purifier so attractive. It's fitted with a fabric pre-filter available in different color options. The pre-filter can also be washed whenever needed.
You can feel more at ease when using this unit since it doesn't use much energy. You get to save on your bills while being more eco-friendly.
What We Like
360-Degree Air Consumption
To be even more efficient, the purifier draws air in from every side — it leaves no pollutants free to wreak havoc. You can place it in a large living space of up to 540 square feet for effective results.
Energy Star Certified
Some air purifiers tend to use an immense amount of energy, reflecting on your energy bills. However, this unit uses only 60 watts — and that's on the highest fan speed.
Quiet at 31 Decibels
No matter where or when you want pure air, you can use this without causing a headache. The Blue Pure 211+ is fitted with a special polypropylene filter. This filter is finer and, therefore, doesn't use as much force to clean the air.
The Blue Pure 211+ generates 31 decibels on the lowest speed — about as loud as a whisper. When using the highest setting, it produces 56 decibels, similar to white noise.
Effective Filters Absorb Odors
The advanced Swedish-designed filter captures up to 99 percent of airborne pollutants such as bacteria, dust, and viruses. The active carbon filter absorbs unpleasant odors such as smoke and pet smells.
You can expect fast results, even in large rooms. The Association of Home Appliance Manufacturers (AHAM) has independently tested and certified the unit. It filters a room at the size of 540 square feet up to five times in an hour.
What We Don't Like
Bigger Than Expected
This might look like a small unit, but several customers were surprised at how much space it took up.
Doesn't Use a True HEPA Filter
The advertising here is a little misleading. It claims to use a HEPASilent dual filtration technology, but it's actually not a true HEPA filter. It can remove 99.97 percent of airborne particles, but compared to true HEPA filters, it's not quite as effective.
Highest Setting is Loud
While this is quiet on the lowest setting, the highest setting produces 56 decibels. This is comparable to normal conversation sounds. That will be pretty irritating while you're trying to read your book or sleep.
Product Specs
| | |
| --- | --- |
| Unit Size | 21 x 13 x 13 inches |
| Room Size | 540 square feet |
| Air Changes Per Hour | 5 |
| Ionizer | No |
| Filtration Stages | Three-stage |
Our Ratings
---
Coway Mighty Air Purifier
Best Budget Air Purifier
If you're looking for a smaller air purifier to keep dust and allergens at bay, this is it. The Mighty Purifier from Coway might be a tiny unit, but it packs a considerable punch.
Equipped with four-stage filtration and three fan speeds, it will cover an area of up to 361 square feet. An auto mode monitors the indoor air quality, so you will know how polluted the area is.
The Mighty Purifier has a modern design that suits any room without looking bulky or out of place. You also get to choose between two colors to suit your taste.
What We Like
Four-Stage Filtration
The four-stage filtration ensures clean air for you and your family. It includes a washable pre-filter that will remove large particles such as hair and dust. An activated charcoal filter will remove odors, and the true HEPA filter will take care of allergens such as tiny dust particles.
To further improve your air, the Mighty Purifier is equipped with an ion system. Here, an electrochemical reaction will reduce the number of particles — such as dust — present in the air.
Smart Features Eliminate Guesswork
We like this purifier because of the smart features it includes. You can activate the auto mode when needed, and the unit will monitor the air quality and adjust itself. The timer allows you to set the operation hours of the unit to suit your needs.
When it's time for a filter replacement, the unit will notify you on the panel. It also shows which filter needs a replacement, so you won't have to guess.
Compact Design
This smart unit can easily fit on a table or subtly on the floor next to a sofa. It can cover a medium to large room of up to 361 square feet and has a CADR dust reading of 246.
Pollution Sensor Analyzes Air Quality
This air purifier analyzes the air quality in real time and lets you know your air quality. If it's dirty, it will show you a red LED light; if it's clean, the light will be green. This lets you know the condition of your air so you can watch as the purifier purifies it!
What We Don't Like
Noisy, Up to 53 Decibels
While using the high fan speed, this unit is quite noisy — to the point of being annoying. This was also a common complaint by customers. It ranges from 24.4 decibels to 53.8, depending on your setting.
A Lot of Maintenence Required
You'll enjoy a few weeks of uninterrupted and easy use when this arrives. The replacement filters aren't as good as the ones it originally came with. Plus, there are a lot of cleaning processes required.
Product Specs
| | |
| --- | --- |
| Unit Size | 16.8 x 18.3 x 9.6 inches |
| Room Size | 361 square feet |
| Air Changes Per Hour | Not specified |
| Ionizer | Yes |
| Filtration Stages | Three-stage |
Our Ratings
---
Why You Need an Air Purifier for Dust
"A little bit of dust never hurt anyone" is probably a phrase we've all used once in a while. However, the truth is that dust can actually harm you and your family members.
Dust exposure can have varying effects depending on our personal health. But often, people with allergies or asthma will have more severe reactions.
Common dust-related issues include:
Coughing.
Asthma attacks.
Eye irritation.
Sneezing.
Hayfever.
If you have young children or infants, getting an air purifier can help to reduce the risks of them inhaling dust (1).
What Makes the Best Air Purifiers for Dust?
Air purifiers are manufactured with various purposes in mind. For instance, some are best at removing allergens. Others, on the other hand, focus more on pet dander (skin sheds of pets, rodents, and birds).
You will find that the majority mention good effectiveness in most areas. However, there are still a few things to look for when your issues are specifically dust and dust mites.
---
FAQs
---
Thank You For Your Feedback!
Thank You For Your Feedback!