Having clean air to breathe at home is essential for our health. We often don't realize just how polluted our indoor air is.
Many things, such as everyday household cleaners and air fresheners, can add chemicals like VOCs to the air. In addition, indoor allergens such as mold spores and dust mites can cause significant trouble to our health if not dealt with properly.
Air purifiers are highly effective devices that consist of several filters to remove pollutants and contaminants from our air. Newer inventions are combining air purifiers with humidifiers to help you get through dry days.
To round up our list of the best air purifier and humidifier combos, we've spent hours researching. We investigated real customer reviews, expert advice, and each product's specs to ensure we recommend only the best.
Image
Model
Product Comparison Table
Features
Best Overall
Sharp PlasmaCluster Humidifier
True HEPA filter
Auto air quality control
Long filter life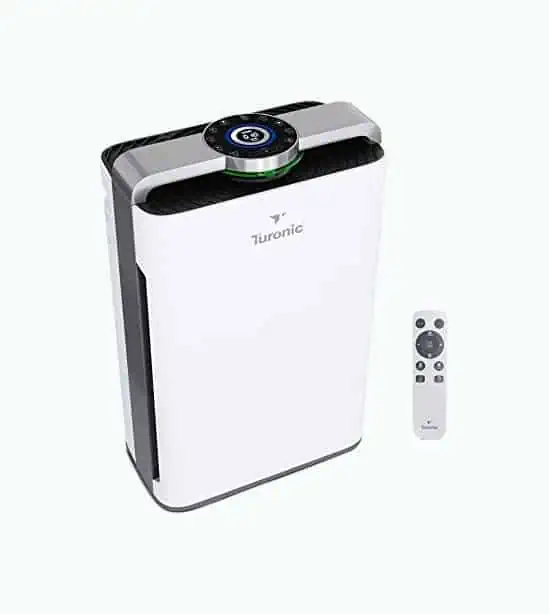 Works up to 2500 square feet
8-stage purification system
8-speed options including auto
Best for Allergies
Afloia Air Purifier And Humidifier
360-degree air intake
Mistless humidification system
Pretty and quiet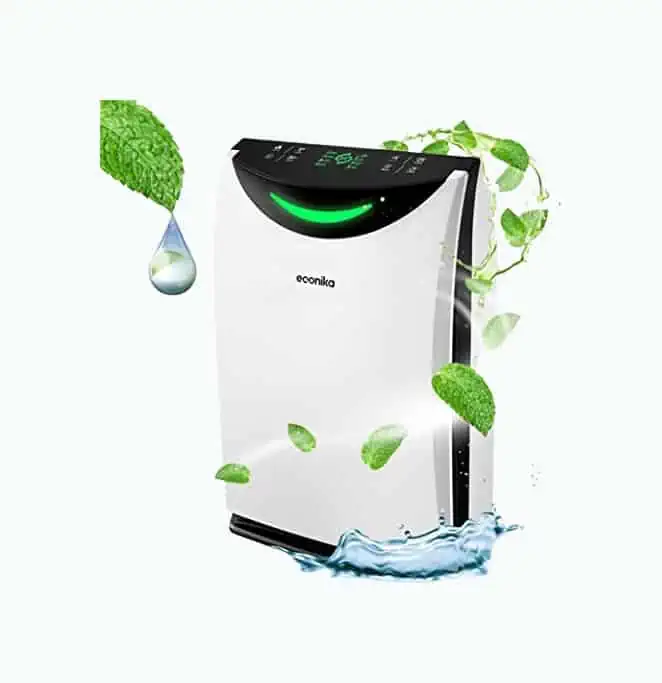 Quietest Combo
Econika 4-in-1 Humidifier
Child-lock feature
Quiet 18 decibel level
6-stage advance filtration system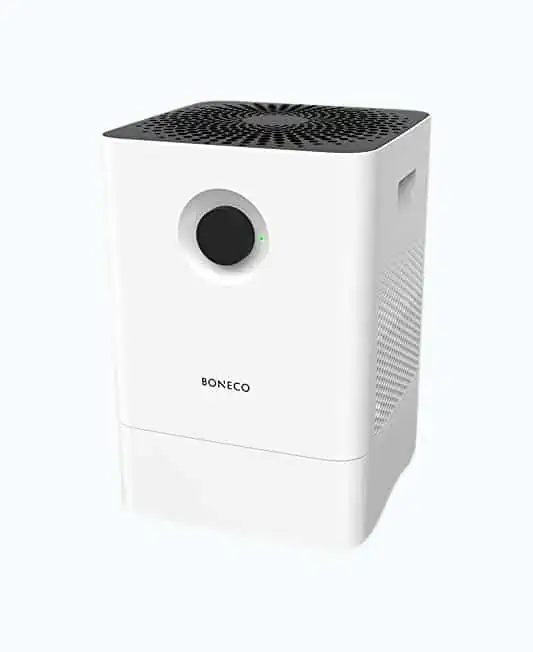 Easiest Maintenance
Boneco 2-in-1 Air Washer
Auto-shutoff
Easy to clean
Optional scents
Best Air Sterilizer
Westinghouse Humidifier & Air Purifier
Generous water tank
Works with essential oils
Smart humidity control
Best Designed
Afloia Air Purifier Humidifier
Three-stage filtration
Optional nighlight
Removable humidifier
Review Methodology: At Oh So Spotless, we understand the importance of choosing the best air purifier and humidifier for your home. Our team of professionals conducts thorough research, hands-on testing, and data analysis to evaluate products from a user's perspective. We compare performance, design choices, and key decision-making factors such as filtration efficiency, humidification capacity, noise levels, and energy consumption. With our experience and expertise, we rank and review products based on strict criteria and benchmarks to help you make an informed decision. Our assessment includes first-hand evidence and quantitative measurements, ensuring that our recommendations stand out from competitors and truly benefit our readers. Trust Oh So Spotless to guide you in finding the perfect air purifier and humidifier to meet your needs.
---
---
The Best Air Purifier and Humidifier Combo of 2023
As of today, there isn't a huge choice available on the market regarding the best air purifier and humidifier combos. However, it can still be tricky to choose which one suits you. As we searched through the top-rated units, we wanted to include different technologies to show you all of the options.
In our list, you can find ionizers, HEPA filters, ultrasonic humidifiers as well as air washers. We ensured that all units would perform effectively within the recommended square-foot area.
Sharp PlasmaCluster Air Purifier Humidifier
Best Overall
If you're looking for a true air purifier and humidifier combo, the PlasmaCluster is for you. This unit utilizes thorough filters as well as an ionizer to truly purify the air. In addition, it's fitted with multiple sensors to keep track of the air quality in your home.
The PlasmaCluster can cover up to 254 square feet, so it isn't for very large areas. However, it's excellent for bedrooms as well as small living areas. Additionally, you can set it to the lowest setting and either dim or deactivate the light for a peaceful night's rest.
What We Like
True HEPA Filter
A true HEPA filter is a must if you're struggling with allergies or asthma brought on by indoor pollutants. These filters can remove up to 99.97 percent of airborne pollutants at the microscopic size of 0.3 microns. You can say goodbye to allergens such as dust, dust mites, pet dander, and pollen.
Patented Plasmacluster Ion Technology
In addition to removing allergens, this filter will also help to reduce bacteria, germs, viruses, mold, and fungus. It utilizes Patented Plasmacluster Ion Technology to eliminate all impurities in the air quickly.
Automatic Air Quality Control
It can be nearly impossible to know precisely how polluted your indoor air is. The Sharp Plasmacluster is equipped with sensors that monitor the air quality in its surroundings. Additionally, it adjusts the air purification as well as humidification to suit the room.
Safer Ozone Level
Many homeowners are concerned about the possible production of ozone — a harmful gas — when using an ionizer. However, this unit produces five times less ozone compared to the lowest in the industry.
Furthermore, it meets all standards set by the FDA, OSHA, and NIOSH, as well as being ARB Certified. Because it meets all industry standards, you can be sure it's a safe choice.
Long Filter Life
Maintenance costs are a concern for many homeowners since changing the filter every six months can become expensive. However, Sharp has kept you and your wallet in mind, fitting this unit with a long-lasting true HEPA filter. Depending on air quality and usage, the filter should last between two and five years.
What We Don't Like
Small Water Tank
Although the manufacturer doesn't mention the exact size of the tank, we can't imagine it lasting for long in dry conditions. In fact, several customers disliked the fact that they had to refill more than once per day.
Expensive Price Point
This is such a good unit because of the construction and technology. But that does come at a price. Around double the price of other units we found, this isn't a budget-friendly choice.
Loud On Highest Setting
If you want something completely silent, this might disappoint. Serving as quite loud white noise on the highest setting, this might disrupt your relaxing evenings.
Product Specs
| | |
| --- | --- |
| Air Purification Method | True HEPA filter, Plasmacluster Ion Technology |
| Humidification Method | Cool mist |
| Room Coverage | 254 square feet |
| Dimensions | 14.9 by 10.5 by 23.1 inches |
| Weight | 20.5 pounds |
Our Ratings
Community Feedback
"I'm really impressed with this product, as it has improved the air quality in my home and even helped with unpleasant odors. The display is informative and I appreciate the humidifier feature, although I don't use it often due to my local climate. One downside is the ion generator stopped working, but with some effort, I was able to fix it and get the product back to its full potential."
---
Turonic PH950 Purifiers With Humidifier
Best Filter
With an eight-stage filter, this unit can deliver you super clean air. It will remove bacteria, odors, dust, pet dander, smoke, and more from the home. Thanks to the filter — consisting of cotton, true HEPA, activated carbon, and more — this is a super powerful device.
As for humidifying, it uses water-cleaning balls to emit rich moisture into the air. You don't need to worry about the mist settling on your furniture and surfaces. It will keep the items in your room dry while ensuring your skin and lungs are healthier.
What We Like
Works Up to 2500 Square Feet
In just two hours, this can clean and purify a room of 2500 square feet. If you have smaller rooms, it will work even quicker. But it's good to know this can handle a variety of room sizes.
8-Stage Purification System
This provides extremely clean air. The 8-stage filter also ensures that the particles from the air don't re-emit through the water. The filter consists of a mesh pre-filter, a cotton filter, and a true HEPA filter.
This is followed by an activated carbon and cold catalyst filter. It also features an air ionizer which can add that extra purity measure into your home.
Eight Speed Options, Including Auto
Getting this thing up and running, is easy. You can choose from eight speed options, depending on how fast you want the unit to run.
It also has an auto mode, so you don't have to guess the best settings. Let the machine figure it out for you.
Works at 38 Decibels
No louder than rainfall, this unit provides a soothing white noise background. Some people love using it overnight as the noise level is calming but not too loud. It also has a light sensor, ensuring that the unit goes dark once you've turned off the lights.
What We Don't Like
High Price Point
One of the main complaints about this product is that it's expensive. Sure, you're saving a bit by getting a 2-in-1 product, but the price is still high even with that.
Replacement Filters Are Expensive
The replacement filters for this unit are expensive, and you need to replace them at least twice a year. This adds up, making the unit even more expensive than you might have initially thought.
Product Specs
| | |
| --- | --- |
| Air Purification Method | 8-stage filter, including HEPA |
| Humidification Method | Water-cleaning balls |
| Room Coverage | 1250 to 2500 square feet |
| Dimensions | 24.6 by 15.7 by 9.1 inches |
| Weight | 23.6 pounds |
Our Ratings
Community Feedback
"I'm impressed with this product's ability to purify the air and reduce dust, especially during home renovations. It was easy to set up and maintain, but I did encounter an issue with the filter notification light not turning off after changing filters. Tech support was helpful in resolving this by guiding me on cleaning a sensor, although this information was not available in the documentation. The built-in humidifier has also been beneficial for alleviating dryness, but be aware that it goes through water quickly, so using tap water would have been a more convenient option."
---
Afloia Air Purifier And Humidifier
Best Air Purifier and Humidifier Combo for Allergies
If somebody in the home has allergies and no other remedies seem to help, this product is something to consider. It is designed to help relieve allergies by purifying the room.
This humidifier and air purifier destroys mold, pollen, dust, bacteria, pet dander, and more. It does this in levels of up to 99.99 percent thanks to a HEPA 13 filter.
As for humidifying, this uses a no-water mist. This was designed for people with skin issues, wrinkles, and nosebleeds, as well as being beneficial for expecting mothers and babies.
What We Like
360-Degree Air Intake
With a 360-degree air purification system, this takes in more impurities faster. Say goodbye to volatile organic compounds, mold, pet dander, smoke, pollen, and more. In fact, it can purify a 538-square-foot room in just 30 minutes.
Mistless Humidification System
If you're worried about excess water from a humidifier dampening your home, don't be. This mistless system uses a no-water mist technology to add moisture to the room. Not only is this super effective, but it means the surrounding area won't become wet.
If you don't want to use the humidifier, you can remove it and use the air purifier on its own.
Pretty and Quiet
Those two words sound like the perfect combination, don't they? This minimalist unit will fit most decor.
Plus, it lights up in seven colors: blue, cyan, green, yellow, orange, red, or purple. It's lovely mood lighting.
Besides that, it runs at as little as 22 decibels, nearly silent. You can enjoy using it overnight or while you're watching a movie — without disturbances!
Three Speeds and Three Timers
You can run this at high, medium, or low, depending on how badly your air needs to be humidified and purified. You can also set it to three timers: two, four, or eight hours. This ensures a full night's sleep in good, clean air.
Triple Filter Captures 99.99 Percent of Particles
This unit uses a pre-filter to capture dust, lint, fibers, and dander. This is followed by a true HEPA filter which can capture 99.99 percent of particles as small as 0.3 microns. This includes bacteria, mold, and pollen. Finally, an activated carbon filter captures odors, smoke, and fumes.
What We Don't Like
Hard to Tell If the Humidifier Is Working
Since it is a mistless humidifier, it doesn't deliver the most noticeable results. However, the tank runs out quickly, so it's definitely doing something! It's just not as effective as other options on the market.
Remote Doesn't Always Work
Having a remote to control your humidifier is handy, but not when it doesn't work! Many customers complained that the remote didn't work, mainly when using the unit as a combo.
High Speed Is Loud
While the low speed runs at a modest 22 decibels, the high speed is extremely loud. Customers tend to settle for the medium setting, especially overnight.
Product Specs
| | |
| --- | --- |
| Air Purification Method | 3-stage with true HEPA |
| Humidification Method | Mistless water |
| Room Coverage | 538 square feet |
| Dimensions | 25 by 9 by 8 inches |
| Weight | 7.63 pounds |
Our Ratings
Community Feedback
"My experience with this product has been a mix of pros and cons. On one hand, it significantly improved the air quality in my home and helped with my kids' dry coughs during winter, but on the other hand, I had some issues with the remote control and buttons not working properly. Despite these setbacks, the effectiveness of the purifier and humidifier along with the minimalist design make it a valuable addition to our household."
---
Econika Premium 4-in-1 Humidifier
Quietest Combo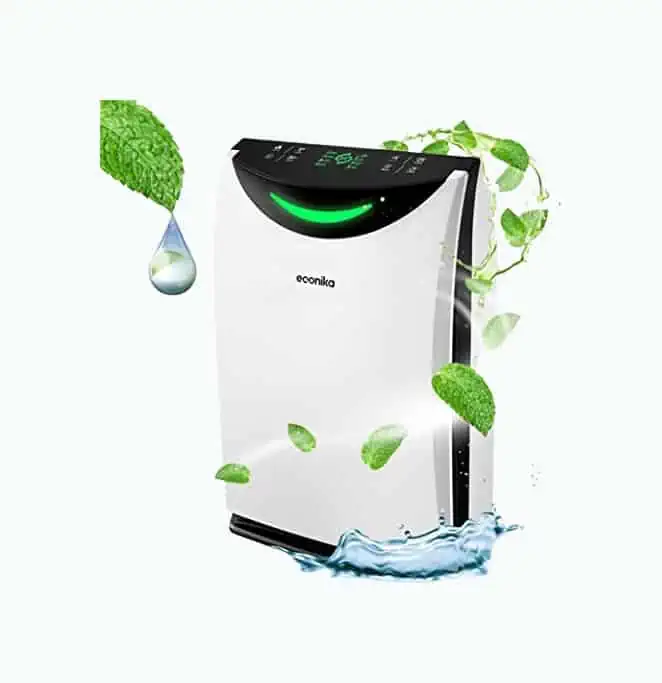 This device isn't your regular air purifier as it effectively traps impurities with its six-stage filtration system comprising of UV, negative ion, true HEPA filter, cotton strainer, activated carbon, and cold catalyst filter.
It effectively removes 99.97 percent of air particulates measuring 0.3 microns or bigger. You will know whether this machine is doing its job through its color-coded air quality indicator lights.
Customers praise how quiet this unit is when it operates.
What We Like
Child-Lock Included
The manufacturer cannot forego the safety of your child while considering the air quality, thus, the addition of a child-lock feature will ensure that no unwanted machine operation will be made by your curious toddler.
Quiet 18 Decibel Level
There are no loud sounds or vibrations coming from this humidifier. It operates very quietly at 35 decibels, making it an excellent option for bedrooms and nighttime use.
6-Stage Filtration System
This air purifier is fitted with a 6-stage filtration system to ensure you only breathe pure air. This includes a UV, negative ion, true HEPA filter, cotton strainer, activated carbon, and a cold catalyst filter. These capture odors, dust, dander, smoke, and allergens in your air, as well as 99.97 percent of tiny particles.
Alerts You to Air Quality
On the unit is an air quality sensor that measures the particles in the room. It delivers results via color-coded lights. Red means poor, yellow is fair, and green is excellent. This keeps you in the loop with how your air is and how the purifier is handling the pollution.
What We Don't Like
Humidifier Could be Better
The humidifier has some faults. Firstly, it is only a 0.64-gallon tank, so it needs to be refilled quite often. Secondly, it's hard to refill the tank. Lastly, it's hard to clean it out and dry it thoroughly.
Batteries Not Included
The unit comes with a remote. However, the downside is that the remote's battery is not included in the package and it would be.
Product Specs
| | |
| --- | --- |
| Air Purification Method | 6-stage filtration system |
| Humidification Method | Not specified |
| Room Coverage | 600 square feet |
| Dimensions | 7.7 x 14.7 x 22.24 inches |
| Weight | Not specified |
Our Ratings
Community Feedback
"Best investment in air quality, this product has significantly improved the air in my home with multiple pets and allergens present. The Econika purifier is not only efficient and quiet, but also features a sleek design that blends well with any room decor. With its easy-to-use controls and multifunctional capabilities, it has greatly reduced my allergy symptoms and left me breathing easier."
---
Boneco 2-in-1 Air Washer
Easiest Maintenance
The Boneco 2-in-1 Air Washer is a very unique air purifier and humidifier combo. It washes the air instead of merely filtering it. It's equipped with specialized evaporation mats that "scrub" the air to remove larger particles.
Furthermore, the unit is self-regulating, which monitors the air and corrects the humidity accordingly.
Cleaning the unit is as simple as it can get. Several components can be washed in the dishwasher or washing machine. The evaporation mats can easily be removed and washed in the washer.
Despite being an effective humidifier, this unit won't do much about allergens such as dust mites and dander. However, it will remove particles at 10 microns in size, which includes household dust, mold spores, and pollen.
What We Like
Effectively Cleans the Air
This air washer contains specially-made textured evaporator mats that turn in the water, effectively cleaning the air. The mats remove particulate impurities such as pollen, dust, and particle-bound odors.
In addition to cleaner air, it won't add excessive moisture to the room by evaporating the water instead. Evaporated moisture is naturally blended with the air in the room, raising the humidity comfortably.
Auto-Shutoff
When humidifiers run out of water, they also run the risk of becoming damaged due to dry burn. However, this unit is fitted with an auto-shutoff feature that automatically turns the device off when the water is low. You'll be notified on the LED display when it's time to refill the tank.
Easy to Clean
Cleaning this air purifier and humidifier combo is as simple as possible, thanks to dishwasher- and washing machine-safe components. See the manual for more detailed instructions on how to clean the unit.
Optional Scents
We always like to get the most out of a humidifier, and this model doesn't disappoint.
Add a few drops of your favorite scented oils to the fragrance container if you wish. The scents will evaporate along with the water, creating an aromatic atmosphere.
What We Don't Like
Small Water Tank
Despite working effectively, it would be nice if the tank was a bit larger. Considering the slightly bulky design, you'd think the tank would hold more water.
Filters Aren't Super Durable
It's advertised that the filters should last a few years before you need to replace them. However, they can accumulate mold and mildew quickly. After a few months, some customers noted that they were falling apart.
Humidity Ability Could Be Better
If you live in a super dry area, you might need something stronger than this. While it definitely increases humidity, it struggles to get customers from low levels (around 15 percent) to desirable levels (around 40 percent).
Product Specs
| | |
| --- | --- |
| Air Purification Method | Air washer |
| Humidification Method | Evaporation |
| Room Coverage | 540 square feet |
| Dimensions | 11 by 11 by 16 inches |
| Weight | 11.2 pounds |
Our Ratings
Community Feedback
"Best humidifier I've used in terms of design and performance. This product operates efficiently, consuming only 12 watts of power an hour, and is exceptionally easy to clean with its machine-washable filter media. The noise level is acceptable, even for light sleepers, and the sleek aesthetic is a welcome addition to any room. After two months of use, I have experienced trouble-free operation, clean and fresh-smelling air, and perfect humidity levels without any bacteria buildup."
---
Westinghouse Humidifier and Air Purifier
Best Air Sterilizer
This unit uses an entirely natural air-cleansing method using electrolytic ions. This non-toxic method sanitizes indoor air, improving the air quality and ensuring the home is healthier.
If you have trouble with dry skin and breathing problems, then this unit is designed to help. It can also improve sleep while keeping your houseplants healthier!
What We Like
Generous Water Tank
At 1.05 gallons, this unit can run for up to 43 hours at low speed. On high speed, it can run for 31 hours. This gives you over a full day's worth of air purification and humidity.
Works With Essential Oils
To remove bad odors from your home, you'll love that this is compatible with essential oils. This can help eliminate foul smells while also giving you the option to fill your home with your favorite scents. If you're into aromatherapy, you will love this detail.
Smart Humidity Control
This unit determines the humidity level in the home. You can set it to your desired level, and it will maintain the misting output to keep the home within a comfortable range.
Easy to Use
The digital controls and LED display are easy to read and use. The soft-touch panel gives you easy control over the unit. If you're lazing around on the couch, you can also use the remote control to change the settings.

What We Don't Like
Leaks Easily
The unit has an overflow hole rather than a maximum line. So if you overfill the unit, it will automatically leak.
Produces a White Dust
One common complaint is that this leaves behind a white dust-like residue on anything. It's incompatible with distilled water, so you must use tap water. If you live in a hard water area, residue on your surfaces is likely.
Struggles to Massively Increase Humidity
Many customers noted that the unit did increase humidity levels in the home, but not massively. For instance, if you want levels above 55 percent, the unit will struggle.
Product Specs
| | |
| --- | --- |
| Air Purification Method | Electrolytic Ion Sterilization |
| Humidification Method | Cool mist |
| Room Coverage | 193 square feet |
| Dimensions | 5.66 by 11.8 by 11.25 inches |
| Weight | 3.83 pounds |
Our Ratings
Community Feedback
"My experience with this product has been predominantly positive, as it effectively combats dry air and improves the overall atmosphere in my office. The digital features, including the humidity percentage readout, are quite impressive, and it's compact enough not to take up much space. Although the essential oil diffuser feature is somewhat lacking, the overall functionality and quality of the humidifier make up for it. The only minor inconvenience is the non-detachable tank, which requires either carrying the entire unit to refill or using a separate container for water."
---
Afloia HEPA Air Purifier with Humidifier
Best Designed
One of the many reasons why we like the Afloia is its design. The tall, slim frame makes it easy to fit in any room without looking bulky.
It's equipped with a three-stage filtration system, including a prefilter, HEPA media, and charcoal filter. These effectively remove pollutants, allergens, and bad odors from the air.
In addition to the filtration, this unit is also a humidifier. It works effectively at raising indoor humidity to a comfortable level. Furthermore, it's a very quiet unit when on the lower settings. During the night, you can be sure to be asleep with the machine emitting less than 30 decibels of noise.
What We Like
Three-Stage Filtration
The three-stage filtration system includes a prefilter, HEPA media, and a carbon filter. HEPA filter captures airborne pollutants. It can further capture particles such as germs, smoke, and pet dander.
In addition to the HEPA media, this unit also contains a charcoal filter. Charcoal filters effectively remove foul odors from the air, creating a pleasant atmosphere.
Optional Nightlight
Unlike the other purifier and humidifiers, this comes with a nightlight that can be turned on or off during machine operation. Consequently, this enables you to sleep conveniently with lights on or off.
Smart Features
This air purifier and humidifier combo comes with a range of special features to make it easier to operate as well as more effective. This includes three wind speed options, timer control, no fog humidification, and 360-degree airflow.
The filter indicator on the display will let you know when the filter needs a change. It gives you a quick look at each filter's life.
Removable Humidifier
Sometimes you don't need the extra humidity in your home. In that case, you can remove the humidifier from the machine and just use the air purifier. Keep in mind that the humidifier doesn't work without the air purifier, though.
What We Don't Like
Humidifier Is Poor Quality
If you're desperate for extra moisture to be added to the air, you might want to purchase a humidifier separately. Many customers couldn't feel a difference in the moisture levels at home. If you want to use this for allergies or asthma, it might disappoint.
Replacement Filters Are Hard to Find
When you need to replace the filters, you might need to contact the company directly. They're not readily available online, which is frustrating.
Product Specs
| | |
| --- | --- |
| Air Purification Method | Three-stage filtration |
| Humidification Method | Evaporation |
| Room Coverage | 219 square feet |
| Dimensions | 7.7 by 7.7 by 21.8 inches |
| Weight | 5.7 pounds |
Our Ratings
Community Feedback
"My experience with this product has been a mixed bag: it's compact, easy to fit in small spaces, and provides a decent amount of humidity on low and medium settings. However, it struggles to produce enough humidity for larger spaces or specific purposes like plant humidifying tents. The air purifier does help with reducing dust, but don't expect it to handle pet hair effectively."
---
Why Choose an Air Purifier and Humidifier Combo?
Our indoor air is often more polluted than outdoors. This isn't surprising, considering that greater amounts of VOCs are commonly found in cleaning supplies (1).
Other common indoor pollutants include tobacco smoke and harmful gases such as carbon monoxide and formaldehyde (2). You might also be struggling with allergies or asthma indoors due to triggers such as dust mites and mold (3).
Many homeowners choose to invest in an air purifier to help improve the air quality in their homes.
Another popular air-improving device is a humidifier. During the winter or dry season, we often deal with the uncomfortable effects of dry air. Dry air can increase the transmission of upper respiratory viruses as well as cause unpleasant effects like dryness and congestion (4).
Now, depending on the brand and size of the device, the prices can vary. Therefore, you can save yourself a few bucks by opting for a two-in-one air purifier and humidifier combo.
These devices combine air purification with humidification to create an optimal environment for you.
Finding the Best Air Purifier and Humidifier Combo
There are a few points worth considering before buying. We've made a quick list of a few crucial points to ensure you get the best bang for your buck.
---
FAQs
---
The Best of Both Worlds
With an air purifier and humidifier combo, you can benefit from moist and clean air — and won't have to spend on two separate devices!
The best air purifier and humidifier combos are available in different types using different technologies. Some devices are fitted with filters, including a HEPA media — while others use ionizing technology.
When choosing the best air purifier and humidifier combo for you, consider its area coverage. If the unit cannot cover the room it's in, you'll be wasting energy on a device that can't make a difference.
Thank You For Your Feedback!
Thank You For Your Feedback!